Last week a friend of mine invited my son and I over to forage for paw paws from his tree. He was away, so we had a time even finding the tree. It was much larger than we expected, but the fruit is well hidden from view. We ended up googling a photo of the tree to locate it on his property. We've been fruit picking before, but it has always been at a large orchard or farm - where it's a little more structured. The idea of going out in the woods to find fruit was exciting. My son absolutely loved the adventure of going and foraging for fruit.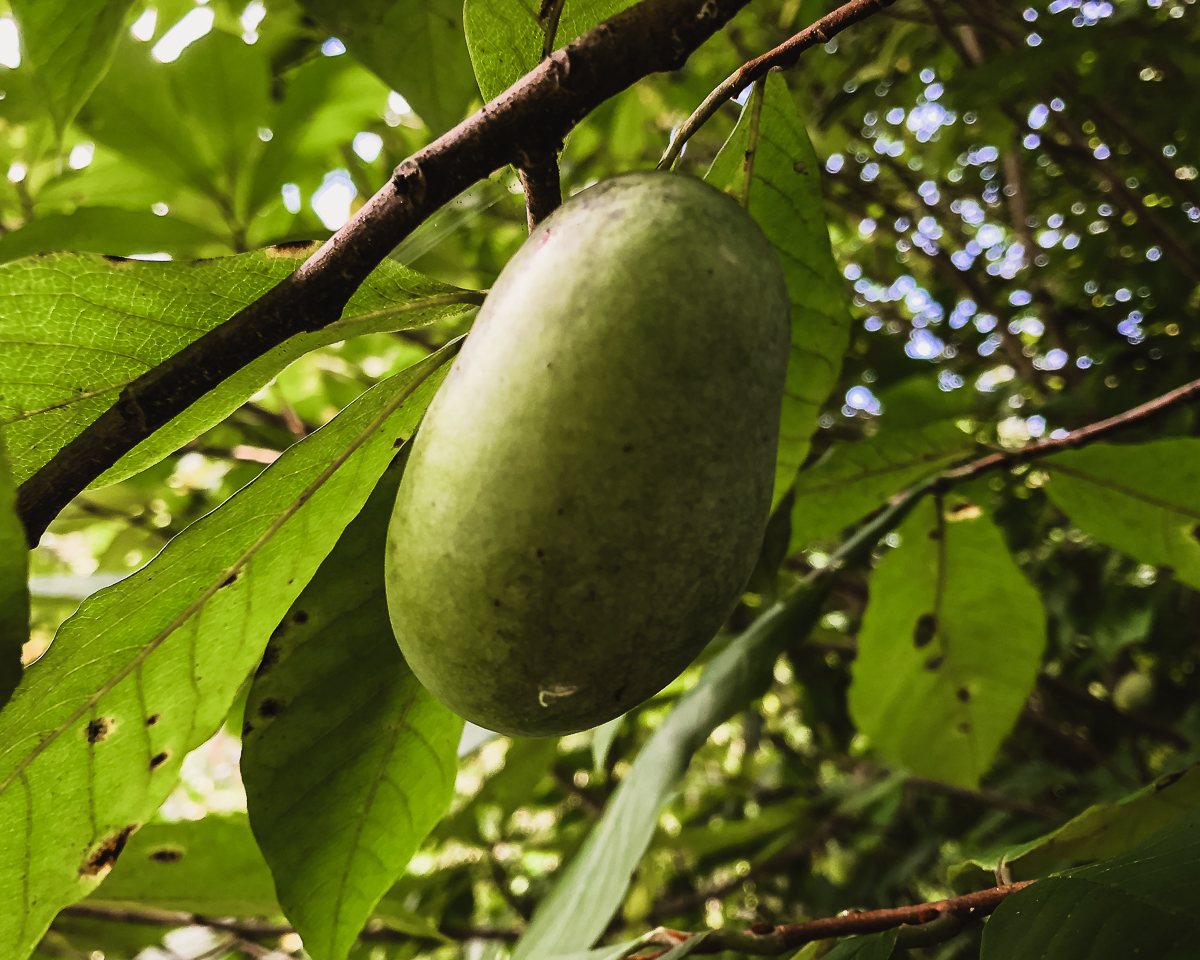 What Are Paw Paws?
If you don't have paw paws where you live, they are a fruit native to the Eastern part of North America. They are the largest indigenous fruit to the United States. While this fruit is very common to the area, it is not readily available unless you know where to pick it. It doesn't keep for more than a day once picked, so it's not possible to sell fresh at the market. You can keep ripe fruits for about a week in the refrigerator once picked.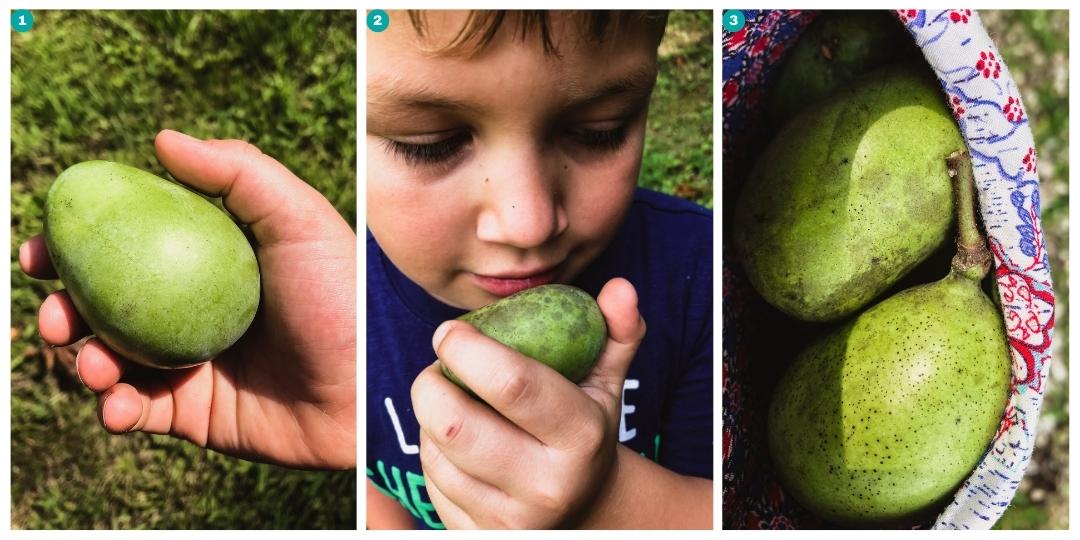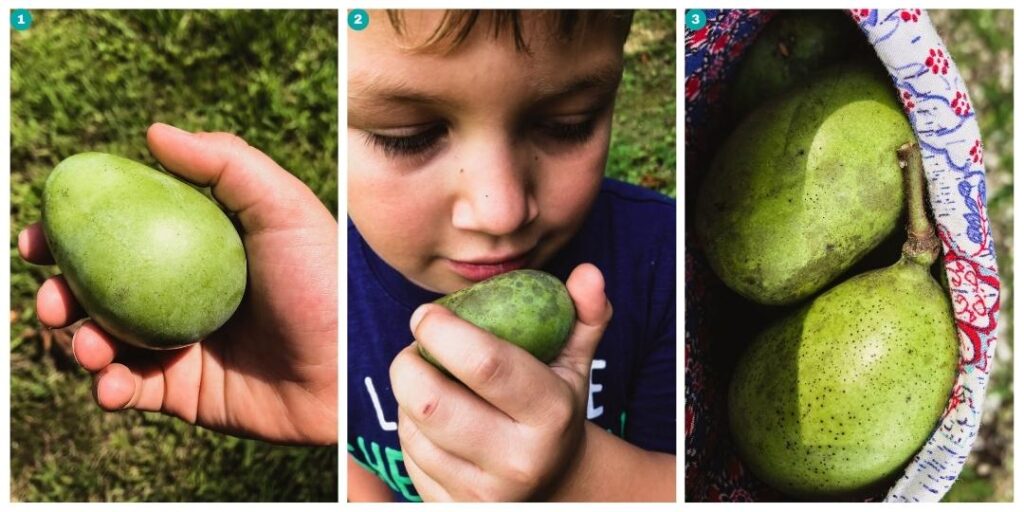 Luckily my dress had pockets because we found a lot of fruit. We ended up with several pounds of fruit. I tried to get my son to taste it, because he was so excited to pick it, but that was a no go. He's not a very adventurous eater, although he does like seeing where all the food comes from. I have hope that he'll broaden his palate when he's older. (He might be afraid to eat it, but he's not afraid to stick it in his nose!)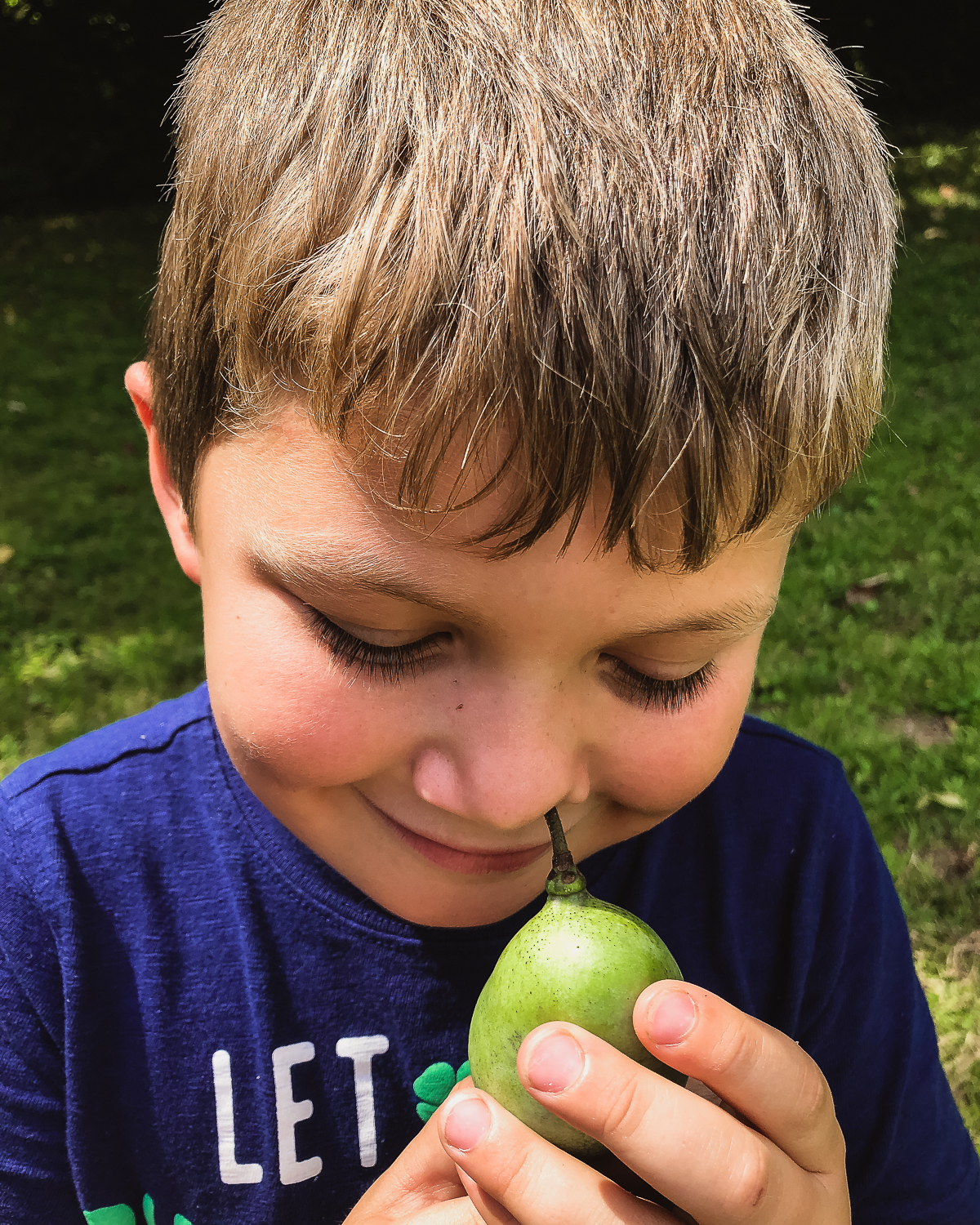 What do Paw Paws Taste Like
Paw paws have a really fragrant tropical perfume smell.  The inside is a bit like a custard texture, with large seeds that you do not eat. The flavor is very tropical, some describe it as banana/mango/cantaloupe mix.

If you find yourself with some paw paws to spare, give this jam recipe a try. It can be canned in a water bath, but I just chose to jar it up and store it in the refrigerator. It makes 4-8 oz jars.
What Time of Year Do Paw Paw Trees Bear Fruit?
In North Carolina, our paw paw trees bear fruit in the first weeks of September. In other areas they begin to ripen as early as mid-August.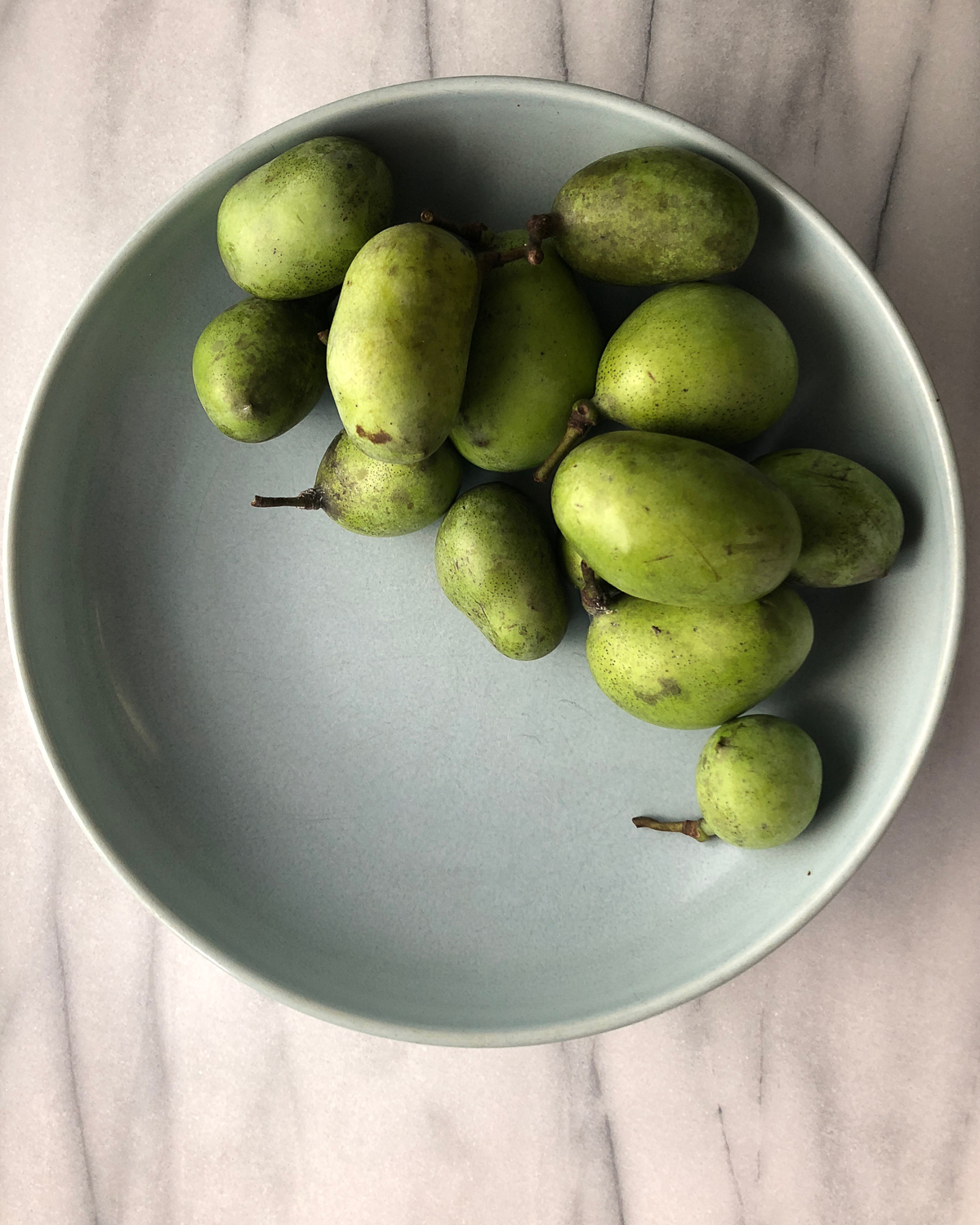 Can I eat the Paw Paw skin?
Do not eat the skins or the seeds of the paw paw. They are toxic to humans. Remove and discard them before making this recipe.
If you like making homemade spreads, check out these other great recipes:
Mexican Chocolate Pecan Butter
Chocolate Hemp Seed Butter & A Trip to Franny's Farm
If you try my recipes, please make sure to leave a rating below. It helps others find me online. Thanks for your support!
Recipe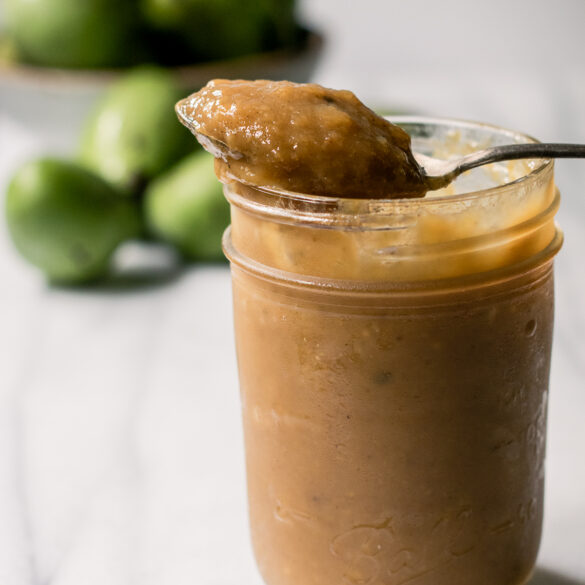 Paw Paw Butter
Make a delicious condiment from fresh picked paw paws.
Print
Pin
Rate
Ingredients
4

Cup

Paw Paw Puree

1

Cup

Water

1

Tablespoon

Lemon Juice

1

Cup

Sugar

½

Cup

Light Brown Sugar

¼

teaspoon

Cloves

½

teaspoon

Allspice

¼

teaspoon

Ginger

½

teaspoon

Cinnamon

1

teaspoon

Vanilla

¼

Cup

Bourbon

optional

1

Tablespoon

Pectin
Instructions
Combine paw paw, water and lemon juice in a heavy bottom pan.

Heat to bubbling and cook for about 10 minutes, stirring occasionally.

Add all the remaining ingredients.

Whisk well to make sure all the dry ingredients are dissolved.

Cook on medium heat for about 30 minutes until the jam passes the spoon test.

Move to glass jars. Store in refrigerator.
Calories:
135
kcal
|
Carbohydrates:
31
g
|
Protein:
1
g
|
Fat:
1
g
|
Saturated Fat:
1
g
|
Polyunsaturated Fat:
1
g
|
Monounsaturated Fat:
1
g
|
Sodium:
5
mg
|
Potassium:
216
mg
|
Fiber:
2
g
|
Sugar:
29
g
|
Vitamin A:
52
IU
|
Vitamin C:
11
mg
|
Calcium:
45
mg
|
Iron:
4
mg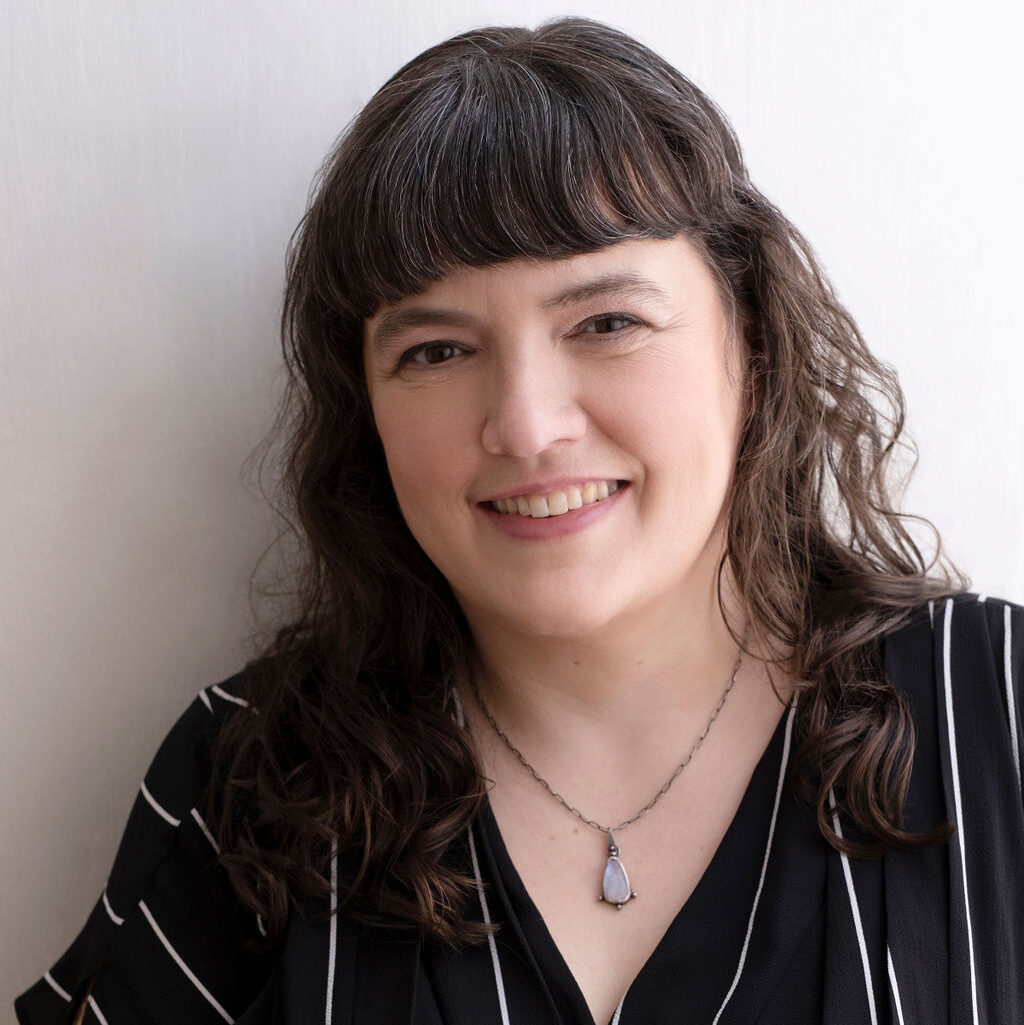 Tiffany is the recipe developer, stylist and food photographer behind Well Fed Baker. As a lifelong baker who had to go gluten free and dairy free in 2016, Tiffany strives to share allergen friendly recipes that never feel like they are free from anything.