We are strawberry fanatics at my house. As such, prepare yourself for an onslaught of berry recipes this strawberry season. One of our favorites is this gluten free strawberry cake made with real strawberries, not any weird flavor additives. Deliciously sweet and fruity and covered in dairy free cream cheese frosting, it ticks all the boxes for a special treat.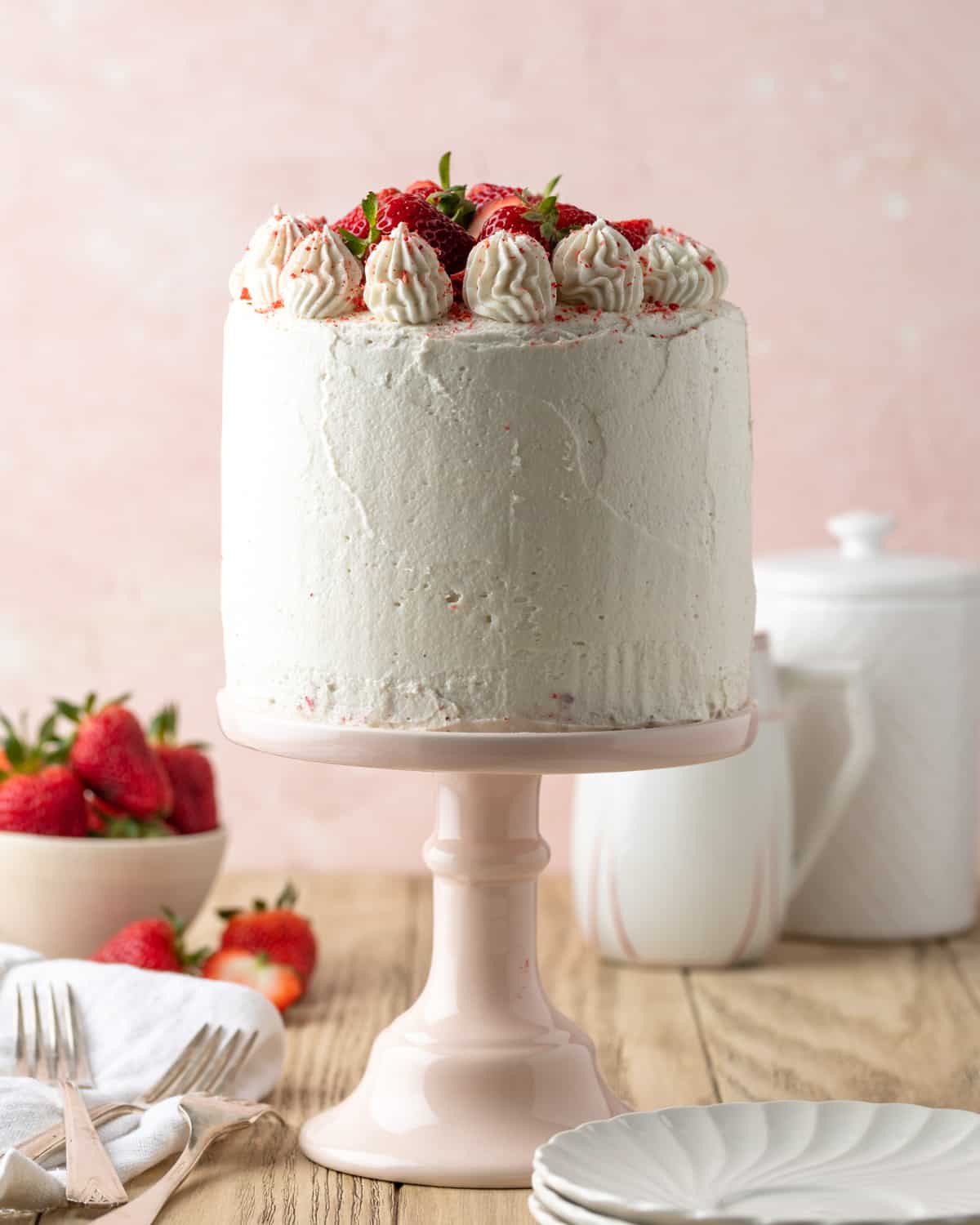 This cake will delight for any special occasion. If you're looking for more ideas to celebrate check out my gluten free carrot cake or these awesome tie dye cupcakes.
Jump to:
Want to save this recipe? Enter your email below and we will send it straight to your inbox!
You will also be added to our weekly email list.
Why You Will Love this Gluten Free Strawberry Cake Recipe
It's both gluten free and dairy free.
It's made with fresh strawberries instead of artificial strawberry flavor.
It's moist with a tender crumb - the perfect cake!
It's a great cake for a special occasion and perfect for birthday parties.
Ingredients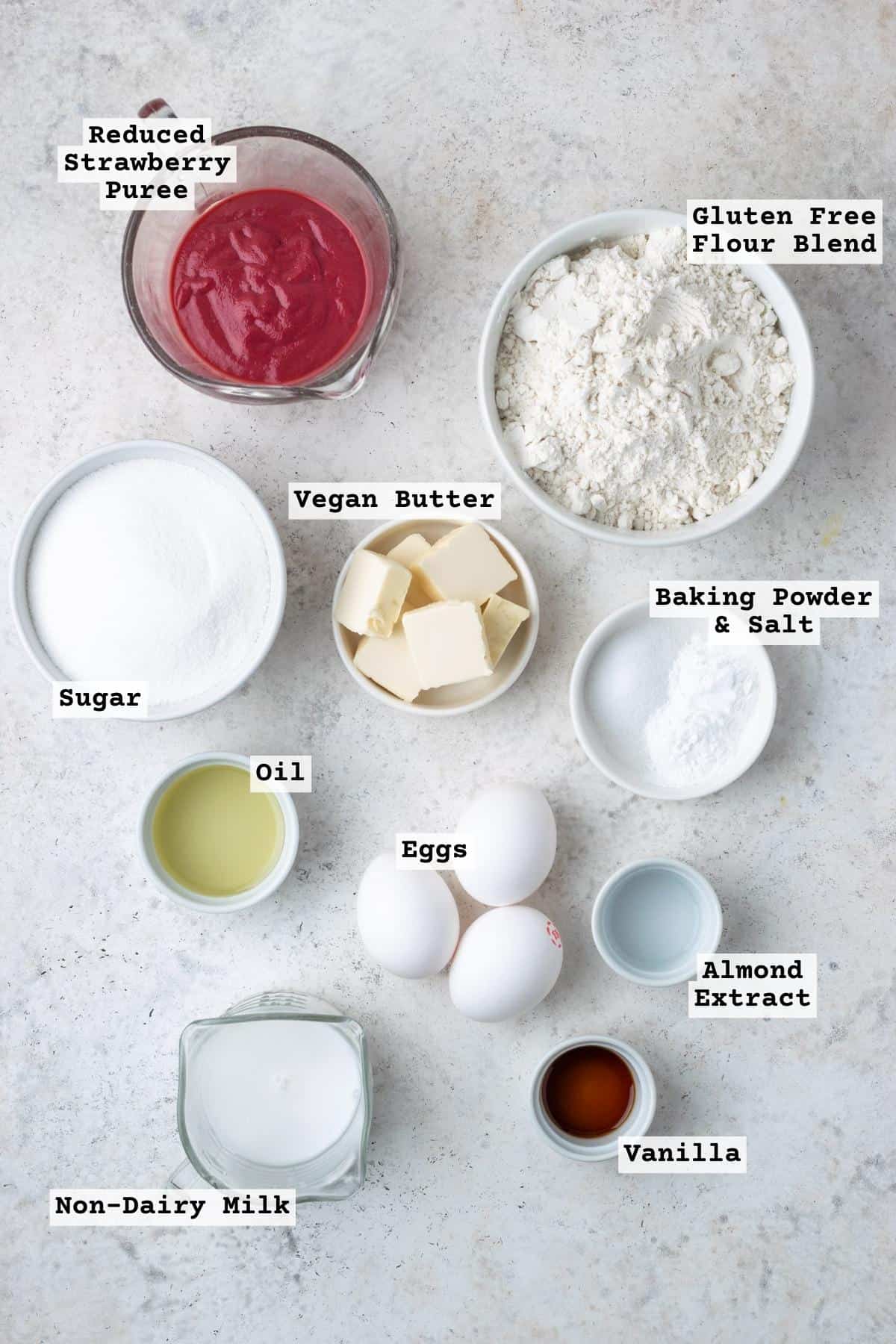 Fresh Strawberries - The berries will be cooked down to make a strawberry purée to flavor the cake.
Gluten Free 1-to-1 Flour Blend - I use Bob's Red Mill for all of my baking. You can use the flour blend of your choice, but the results may vary. If your blend doesn't contain xanthan gum, you will need to add it. Because gluten-free flours are all different, weighing your flour will provide the best results.
Baking Powder - Leavening agent will help increase the size of air bubbles in the mixture, which helps the cake rise.
Salt
Vegan Butter - I use either Miyoko's or Country Crock Plant Butter. Any vegan butter or regular butter will work. Do not use margarine.
Sugar - Don't skimp on the sugar as it's needed for the chemistry to be right in this recipe.
Olive Oil - You can use any light flavored oil in this recipe.
Vanilla Extract
Red Food Coloring - Food coloring is optional. The cake in the photo has 3 drops of red food coloring. Without it the cake comes out more of a rose gold color. The darker your berries are, the more pink the cake will be.
Non-Dairy Milk - I use coconut milk or oat milk in all of my recipes. Soy milk or almond milk will also work. You can also use regular milk if you're not dairy free.

Substitutions & Variations
Not Dairy Free - use dairy butter and milk in the same measure.
Make it Vegan - This cake uses 3 eggs, which can be tricky to replace. I would try a combination of a baking soda + vinegar egg and some applesauce.
No strawberries - Any other fruit should work here as long as you cook the puree down as instructed for the strawberries.
Instructions
Follow the directions carefully to produce the perfect strawberry cake!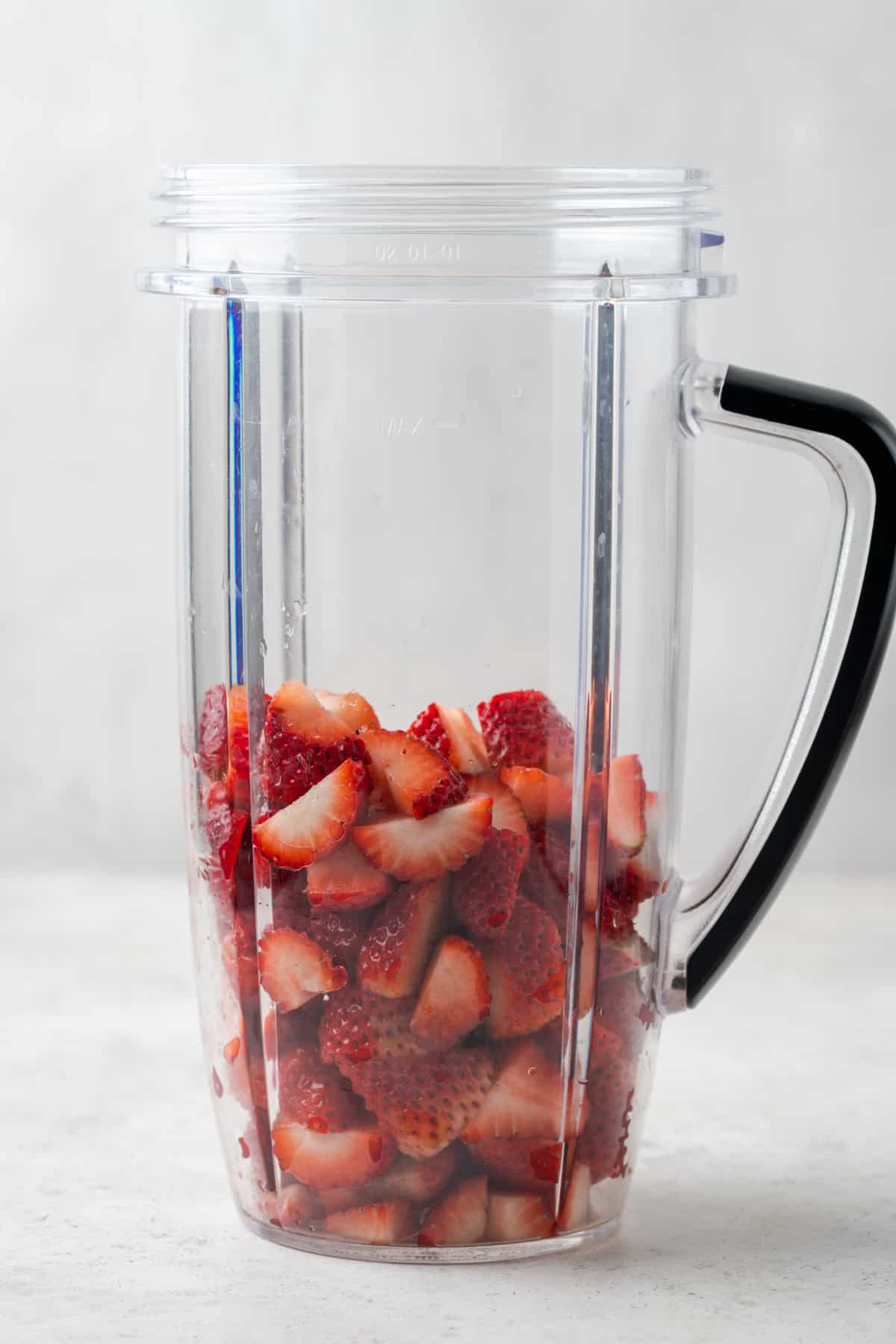 STEP 1: Place the sliced strawberries into a blender and puree until smooth.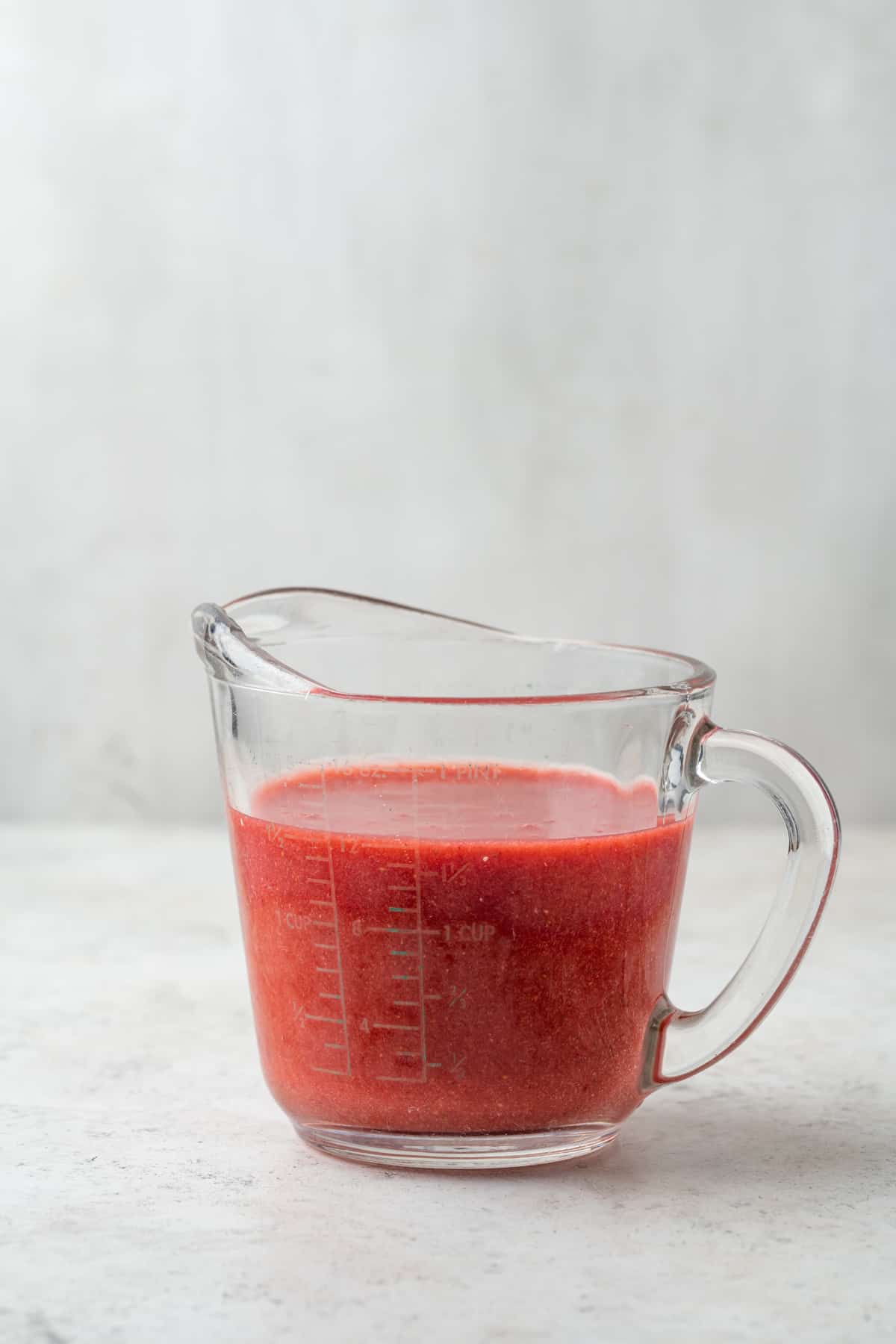 STEP 2: Place the strawberry puree into a small saucepan over medium low heat and cook until reduced by more than half (around 45-55 minutes of cooking).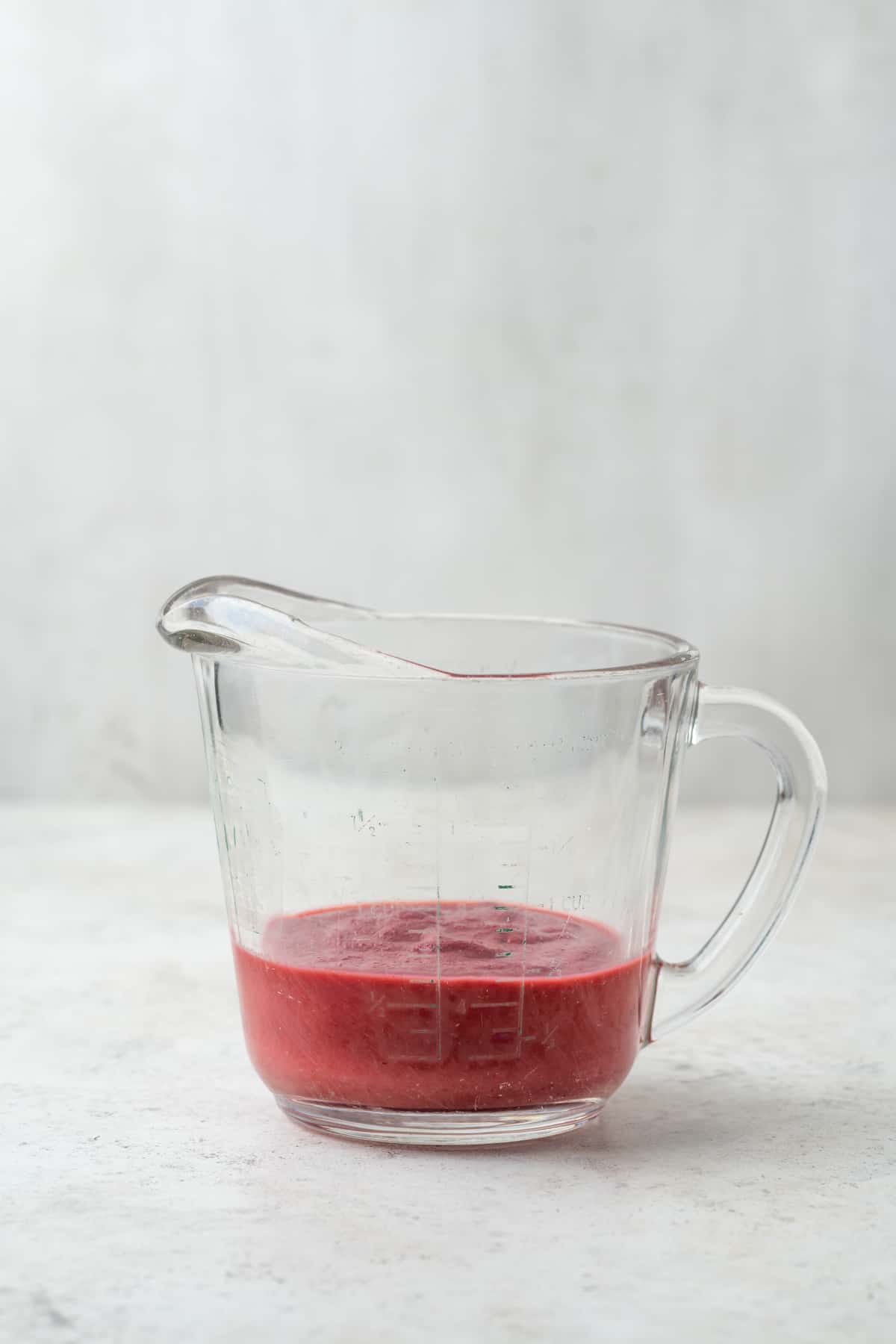 STEP 3: Once the puree is reduced and thick (like ketchup) remove it from the heat and transfer to another container to cool completely.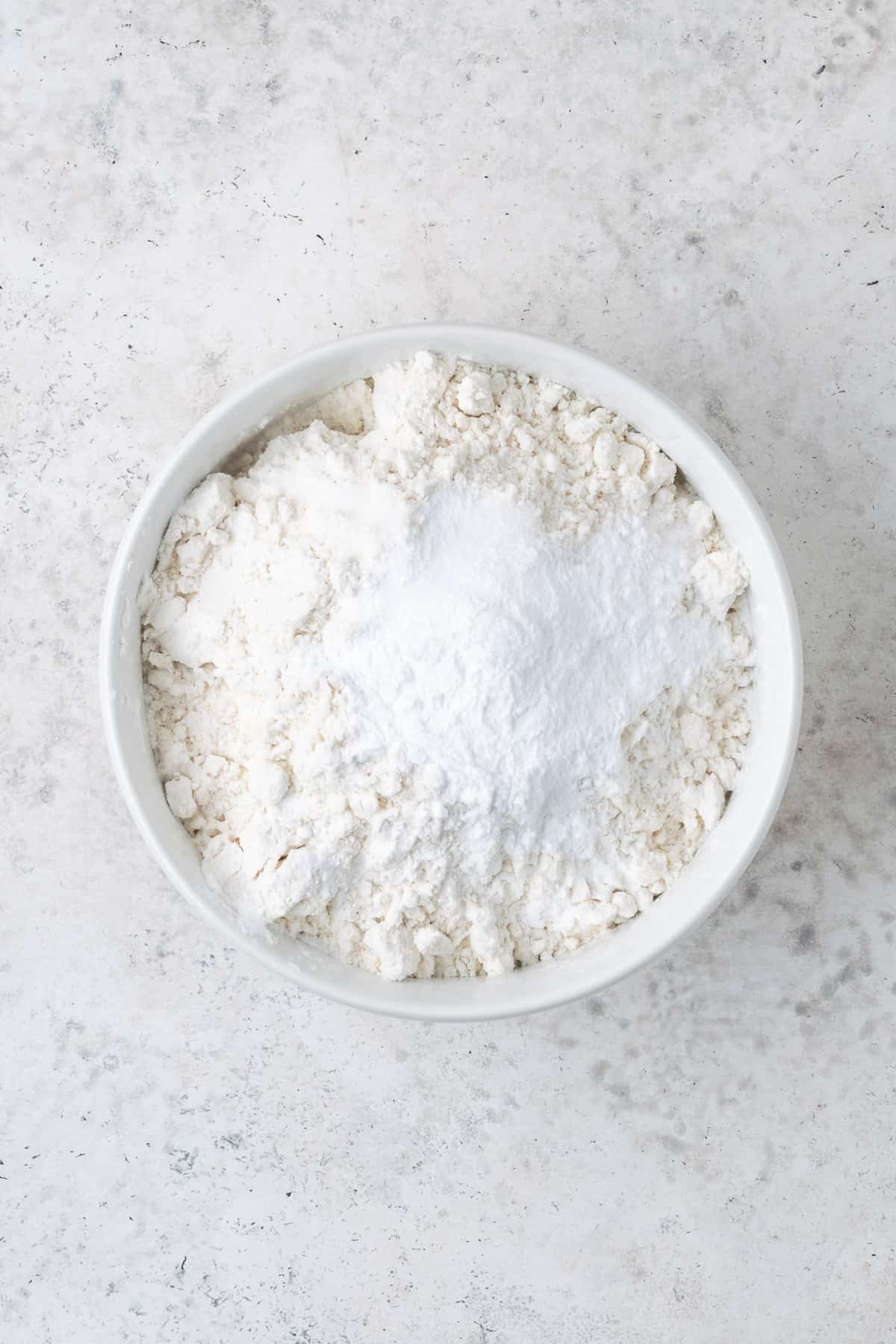 STEP 4: Combine the gluten free flour, baking powder and salt in a small bowl. Whisk until well mixed and set aside.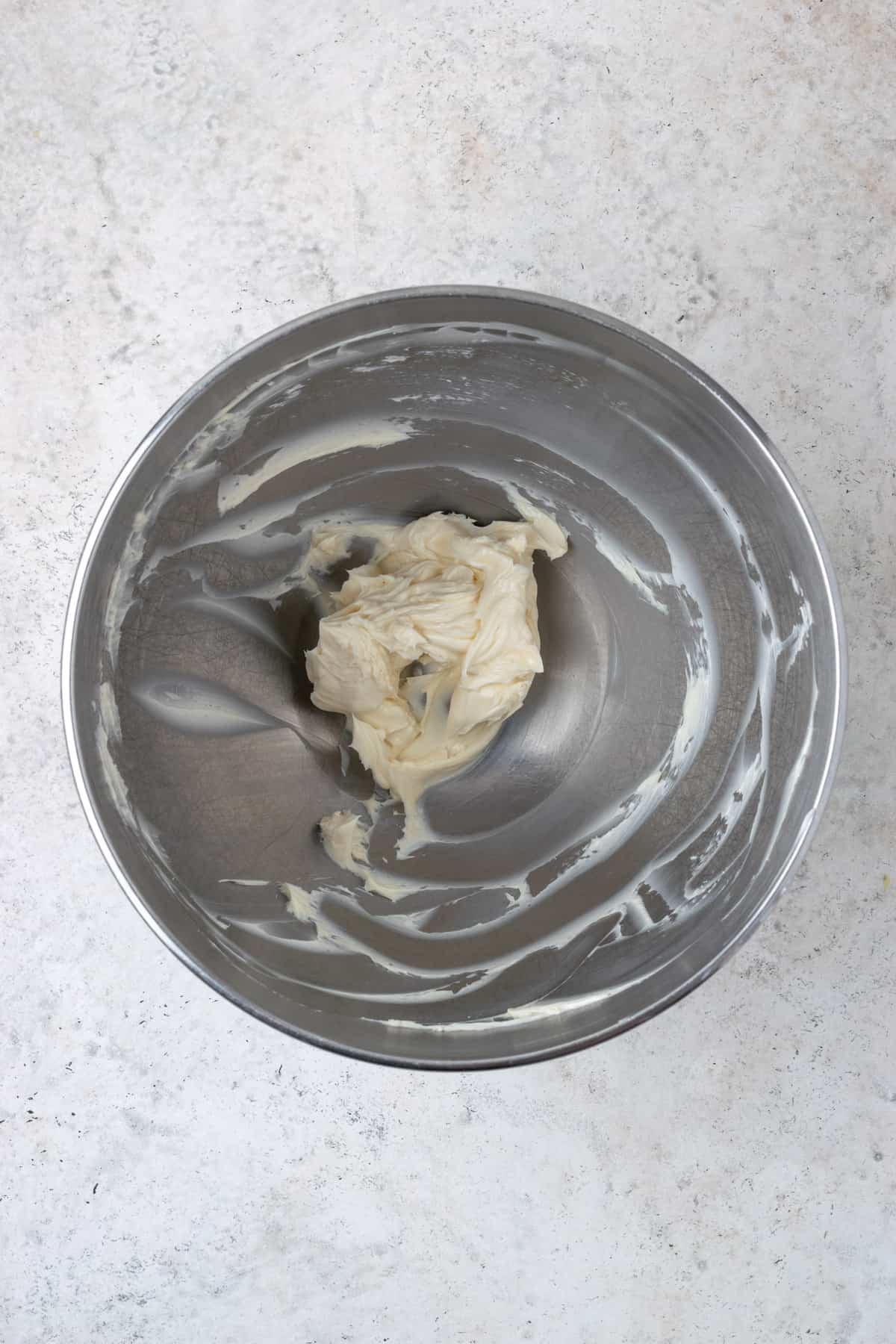 STEP 5: Add the butter to the bowl of an electric mixer. Beat on medium speed about 3 minutes until smooth and creamy.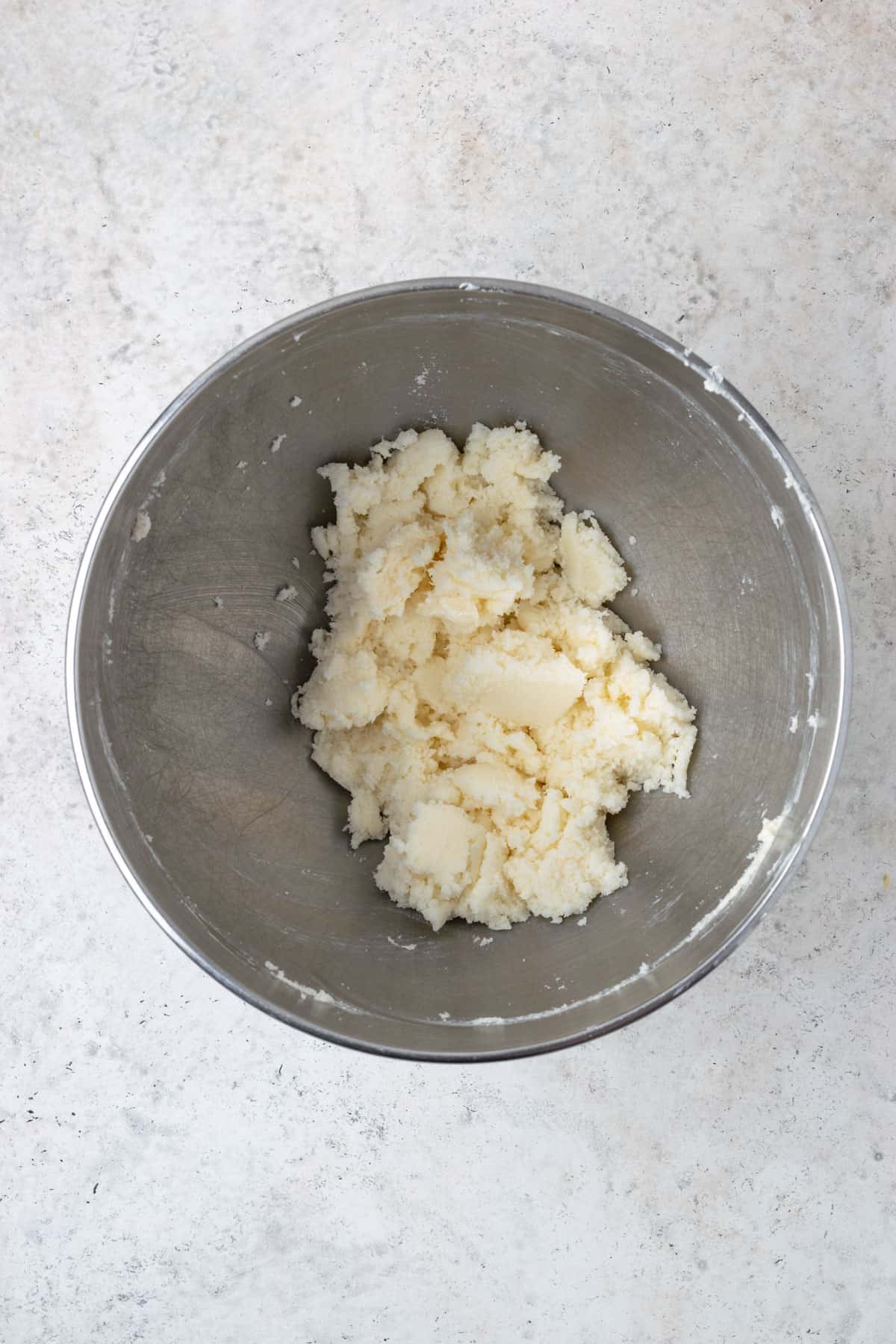 STEP 6: Add the sugar and beat for 2-3 minutes more until creamed together.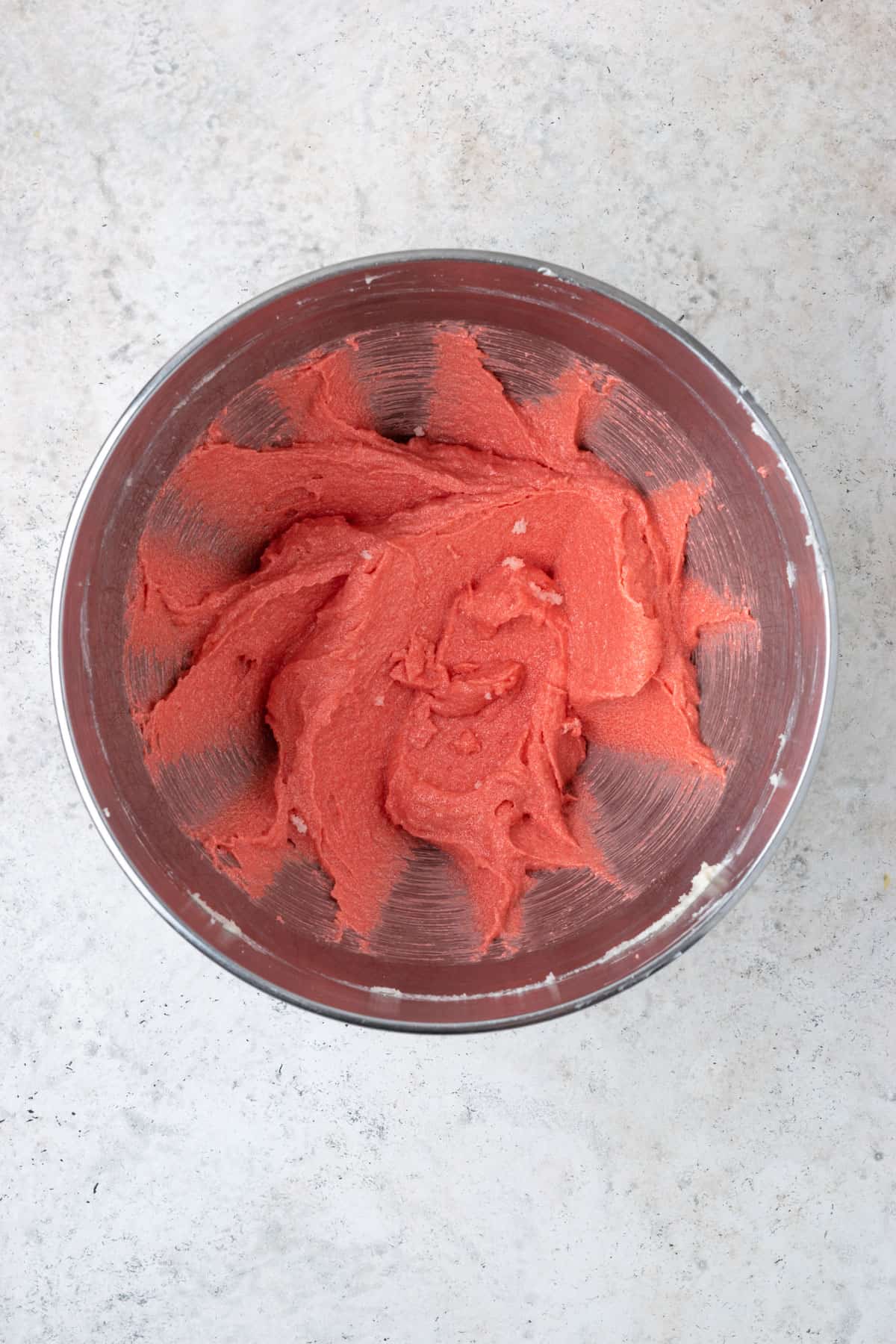 STEP 7: Add the vanilla and almond extracts, oil and food coloring (if using) and beat for 1-2 minutes until well combined.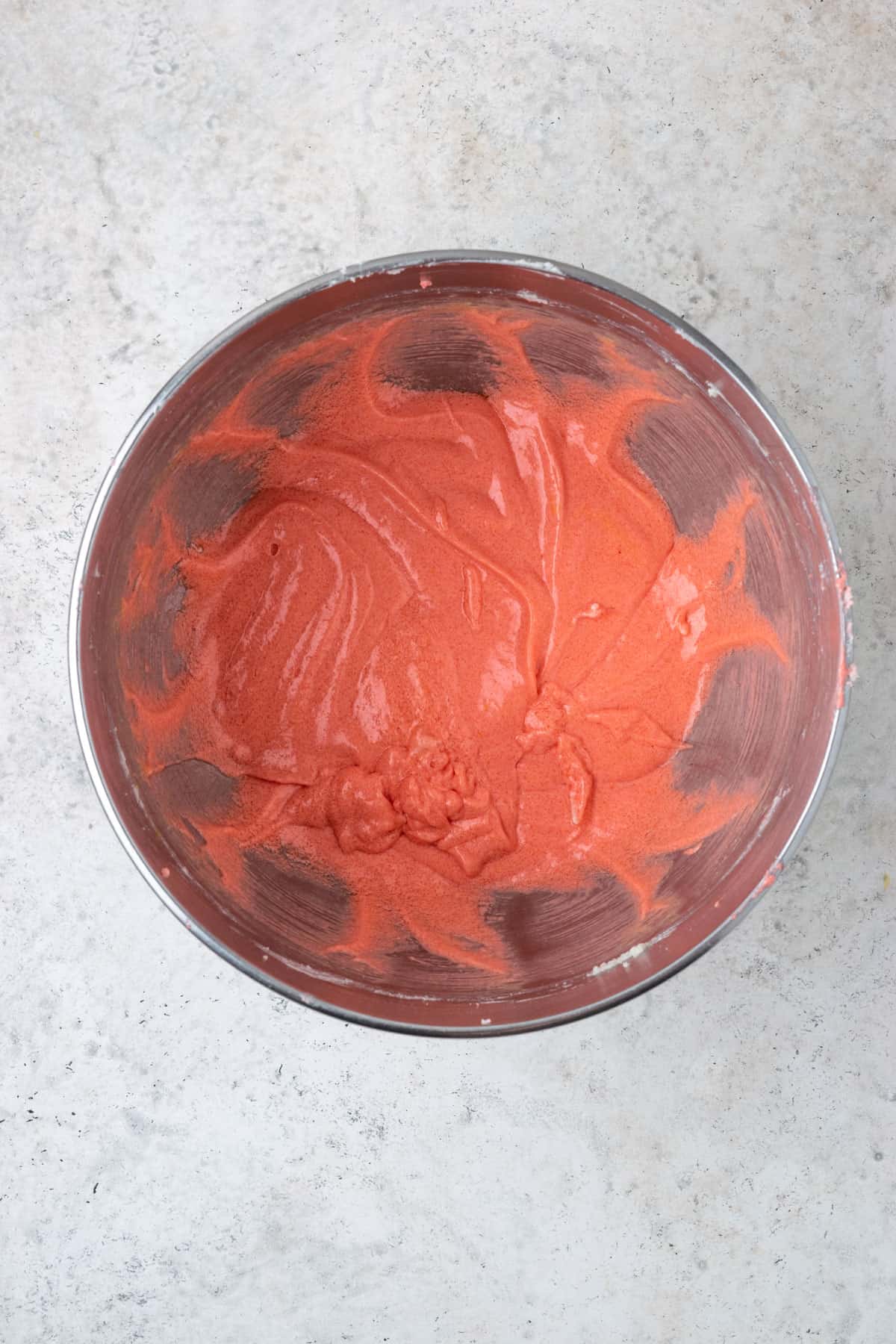 STEP 8: Add the eggs, one at a time, mixing for about 30 seconds between each addition.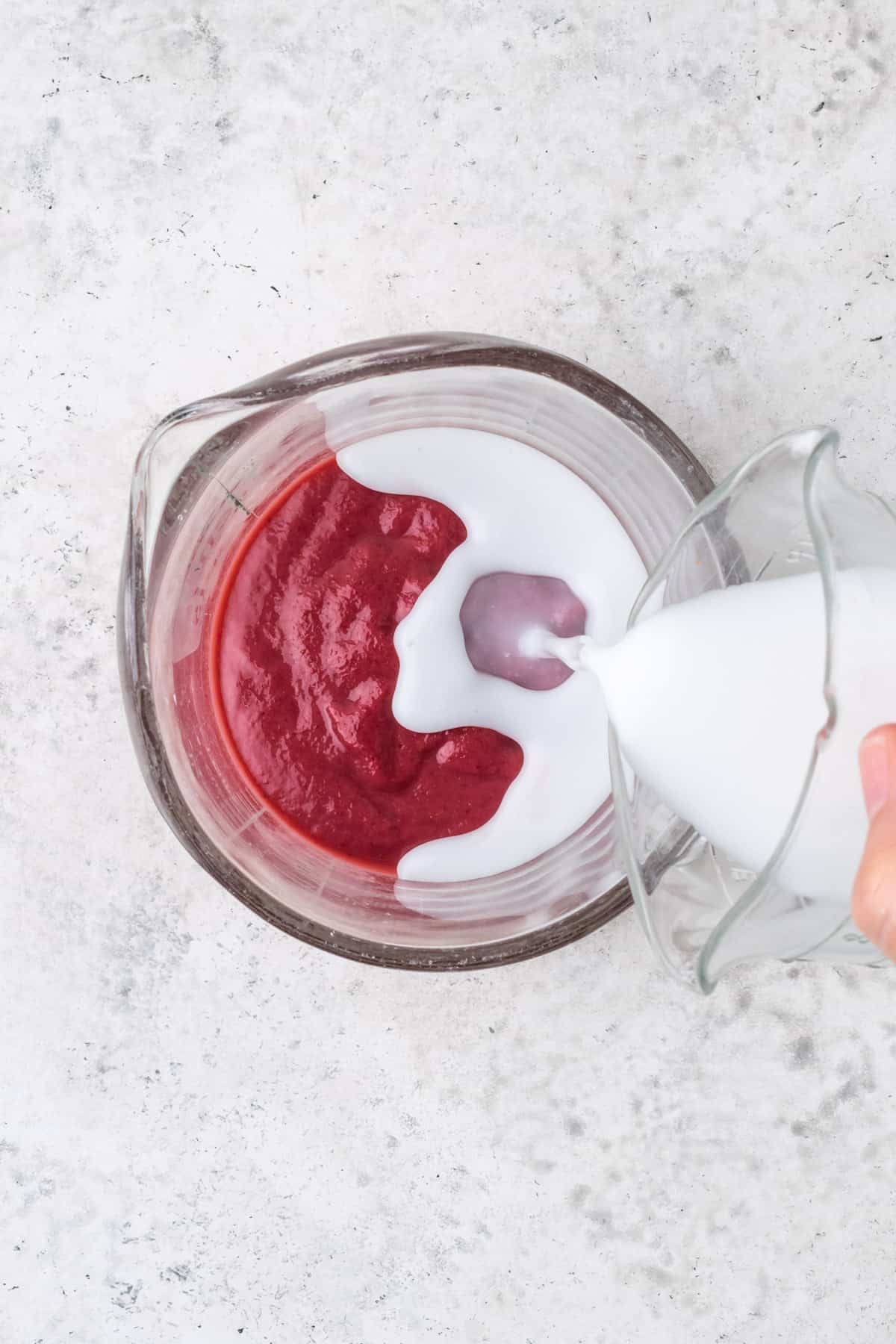 STEP 9: Add the milk to the reduced strawberry puree and stir together.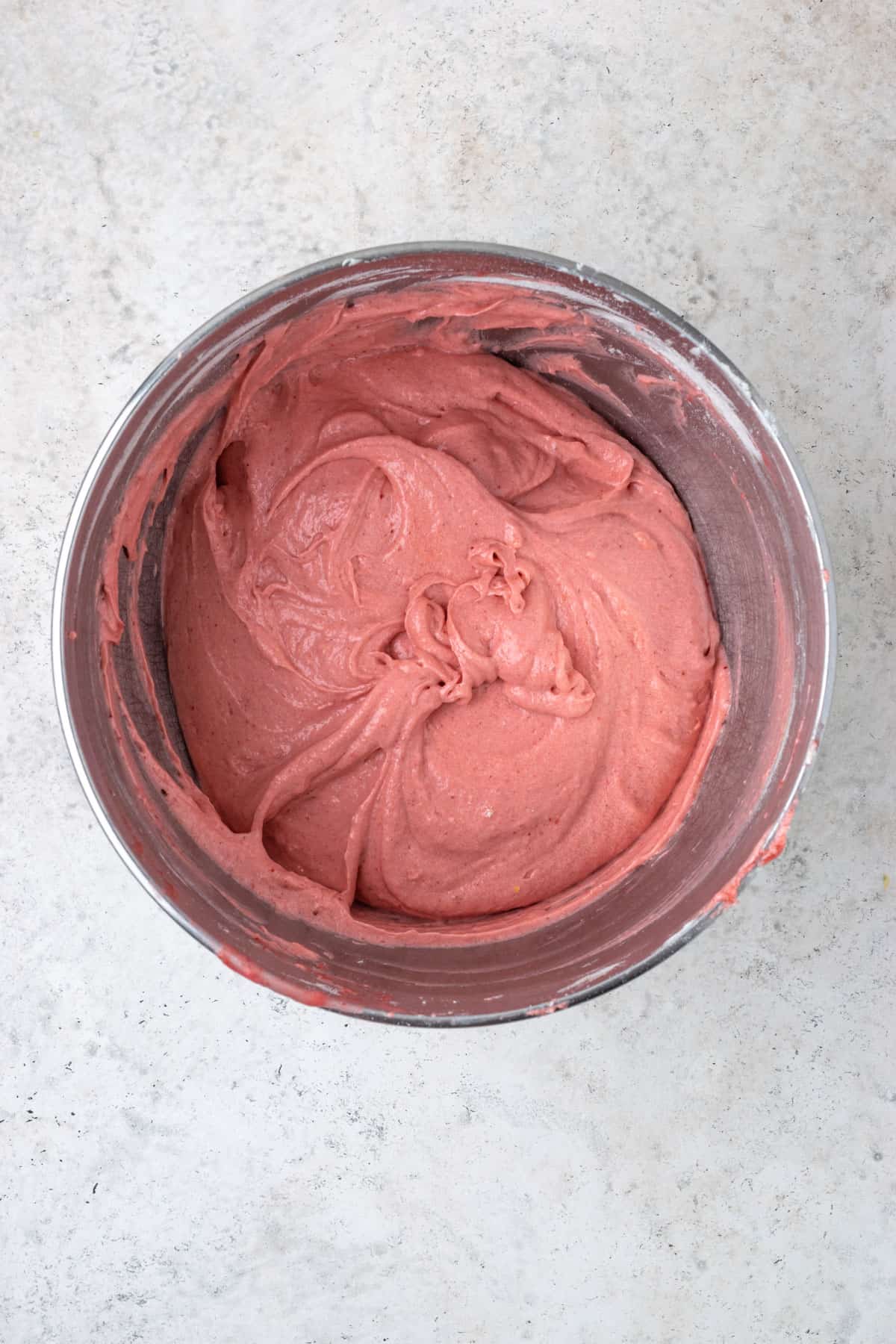 STEP 10: With the mixer on low, add half of the flour mixture followed by half of the strawberry puree. Repeat with the remaining ingredients. Stir only until it is combined.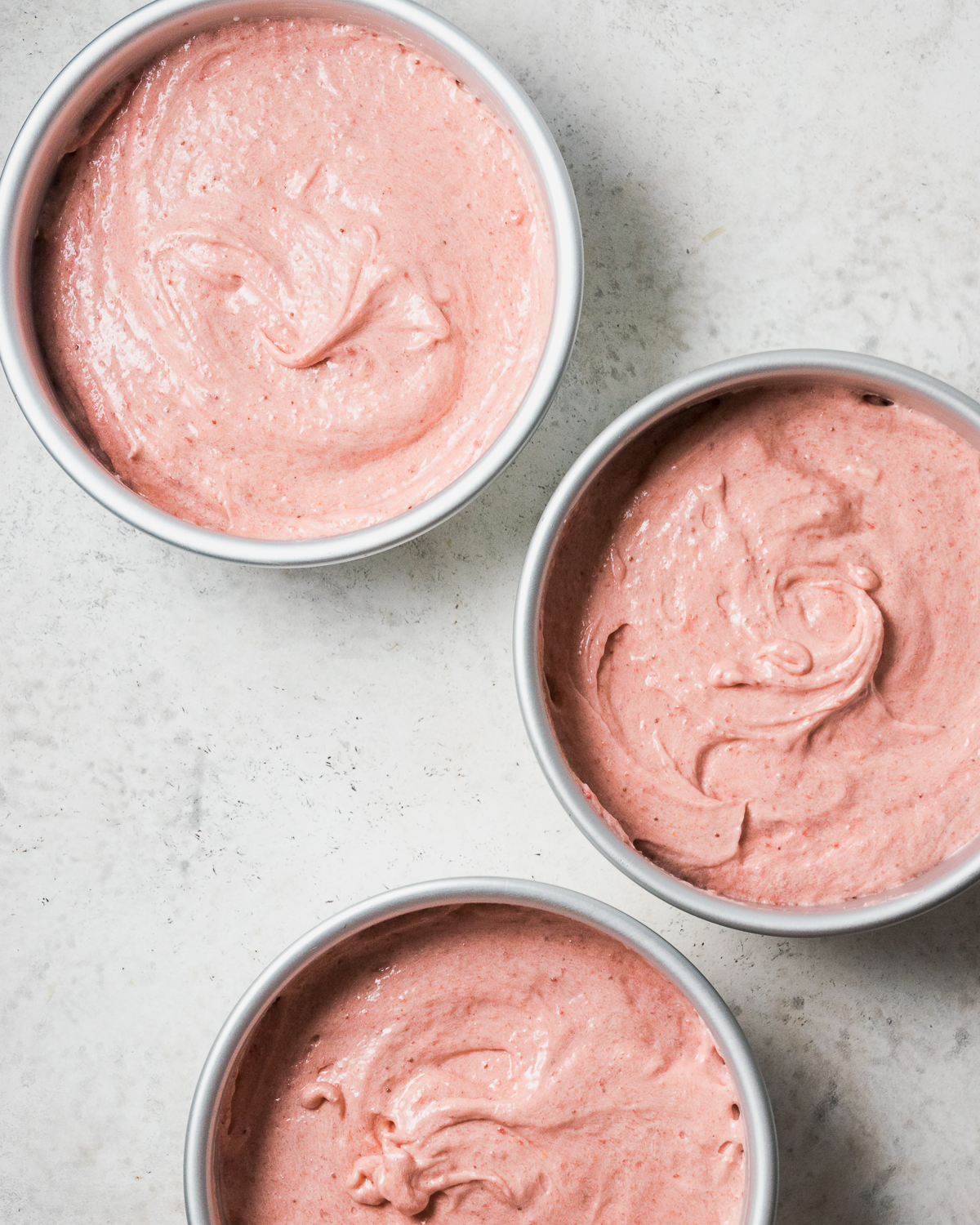 STEP 11: Divide the batter evenly into your prepared pans and bake.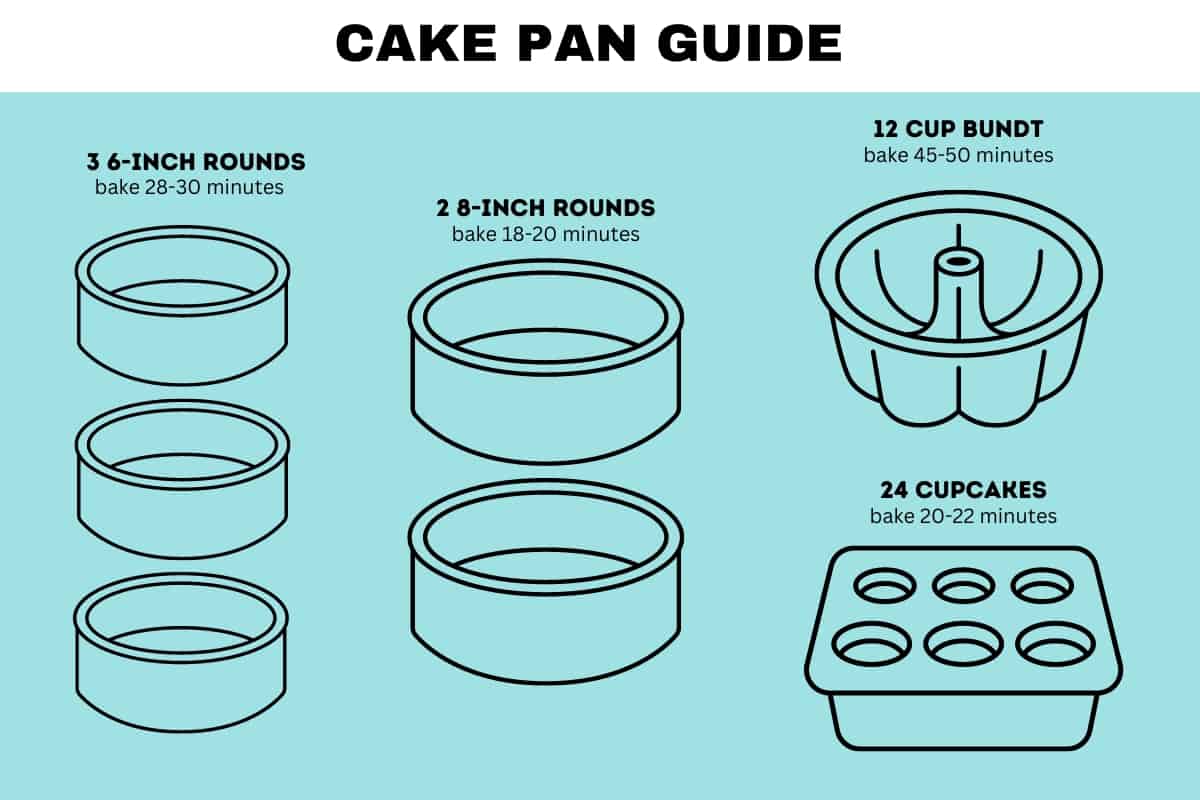 How do you add strawberry flavor into cake?
This gluten free strawberry cake uses a reduced strawberry puree for the flavor and the pink color. There are no artificial flavors, jello mixes or anything of the kind in this cake.
Simply put, you de-stem a pound of fresh strawberries and puree them in a blender. Pour them into a saucepan and cook over medium-low heat for about 45-55 minutes, until it's significantly reduced in volume. Make sure to cool your puree before adding it into the cake batter.
Cooking the berries down, will remove a lot of the moisture leaving a concentrated puree of strawberry flavor.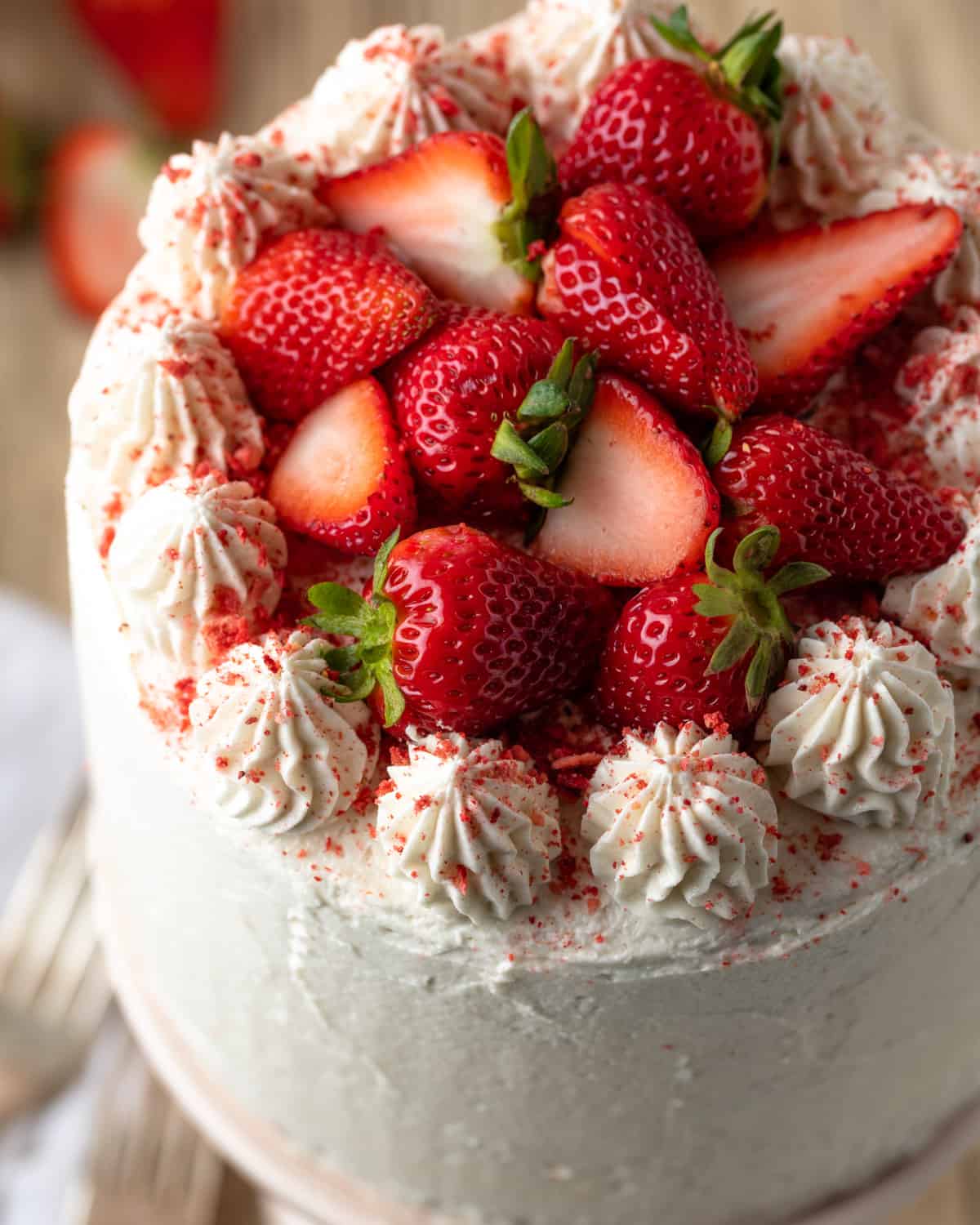 How do you make a gluten-free cake more moist?
Many people mistakenly think gluten free cannot be as good as gluten filled baked goods. This is simply not true.
Baking is all about science. To get a good moist gluten-free cake there are a couple of tricks to know.
First, using at least some oil as your fat in the recipe. This recipe calls for a mix of butter and olive oil. The oil contains an emulsifier, which means the batter will be able to hold together more liquid and fat.
Second, you need to make sure your recipe has the right amount of sugar compared to other ingredients. Sugar requires liquid to dissolve, so to have moisture leftover you must have more liquid than is required for the amount of sugar in the recipe.
Finally, the order in which the ingredients are combined is important for the final product. The flour molecules need to be coated with fat to prevent them from absorbing all of the liquid. Adding the liquid to your batter last will help with this process.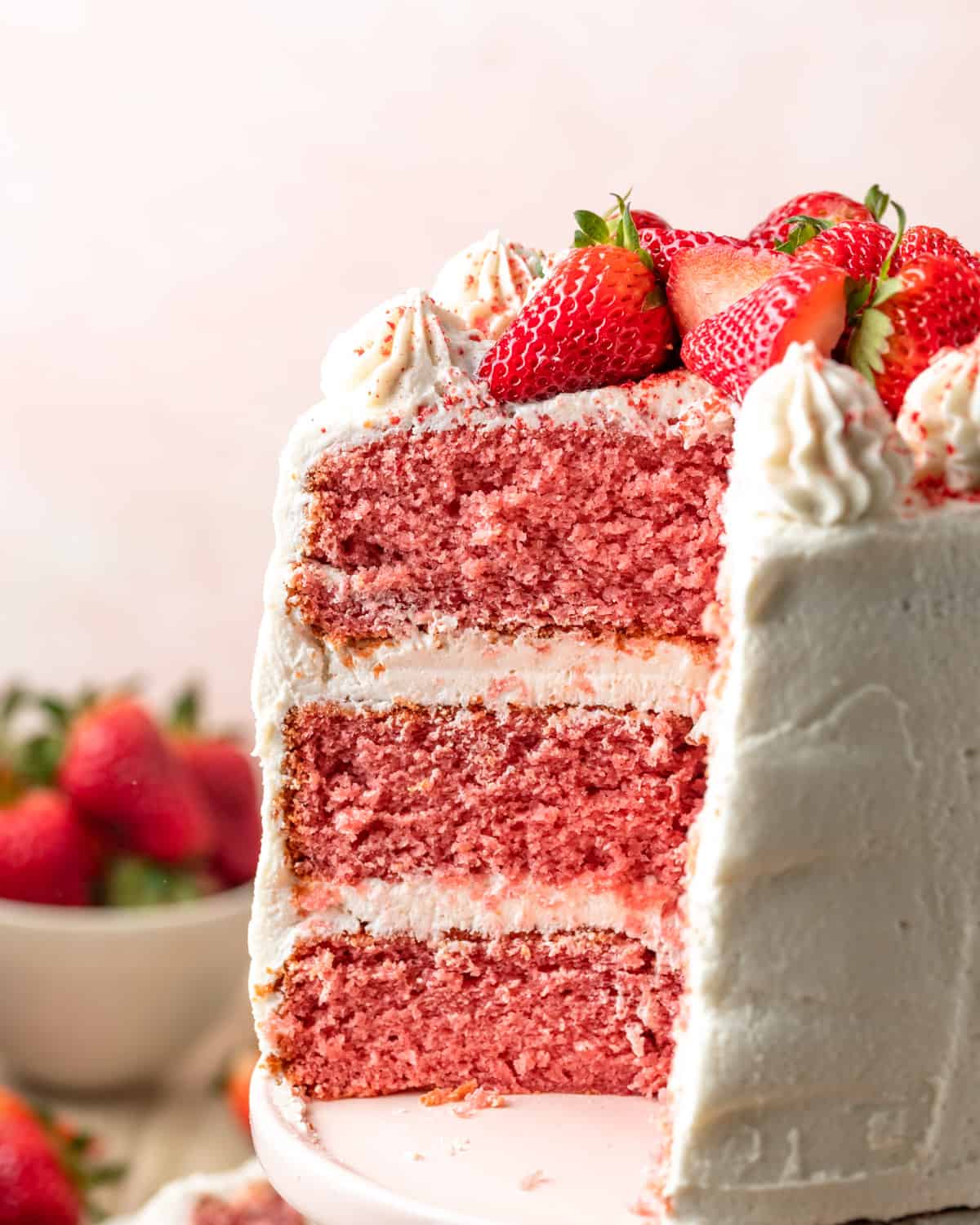 How do you store leftover strawberry cake?
Because of the cream cheese frosting, this cake must be stored in the refrigerator. I keep mine loosely wrapped in plastic wrap and it is good for about 3 days.
If you love strawberries, check out these other great recipes!
If you try this recipe, please leave a 🌟🌟🌟🌟🌟 star rating and let me know how you liked it in the comments below.
Recipe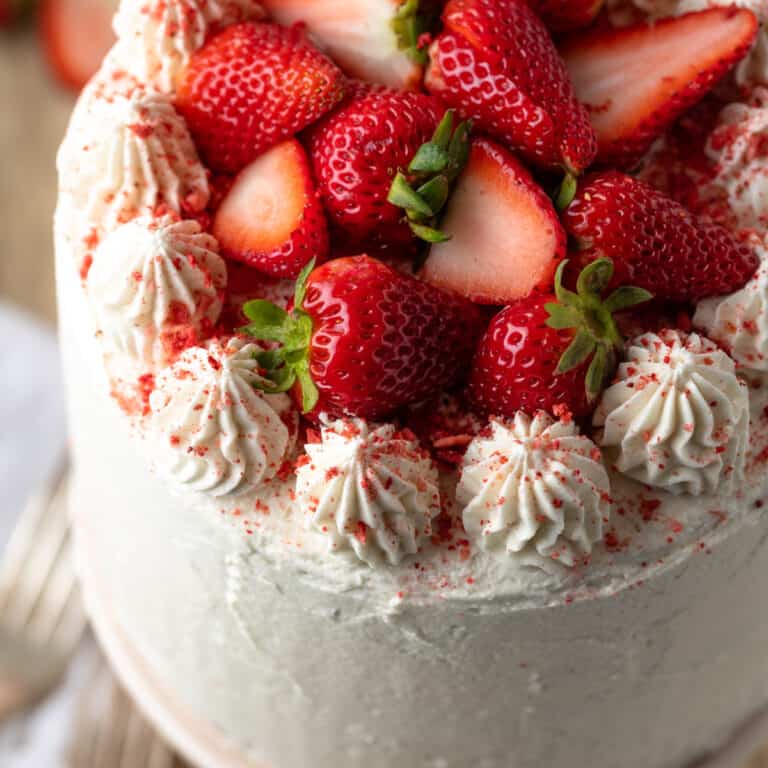 Gluten Free Strawberry Cake
This delicious gluten free strawberry cake is made with real strawberries and smothered in dairy free cream cheese frosting. It's the perfect way to celebrate strawberry season!
Print
Pin
Rate
Instructions
For the strawberry puree
De-stem one pound of fresh strawberries. Puree the berries in a blender and then pour them into a saucepan.

⅔ Cup Strawberry reduced puree (see directions below)

Cook over medium low heat for 45-55 minutes, stirring occasionally, until the berries are reduced to a paste, similar to a thick ketchup.

Cool berry puree completely before preparing the cake batter.
For the cake
Preheat oven to 350 degrees.

Grease and line the bottom of (3) 6-inch cake pans with parchment paper. This recipe can also be used to make (2) 8-inch layers or 24 cupcakes.

In a medium size bowl, combine the gluten free flour, baking powder and salt. Whisk together until the ingredients are evenly distributed. Set aside.

2 Cup Gluten Free 1-to-1 Flour Blend,

3 teaspoon Baking Powder,

1 teaspoon Salt

In the bowl of an electric mixer, beat the butter on medium speed for 3 minutes until light and fluffy. Scrape down your bowl.

6 Tablespoon Vegan Butter

Add the sugar and beat again on medium speed for 2-3 minutes. Scrape down your bowl.

Add the extracts, oil and food coloring if you are using. Beat for 1-2 minutes until well combined.

⅓ Cup Olive Oil,

1 ½ teaspoon Vanilla,

2-3 drops of Red gel food coloring,

1 teaspoon Almond Extract

Add the eggs, one at a time beating on medium low speed for 30 seconds between each egg.

In a measuring cup, combine your milk and strawberry puree. Set aside.

⅓ Cup Non-Dairy Milk,

⅔ Cup Strawberry reduced puree (see directions below)

Turn the mixer to the lowest setting. Add about ½ of the flour mixture. Then add ½ of the liquid (strawberries + milk), then the remaining flour and remaining liquid. Only stir until the dry ingredients are incorporated.

Remove from the mixer stand and scrape down the sides of the bowl, mixing any remaining ingredients in by hand.

Divide your batter evenly between your cake pans. I use a scale to get them exactly even.

Let pans of batter rest for 10 minutes before placing them into your preheated oven.

Bake for 28-30 minutes.

Remove from oven and let cool in the pan for 15 minutes. Then turn out onto a cooling rack. Cool cakes completely before frosting, this will take 1-2 hours. While the cake cools, prepare your frosting.
For the frosting
Add the cream cheese to the bowl of an electric mixer. Beat on medium speed for 2-3 minutes until it is smooth.

8 ounces Vegan Cream Cheese

Add the room temperature butter. Beat another 2 minutes until they are well combined.

Add your vanilla.

Turn the mixer to the lowest setting and slowly add in the powdered sugar.

Once it has all been combined into the cream mixture, scrape down your bowl.

Then turn your mixer to medium high speed and beat for about 5 minutes until it is smooth and fluffy.

Use immediately to top cake. If you want to use a piping bag, then refrigerate the icing about 30 minutes before adding to your piping bag.
To assemble the cake
My cakes came out very level with this recipe. If needed, level your cakes using a sharp knife to cut off the dome top.

Place a dab of frosting on the middle of your plate. Place the first cake layer on the plate.

Top with ¼ of the frosting. Spread the frosting over the layer.

Add the next cake layer on top of the frosting and add another ¼ of the frosting on top.

Add the top layer to the cake.

Place cake in the refrigerator for 20-30 minutes to chill the frosting.

Remove the cake from the refrigerator and add another ¼ of the frosting to the top of the cake. Working from the top down, coat the sides and the top in an even layer of frosting. Smooth the surface with a bench scraper.

Place the cake back into the refrigerator for 30 minutes (this will be your crumb coat).

Remove the cake from the refrigerator. Apply the remaining frosting. Swirl it over the whole cake or decorate to your taste.

Sprinkle with freeze dried strawberry powder and garnish with fresh berries (optional)

1 Tablespoon Freeze Dried Strawberry Powder,

Fresh strawberries for garnish

Chill at least 30 minutes prior to serving to set the frosting.
Notes
Food coloring is optional in this recipe. The cake in the photo has 3 drops of red food coloring added to the batter. I have made the cake without coloring and it comes out a rose gold color. The riper your berries are the pinker the cake will be.
Storage: Cover the leftover cake and store in the refrigerator up to 3 days.
Calories:
729
kcal
|
Carbohydrates:
114
g
|
Protein:
6
g
|
Fat:
30
g
|
Saturated Fat:
7
g
|
Polyunsaturated Fat:
5
g
|
Monounsaturated Fat:
12
g
|
Trans Fat:
1
g
|
Cholesterol:
50
mg
|
Sodium:
607
mg
|
Potassium:
56
mg
|
Fiber:
4
g
|
Sugar:
84
g
|
Vitamin A:
520
IU
|
Vitamin C:
4
mg
|
Calcium:
122
mg
|
Iron:
2
mg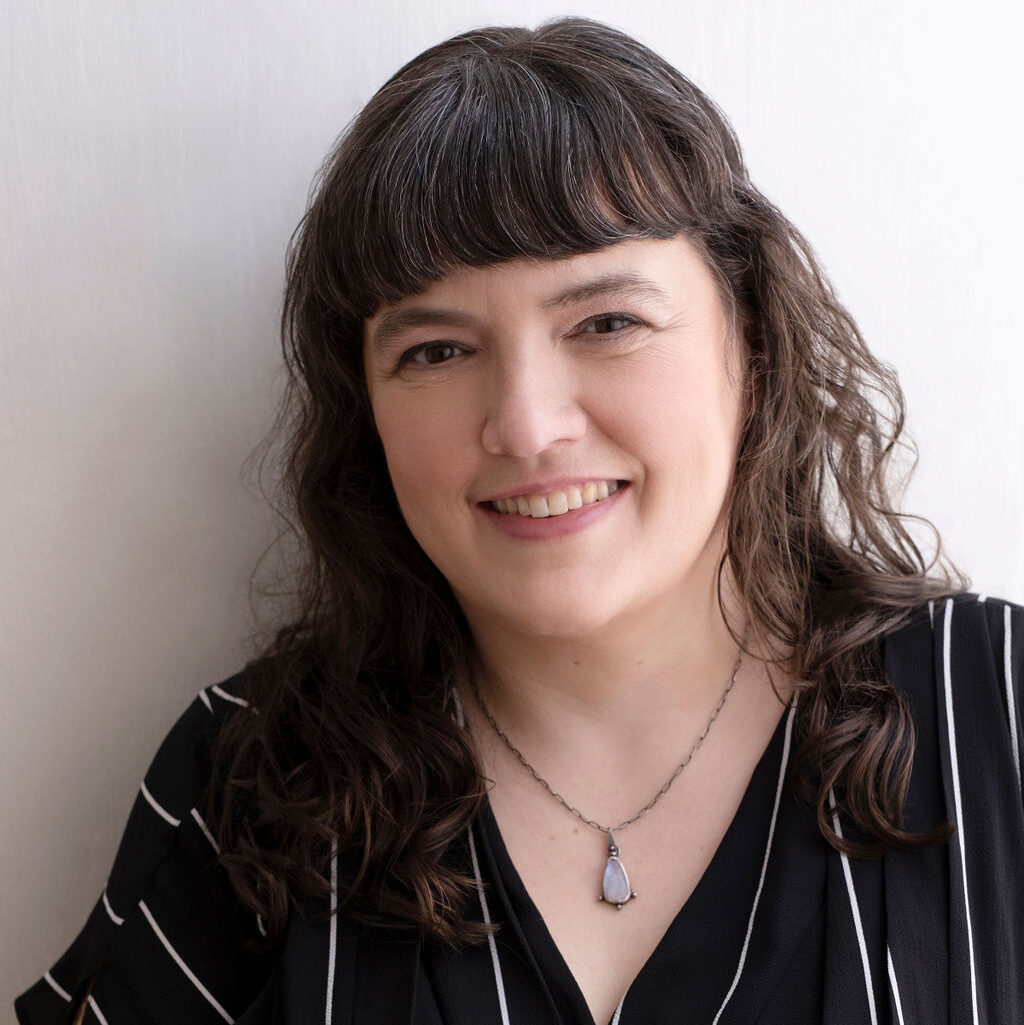 Tiffany is the recipe developer, stylist and food photographer behind Well Fed Baker. As a lifelong baker who had to go gluten free and dairy free in 2016, Tiffany strives to share allergen friendly recipes that never feel like they are free from anything.