This simple recipe for herb roasted chicken results in the most tender meat and golden brown skin. It's perfect for an easy Sunday supper or to use for meal prepping. At our house, I even prepare this for holiday dinners in place of turkey, since we only need to feed three people.
The best part of this recipe is that you can make it and repurpose it throughout the week. Make a soup, toss it into tortillas for taco night, place slices over salad, or make sandwiches! This is my go-to recipe when I have a busy week ahead, and it may just become yours, too!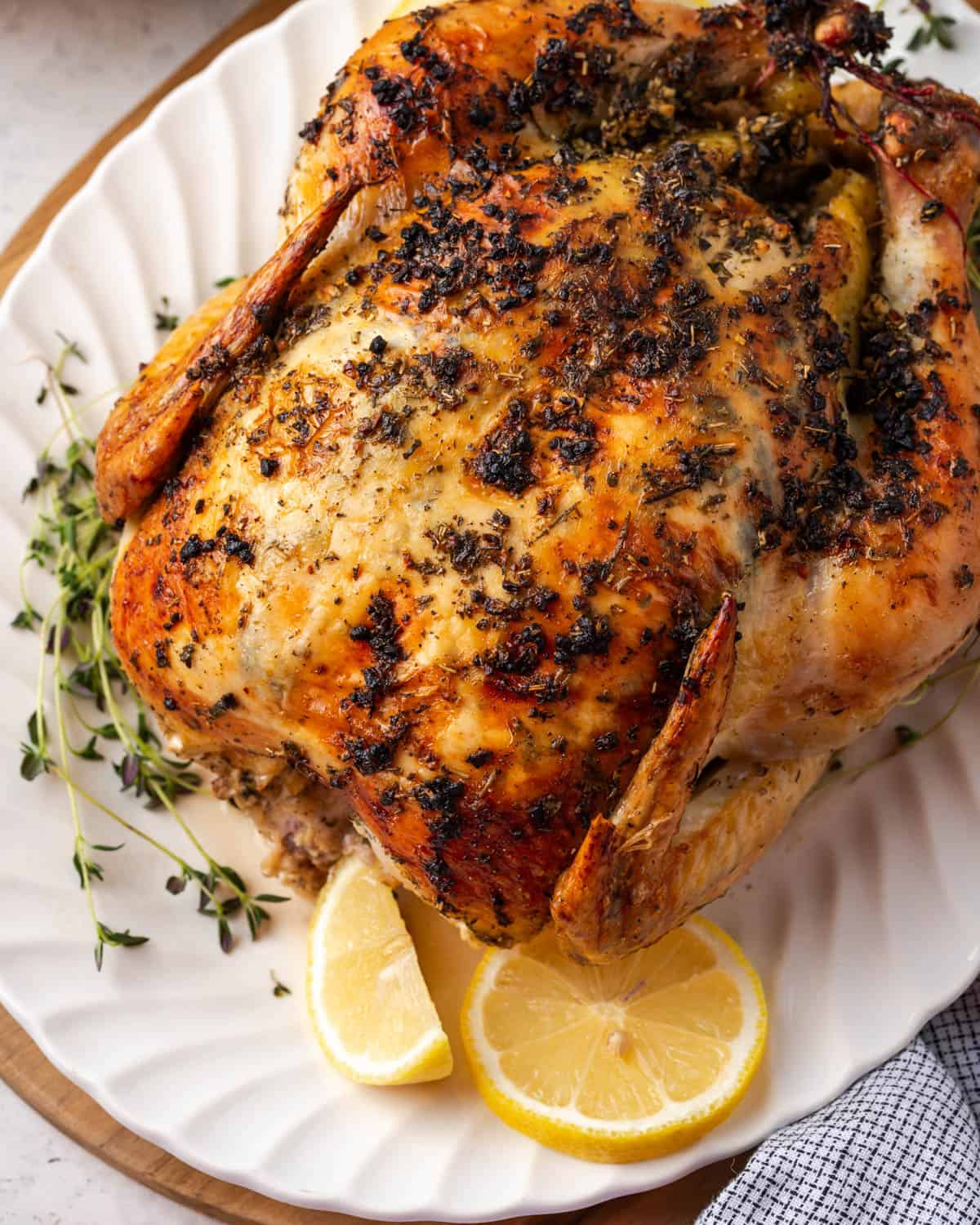 I love to roast potatoes and carrots (or other root vegetables) right in the pan with the chicken so that I have a full meal all ready at once. However, you can also make any side dish you like from green beans and potatoes to corn casserole or baked beans.
Jump to:
Want to save this recipe? Enter your email below and we will send it straight to your inbox!
You will also be added to our weekly email list.
Why You 'll Love This Recipe
Versatile - This simple garlic herb chicken can be served so many ways. Slice it up and serve it with vegetables or potatoes, make leftover chicken into chicken salad, or use it to make chicken pot pie or chicken and rice soup.
Full of Flavor - This lemon herb chicken is bursting with bright citrusy flavor, classic Italian seasoning, and pleasantly pungent garlic.
Easy to Make - It couldn't be easier to make this basic recipe for roasted chicken - it only takes a few minutes to prepare.
Ingredient Notes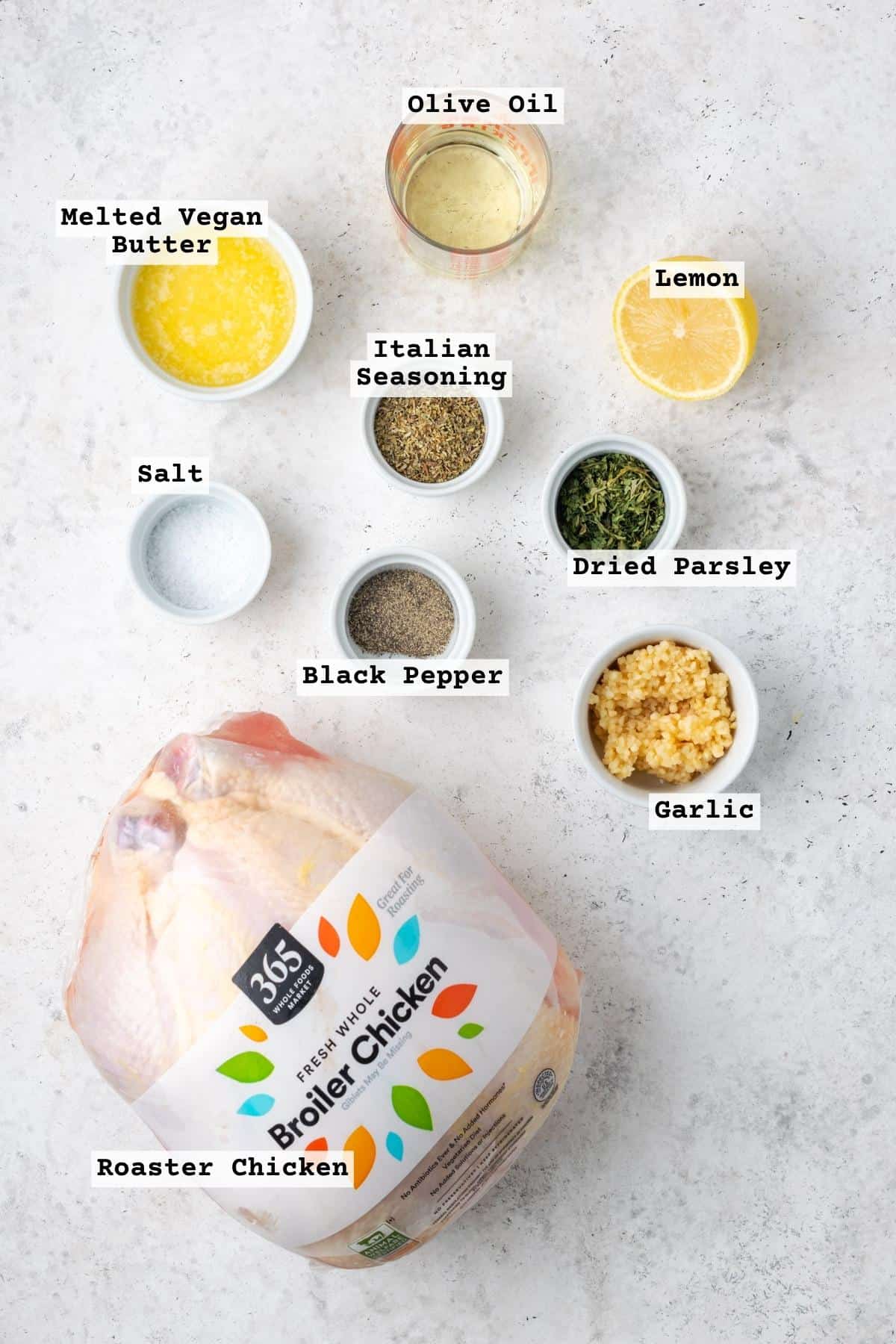 Roaster Chicken - Roaster chickens (also called broiler chickens) are perfect for cooking at higher temperatures. Their fat keeps them moist while cooking.
Vegan Butter - Melt the butter in the microwave before mixing with the oil and spices. If you're not dairy free, use regular butter in the same measure.
Olive Oil - Use a good quality oil for the best flavor.
Italian Seasoning - This seasoning blend imparts tons of flavor into the chicken.
Dried Parsley - Dried parsley adds a fresh and earthy flavor.
Minced Garlic - This ingredient gives the chicken a savory, garlicky flavor. If you're a garlic lover, you can adjust the quantity - you can also add garlic powder to the butter and seasoning mixture.
Lemon and Lemon Juice - Lemon keeps the chicken from drying out while cooking and imparts citrusy flavor. Lemon juice helps to add brightness to the garlic butter mixture.
Salt - Salt enhances the flavor of the spices, parsley, and lemon. I use Kosher salt but you can use any type that like.
Black Pepper - Black pepper balances the other ingredients.
Baking Twine - Use the kitchen twine to tie up the whole chicken before cooking. This process is called trussing, and doing it will help the chicken to cook evenly.
See recipe card for full ingredient list and quantities.
Substitutions & Variations
Not Dairy Free - use dairy butter in the same measure.
Herbs and Spices - Try a different blend of spices or use any fresh herbs you may have in your garden. Or, try adding herbs like fresh rosemary sprigs to the cavity with the lemon.
Citrus - Substitute orange or lime for the lemons. Or, for a more lemony flavor, add lemon zest to the butter mixture under the skin and on the outside of the chicken.
Heat - Add cayenne or red pepper flakes for a spicy flavor.
How to Make Lemon Garlic Herb Chicken
Before beginning to season the chicken, cut a piece of baking twine that measures about 4 feet in length.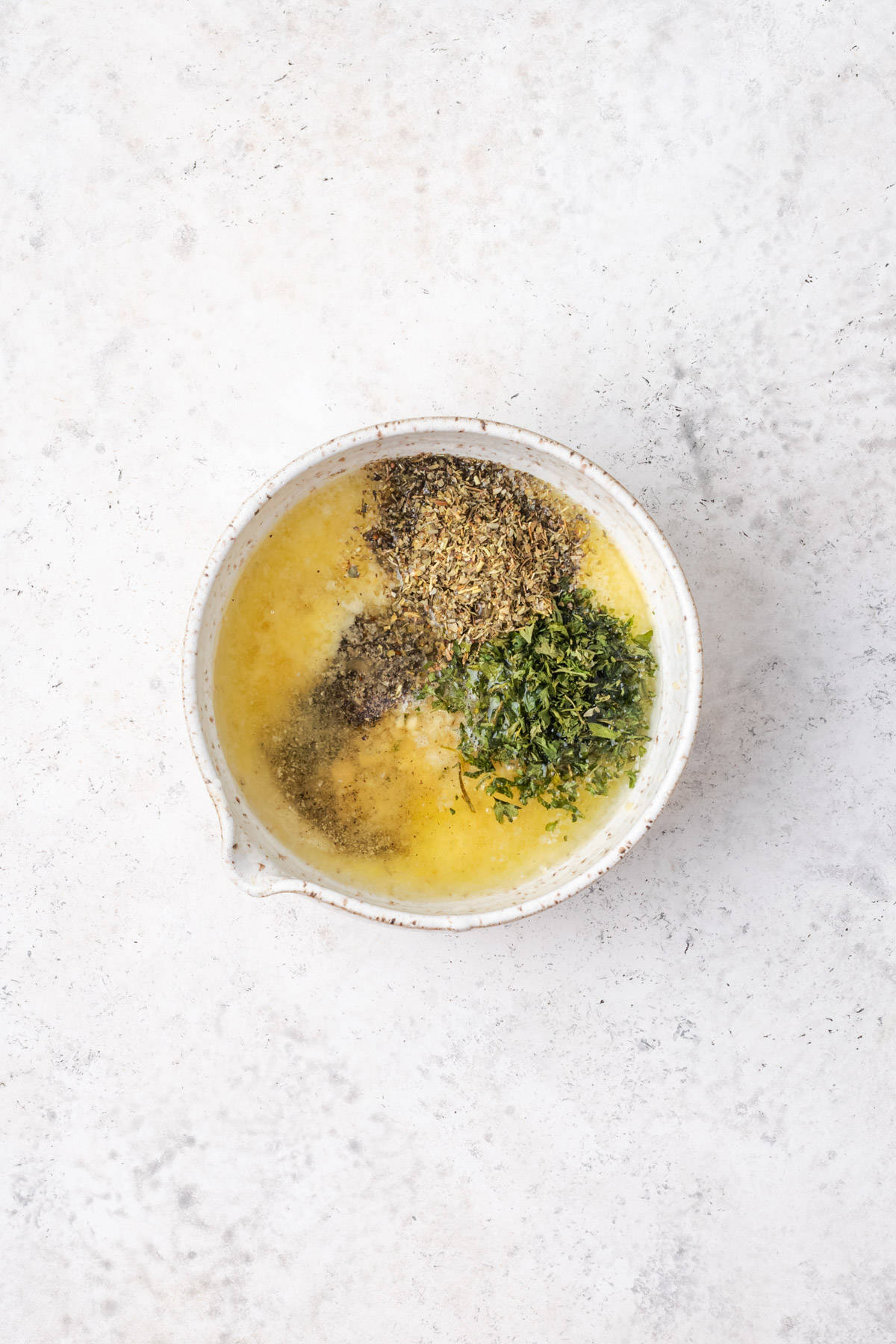 STEP 1: Place the butter, olive oil, parsley, lemon juice, garlic, and spices in a small bowl and mix to combine.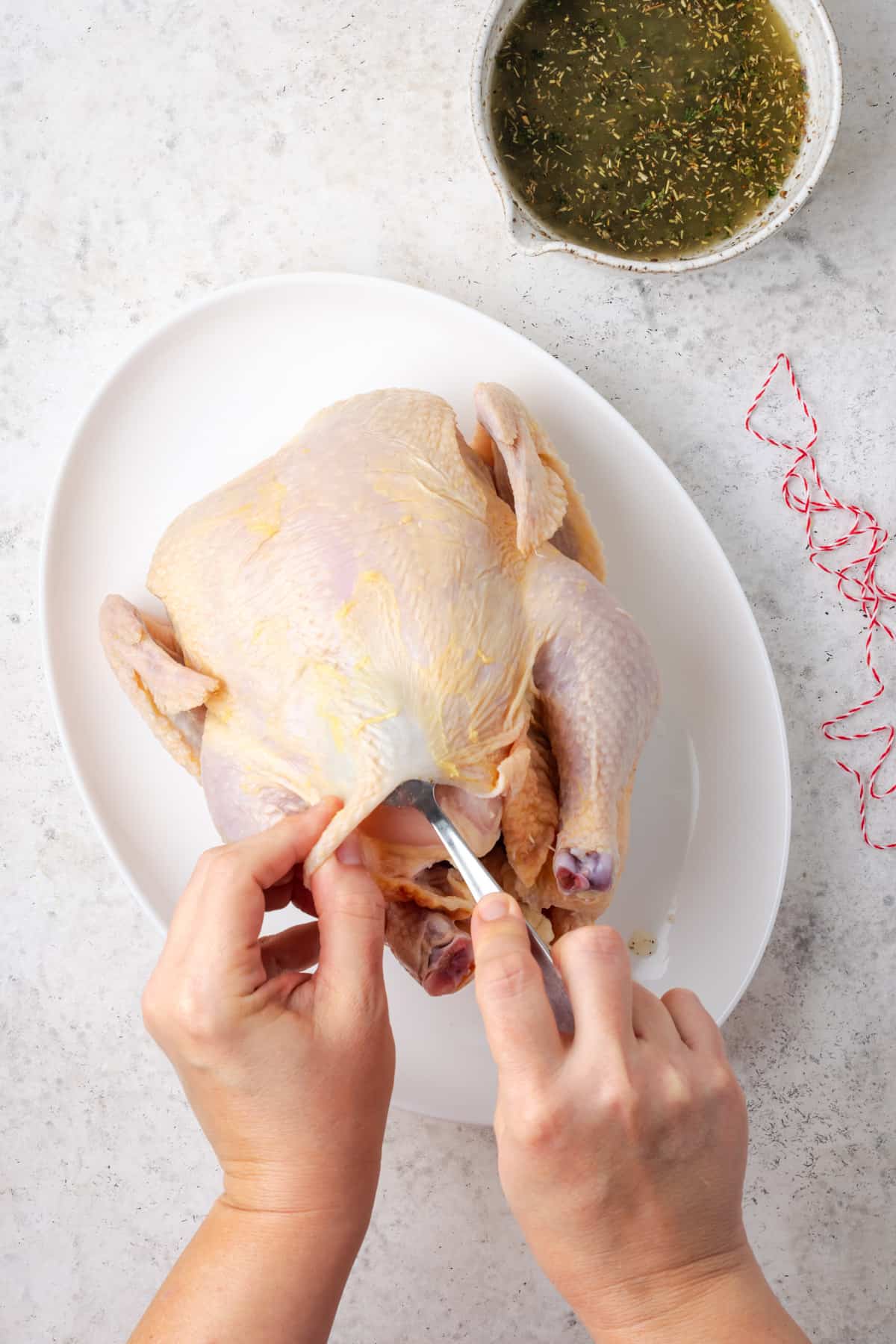 STEP 2: Place the chicken on a clean work surface. Remove and discard the organs if included. Use a spoon to separate the skin from the breast of the chicken.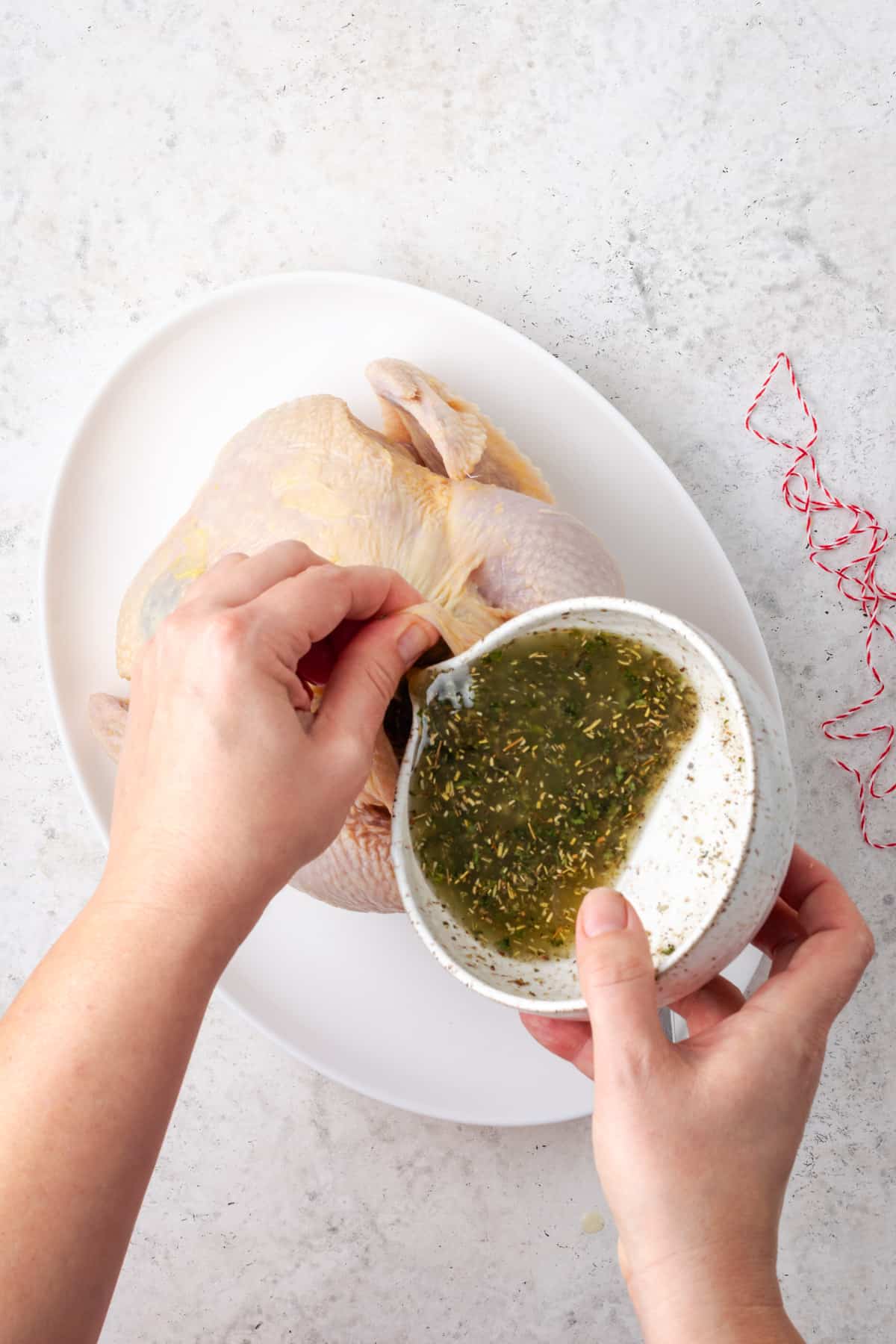 STEP 3: Pour some of the herb butter between the skin and the flesh.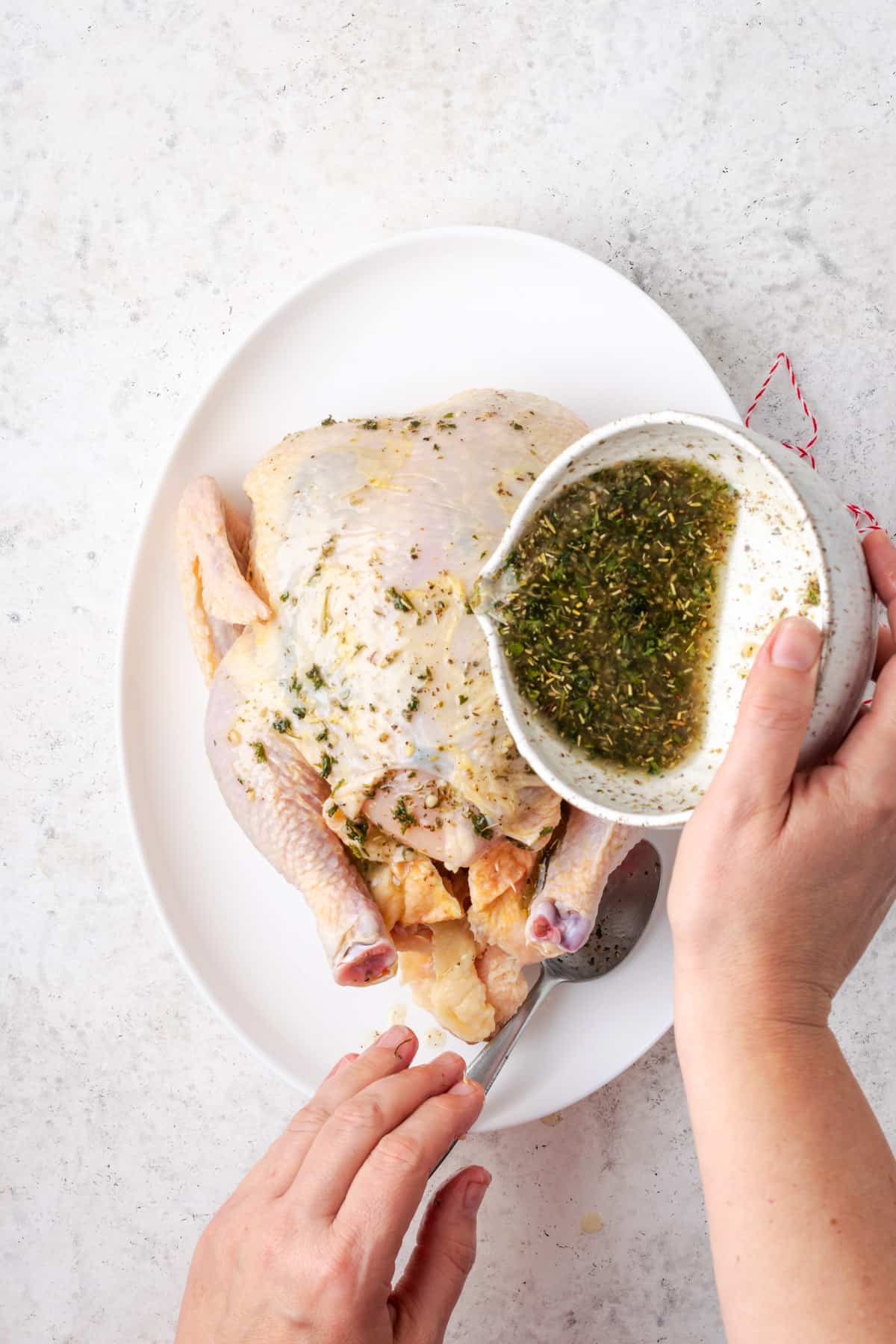 STEP 4: Coat the outside (top and bottom) of the chicken with the herb butter mixture.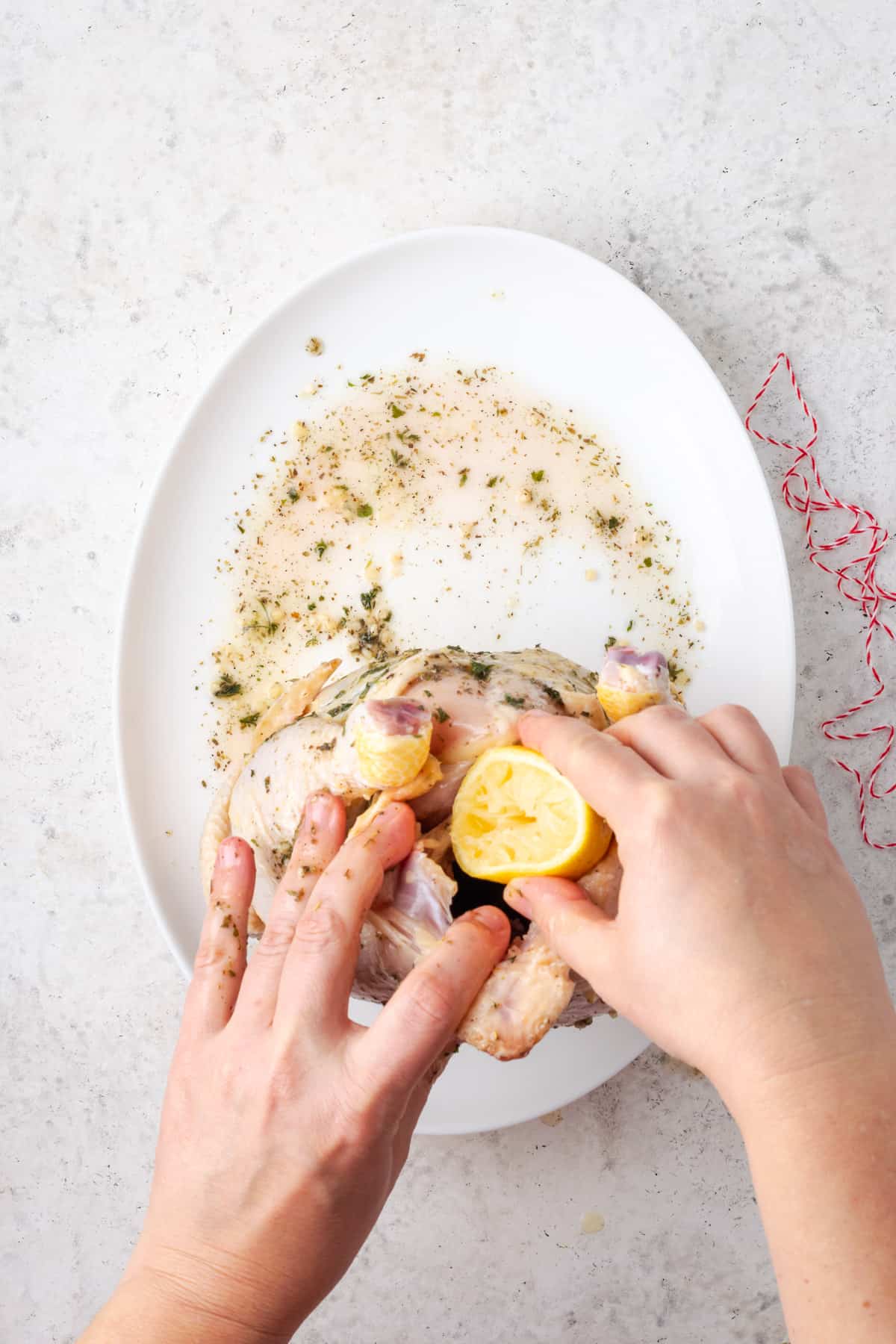 STEP 5: Pour any remaining herb butter into the chicken cavity and place the squeezed lemon half in there too.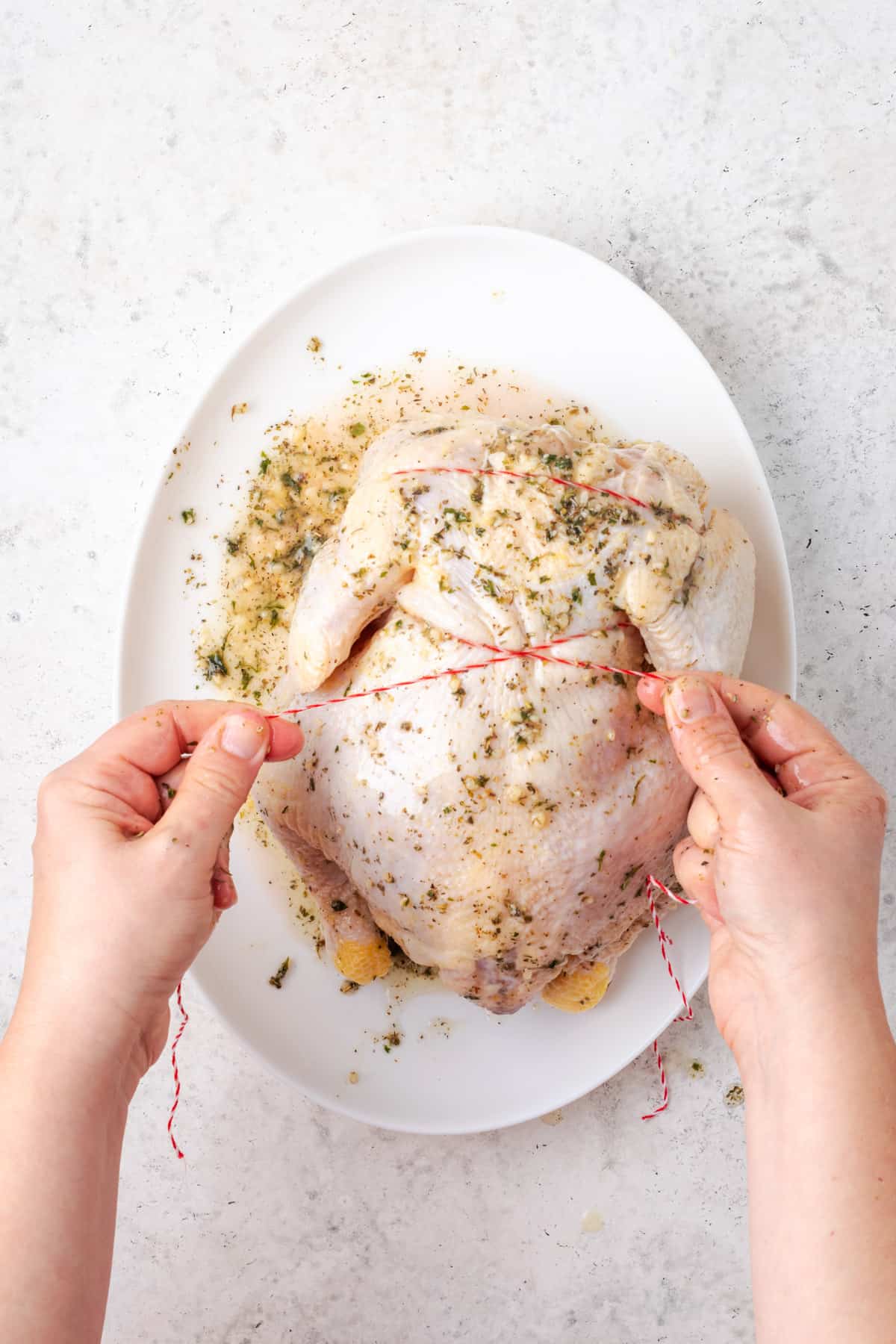 STEP 6: Flip the chicken over so that it is breast-side down. Pull the wings away from the chicken and wrap them with twine. Cross the twine like an X then flip the chicken over.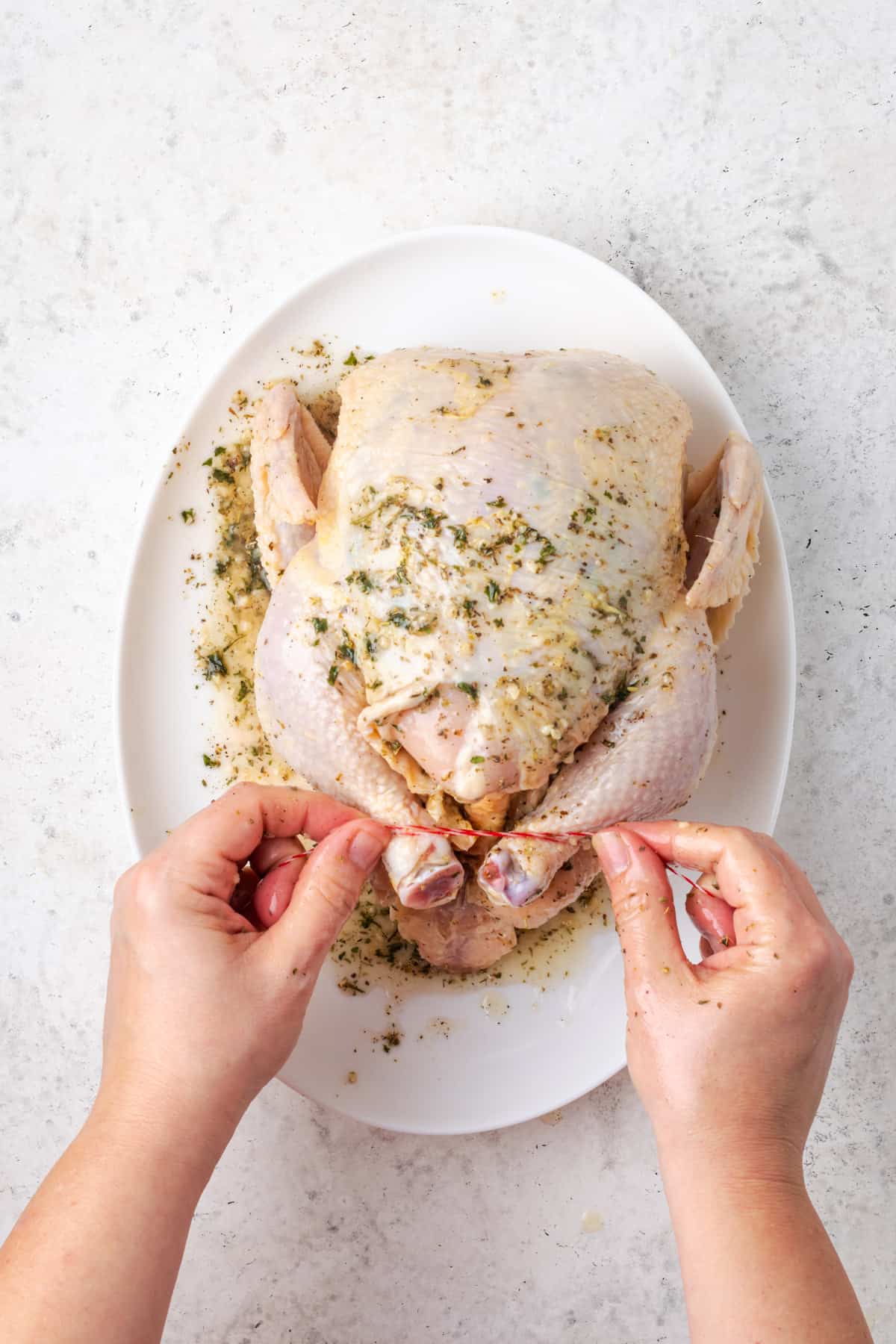 STEP 7: Wrap the twine around the chicken legs before tying the twine into a knot to secure it.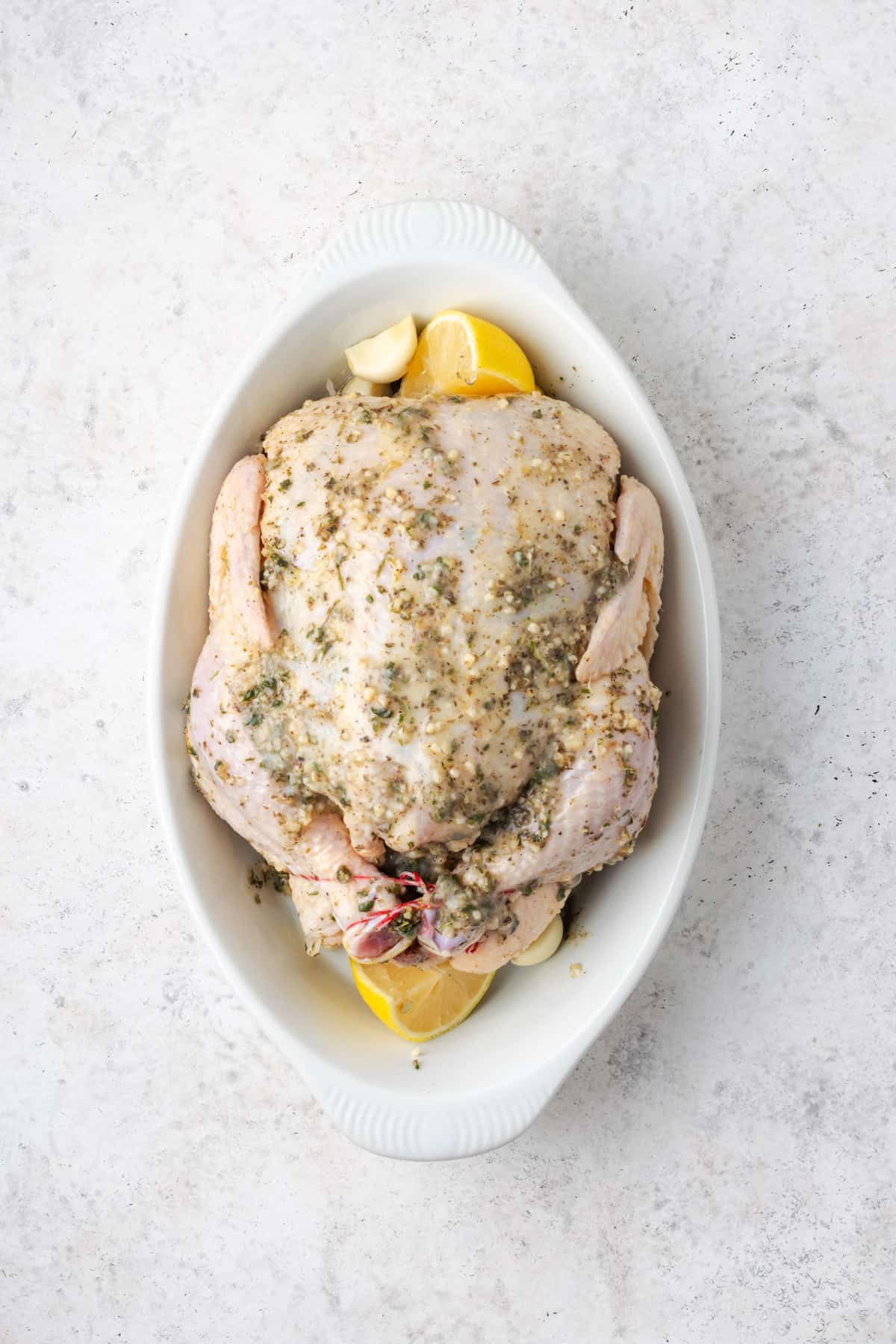 STEP 8: Transfer the chicken to a baking dish with the breast facing up. If you are adding extra lemon slices, garlic, or vegetables like potatoes or carrots, add them to the roasting pan. Then roast according to the directions.

Tip
Avoid basting the chicken while cooking to achieve a crispy skin and place aluminum foil over top if the herbs begin to burn.
Storage
Store leftovers in an airtight container in the refrigerator for up to 4 days.
Once completely cooled, you can also freeze leftover chicken in a freezer container for up to 4 months. It's great to make ahead and have on hand to through into soups and casseroles or serve in a chicken salad.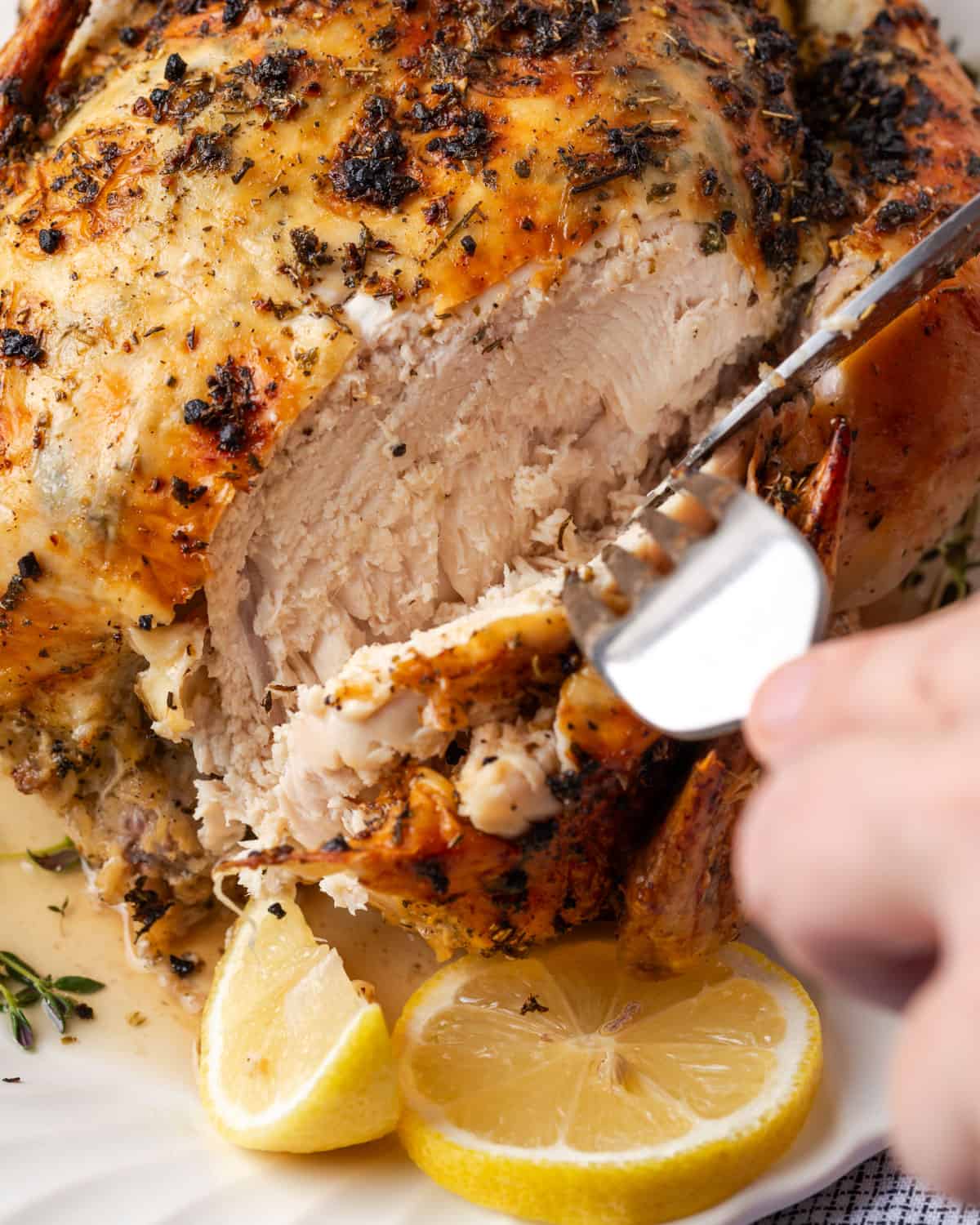 Recipe FAQs
What herbs are best for chicken?
This is largely up to personal preference, but some herbs that work well with chicken are rosemary, sage, thyme, and basil. Using a blend of herbs is a great way to infuse lots of flavor into your chicken. 
Do you season chicken wet or dry?
Pat your chicken dry before adding seasoning. Do not wash raw chicken.
Is it better to roast a chicken fast or slow?
You can do either. I prefer to roast at a higher temperature like 425 degrees Fahrenheit. This makes a nice crispy outer skin.
How do you keep roast chicken moist?
Make sure to cook the chicken only until a thermometer reads 160 degrees at the thickest part of the breast. Ensure your thermometer is not touching bone. Allow the chicken to rest before slicing to hold the juices in.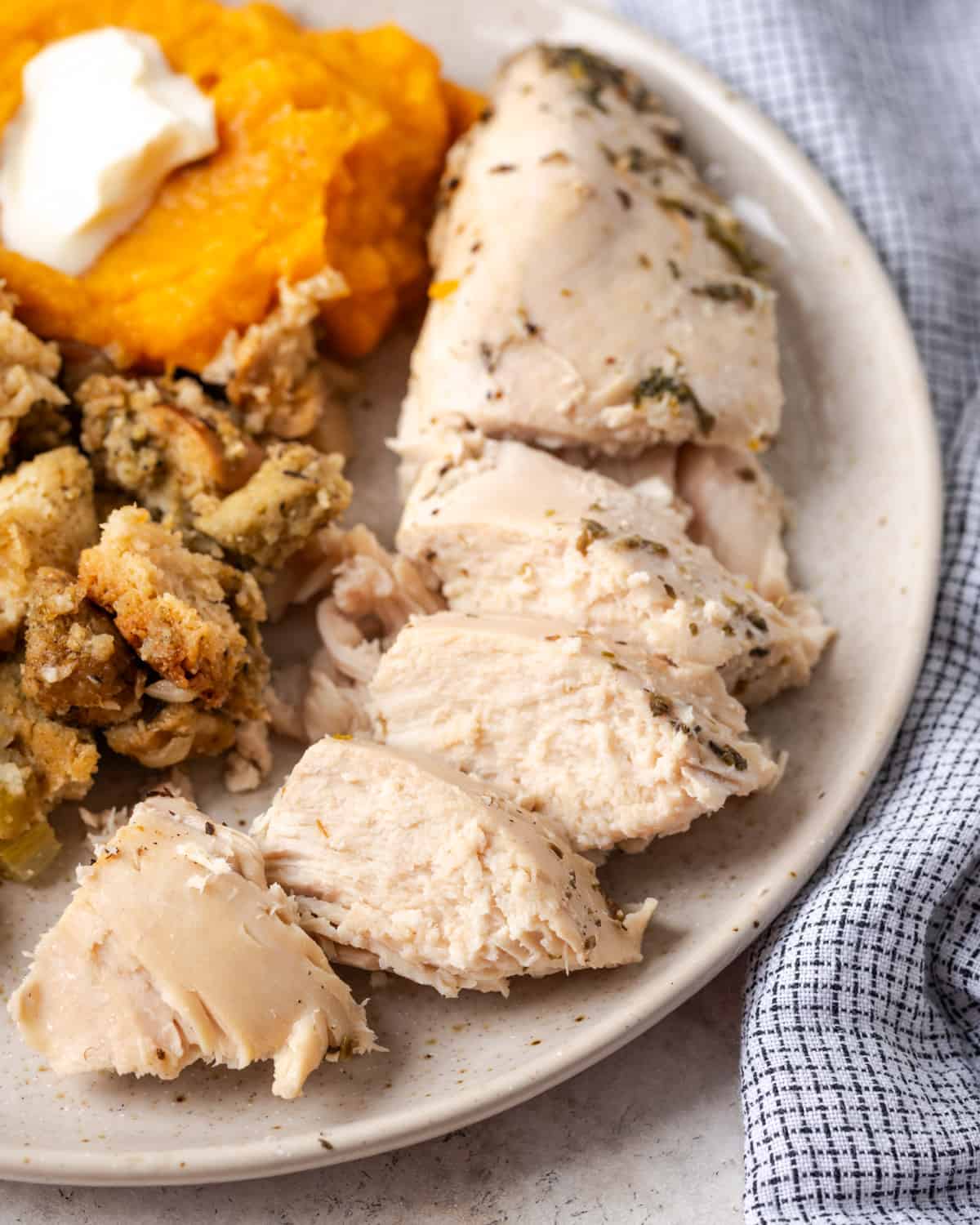 Other dinner recipes to consider:
If you try this recipe, please leave a 🌟🌟🌟🌟🌟 star rating and let me know how you liked it in the comments below.
Recipe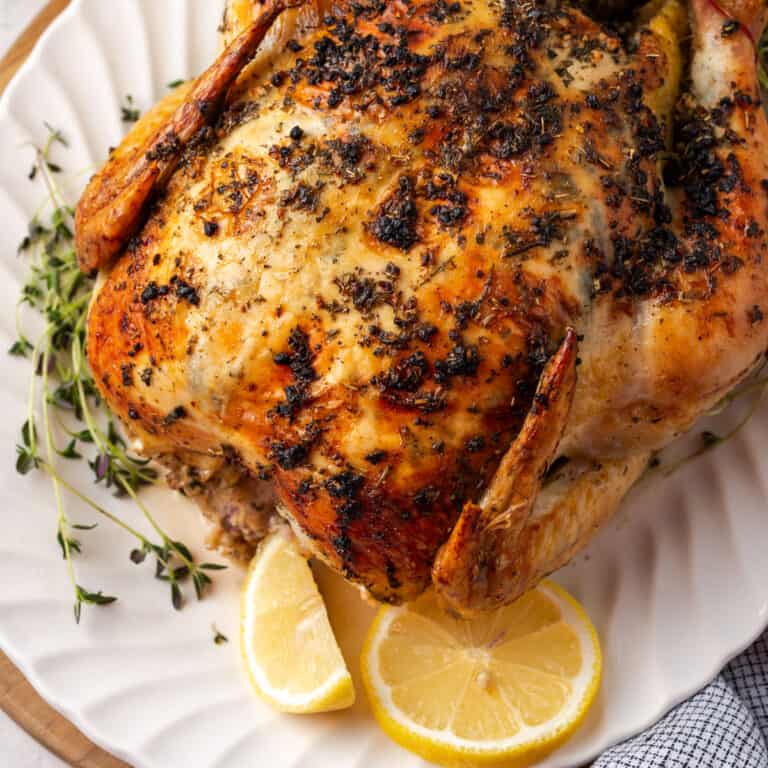 Ingredients
4.5

pound

Chicken

¼

Cup

Vegan Butter

melted

3

Tablespoons

Olive Oil

3

teaspoons

Italian Seasoning

2

teaspoons

Dried Parsley

2

Tablespoons

Minced Garlic

Juice of ½ Lemon

½

teaspoon

Salt

½

teaspoon

Black Pepper

About 4 feet of baking twine
Instructions
Preheat the oven to 425 degrees. Set aside a baking dish that is large enough to hold your chicken.

Combine the butter, olive oil, italian seasoning, parsley, garlic, lemon juice, salt and pepper in a small bowl. Mix well.

¼ Cup Vegan Butter,

3 Tablespoons Olive Oil,

3 teaspoons Italian Seasoning,

2 teaspoons Dried Parsley,

2 Tablespoons Minced Garlic,

Juice of ½ Lemon,

½ teaspoon Salt,

½ teaspoon Black Pepper

Cut the baking twine before you begin coating the chicken. Set it aside at your work area.

About 4 feet of baking twine

Remove the chicken from the packaging and discard the organ bag (if it has one).

Use a spoon to separate the skin from the breast, leaving the skin attached to the chicken but making a pocket. Pour about ¼ of the herb mixture into the pocket between the skin and meat.

Pour half of the remaining mixture over the outside of the chicken, spreading it into an even layer with your hands.

Pour the last ¼ of the herb mixture into the chicken's cavity. Place the lemon half inside too.

Turn the chicken breast side down. Wrap your twine under both chicken wings, pulling them away from the body. Cross the twine in the back then flip your chicken over. Wrap the twine around the bottom of the chicken leg bones pulling them together over the cavity opening. Tie the twine into a knot.

Place the chicken into your baking dish breast side up. If you want you can place extra lemon slices and cloves of garlic around the chicken or optionally add potatoes and carrots for roasting.

Place the chicken into the preheated oven and roast for about 80-90 minutes (you will need to bake it about 20 minutes per pound) or until the internal temperature of the thickest part of the breast reaches 160 degrees. If you like crispy chicken skin, do not baste the chicken during baking. If the herbs begin to burn, lay a sheet of foil over the top of the chicken for the remainder of the bake time.

Remove from the oven and let rest for 15 minutes before slicing.
Notes
STORAGE: Store leftover chicken in an airtight container in the refrigerator for up to 4 days.  Reheat to 165 degrees before serving. FREEZING: Once completely cooled, remove the chicken from the bone and place into a freezer container.  Freeze for up to 4 months.
Calories:
359
kcal
|
Carbohydrates:
2
g
|
Protein:
23
g
|
Fat:
28
g
|
Saturated Fat:
7
g
|
Polyunsaturated Fat:
6
g
|
Monounsaturated Fat:
13
g
|
Trans Fat:
0.1
g
|
Cholesterol:
92
mg
|
Sodium:
278
mg
|
Potassium:
260
mg
|
Fiber:
0.4
g
|
Sugar:
0.1
g
|
Vitamin A:
455
IU
|
Vitamin C:
3
mg
|
Calcium:
33
mg
|
Iron:
1
mg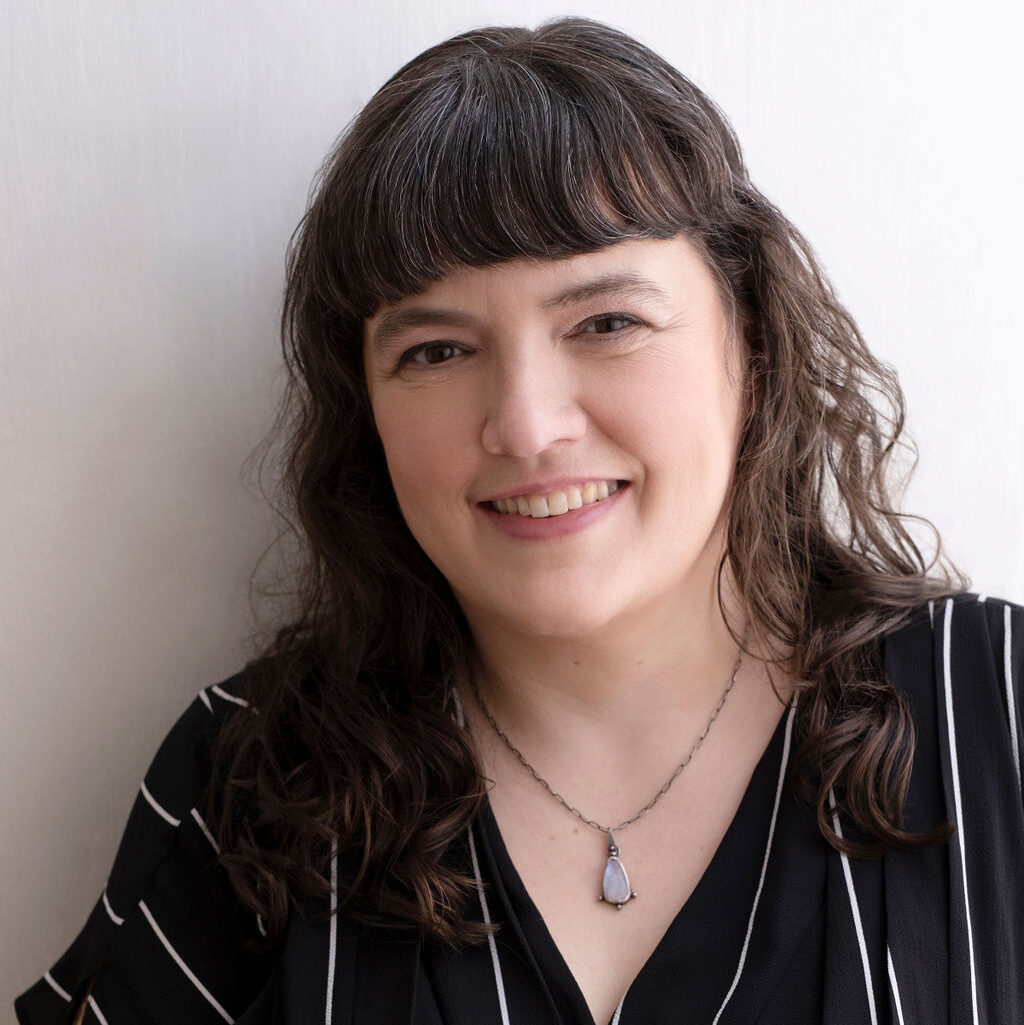 Tiffany is the recipe developer, stylist and food photographer behind Well Fed Baker. As a lifelong baker who had to go gluten free and dairy free in 2016, Tiffany strives to share allergen friendly recipes that never feel like they are free from anything.