Since the original post, French Broad Chocolate Factory has relocated to a new more modern facility. The photos here have been updated with images from their new location.
Have I mentioned that I have a major crush on cocoa nibs. You may have seen them pop up in a few recipes here and there on the site. Well, my love affair began with a visit to the French Broad Chocolate Factory.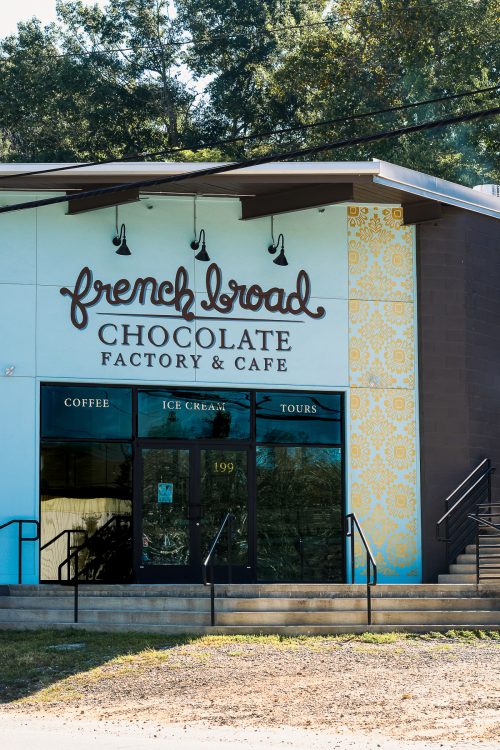 If you've ever been to Asheville, North Carolina or you're a lover of artisan chocolate, you may be familiar with the blue and brown packaging of French Broad Chocolates. They are well respected in the world of chocolate and as far as I'm concerned that's one of the best places to be well respected. Not to mention their chocolates are so delicious, their chocolate lounge typically has a line around the block.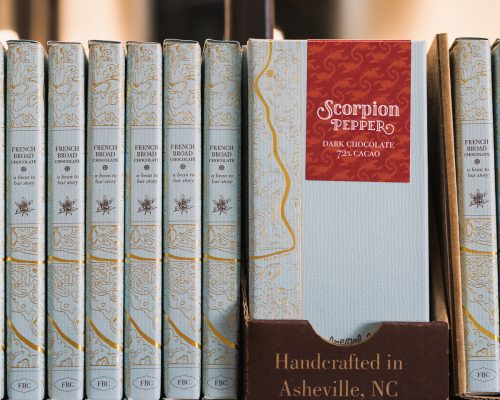 At the chocolate lounge, you will find a lot more than bars of chocolate. They have cakes, cookies, ice cream, truffles, drinking chocolate and more. It is basically like heaven on earth! But the factory is where it all begins.
In the week leading up to my visit, I kept singing "I've found a golden ticket" while dancing around the house. I had my son convinced that I was going to a place akin to Willy Wonka's Chocolate Factory. I kept asking if he thought they would have a chocolate river and Oompa Loompas. As you can imagine there is a lot of eye rolling at my house. 😉
Dan and Jael Rattigan, the owners of French Broad Chocolates are really great people. They originally opened a place called Bread & Chocolate in Costa Rica. It was there that they really fell in love with making chocolates. Then they moved to Asheville and opened what is now French Broad Chocolates. Along the way, they also bought an abandoned cacao farm. They spend a lot of time going back and forth the Central/South America to work directly with cacao farmers to not only make sure they are getting consistent good quality cacao beans but they are making sure the farmers are earning a fair wage for their work.
Cacao starts as the large pod which is opened to retrieve the beans (shown on the left). The beans are roasted and then cracked into cocoa nibs (my obsession) and then smashed into the raw chocolate you see in the middle above. The smashing begins to release the cocoa butter, which is further refined into liquid chocolate using grinding stones a process which takes a great deal of time.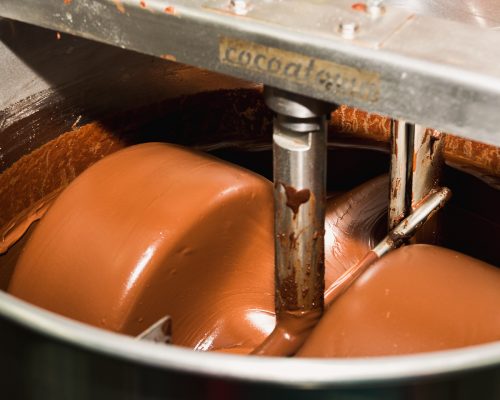 After the chocolate is in liquid form, its poured out into containers and cooled back into solid form. They actually have a whole room of 2 pound blocks of chocolate!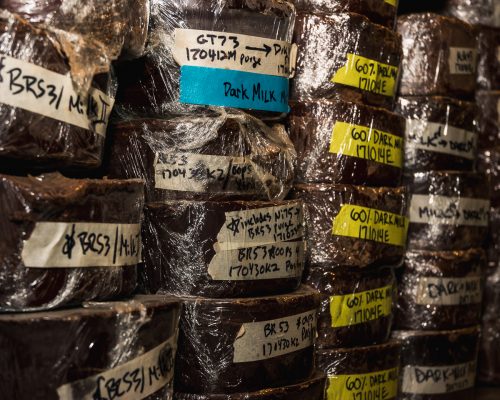 What is great about buying artisan chocolate is you are buying real chocolate. For example, French Broad sells bars with beans sourced in different countries - Guatemala, Peru, Costa Rice, and Nicaragua - which have really distinctly different flavors. Also, when you see a dark bar listed as 70%, it is actually 70% chocolate, where as the big name brands might have as little as 10% actually chocolate inside. The difference is really obvious once you try a high quality piece of chocolate. If you're interested in tasting the difference yourself, you can order their products online here.
Well, the factory did not have a chocolate river, but they did have a legit chocolate faucet! I just wanted to open my mouth and let it pour in, but they had all these silly rules about contamination. 😉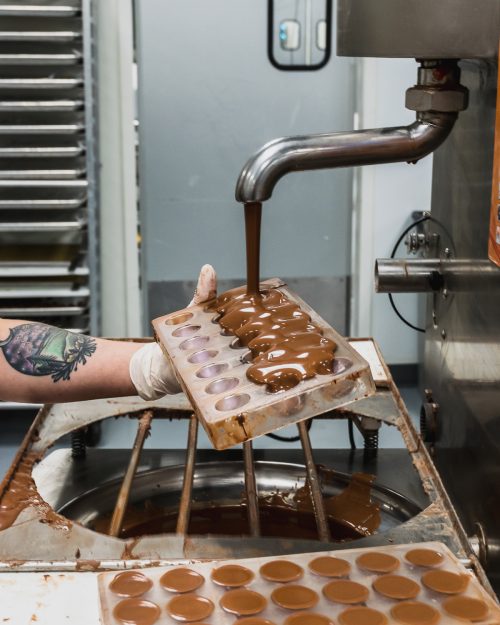 The best part of visiting the chocolate factory may have been that I absolutely stunk of chocolate for the whole day. I couldn't stop smelling my clothes, it was so wonderful! So if you're in Asheville book a tour - you can thank me later.
Well, back to cocoa nibs. Maybe I was late to the game trying this delicious treat. I don't usually jump onto food trends, so my visit to the chocolate factory was my first experience tasting nibs. I absolutely love them. They are pure chocolate, no dairy and no sugar added. They are a bit crunchy and a little nutty. They have a subtle dark chocolate flavor. I have been adding them to everything from cookies to scones to granola since discovering them.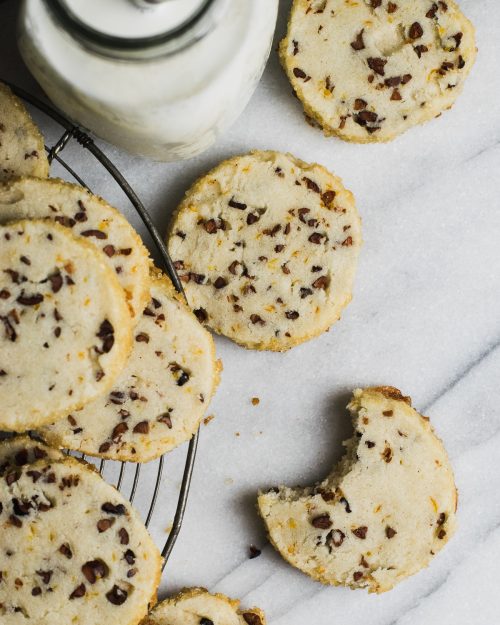 Today's recipe is made all that much more yummy with the addition of these little nibs. In fact, I think I ate so many of these cookies I may go into a cookie coma. Not only are they filled with subtle dark chocolate flavor, they also have orange and a bit of cream cheese to give you a faint flavor of cheesecake. I called them shortbread, although they are not quite as dry and crisp as a traditional shortbread cookie. If you want yours to be more crisp, I would suggest cutting them into thinner slices, about ¼" and watch the baking time so they don't get too brown.
Enjoy!
Recipe
Ingredients
¾

Cup

Vegan Butter

softened (I use Miyoko's)

3

ounces

Vegan Cream Cheese

softened

¾

Cup

Sugar

1 ½

Tablespoon

Orange Zest

from 1 large orange

1

teaspoon

Vanilla

2

Cup

Gluten Free 1-to-1 Flour Blend

I use Bob's Red Mill

1

Cup

Cocoa Nibs

1

Egg

beaten

Coarse Sugar for outer crust
Instructions
Add butter and cream cheese to the bowl of an electric mixer. Beat on medium speed for about 2 minutes until smooth. Scrape down bowl. Add the sugar and beat to combine. Add the zest and vanilla, mix until zest is evenly incorporated, maybe 60 seconds. Scrape down the bowl. Turn the mixer to the lowest setting. Slowly add the flour. Once it is nearly all incorporated at the cocoa nibs. You may need to work the dough together by hand to get all the dry bits mixed in.

Work the dough into a log and wrap with plastic wrap or wax paper. Chill for 2 hours or overnight.

Preheat oven to 350 degrees. Line 2 cookie sheets with parchment paper.

Remove the dough from the refrigerator. Working quickly, use a pastry brush to coat the outside with the beaten egg (you will not use all of the egg). Cover the egg wash with a coat of coarse sugar. With a sharp knife, cut the dough into ½" thick slices. Place on prepared cookie sheet spaced about 1 inch apart.

Bake in preheated oven for 13-15 minutes until edges begin to turn golden. Remove from oven. Cool on cookie sheet for 2 minutes, then remove to wire rack to cool completely.
Calories:
140
kcal
|
Carbohydrates:
15
g
|
Protein:
2
g
|
Fat:
9
g
|
Saturated Fat:
3
g
|
Polyunsaturated Fat:
1
g
|
Monounsaturated Fat:
2
g
|
Trans Fat:
1
g
|
Cholesterol:
7
mg
|
Sodium:
62
mg
|
Potassium:
6
mg
|
Fiber:
2
g
|
Sugar:
7
g
|
Vitamin A:
281
IU
|
Vitamin C:
1
mg
|
Calcium:
11
mg
|
Iron:
1
mg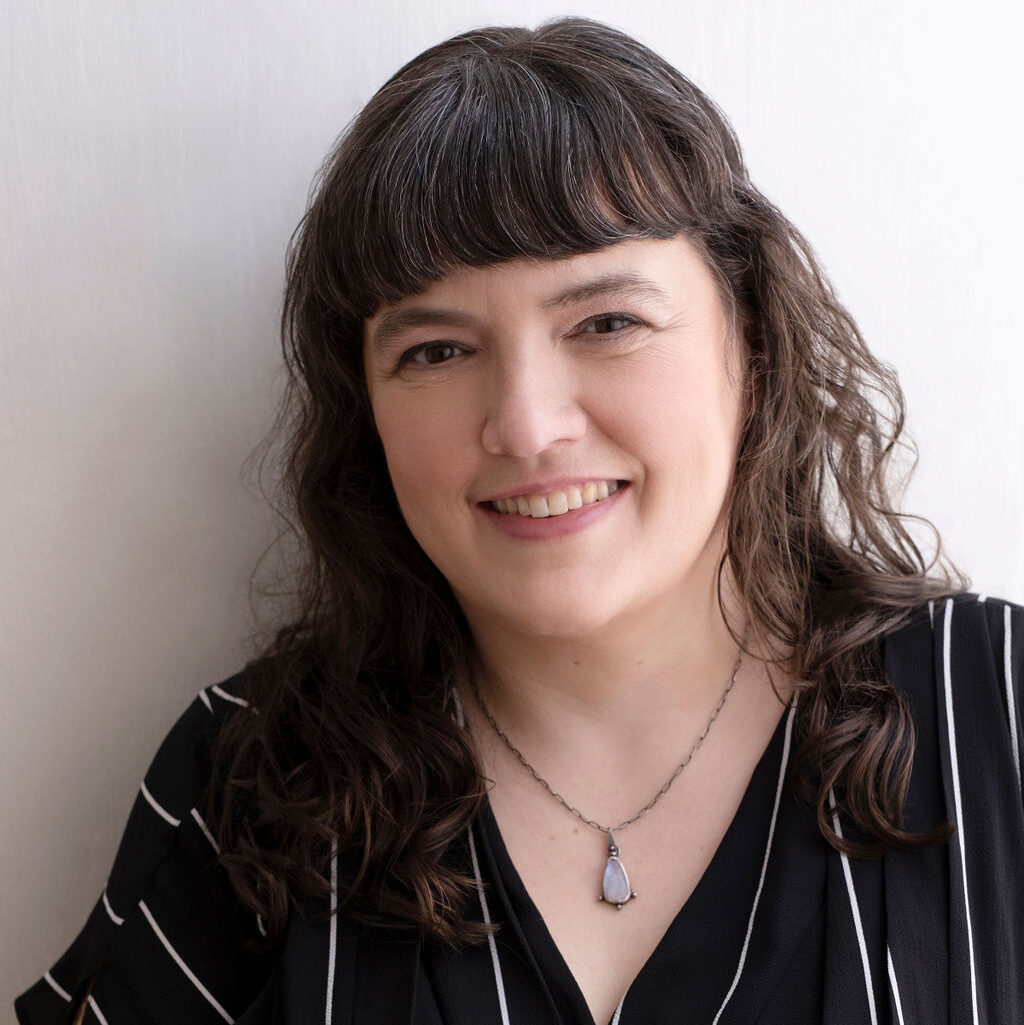 Tiffany is the recipe developer, stylist and food photographer behind Well Fed Baker. As a lifelong baker who had to go gluten free and dairy free in 2016, Tiffany strives to share allergen friendly recipes that never feel like they are free from anything.