When I first discovered I needed to give up gluten and dairy foods, I was understandably depressed. My life is heavily centered on food - I bake, I cook, and I work for a food magazine. At every turn it seemed I was having to give up something I loved to eat (hello pizza, cheese, croissants). It felt like my whole life was going to be about going without. Not to mention it felt like I was losing my identity because I couldn't cook the same foods and I couldn't enjoy all the food festivals and restaurants that were required by my job.
There were two things that kept my going through it: First, my health improved dramatically once gluten and dairy were out of my system. I felt so good that it made it a lot easier to stick with the new diet. Second, my friend, who had been gluten free for many years, was a great support and was so patient with my constant questions about what to eat. She also introduced me to a lot of great gluten free products I had never tried.
Today, I have been gluten free for 2 years. There are things that are still a struggle - like food anxiety when traveling. But for the most part, I've adapted. And although it took a while, I've learned (and am still learning) how to recreate the things I loved without gluten and dairy.
One of the great things that has happened since quitting gluten is I've opened myself up to a lot of new ingredients like nut flours. Before, I baked everything with that bag of all-purpose wheat flour from the grocery store. But now my freezer is packed with jars of oat flour, almond flour, hazelnut flour, pistachio flour, rice flour and more. Things I never considered buying in the past.
So I am choosing to look at my gluten intolerance as a good thing. Not that I would wish it on anyone in the world. But for me it was life changing, both in my health and in my diet.
These bars were adapted from a favorite old recipe of mine and this is the first time I've made them gluten free and dairy free. Because I am absolutely obsessed with pistachios, I decided to mix in a little pistachio flour (from Oh Nuts!) with my Bob's Red Mill GF 1-to-1 Flour. The bars would be just as delicious with another nut flour, all gluten free flour mix and just about any kind of fruit or berry you can dream of. I hope you enjoy them as much as we do!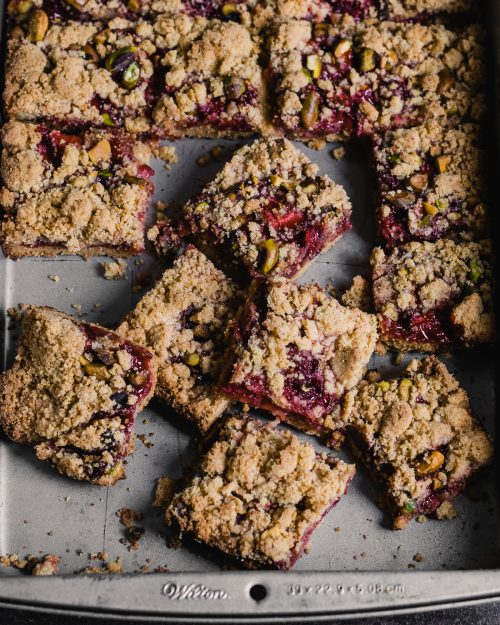 Recipe
Ingredients
2

Cup

GF 1-to-1 Flour

I use Bob's Red Mill

1

Cup

Pistachio Flour

1

Cup

+ 2 tablespoon Sugar

1

teaspoon

Baking Powder

1

teaspoon

Cinnamon

¼

teaspoon

Salt

Zest & Juice from 1 Lemon

¾

Butter Flavored Coconut Oil

1

Large Egg

2

teaspoon

Vanilla

1

Cup

Strawberry Jam

2

Cup

Sliced Strawberries

1

Tablespoon

Cornstarch

1

Cup

Raw

Unsalted Pistachios, roughly chopped
Instructions
Preheat oven to 375 degrees. Line a 9x13 baking pan with parchment paper.

Add flours, 1 C sugar, baking powder, cinnamon, salt and zest into a food processor. Pulse a few times to mix ingredients. Add in the coconut oil, vanilla and egg. Continue to pulse until it forms a clumpy mixture that will hold together when pressed between your fingers.

Pour ⅔ of the crumb mixture into your pan and press down evenly covering the entire bottom. Spread jam over the crumb crust, leaving about ¼ inch around the edges uncovered.

In a medium bowl, combine sliced berries, lemon juice, 2 tablespoon sugar and cornstarch. Mix together until berries are coated. Scoop the berries out to cover the jam in an even layer. Sprinkle pistachios over the strawberries. Top with remaining crumb mixture.

Bake in preheated oven for 35-40 minutes until edges are beginning to brown. Remove and cool completely in the pan before cutting.

Store in an airtight container in the refrigerator.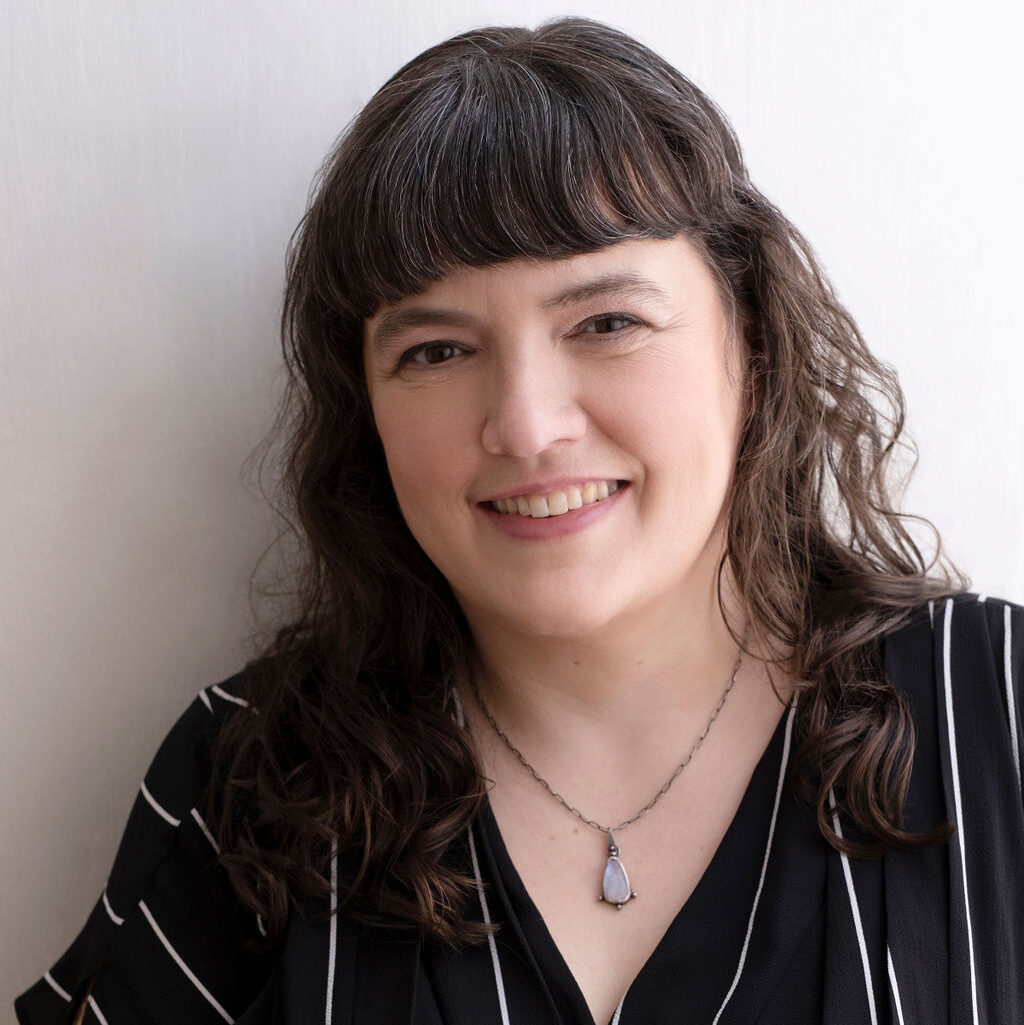 Tiffany is the recipe developer, stylist and food photographer behind Well Fed Baker. As a lifelong baker who had to go gluten free and dairy free in 2016, Tiffany strives to share allergen friendly recipes that never feel like they are free from anything.