As an Amazon Associate, I earn from qualifying purchases.
This recipe was originally posted on April 2, 2019 and updated on August 6, 2022.

As a gluten free person, I feel like my life revolves around snacks. That makes these gluten free oats and honey granola bars a staple in my kitchen. The addition of CBD infused honey is an added bonus here, but can easily be replaced with regular honey if you don't want to use CBD. These gluten free granola bars are not only easy to make but they can also be customized with your favorite mix-ins to create a treat the whole family will enjoy!
Why You'll Love This Granola Bar Recipe
It's super easy to make. No mixer needed.
It's family friendly and fun to prepare with kids.
Easily customizable with your favorite fruits, nuts, chocolate chips, etc.
It's just like those chewy store bought granola bars, but gluten free and dairy free!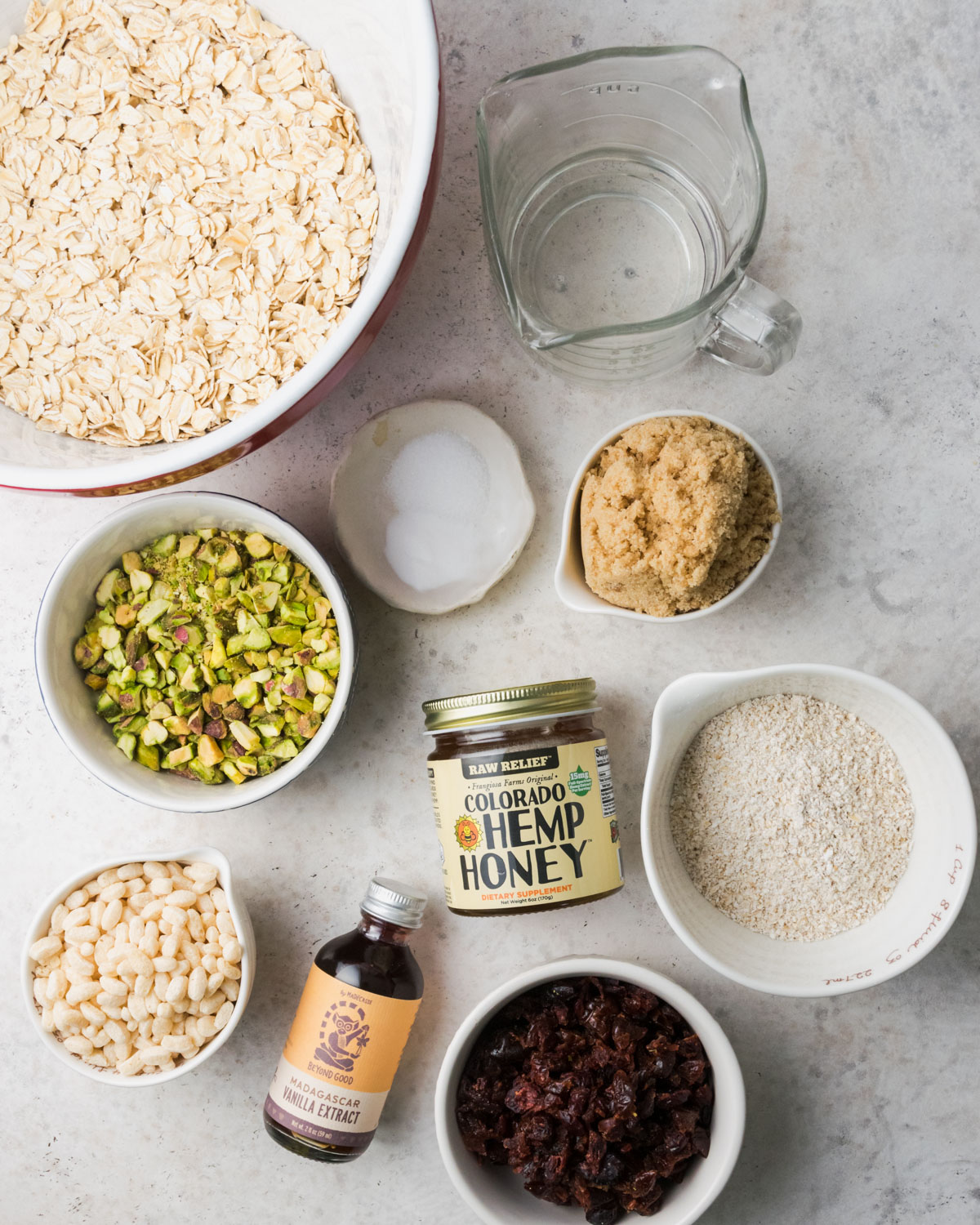 What ingredients go into gluten free granola bars?
Oats & Oat Flour - If you're gluten free, it is important to use certified gluten free oats here. I normally use Bob's Red Mill brand. While they also sell oat flour, this recipe doesn't require a finely milled flour. I usually just throw some oats in the food processor and make my own.
Puffed Rice Cereal - Again you want to make sure you're using a certified gluten free cereal as some contain malted barley. The puffed rice cereal is going to give a little extra light texture to the bars.
Brown Sugar - A little sugar is necessary to create the stickiness that holds the bars together. However, if you find this a little too sweet, you can definitely reduce the amount to 1 or 2 tablespoon without much trouble. I have also made this recipe with coconut sugar and had great results. If you want your bars to come out more on the crunchy side, use white sugar here.
Coconut Oil - You need an oil that is solid at room temperature, so there isn't a really good substitution here. Use refined coconut oil if you are worried about coconut flavor.
Honey - Honey is a key ingredient in these granola bars. It provides the sticky element that holds everything together, plus it's delicious! I use Colorado Hemp Honey, which contains CBD. You can substitute regular honey with the same results.
Baking Soda - Since we aren't looking for any leavening in these bars, why would we use baking soda? Well, in this case we mainly included it for the browning properties. It will provide a little leavening, since baking soda will react with honey, but we will smoosh all of that out when we press the cooked bars down.
Salt & Vanilla - Just gives balance to the flavors.
Mix-ins - Go crazy here with whatever your heart desires. I used chopped pistachios, dried cherries and cranberries.
Other combinations that would be delicious - chocolate chips and peanuts, raisins with a little cinnamon mixed in, lemon zest and dried blueberries. Just aim for about 1 ¼ C to 1 ½ C of mix ins total and try to chop the ingredients so they are roughly the same size for even distribution.
How do you make homemade granola bars?
Homemade granola bars are so easy to make. It's a great recipe to make with kids.
COMBINE all of the dry ingredients together in a large bowl.
ADD the coconut oil, honey and vanilla and stir until everything is coated.
POUR the granola mixture into a lined 9x9 baking pan.
SPREAD into an even layer.
COMPRESS the bars by using a smaller pan to press down on top of the granola. You can also us a measuring cup with a flat bottom.
BAKE the bars, cut them as soon as you remove from the oven and then cool.
Then enjoy delicious homemade granola bars!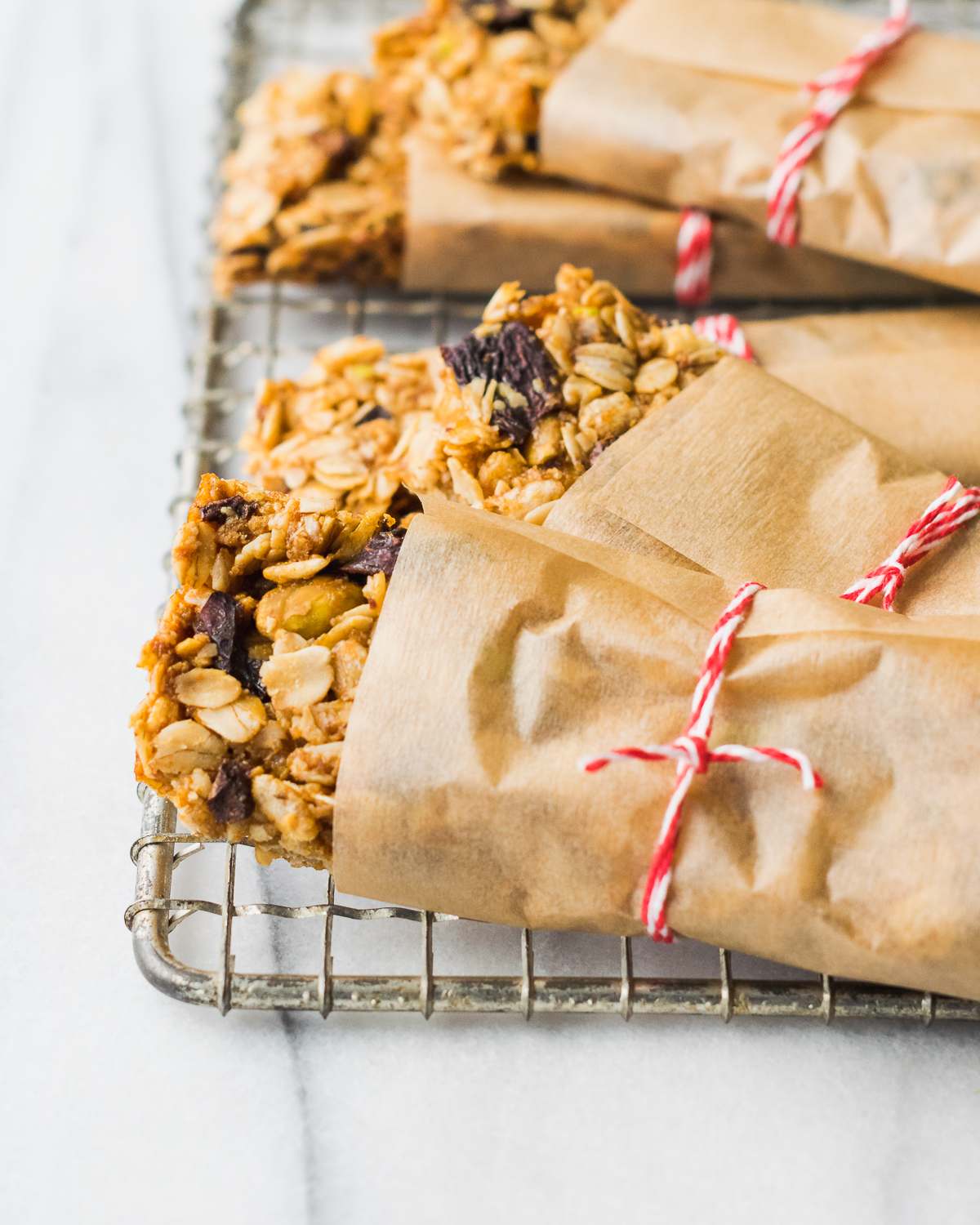 Why do you use CBD honey in this recipe?
Honey on it's own has great health benefits: anti-inflammatory, anti-viral, anti-fungal and antioxidants, plus it is known to help with allergies which I have plenty of. Adding CBD to the equation just takes things to the next level. CBD also has anti-inflammatory and antioxidant properties, but is known to help with anxiety, pain, sleep and more. Overall it has a calming effect on me and who can't use a little more calm in the stresses of day to day life.
How do you store these granola bars?
Once your granola bars have cooled, you will notice they are still a little sticky to the touch. I place mine into an airtight container and divide each level with a sheet of wax paper. I store them in the refrigerator in hotter months to keep them solid, but in the colder months you can keep the container right on the countertop at room temperature.
Frequently Asked Questions
Oats are naturally gluten free. However, due to the way they are grown, harvested and processed there is a high chance of contamination with wheat.
Ensure you purchase gluten free oats if you need to follow a gluten free diet.
What can I use in place of oats?
If you can't tolerate oats, you could try to use a mixture of seeds (sunflower seeds and pumpkin seeds) and some nuts in place of the whole oats. I would use coconut flour in place of the oat flour as it will soak up moisture the same way oats do.
Can I use something in place of honey?
You could try them with maple syrup or corn syrup. Either should work in place of honey for a vegan option.
If you love granola, check out these other great recipes!
Gluten Free Carrot Cake Granola
Gluten Free Pumpkin Pie Granola
Gluten Free Blueberry Coconut Granola
Gluten Free Orange Pistachio Cocoa Nib Granola
To pin this recipe for later, click the save button on any image in this post or the recipe card. Please tag me @wellfedbaker on Instagram if you make this recipe!
Gluten Free CBD Oats and Honey Granola Bars
The perfect chewy, sweet snack that is easy enough for kids to make!
Print
Pin
Rate
Ingredients
2

Cup

Gluten Free Oats

½

Cup

Gluten Free Oat Flour

¼

teaspoon

Baking Soda

½

Cup

Puffed Rice Cereal

½

Cup

Chopped Nuts

¾

Cup

Chopped Dried Fruit

¼

Cup

Light Brown Sugar

or coconut sugar

½

teaspoon

Salt

⅓

Cup

Coconut Oil

melted

⅓

Cup

CBD Infused Honey

or regular honey

1

teaspoon

Vanilla
Instructions
Preheat oven to 300 degrees. Line a 9x9 square pan with parchment paper.

Combine all the dry ingredients in a large bowl. Stir well.

2 Cup Gluten Free Oats,

½ Cup Gluten Free Oat Flour,

¼ teaspoon Baking Soda,

½ Cup Puffed Rice Cereal,

½ Cup Chopped Nuts,

¾ Cup Chopped Dried Fruit,

¼ Cup Light Brown Sugar,

½ teaspoon Salt

Add the coconut oil, honey and vanilla. Stir until everything is evenly coated.

⅓ Cup Coconut Oil,

⅓ Cup CBD Infused Honey,

1 teaspoon Vanilla

Pour mixture into prepared pan.

Using the bottom of a smaller pan, press down on the oat mixture to compress it as tightly as possible.

Bake for 25 minutes. Remove from oven and again use the small pan to press down on the oat bars.

Cool in the pan for 10 minutes.

Cut into 12 bars. Cool completely before wrapping.

Store in an airtight container up to 1 week
Nutrition Facts
Gluten Free CBD Oats and Honey Granola Bars
Amount per Serving
% Daily Value*
* Percent Daily Values are based on a 2000 calorie diet.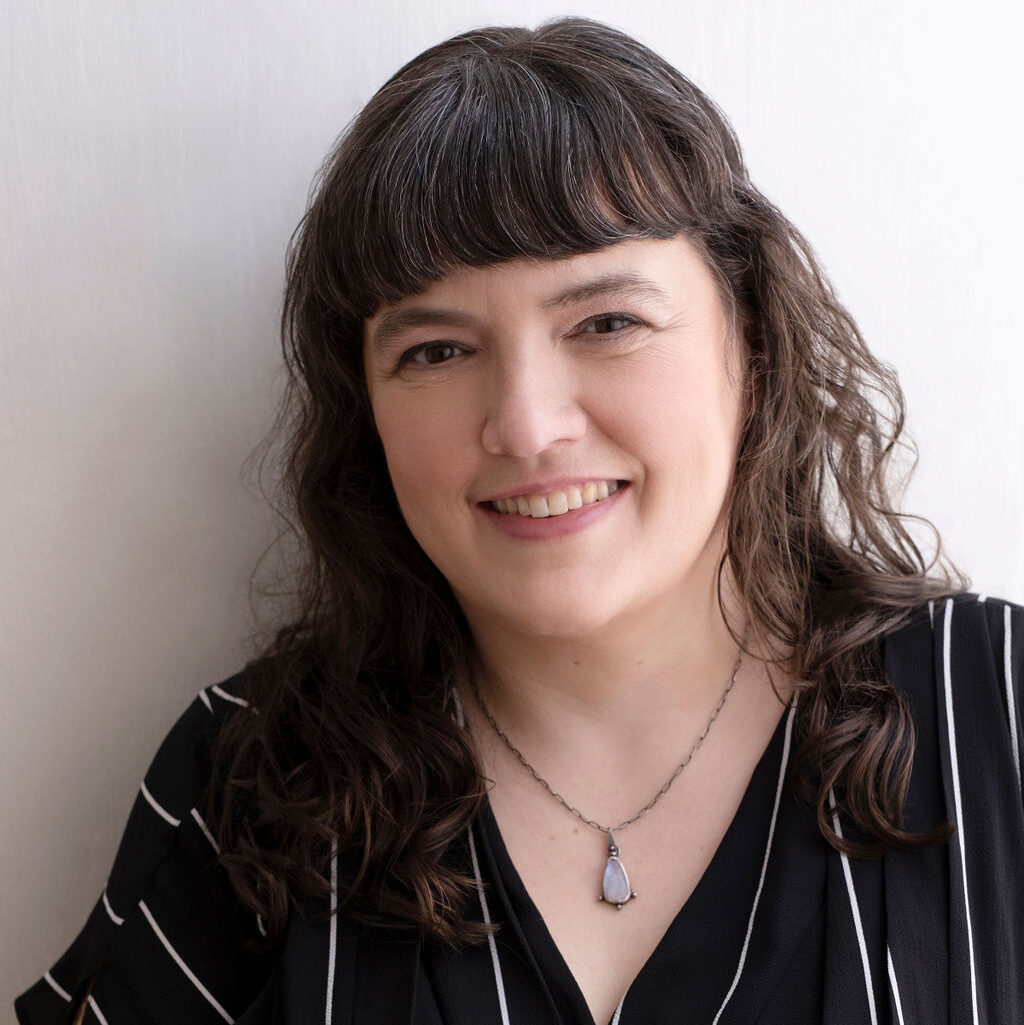 Tiffany is the recipe developer, stylist and food photographer behind Well Fed Baker. As a lifelong baker who had to go gluten free and dairy free in 2016, Tiffany strives to share allergen friendly recipes that never feel like they are free from anything.