As an Amazon Associate, I earn from qualifying purchases.
Kentucky is known for it's bourbon and horses, but it should be known for it's delicious kentucky derby pie. It's like a pecan pie and chocolate chip cookie had a baby and doused it in bourbon. Yum! If you're a little intimidated by gluten free pie, don't be. I have lots of helpful instructions below. After all, I did write the e-book Perfect Gluten Free Pies (shameless plug). I got you!
Where did derby pie come from?
Derby pie originated in Kentucky in 1950. It was created by the Kern family who owned the Melrose Inn in Prospect, Kentucky. The pie itself is not named after the Kentucky Derby, but because their family could not agree on a name they pulled names from a hat and "derby pie"was the winner. The inventors of derby pie eventually registered a trademark for the pie name and they are known to be the most litigious pie bakers in the land. Hopefully they won't bother suing me for using the name here, LOL. Since their recipe is very closely guarded, this is just my interpretation of the familiar Kentucky pie.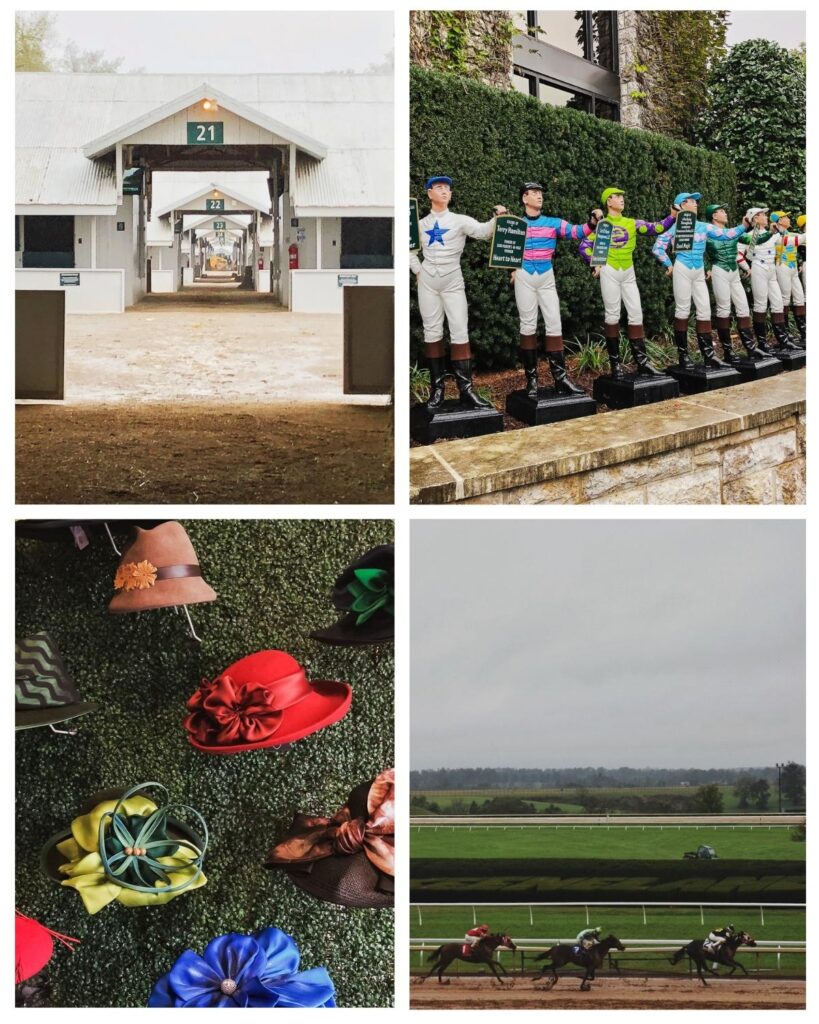 How do you make gluten free pie crust?
If you've ever made a regular pie crust, then you can make a gluten free pie crust. Even if you've never made a pie crust, if you follow my steps exactly you will have a crust.
The key to great flaky pie crust is keeping your ingredients cold the entire time before they go into the oven. If it is warm outside, this is especially important. The ice cold butter melts when it hits the hot oven, creating steam pockets that make flaky layers. So take your time and stick your dough in the refrigerator or freezer as many times as it takes to keep it super cold.
Here is a video showing how you mix gluten free pie crust.
Another important part as you see in the video above is working the fat into the flour before adding the water. You want every bit of butter completely coated in flour before adding your liquid.
You can also do the butter + flour portion in a food processor. It's super quick. Just through in the dry ingredients and the ice cold butter and pulse about 6-7 times until the butter is pea sized crumbs. This will be a little less flaky than making it by hand (smaller butter bits = smaller air pockets). Then you will add the liquid and mix in by hand, just like I show above. Always add your liquid in stages because you may not need it all. It is a lot easier to add more liquid than to recover a too wet pie dough.
Here's a second video which demonstrates how to roll out your chilled dough and line the pan. This is where gluten free pie crust has to be handled a little differently than normal. Once your gluten free pie crust is in the pan, stick it in the freezer until your filling is ready. If it will be more than 30 minutes, make sure to cover it with plastic wrap so it doesn't dry out.
How do you store leftover derby pie?
This pie will keep well at room temperature for about 3 days. Just make sure to cover it with aluminum foil or plastic wrap.
If you want to bake this ahead of time, you can freeze the fully baked pie. Wrap it in 2-3 layers of plastic wrap, making sure it's completely sealed. Then stick in your freezer. It should last at least 3 months. When you're ready to serve, simple defrost overnight in the refrigerator, cover with foil and bake at 350 for 45-60 minutes until its warmed through.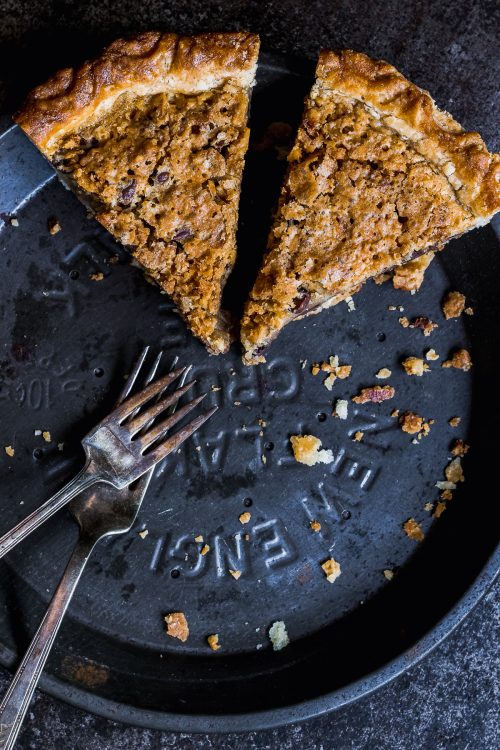 If you love pie, check out these other great recipes!
Gluten Free Maple Bourbon Pecan Pie (Dairy Free Option)
Best Ever Gluten Free Pumpkin Pie
To pin this recipe for later, click the save button on any image in this post or the recipe card. Please tag me @wellfedbaker on Instagram if you make this recipe!
Gluten Free Kentucky Derby Pie
Delicious derby pie, made gluten free and dairy free. This pie tastes like chocolate chip cookies mixed with pecan pie and doused in bourbon. Yum!
Print
Pin
Rate
Ingredients
For the pie crust
1

Cup

Gluten Free 1-to-1 Flour Blend

I use Bob's Red Mill

1

Tablespoon

Arrowroot Powder

½

teaspoon

Salt

1

Tablespoon

Sugar

9

Tablespoon

Vegan Butter

ice cold (vegan or regular)

⅓

Cup

Water

ice cold
For the pie filling
¾

Cup

Sugar

½

Cup

Light brown sugar

½

Cup

Gluten Free 1-to-1 Flour Blend

½

Cup

Vegan Butter

melted (vegan or regular)

2

Eggs

beaten

1

teaspoon

Vanilla

2

Tablespoon

Kentucky bourbon *optional

1

Cup

walnuts

chopped

1

Cup

chocolate chips

1

Egg

beaten (for egg wash)
Instructions
For the pie crust
Cut your butter into cubes and place into the freezer.

Measure the water and keep in freezer until ready to use.

In a large bowl, combine flour, sugar and salt. Stir together with your hands.

Add the cold butter. Work the butter into the flour by squishing the cubes between your thumb and first two fingers. The goal is to make it into flat pieces about the size and shape of a quarter that are completely coated in flour. Work quickly to keep the butter cold.

Add half of the water and mix it into the bowl, taking care to break up an chunks of wet dough.

Add another half of the remaining water and mix in. Repeat until the dough is shaggy and just sticks together when you squeeze it in your palm.

Shape the dough into a dough ball about 1 ½" thick.

Wrap in plastic wrap and place in the refrigerator for at least 2 hours.

Once your dough is chilled, place your pie dough between two sheets of plastic wrap.

Roll out into a rough circle about one inch larger than your pie pan.

Remove one piece of plastic wrap and turn dough into pie pan. Gently work the dough into shape being careful not to tear wholes at the bottom.

Trim dough around edges leaving a 1" overhang, fold under and crimp in design of your choice.

Place prepared pie shell into the freezer while you prepare the filling.
For the pie filling
Preheat oven to 350 degrees.

In a microwave safe bowl, melt the butter. Set aside to cool.

In a large bowl, combine all of the ingredients, except the egg wash. Make sure the butter is cooled before you add it as it will melt the chocolate otherwise.

Fold together with a spatula.

Remove the prepared crust from the freezer.

Pour the filling into the crust.

Brush the crust with the egg wash.

Place pie on a baking sheet.

Bake in lower ⅓ of preheated oven for 55-60 minutes.

Remove and cool completely before slicing.

Cover any leftovers with aluminum foil and store at room temperature for up to 3 days.
Nutrition Facts
Gluten Free Kentucky Derby Pie
Amount per Serving
% Daily Value*
* Percent Daily Values are based on a 2000 calorie diet.