As an Amazon Associate, I earn from qualifying purchases.
Every Spring, my family eats bucket after bucket of freshly picked strawberries. We like them every which way and we are always coming up with new recipe ideas to incorporate strawberries. That's how this strawberry and apple pie recipe was born. It's the best of both strawberry pie and apple pie all married into one. Plus it's gluten free and dairy free (and easily made vegan with the omission of the egg wash).
Why You'll Love This Strawberry and Apple Pie Recipe
The filling is very easy to make and uses simple ingredients.
The crust is flaky and buttery.
It's gluten free and dairy free and easily made vegan.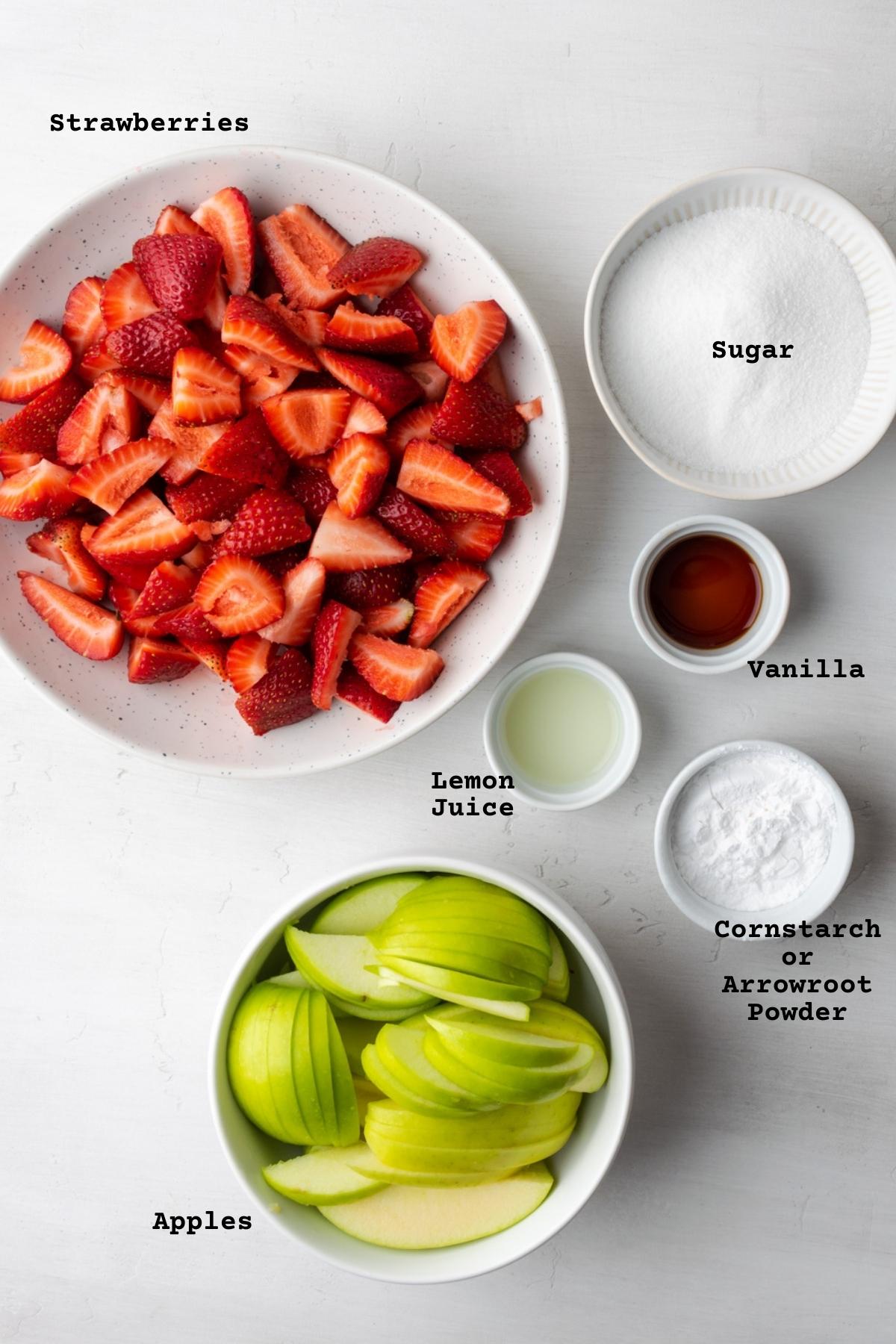 Ingredients In Strawberry Apple Pie
Strawberries - Fresh strawberries are definitely the star of this pie. Make this in the height of strawberry season for the best flavor.
Apples - Green apples are the best to use for this recipe. Their tart flavor pairs perfectly with the strawberries and they don't turn mushy during baking.
Sugar - A little sugar helps to form the jammy consistency you want in a pie filling.
Arrowroot Powder (or Cornstarch) - Just a little starch helps to thicken up the juices that are released from the fruit during baking.
Vanilla
Lemon Juice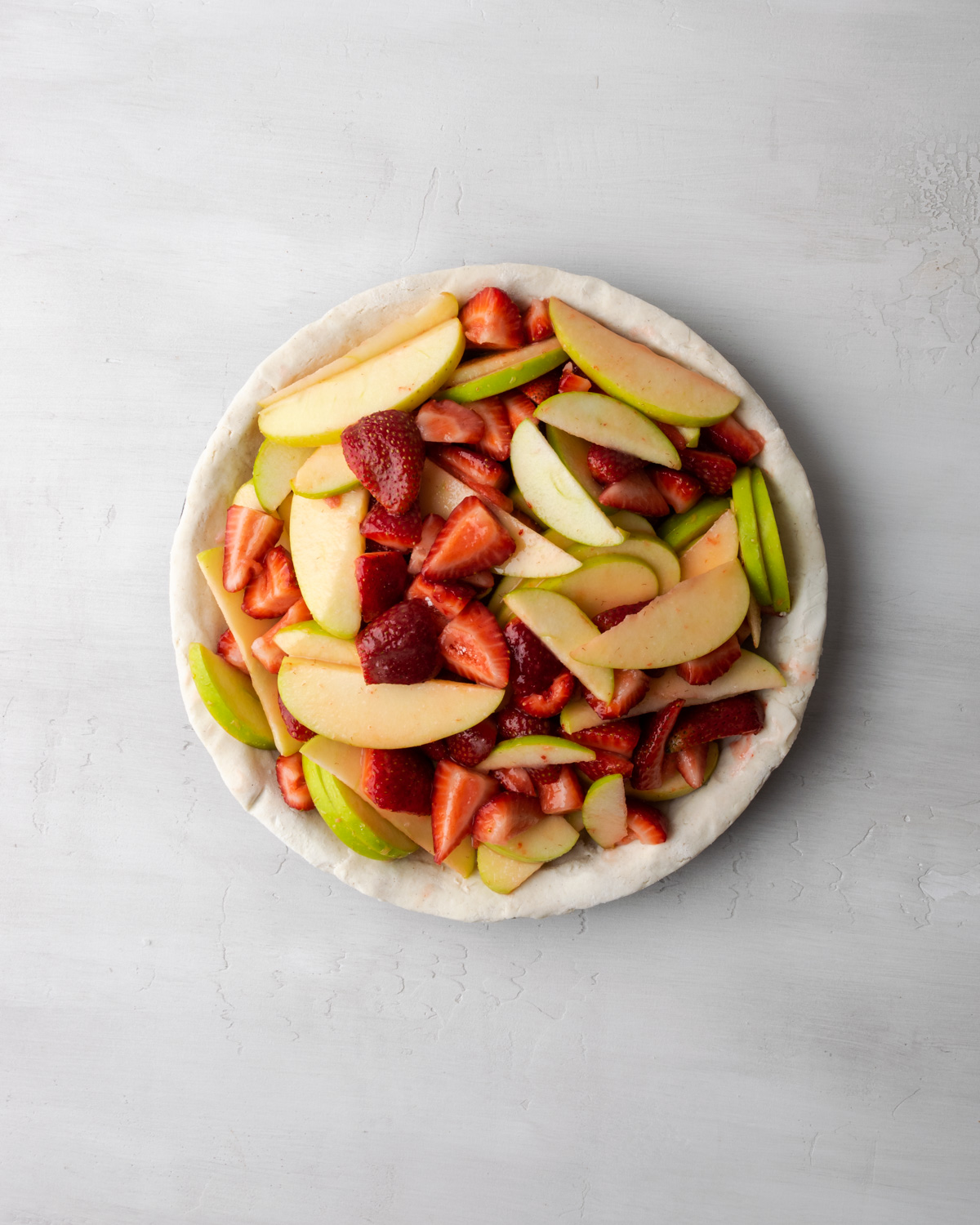 When are Strawberries in Season?
I am located in North Carolina and we usually start getting fresh strawberries from South Carolina (Strawberry Hill is not too far from me) around mid to late-April. We will have fresh strawberries until at least mid-June.
If you're located north of North Carolina then you're probably going to find berries most available during the month of June.
Of course, most supermarkets in the US will sell strawberries year round, but they usually have the best and sweetest flavor when they are in season.
How to Make Apple Strawberry Pie Filling
Making this pie filling is going to be the easiest thing you do all day!
Step 1 - combine the apples, strawberries, lemon juice, vanilla, sugar and arrowroot powder in a large bowl.
Step 2 - stir the fruit well until it's coated with the dry ingredients.
Step 3 - pour the pie filling into your prepared pie crust.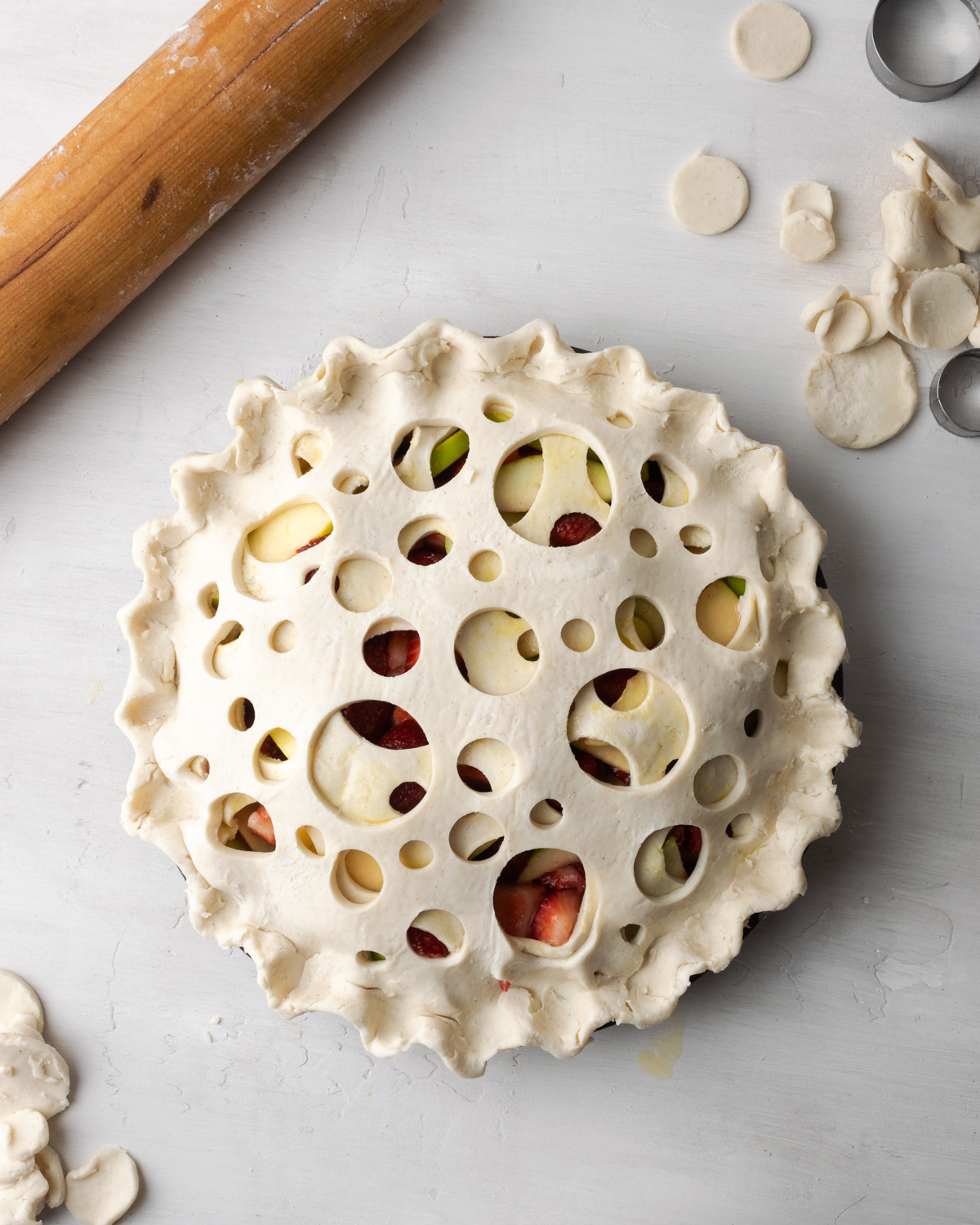 How to Make a Homemade Gluten Free Pie Crust
If you've never made a gluten free or vegan pie crust from scratch, have no fear. I have a complete guide to the best pie crust recipe that I use for all of my baking (including this pie).
If you review the guide and you're still worried about making your own crust, you can always use a store bought crust. Wholly Gluten Free makes a great allergen free pie crust that I have found at Whole Foods.
If you're not keen on adding the top crust, a crumble topping would also be wonderful on this pie. I highly recommend the crumble topping from my Gluten Free Dutch Apple Pie recipe.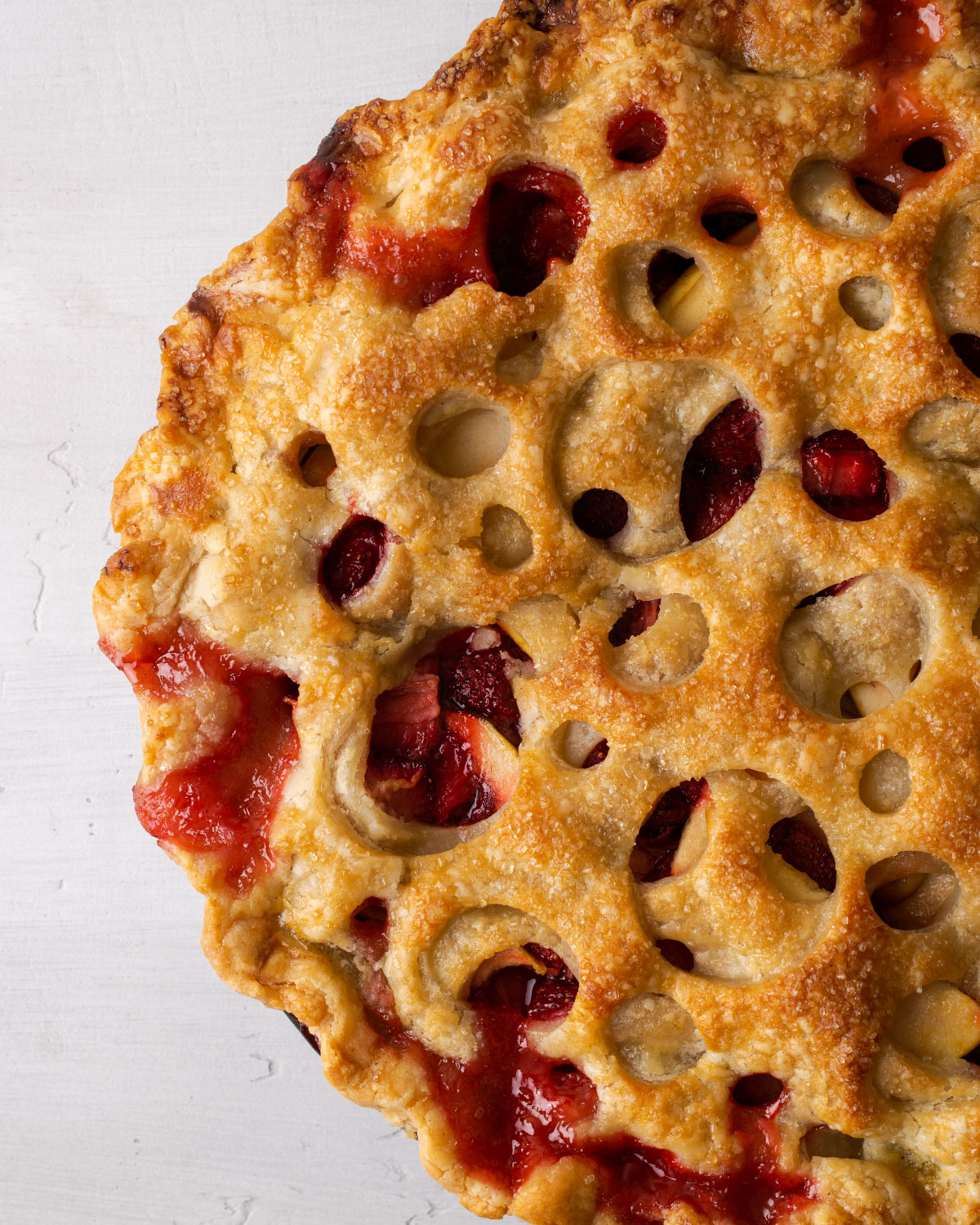 How to Recreate this Top Crust Design
To create this design, I have used two layers of top crust.
Roll out the first layer and freeze it for about 15 minutes. Remove from the freezer and cut out circles of varying sizes in a random pattern. I use this set of cutters.
Place the first layer of top crust over your pie filling and trim away the edges.
Use all the scraps of dough to roll another top crust and place it in the freezer for 15 minutes. Then repeat the process with the circles. You will have exactly enough dough to complete the pie in a standard size pie plate.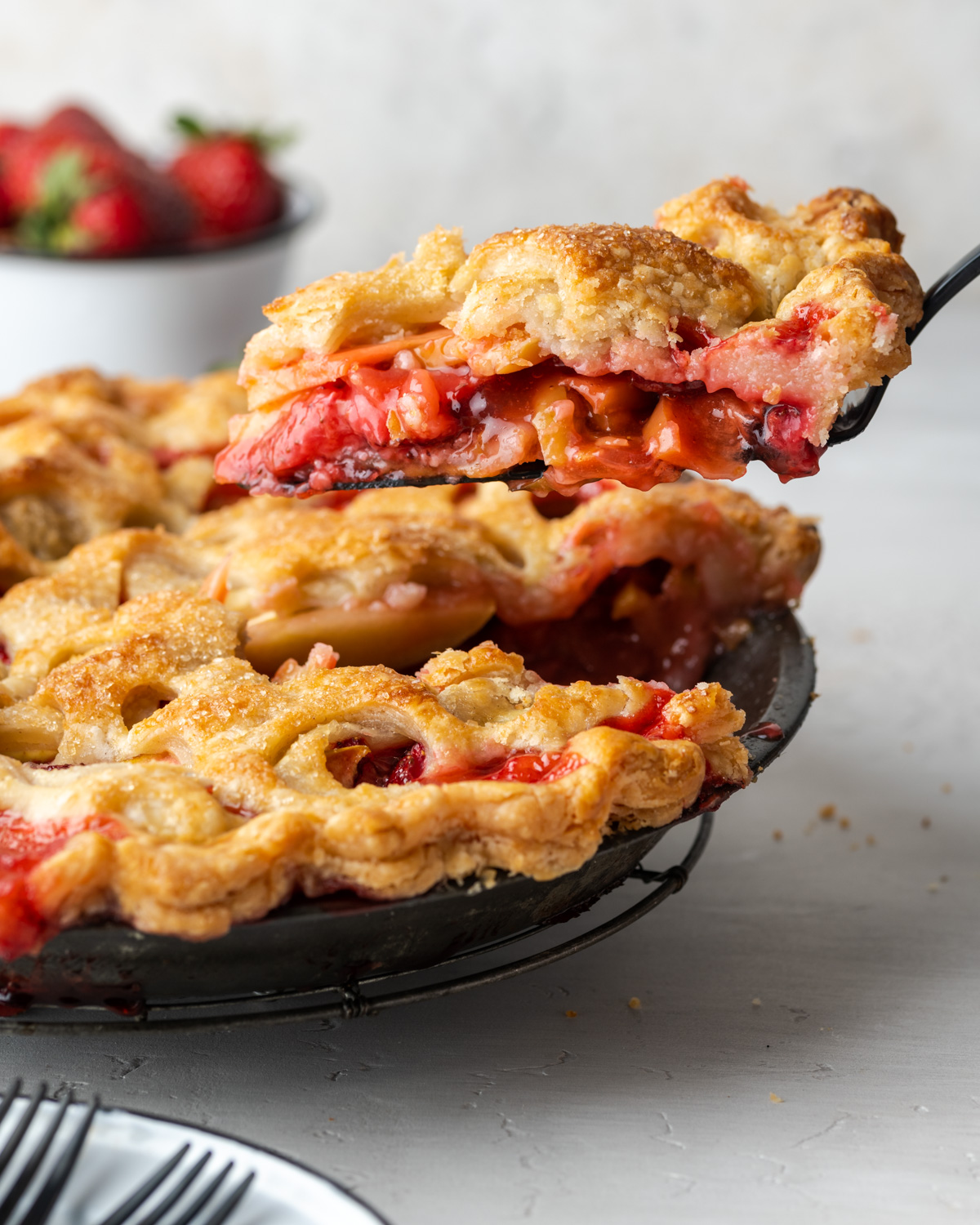 Frequently Asked Questions
Yes, absolutely. It's as easy as just mixing them all together with the apples, sugar and other ingredients. The best part about adding strawberries to apple pie is it makes for a nice subtle strawberry flavored treat as the apples temper the berry flavor a bit.
It's true that baking with fresh berries can have challenges. In this case, the arrowroot (or cornstarch) powder works with the heat to thicken up the juices that are released during baking. Plus the apples have a much lower amount of moisture, so there is less liquid to contend with. Then if you let the pie cool completely before slicing, you should have a very nice filling inside.
If you want to make a straight strawberry pie, then the best way to keep it from being runny is to cook down about half of the strawberries with the sugar, making a sort of jam. Mix the jam with the remaining fresh strawberries to fill the pie. Then you will only end up with half as much moisture are normal and the filling should be a nice consistency when cooled.
Keep the leftover pie wrapped in plastic wrap and store in the refrigerator. It should last for 3-4 days, but the crust will become less crisp as time goes on.
Fresh strawberries are gluten free. However, some strawberries are grown in wheat straw. If you have a wheat allergy you may find you're sensitive to those berries as well.
If you do find yourself with a gluten reaction to strawberries, you can always ask if you're purchasing them directly from a farmer. A lot of farmers are using plastic to protect strawberry plants these days instead of wheat straw, so you may be able to find some that you can tolerate.
If you're looking for more strawberry ideas, check out these great recipes!
Gluten Free Strawberry Lemon Yogurt Cake
Easy Gluten Free Fresh Strawberry Muffins
Gluten Free Strawberry Banana Upside Down Cake
To pin this recipe for later, click the save button on any image in this post or the recipe card. Please tag me @wellfedbaker on Instagram if you make this recipe!
Gluten Free Strawberry Apple Pie
This pie combines the best of both strawberry pie and apple pie into one delicious dessert.
Print
Pin
Rate
Ingredients
For the pie filling
4

Cup

Strawberries

de-stemmed and quartered

3

small

Granny Smith Apples

sliced into ¼" thick slices

½

Cup

Sugar

¼

Cup

Arrowroot Powder

can also use cornstarch

1

teaspoon

Vanilla

2

teaspoon

Lemon Juice
For the topping (optional)
1

Egg

for egg wash, omit for vegan

1

Tablespoon

Coarse Sugar
Instructions
Prepare a double batch of sweet pie dough and chill.

2 batches Sweet Pie Dough Recipe

After the dough has chilled, remove from the refrigerator and roll out into two large sheets on a piece of parchment paper or between two sheets of plastic wrap. Place the dough sheets on a baking sheet and place them into the freezer.

Preheat the oven to 425 degrees.

Combine the strawberries, apples, sugar, arrowroot powder, vanilla and lemon juice in a large bowl. Stir until the fruit is coated with the dry ingredients. Set aside.

4 Cup Strawberries,

3 small Granny Smith Apples,

½ Cup Sugar,

¼ Cup Arrowroot Powder,

1 teaspoon Vanilla,

2 teaspoon Lemon Juice

Remove one dough sheet from the refrigerator and fit it into your pie plate. Cut the excess dough from around the edge of the plate.

Pour the prepared filling into the pie shell. Place the filled pie shell into the freezer while you work on the top crust.

Remove the second sheet of dough from the freezer. Cut circles of varying sizes from the dough. Once you're happy with the design, place the top crust onto the filled pie shell. Cut the excess dough from around the edge.

Combine together all of the cut out circles and scraps of dough and roll them out into another sheet. Place it back in the freezer for 15 minutes. Also freeze the pie while you're waiting.

Remove the second top dough from the freezer and cut more circles out. Once you are happy with the design, remove the pie from the freezer. Beat an egg in a small dish and brush it over the top crust. Then place the second top crust on top of the egg wash (this will glue the crusts together).

Crimp the edges in the style of your choosing. Egg wash the entire top of the pie and sprinkle with coarse sugar.

1 Tablespoon Coarse Sugar

Place the pie plate on a baking sheet. Bake in the preheated oven on the lowest rack for 45 minutes. The pie will be done with the crust is golden brown and the fruit filling is bubbling.

Remove from the oven and cool at room temperature for at least 2 hours before slicing.
Nutrition Facts
Gluten Free Strawberry Apple Pie
Amount per Serving
% Daily Value*
* Percent Daily Values are based on a 2000 calorie diet.