I swear I could eat sweet potatoes every single day. My son too. We just love them. And they are so good for you. Maybe not with boatloads of sugar and butter added, but still…
Every week we throw a bunch of sweet potatoes in the oven to roast. Roasting is the best way to cook sweets, as the sugar in the potatoes gets all caramelized and the flavor is more complex. Some people like to boil their sweet potatoes, but that just doesn't do it for me. So when I'm roasting, I usually throw in an extra potato so I can have a little leftover to make waffles, pancakes, muffins, quick bread, cake or in this case, scones.
These scones were thrown together as an experiment and when my son took the first bite he said he planned to eat the whole pan. The method of pressing the dough together produces a really nice cinnamon ribbon through the dough which takes this scone to the next level.
What is the secret to making good scones?
There are a few things that make scones good. First, they should have a little bit of crispiness on the outside and a soft crumbly interior. Second, they should not be overly sweet. They have a lot less sugar than other breakfast treats. They also have less butter than their American cousin, the biscuit. Beyond that, the key to a good scone is the method of making and handling the dough.
How to make gluten free sweet potato scones
The first step to making scones is to combine all of your dry ingredients in a bowl (flour, baking powder, brown sugar, salt, nutmeg, allspice and ginger). You will want to mix these together well with a whisk to make sure the spices and baking powder are evenly distributed.
Next you want to add your frozen butter. Yes, frozen. I use a box grater to break the butter into tiny pieces. Much like making pie or biscuits the key to a good scone is cold butter. Working quickly you want to make sure all the butter gets evenly coated with flour.
Once your butter is all mixed in, add the sweet potato. As you're working the sweet potato in you will notice it basically breaks up into small bits throughout the flour and appears to be fairly dry. This is what you want. Finally add the pecans and stir around.
Note that with any scone or biscuit recipe, you want to add all of your extras (fruits, nuts, chocolate, etc) before you're liquids, otherwise your end product may be too wet or too dry.
Here you should pop your whole bowl into the freezer to keep that butter super cold while you're working.
Crack your eggs into a small bowl and beat them with a whisk until they are frothy. They should have bubbles resembling lightly soapy water. Add the maple syrup and milk to your eggs and whisk until it's an even blend.
Remove your flour mix from the freezer and add half of the liquid. Gently work it together using your hand or a spatula. Add half of the liquid again. Note, we aren't pouring all the liquid in at once. This is because the amount of liquid you need will be affected by exterior forces like weather. It is a lot easier to add more liquid later than it is to make it drier again, so add slowly. Continuing to work quickly to put the dough together, stopping when the dough is just holding together and shaggy. If you have liquid leftover, save it for later.
Prepare a lightly floured work surface (use about 1 tablespoon gluten free flour here). I like to use a silpat for easy cleanup, but you can do this on your countertop as well. Cut your dough into 3 even sections. Place the first section onto your floured work surface and gently pat it down into a disk about 8 inches across, the size does not need to be exact. Sprinkle half of your cinnamon sugar mixture on top. Repeat with the second piece of dough and the remaining cinnamon sugar. Then cover with the final piece of dough. Pat the whole sandwiched dough into an 8-inch round.
Move your whole dough circle onto a parchment lined baking sheet and cut into wedged. If you prefer to cut out with a biscuit cutter, you can cut before placing on your baking sheet.
Now, we want to place the prepared scones into the refrigerator for at least 30 minutes. This helps the gluten free flour have time to absorb the liquid, which will help resolve any issues of graininess. It will also keep your butter super cold, which will help with your rise.
Once the dough has rested, you can use your remaining liquid to brush the tops only. If you don't have any liquid leftover, use a little bit of milk to brush the tops. Take care not to brush the sides, otherwise it may inhibit your rise.
Now bake and in about 20 minutes, you will have delicious warm scones to eat!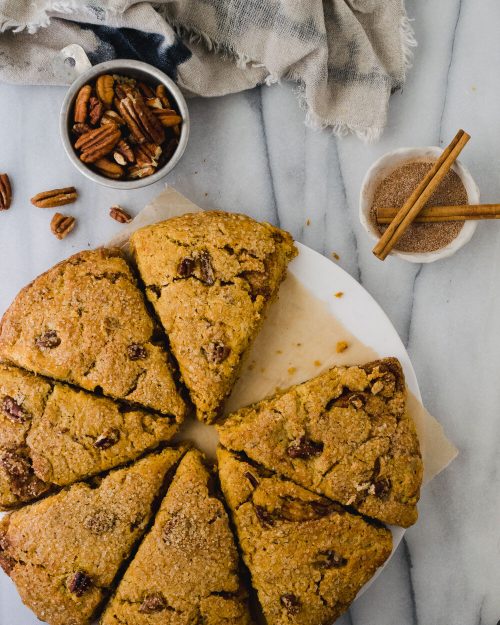 Should I put egg in my scones?
Absolutely. One of the things that separates scones from biscuits is their texture. The inside should be soft and crumbly. Adding egg will stop gluten production. And while we are using gluten free flour, xanthan gum is added to most flour mixes to mimic the presence of gluten and create stretch. We want the opposite of stretch, crumbles, so yes we need eggs.
How do you get scones to rise and be fluffy?
There are a few things at play that affect the rise and fluffiness of this recipe.
First, we have added baking powder. Baking powder is a double acting rising agent, meaning it reacts first with liquid to start creating bubbles and then a second reaction when it is heated in the oven.
Second, we are using very cold butter. The colder your butter is when it enters the oven the better. Cold butter will belt and create pockets of steam which will create rise in your scones.
Third, we are handling our dough pretty gently - just patting it out instead of using a rolling pin. We want to preserve all the bubbles that the baking powder has made.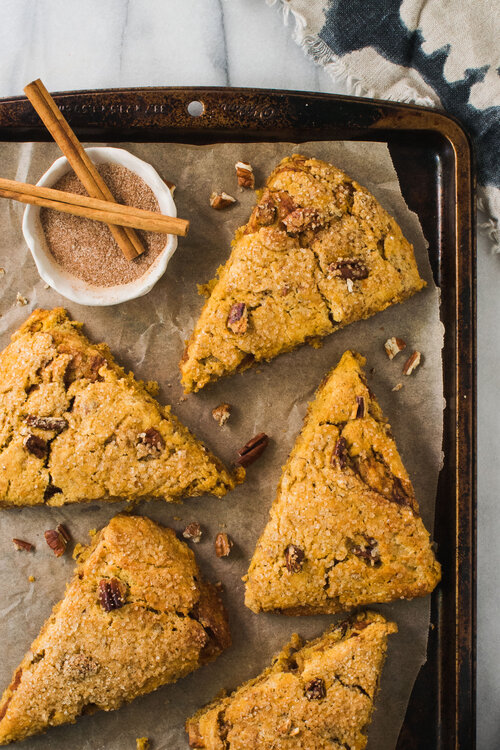 Recipe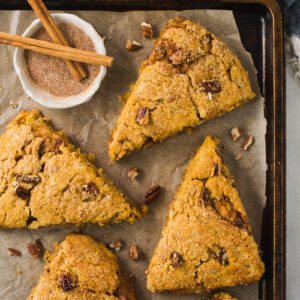 Gluten Free Sweet Potato Cinnamon Swirl Scones
If you're looking for a new scone recipe, this one comes highly recommended from my family. It's filled with sweet potatoes, spices and nuts. A delicious start to the morning.
Print
Pin
Rate
Ingredients
For the cinnamon swirl
2

Tablespoon

Light Brown Sugar

2

teaspoon

Cinnamon
Instructions
In a large bowl, combine flour, baking powder, 3 tablespoon brown sugar, salt, nutmeg, allspice and ginger. Stir together until well mixed.

Using a box grater, grate your frozen butter directly into the flour mixture. Working quickly, mix in the butter making sure that all the pieces of butter are coated with flour. If you get clumps, break them up. You want small pea size bits of butter.

Add the sweet potato and mix it until it is all absorbed into the flour. Add the pecans and mix well.

Place your bowl into the freezer while you are working on the liquid. We want to keep the butter as cold as possible.

In a small bowl, crack the egg and egg yolk. Whisk until it is frothy. Add the maple syrup and milk to the eggs. Whisk a bit more until it is smooth.

Remove your flour mix from the freezer. Add ½ the liquid and start to gently work it together. Add ½ again. Continue adding small amounts of liquid and working it into the flour. Stop when the dough just holds together and is kind of shaggy. You may have a little liquid leftover. Save it.

In a small bowl, combine 2 tablespoon brown sugar with cinnamon.

Lightly flour your work surface. Cut the dough into three even sections. Place the first ⅓ onto your work surface and gently pat down into a flat disk about 8 inches across. If it's not quite 8 inches that's ok, because it will get pressed down more later. Sprinkle the top of the dough with ½ of the cinnamon sugar mixture. Top with another ⅓ of the dough and repeat patting and topping with sugar. Top with the final ⅓ of the dough and form into a circle.

Move your dough circle onto a parchment lined baking sheet. Cut your wedges (or whatever shape you want). Place the uncooked scones into the refrigerator for 30 minutes.

Preheat oven to 425F.

Once dough has rested, remove from refrigerator and brush tops (tops only) with the remaining egg mixture from earlier. Take care not to get it on the sides because it will inhibit the rise.

Bake in preheated oven for 20-22 minutes.
Calories:
222
kcal
|
Carbohydrates:
31
g
|
Protein:
4
g
|
Fat:
10
g
|
Saturated Fat:
2
g
|
Polyunsaturated Fat:
3
g
|
Monounsaturated Fat:
5
g
|
Trans Fat:
1
g
|
Cholesterol:
16
mg
|
Sodium:
357
mg
|
Potassium:
95
mg
|
Fiber:
3
g
|
Sugar:
11
g
|
Vitamin A:
1787
IU
|
Vitamin C:
1
mg
|
Calcium:
143
mg
|
Iron:
1
mg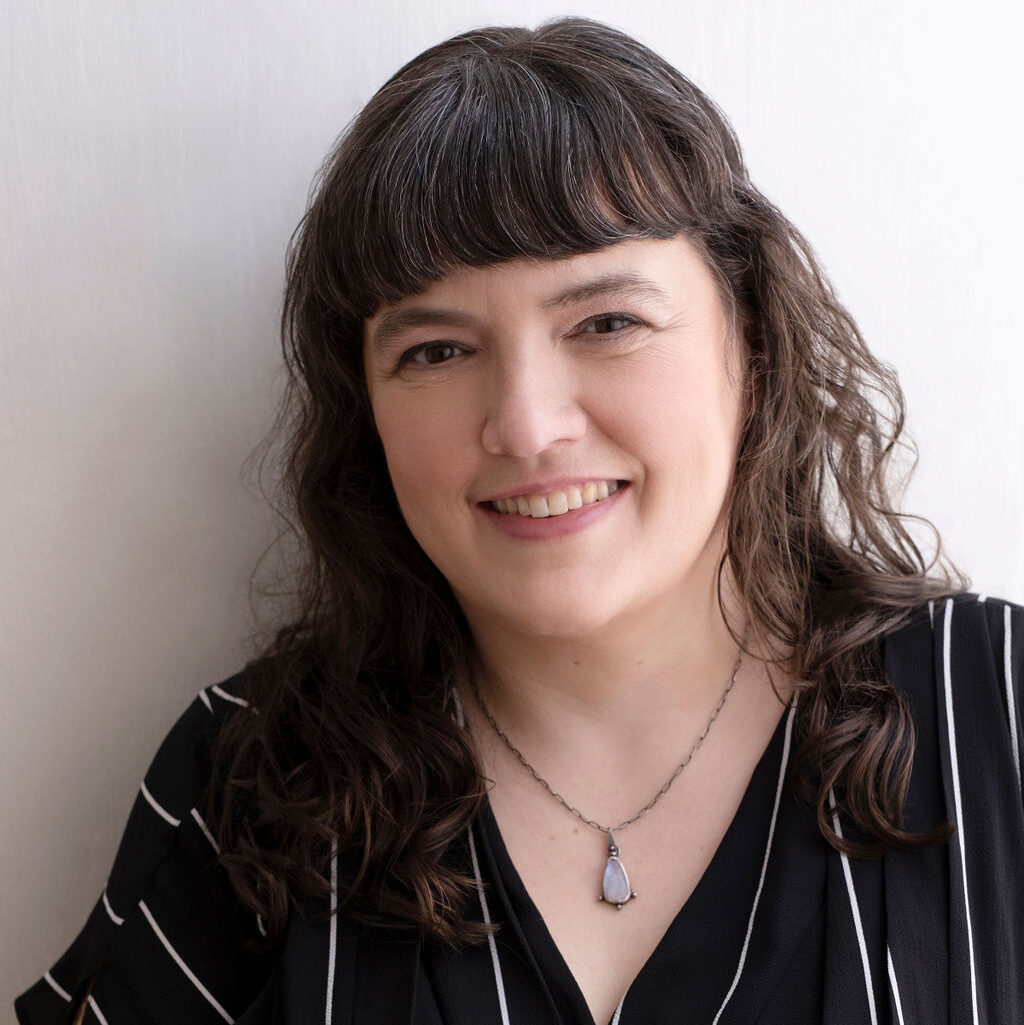 Tiffany is the recipe developer, stylist and food photographer behind Well Fed Baker. As a lifelong baker who had to go gluten free and dairy free in 2016, Tiffany strives to share allergen friendly recipes that never feel like they are free from anything.