I'll be honest, cranberries aren't my favorite. I had some leftover from another recipe and decided to try them out in this pie and I think I might be converted. The tartness of the cranberries is balanced by the sweetness of the apples and if you top it with dairy free ice cream or whipped cream it is to die for. Plus, it's wrapped in my amazingly flaky gluten free pie crust that also happens to be dairy free and easily made vegan with the omission of the egg wash. This would be the perfect dessert for the holidays!
How do you make perfect gluten free pie crust?
Making a gluten free and dairy free pie crust might seem tricky. After all, you're replacing 2 of the 3 ingredients that go into regular pie crust. It's true that you cannot just make 1 to 1 substitutions with your old pie crust recipe and have something that turns out amazing. It takes a little adjustment to get it just right. I highly recommend you download my FREE guide to gluten free pie crust. Once you master this skill, you will be unstoppable.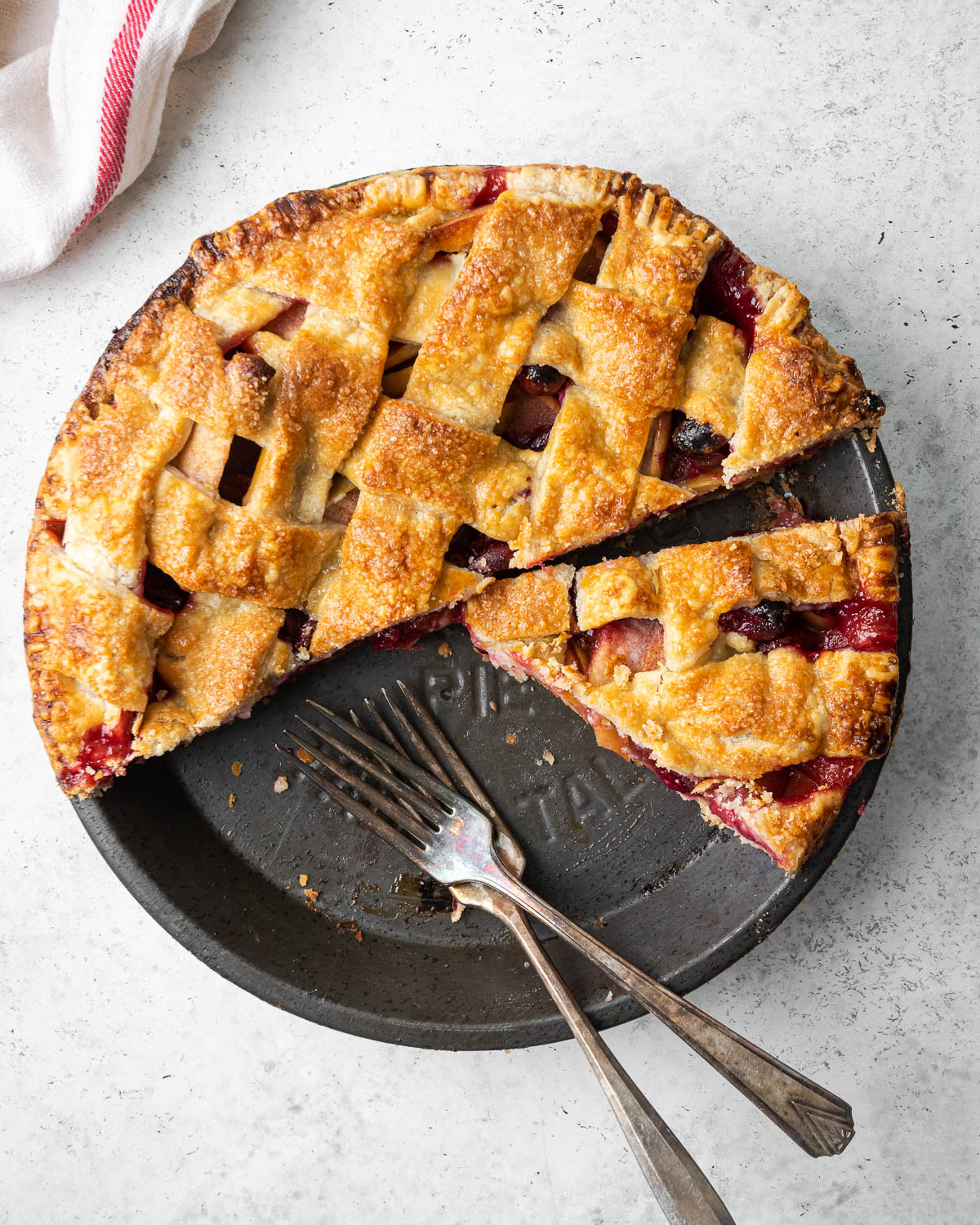 What ingredients go into gluten free, dairy free pie crust?
Traditional pie crust is usually made up of flour (low protein flour works best), butter and water. You might find other recipes that swear by vodka or some other special ingredient, but those additives are usually there to inhibit gluten formation. With gluten free flour we are not really concerned about creating gluten in our dough, so no weird additives are needed.
This crust is made up of the following ingredients:
Gluten Free 1-to-1 Flour - I typically use Bob's Red Mill in the blue bag. The cup measurements are for BRM brand. If you want to use another brand, you will get the best results from weighing. I do list conversions for different brands of flour in my pie guide, if you are interested.
Arrowroot Powder or Cornstarch - Adding a little extra starch to the gluten free flour reduces the protein content so it is more similar to low protein all-purpose wheat flour.
Salt - Just a little salt to add flavor.
Sugar - The sugar aids in the browning and the crispiness of the baked crust.
Vegan Butter - I typically use either Miyoko's Brand or Country Crock Plant Butter. Whichever vegan butter you choose, make sure it is butter sticks not margarine. Margarine contains too much moisture and will not work properly in this recipe.
Water - simple.
That's it!
How to make a lattice pie crust
If you've never made a lattice pie crust, here are a few tips to help.
For gluten free pie, you want to roll your dough out with ample flour to make it easier to handle. I usually use 1 tablespoon below the dough and 1 tablespoon on top.
Once your dough is rolled into a large circle (at least as big as your pie pan), cut into strips. You can do strips of equal width like I did here or vary between wide and narrow.
Pick the middle strip up first and place it across the middle of your pie because it is the longest and that is where the pie pan is widest.
Continue placing strips going in the same direction, but only pick up every other strip from your rolled out sheet. This will leave a mixture of long and shorter pieces for laying the perpendicular direction.
Gently fold back every other strip at the middle and lay your strip going the opposite direction. Then unfold the pieces so they are flat and fold the alternating pieces back to lay your next strip.
Work from the middle of the pie out to one edge, then start at the middle again and work out to the other edge.
Stick your strips down to the outer crust with a little water on your finger (for vegan pie) or egg wash (see recipe note)
For more detailed instruction with photos, download my free pie guide.
How do you store leftover pie?
Cover your pie in aluminum foil and store in the refrigerator for up to 3 days. To refresh the pie crust, I usually microwave about 15 seconds. However, the crust will always be best when it's fresh.
For more great gluten free pies, check out these great recipes!
Gluten Free Kentucky Derby Pie
Gluten Free Apple and Cherry Pie
Best Ever Gluten Free Pumpkin Pie
Gluten Free Maple Bourbon Pecan Pie (Dairy Free Option)
Apple Butter Pie
Apple Pear Pie
To pin this recipe for later, click the save button on any image in this post or the recipe card. Please tag me @wellfedbaker on Instagram if you make this recipe!
Recipe
Gluten Free Apple Cranberry Pie
This pie is perfect for the holidays - filled with spiced apples and cranberries
Print
Pin
Rate
Ingredients
For the pie crust
2

Cup

Gluten Free 1-to-1 Flour Blend

296 grams, I use Bob's Red Mill Brand

2

Tablespoon

Cornstarch

1

teaspoon

Salt

2

Tablespoon

Sugar

18

Tablespoon

Vegan Butter

regular butter will work too

⅔

Cup

Water

ice cold

4

Tablespoon

Gluten Free 1-to-1 Flour Blend

for rolling out dough
For the pie filling
4

Cup

Apples

thinly sliced, about 4 baseball sized apples

1 ½

Cup

Cranberries

fresh or frozen

2

teaspoon

Lemon Juice

½

Cup

Sugar

3

Tablespoon

Cornstarch

1

teaspoon

Cinnamon

½

teaspoon

Ginger

¼

teaspoon

Salt

2

teaspoon

Vanilla

1

Egg

for egg wash, optional
Instructions
For the pie crust
Cut your butter into small cubes about ½" x 1"2 and place into the freezer. Measure out your water and place it in the freezer as well. Chill for at least 15 minutes.

Add the flour, arrowroot powder, salt and sugar to a large bowl. Mix together until well combined. If it is especially warm in your home, you can freeze the flour to cool it down.

Add the frozen butter to your dough. Make sure each cube of butter is coated with flour on all sides. Then working quickly, squish the butter from cube shaped into flattened discs about the size of quarters. If your mixture starts to feel wet or greasy at any time, place the whole bowl back into the freezer to chill it. It's important to keep the butter very cold throughout the process.

For extra flaky crust, you can leave large chunks of butter but for lattice work, small bits of butter work better. I try to work my butter into the flour until it is about pea sized.

Next make a well in the flour/butter mixture and pour in half of your chilled water. Toss the flour and water together to combine. Add half of the remaining amount of water and continue to toss together. If you get any big chunks break them apart because they will be very wet inside. You want the moisture to be evenly distributed. Continue adding water in this way until your dough reaches a shaggy state which is just sticking together.

Combine all of your dough into a ball. Divide into two parts. Shape each into a patty and wrap separately with plastic wrap. Refrigerate a minimum of 2 hours up to overnight.

Remove one piece of chilled dough from your refrigerator. Place a piece of parchment paper on your counter and dust with about 1 tablespoon of flour.

Put your dough on the floured surface and sprinkle another ½ tablespoon flour on top of the dough. Begin rolling out the dough. If your dough sticks to the rolling pin at any time, sprinkle with a bit more flour. Roll the dough until it is large enough to fit your pie pan. Repeat with second dough ball.

Place rolled out dough sheets on a baking sheet and put it back into the refrigerator for 1 hour. While it's chilling, prepare the pie filling.
For the pie filling
In a large bowl combine the apples, cranberries, lemon juice, sugar, arrowroot powder, cinnamon, ginger, salt and vanilla. Stir until the fruit is well coated with the sugar and spices.
To assemble the pie
Preheat the oven to 400 degrees F.

Remove one chilled sheet of pie dough from the refrigerator.

Flip the first sheet of the dough into your pie pan and gently work it into the shape of the pan. Take care not to press the dough in as it will stick to the pan after baking. If you're planning a decorative crust for the edge, leave an overhang of about ½", otherwise trim the dough to the edge of the pie plate. Use the leftover scraps of dough to patch any holes or tears that may have occurred.

Pour the pie filling into the pie pan.

Take your second rolled sheet and cut it into strips for lattice. Place the strips across the top of the pie and then add the alternating strips. See the text above for more detailed lattice instructions.

Crack your egg into a small bowl and beat until smooth. Add about 1 tablespoon water. Using a pastry brush, stick the edges of your lattice to the bottom crust with a little of the egg wash. Once all of the edges are stuck down, trim the lattice to the edge of the pie pan. Crimp the crust into your favorite design. NOTE: For vegan pie use a little water instead of egg wash to stick the lattice work down.

Brush the top of the pie crust all over with the remaining egg wash (OMIT for vegan pie). Sprinkle with sanding sugar (optional)

Place in the freezer for 15 minutes prior to baking. This will keep any crust designs from melting and losing shape.

Place the prepared pie on a baking sheet and bake on the lowest rack of your oven. Bake for 60 minutes. If the top crust begins to brown too much, you can cover loosely with aluminum foil.

Remove baked pie from oven and cool about 2 hours before slicing.
Notes
For King Arthurs Measure for Measure flour use 2 ⅓ C for your pie crust.  Additional flour measurements can be found in my downloadable pie guide.
Calories:
426
kcal
|
Carbohydrates:
56
g
|
Protein:
4
g
|
Fat:
22
g
|
Saturated Fat:
5
g
|
Polyunsaturated Fat:
6
g
|
Monounsaturated Fat:
9
g
|
Trans Fat:
1
g
|
Cholesterol:
20
mg
|
Sodium:
577
mg
|
Potassium:
105
mg
|
Fiber:
6
g
|
Sugar:
24
g
|
Vitamin A:
1278
IU
|
Vitamin C:
6
mg
|
Calcium:
36
mg
|
Iron:
1
mg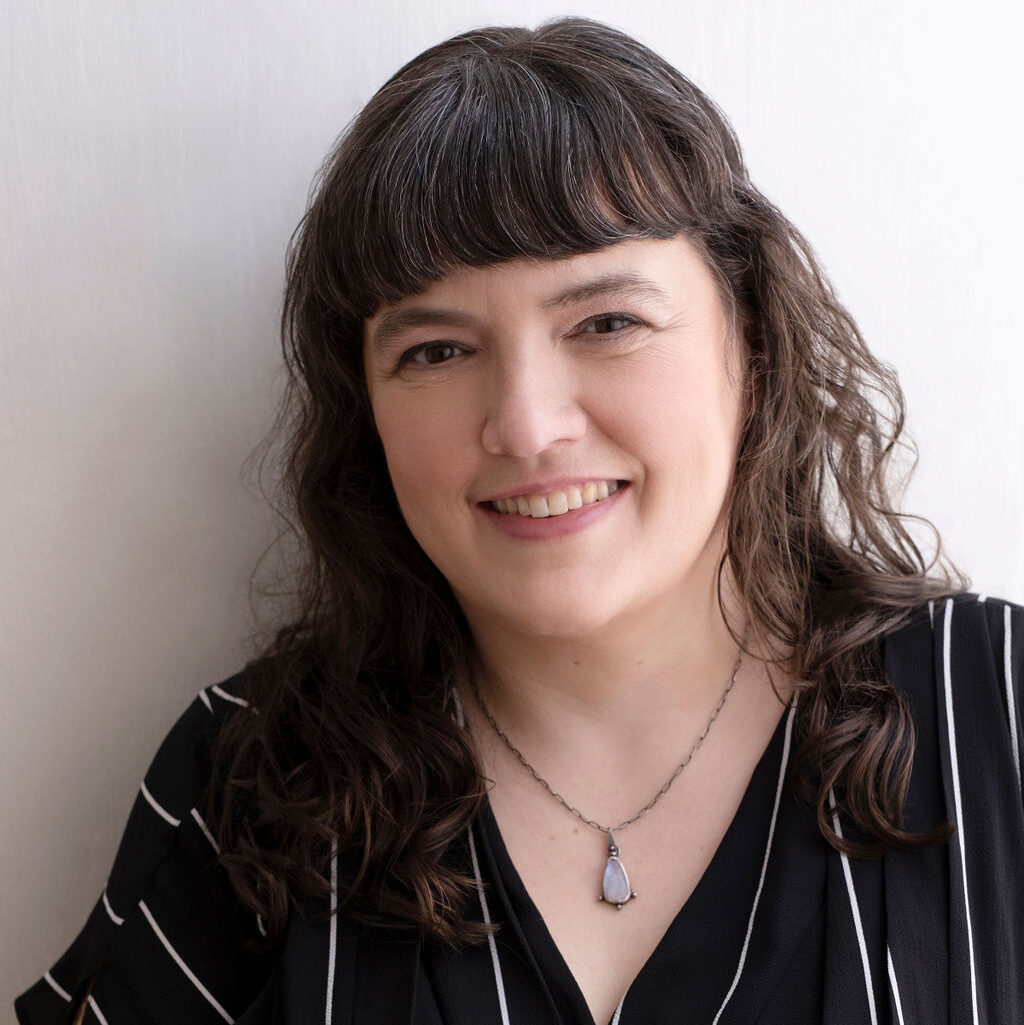 Tiffany is the recipe developer, stylist and food photographer behind Well Fed Baker. As a lifelong baker who had to go gluten free and dairy free in 2016, Tiffany strives to share allergen friendly recipes that never feel like they are free from anything.