"This apple cider caramel is so good, it should be illegal." That's what I texted my friend after tasting this recipe.
Years ago, before I was dairy free, I used to look forward to every fall because there was a vendor at our local farmers market who sold the most amazing apple cider caramel. It was so apple-y that your mouth would just flood with saliva as soon as the caramel hit your tongue. I implored them to make a dairy free version and they told me it simply wasn't possible. Well, I'm here to tell you they were wrong.
This delicious apple cider caramel recipe is made completely without dairy (it's vegan) and it tastes just as good as the original. With only four ingredients to make and just a few minutes of cooking time, it's the perfect topping for all the fall treats your baking, plus it is great drizzled over ice cream or cocktails.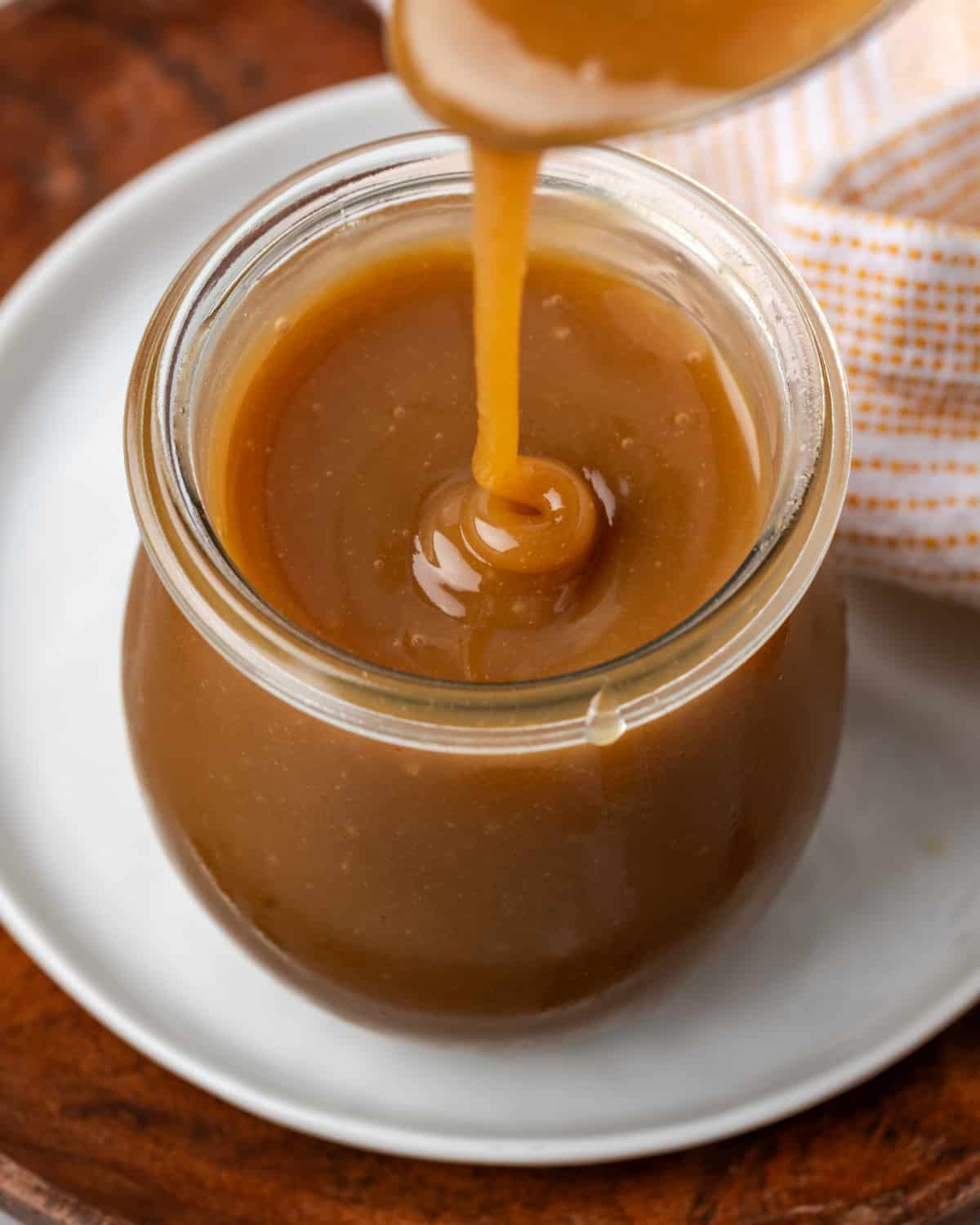 I know some people might find homemade caramel intimidating, but wet caramel (where you start with liquid and sugar) is a lot more foolproof than a dry caramel (which starts by melting sugar alone). I've included step by step photos below to make it simple.
Jump to:
Want to save this recipe? Enter your email below and we will send it straight to your inbox!
You will also be added to our weekly email list.
Ingredient Notes
This recipe uses just 4 simple ingredients.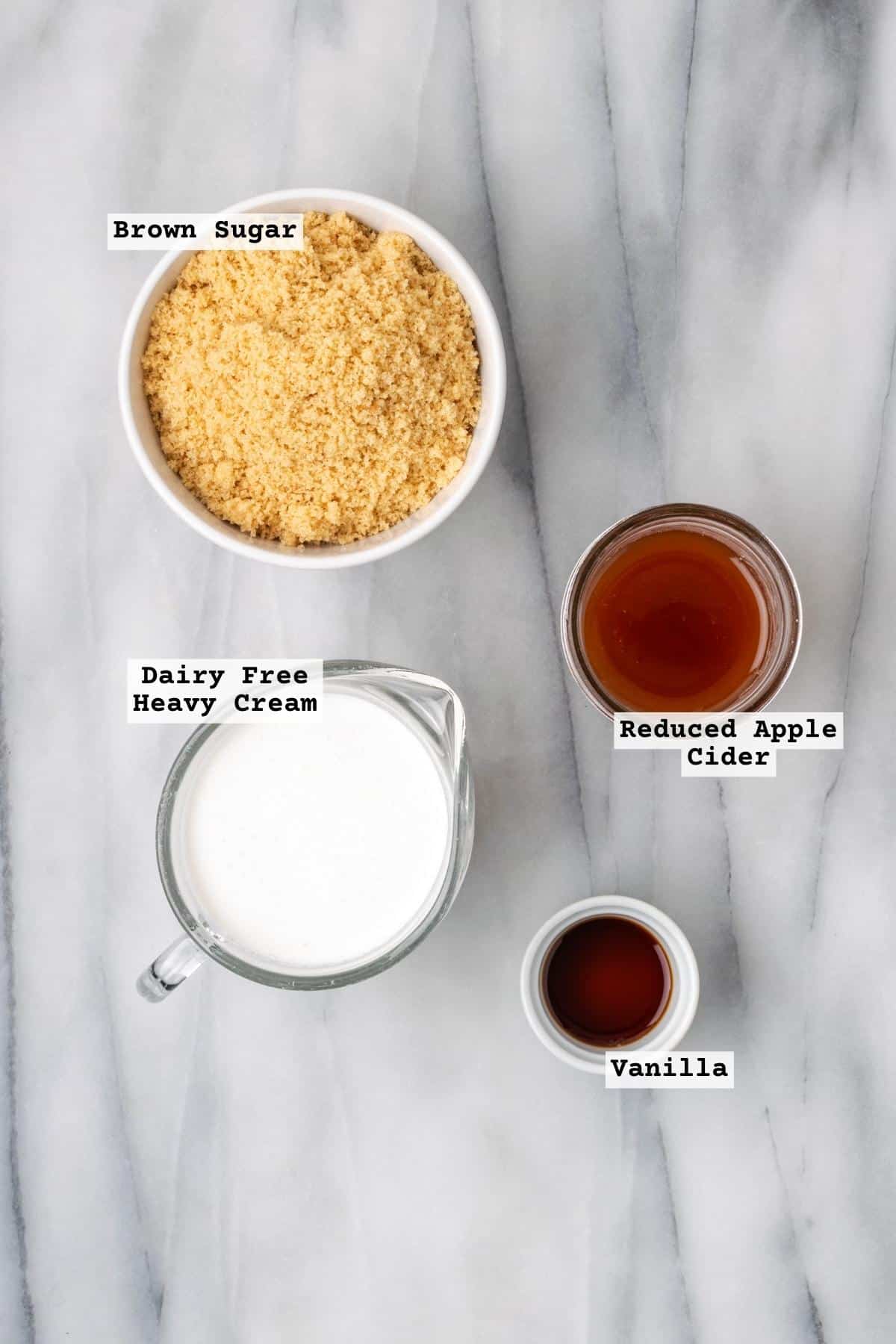 Reduced Apple Cider - The apple flavor from this recipe comes from the concentrated apple cider that is mixed with the brown sugar. For most recipes, like my apple cider donuts, I call for reducing the cider by half. For this recipe, we want to reduce the cider to ¼ of it's original volume - so we will start with 2 cups and cook to reduce to ½ cup.
Light Brown Sugar - I like the added rich flavor of brown sugar here, but you can use granulated sugar in the same measure if you prefer.
Non-Dairy Heavy Cream - I've use the silk brand of dairy free cream, which works just as dairy cream would. I have also tested this recipe with full fat coconut milk (the kind in the can) and it works well too.
Vanilla - Just to give a little more depth to the flavors.
Pinch of Salt - totally optional. The caramel is perfect without it, but I find a pinch of salt can balance some of the sweetness.
See recipe card for full ingredient list and quantities.
Substitutions & Variations
Not Dairy Free - use dairy heavy cream in the same measure.
No brown sugar - Use granulated sugar in the same measure.
No apple cider - It won't be apple cider caramel, but you can replace the cider with water and follow the same method to make the perfect caramel sauce.
How to Make Apple Cider Caramel
This easy stovetop recipe only requires a few minutes of cook time.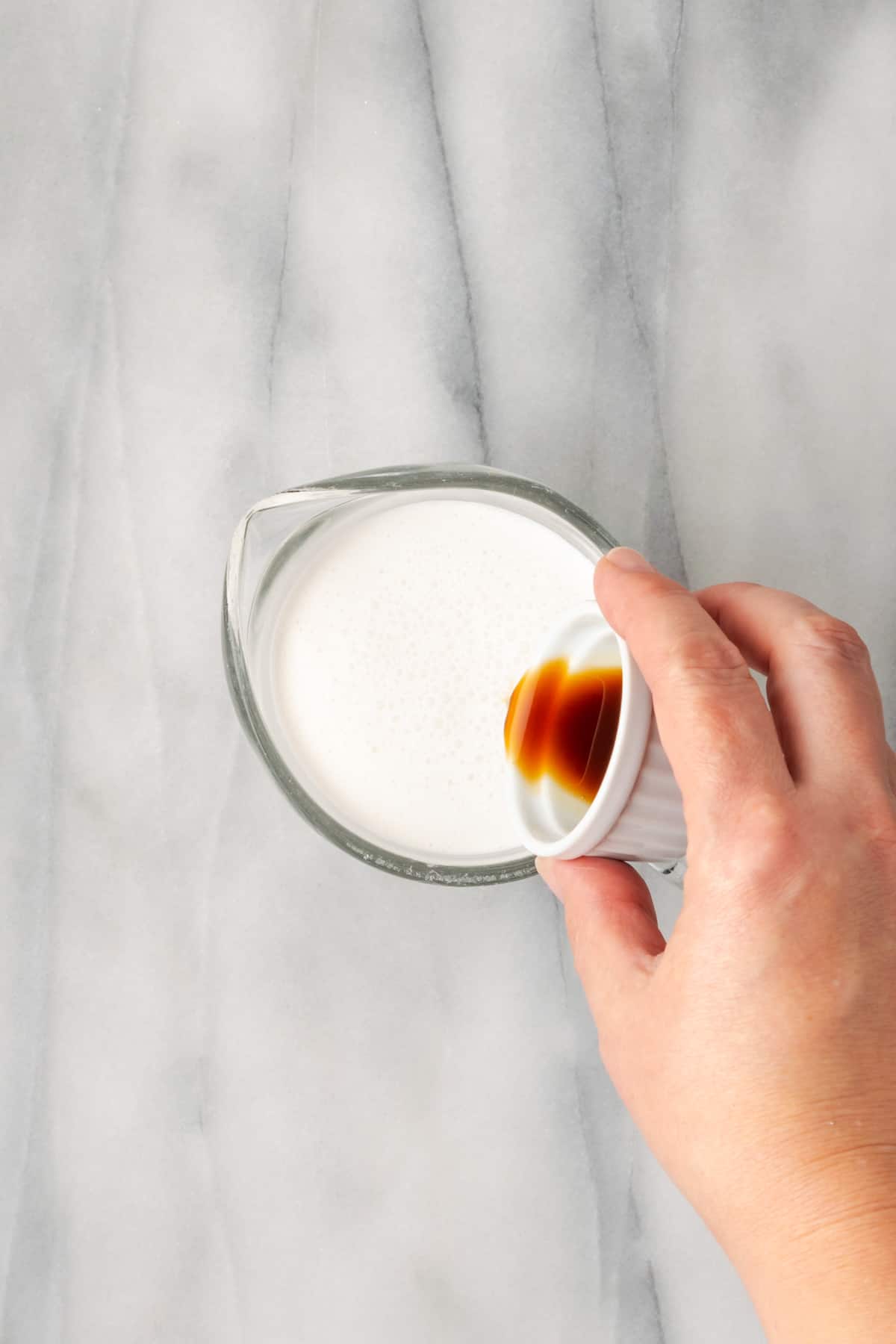 STEP 1: Before beginning the cooking process, add the vanilla to the cream.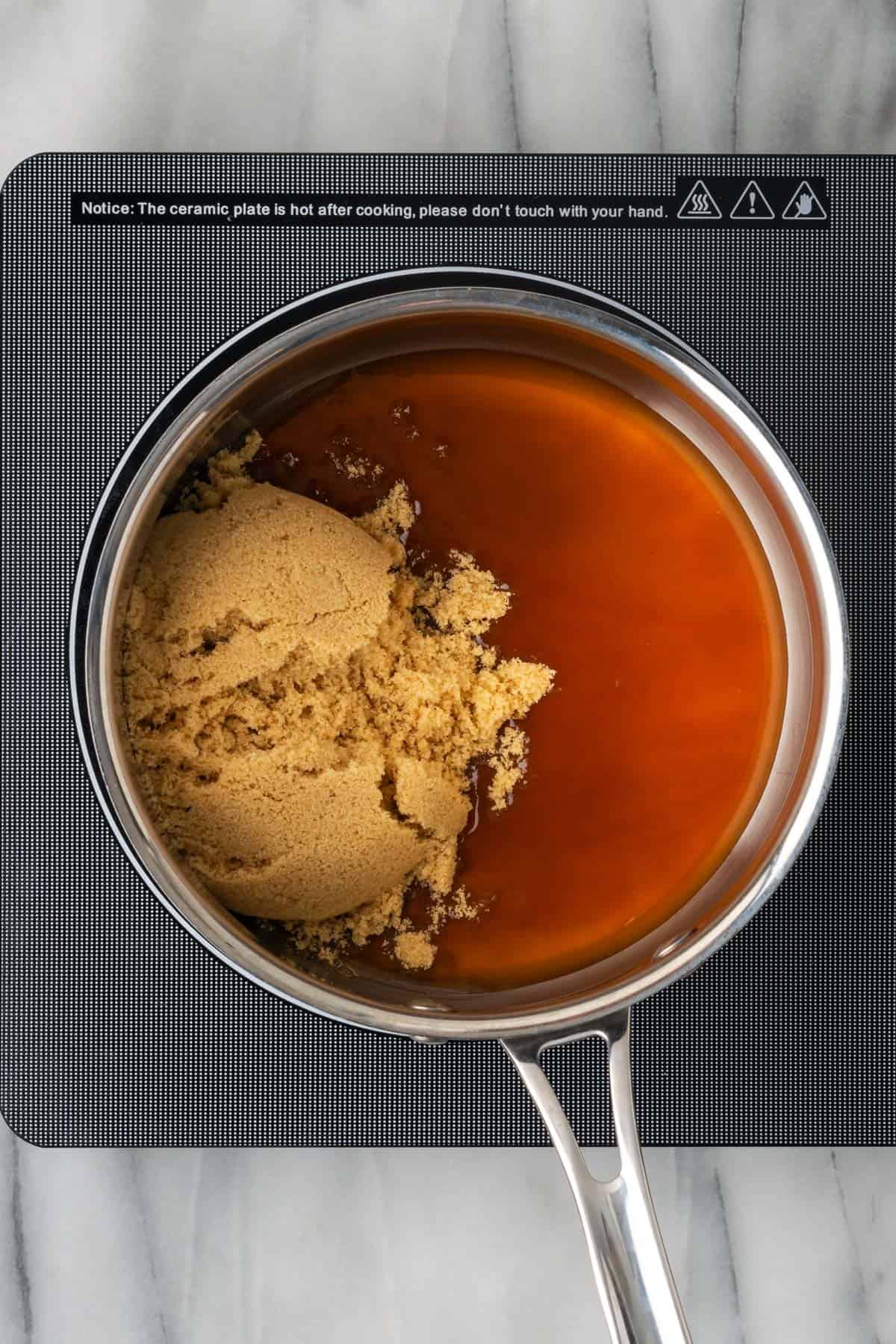 STEP 2: Once your apple cider has been reduced to ½ cup, add the brown sugar. Cook over medium heat, stirring until the sugar is dissolved.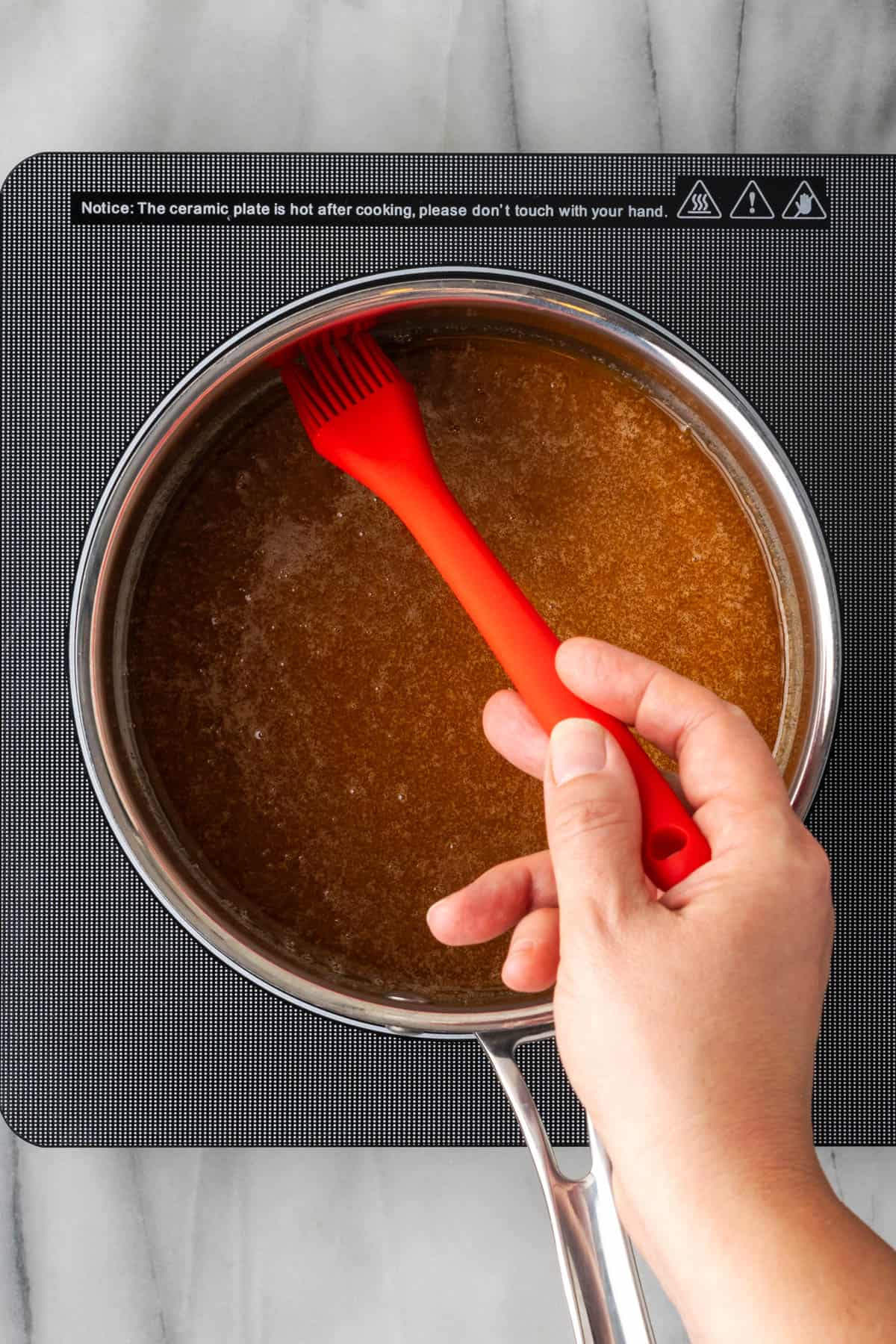 STEP 3: Once the sugar has dissolved, you want to cook without stirring. If you notice sugar crystals around the side of the pan, wash them off with a wet pastry brush.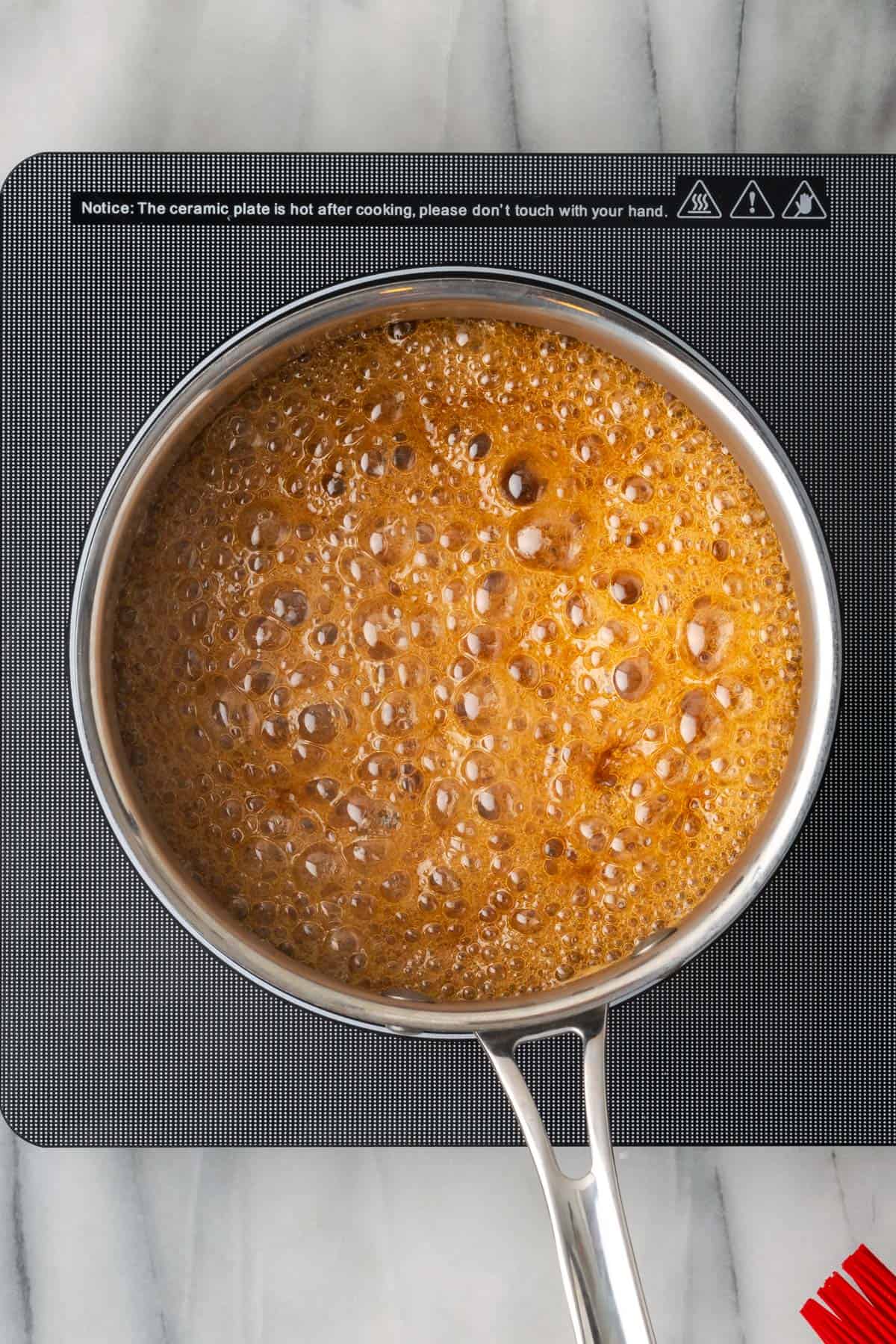 STEP 4: Allow the sugar mixture to cook until it is bubbling rapidly. Once bubbling (as shown above), cook it for 3 minutes (or up to 5 minutes for thicker sauce). Do not cook longer than 5 minutes.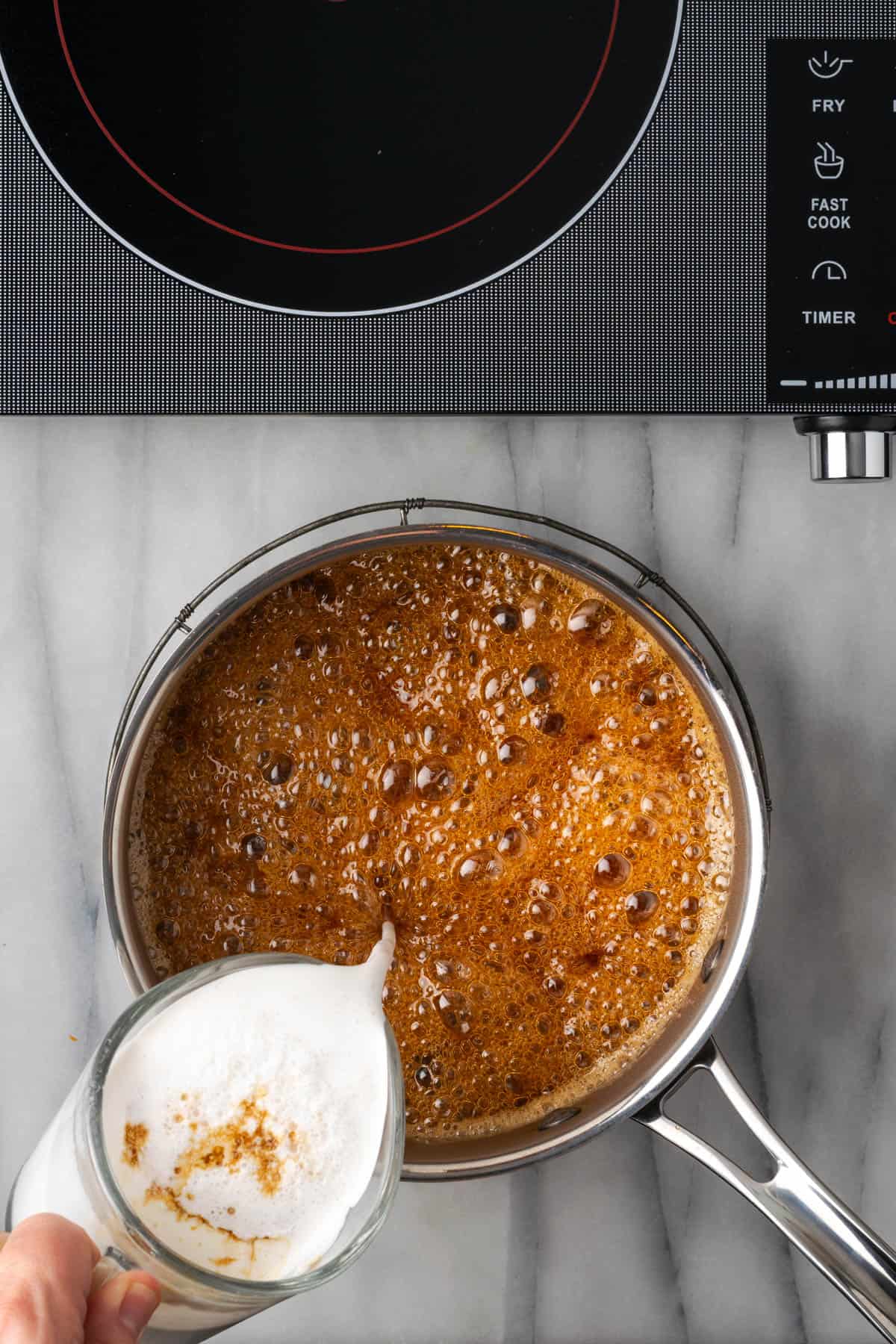 STEP 5: Remove the cooked sugar mixture from the heat and slowly add the cream. It may bubble up, so pour a little at a time stirring it in with a spatula.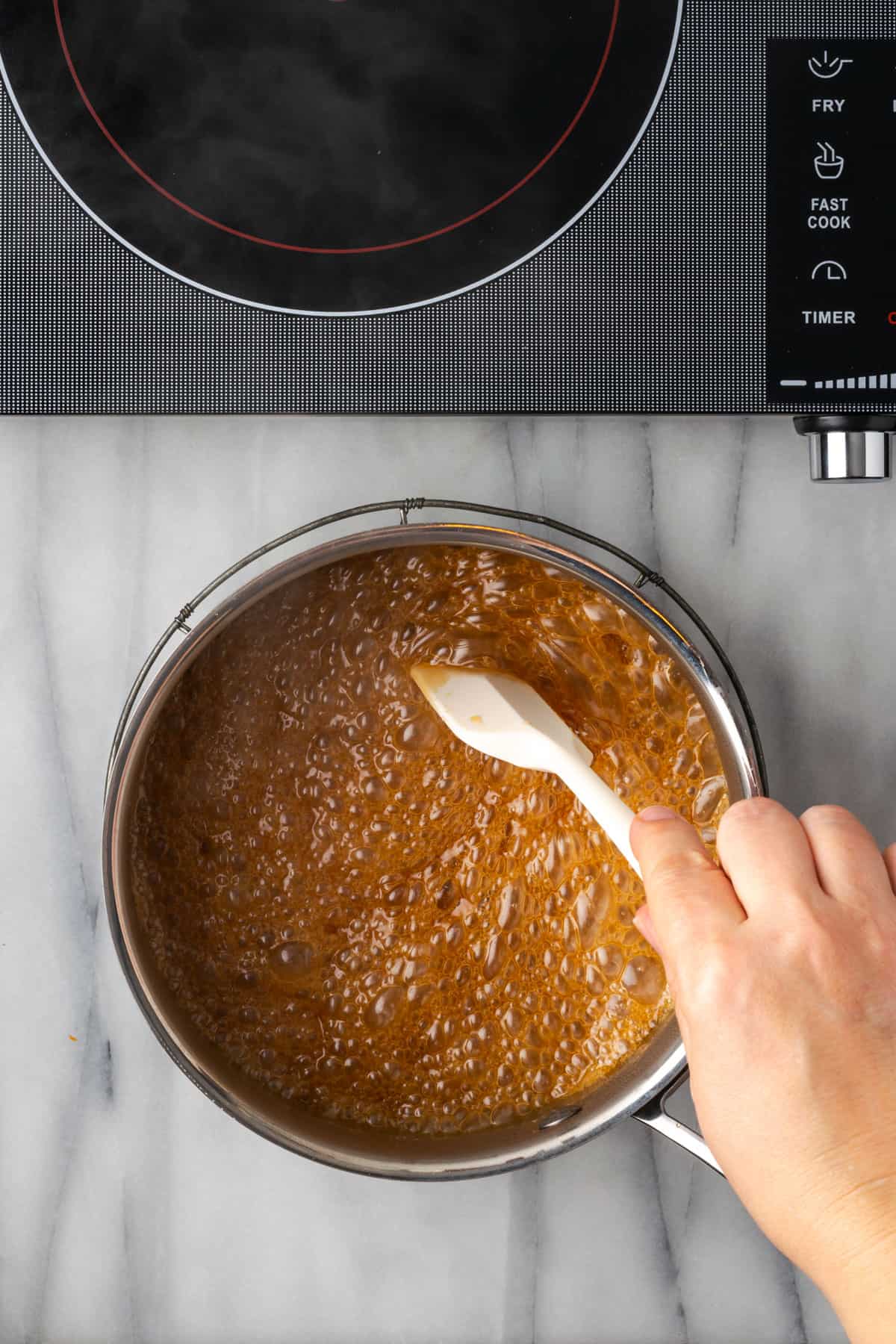 STEP 6: Continue to stir the apple cider caramel sauce until the bubbles go down and a smooth sauce appears.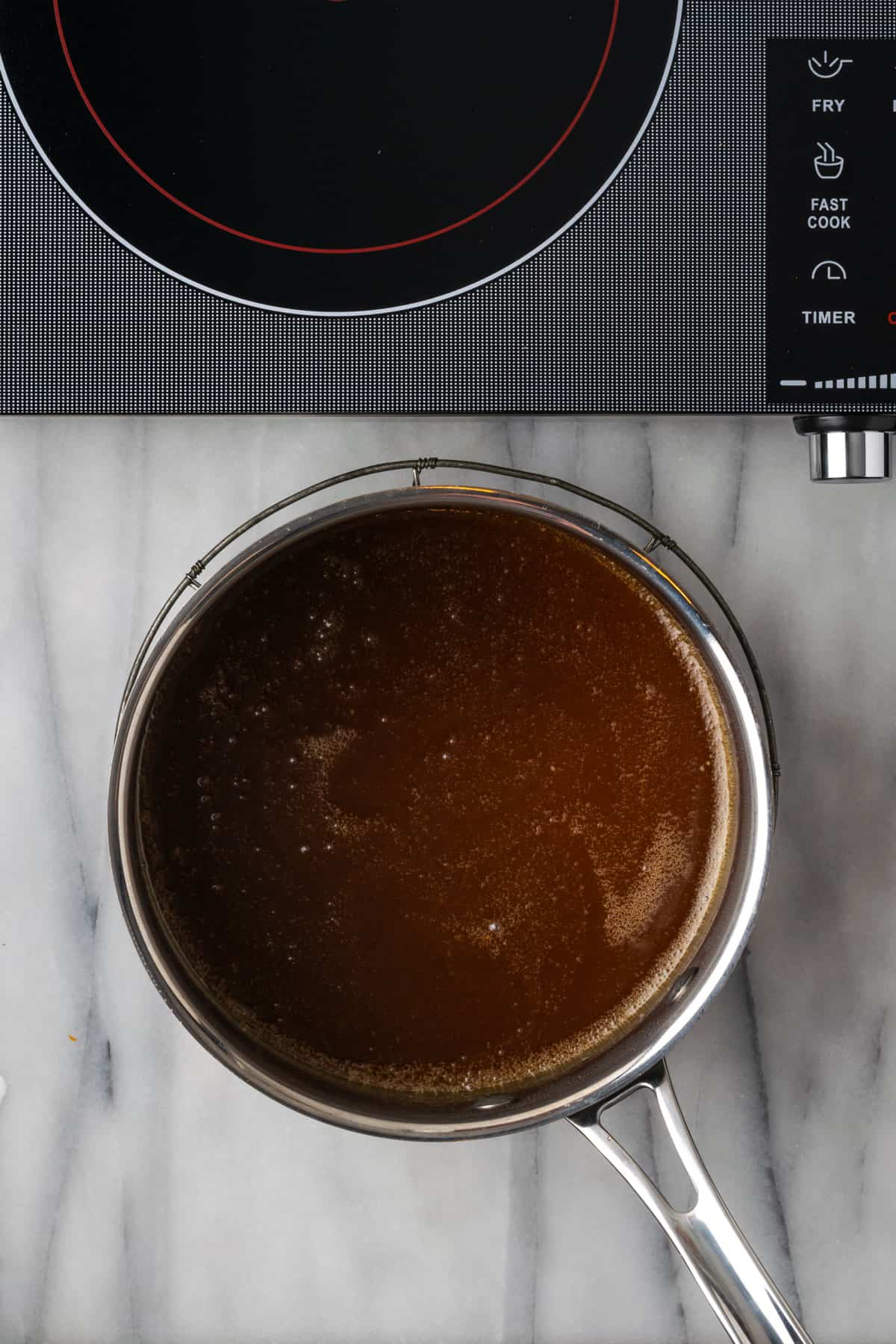 STEP 7: Allow the caramel to cool to room temperature, then transfer it to a glass jar for storage in the refrigerator.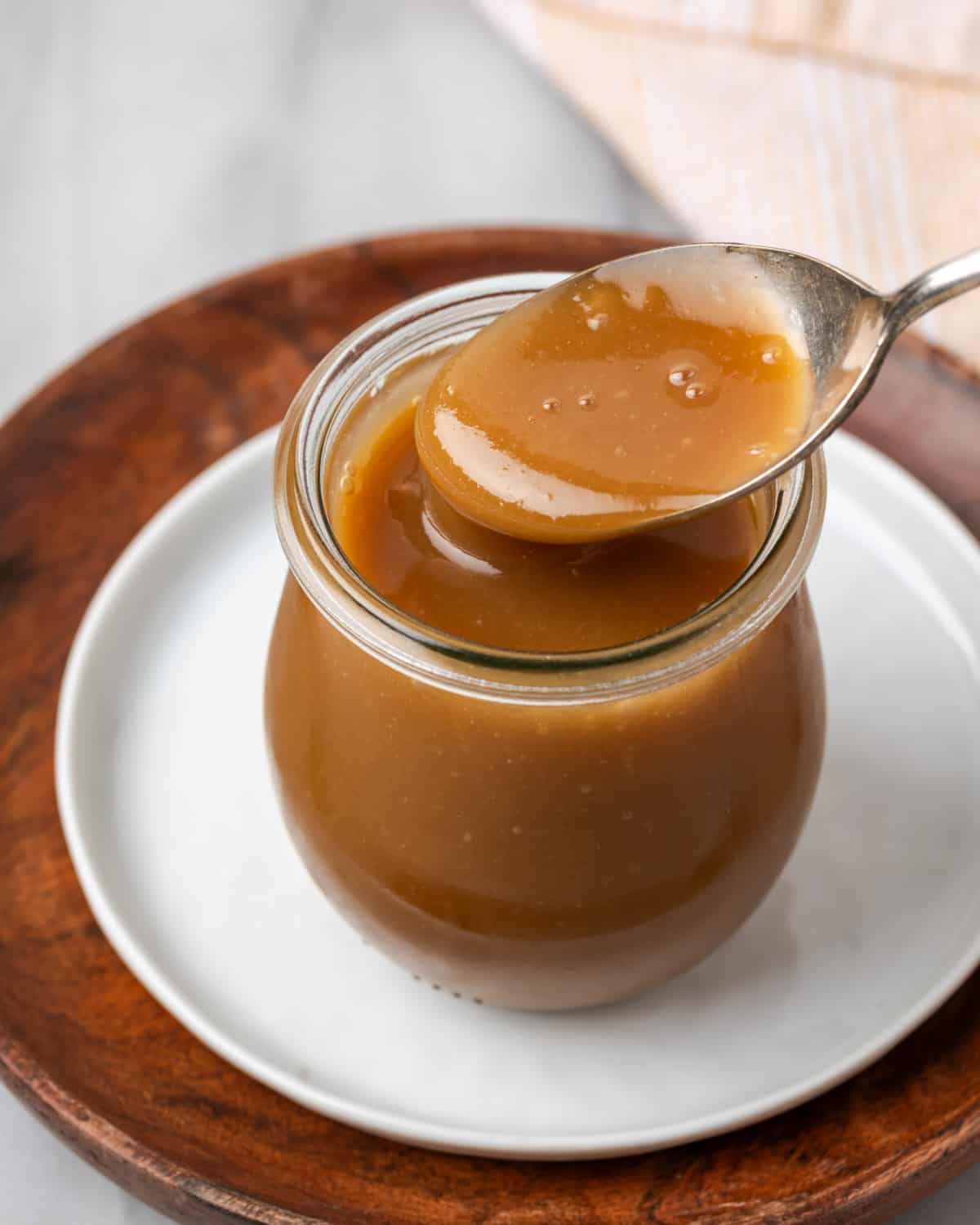 How to Use Apple Cider Caramel
Apple cider caramel sauce is a delicious and versatile condiment that can add a burst of flavor to a variety of dishes. Here are some creative ways to use apple cider caramel sauce:
Drizzle Over Desserts:

Ice Cream: Pour warm apple cider caramel sauce over vanilla or cinnamon ice cream for a delightful dessert.
Apple Pie: Add a decadent twist to your apple pie by drizzling the sauce over a slice of my gluten free dutch apple pie.
Cheesecake: Serve a slice of cheesecake with a generous drizzle of caramel sauce.
Cake: Serve a slice of my gluten free apple cake or my apple cider donut cake with a bit of apple cider caramel.

Pancakes and Waffles: Use it as a topping for pancakes or waffles along with fresh fruit like sliced apples or pears.
Fruit Dipping: Dip sliced apples, pears, or bananas into the sauce for a sweet and tangy treat.
Cake Filling: Spread the caramel sauce between the layers of a cake as a filling.
Yogurt and Oatmeal: Stir it into Greek yogurt or drizzle it over your morning oatmeal for a cozy breakfast.
Coffee and Tea: Make a caramel apple latte by adding a spoonful of caramel sauce to your coffee or tea.
Cocktail Mixer: Use it as a sweetener in cocktails, like an apple cider caramel martini or a spiked apple cider.
Dipping Sauce: Serve it as a dipping sauce for churros, pretzels, or even fried foods like chicken tenders.
Gifts and Favors: Package it in small jars and give it as gifts during the holidays or special occasions.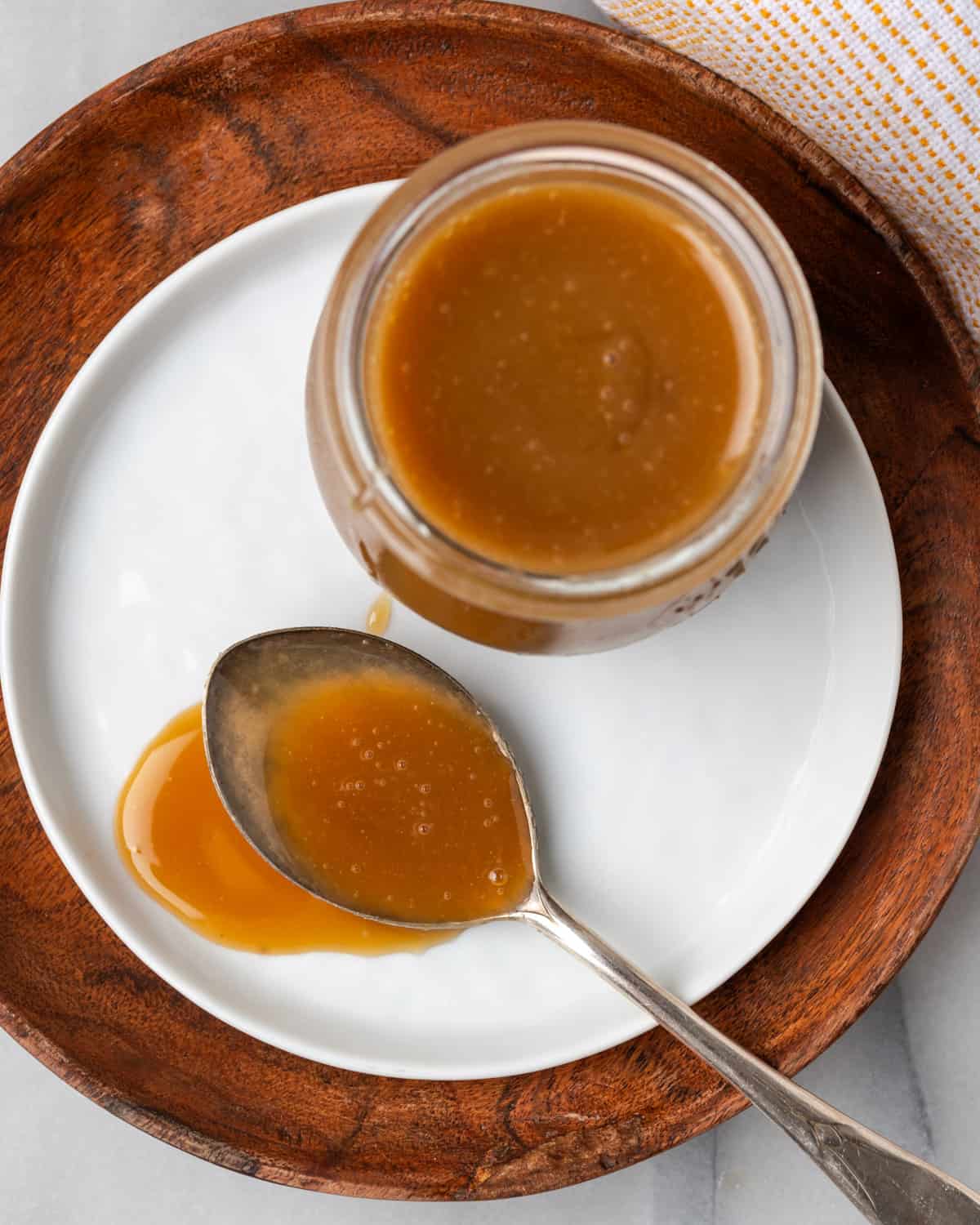 Storage
Store apple cider caramel in an airtight container, I prefer a mason jar, in the refrigerator for up to 3 weeks. If it becomes very thick when cooled, you can simply heat it for 15-30 seconds in the microwave to make it pourable again.
Other apple recipes to consider:
If you try this recipe, please leave a 🌟🌟🌟🌟🌟 star rating and let me know how you liked it in the comments below.
Recipe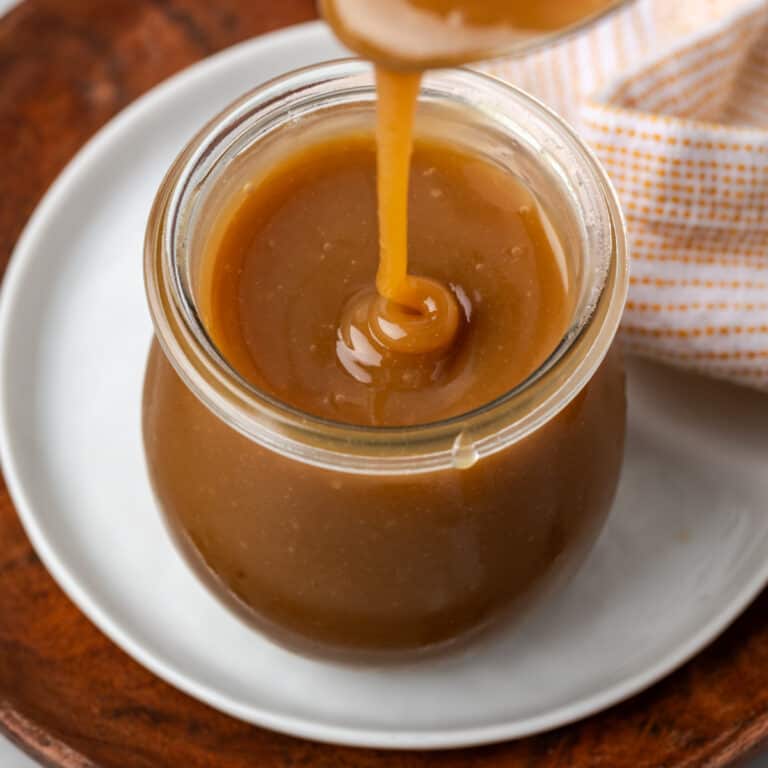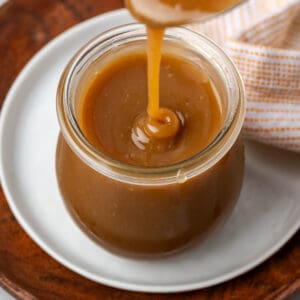 Apple Cider Caramel (DF)
This apple cider caramel sauce is a luscious blend of sweet caramel goodness with a hint of tangy apple cider, perfect for drizzling over your favorite desserts, pancakes, or even stirring into your morning yogurt.
Print
Pin
Rate
Instructions
Combine the vanilla and cream and set aside. Prepare a small bowl of water and a pastry brush.

¾ Cup Non-Dairy Cream,

1 teaspoon Vanilla

Add reduced apple cider and brown sugar to a saucepan over medium heat. Cook and stir until the sugar is dissolved.

½ Cup Reduced Apple Cider,

1 Cup Light Brown Sugar

Once the sugar has dissolved, DO NOT STIR. If you notice sugar crystals along the sides of the pan, use your pastry brush dipped in water to wash them back into the liquid.

After a few minutes, the mixture should begin to bubble rapidly. Allow it to bubble for at least 3 minutes (for a thin pourable sauce) or up to 5 minutes (for a thicker sauce). Do not cook the sugar for more than 5 minutes.

Remove the pan from the heat. Add about ⅓ of the cream and stir it in. It may bubble up a lot, so be cautious.

Add the remaining cream and stir until all the bubbles subside and a smooth sauce forms.

Set aside the caramel to cool to room temperature, then transfer it to an airtight jar and store in the refrigerator. Allow it to chill overnight before using.
Notes
NUTRITION: The nutrition information provided is for the entire batch of caramel sauce.  The recipe makes approximately 2 cups of caramel REDUCED CIDER:  For this recipe, simmer 2 cups of cider over medium heat until it is reduced to only ½ cup.  STORAGE: Store leftover caramel in an airtight container (I prefer a mason jar) in the refrigerator for up to 2 weeks.
Calories:
1236
kcal
|
Carbohydrates:
234
g
|
Protein:
4
g
|
Fat:
36
g
|
Saturated Fat:
32
g
|
Polyunsaturated Fat:
0.4
g
|
Monounsaturated Fat:
2
g
|
Sodium:
89
mg
|
Potassium:
791
mg
|
Fiber:
0.2
g
|
Sugar:
225
g
|
Vitamin A:
1
IU
|
Vitamin C:
3
mg
|
Calcium:
223
mg
|
Iron:
7
mg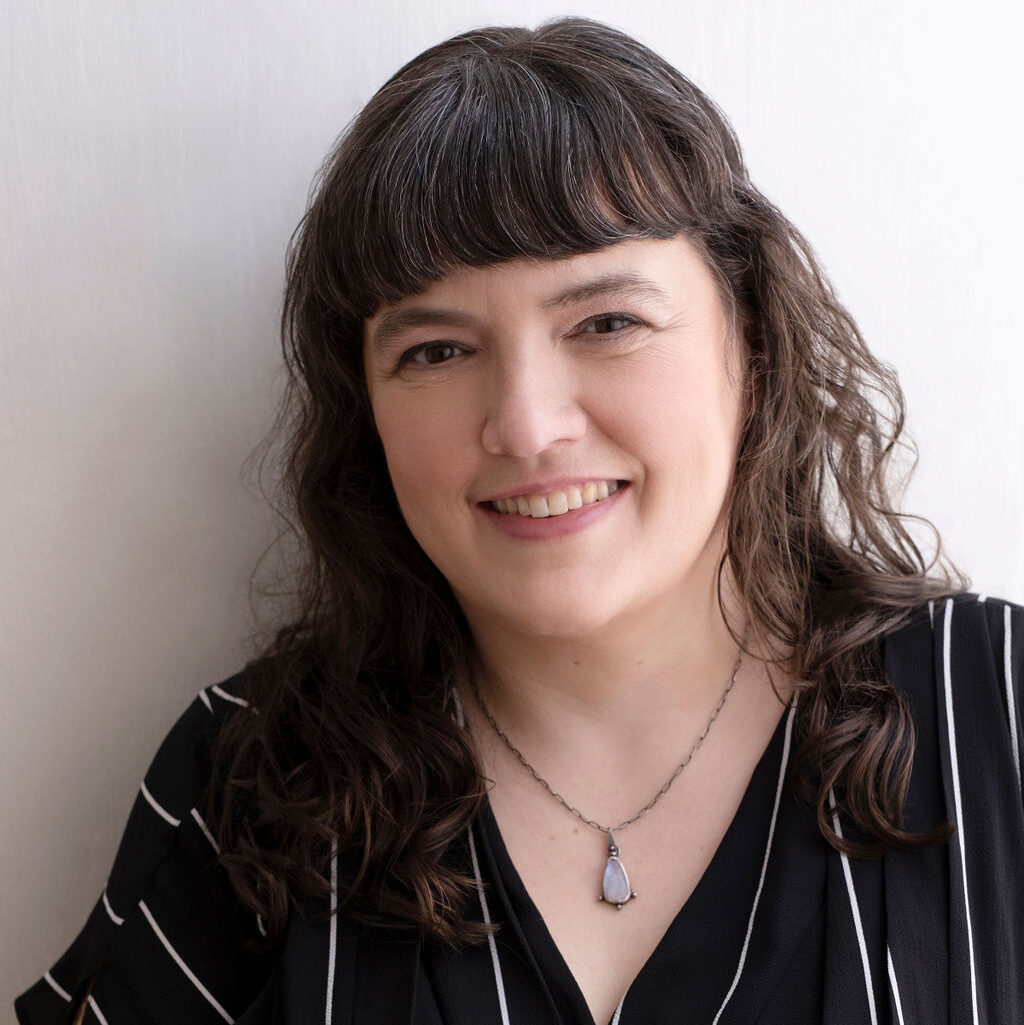 Tiffany is the recipe developer, stylist and food photographer behind Well Fed Baker. As a lifelong baker who had to go gluten free and dairy free in 2016, Tiffany strives to share allergen friendly recipes that never feel like they are free from anything.