These chocolate chip cookies with pecans really let the nuts shine. They are made not only with chopped pecans, but also pecans ground to flour to really bring out the nutty flavor. I used high quality pecans from York Pecan Co, which taste just like the ones my grandpa used to grow.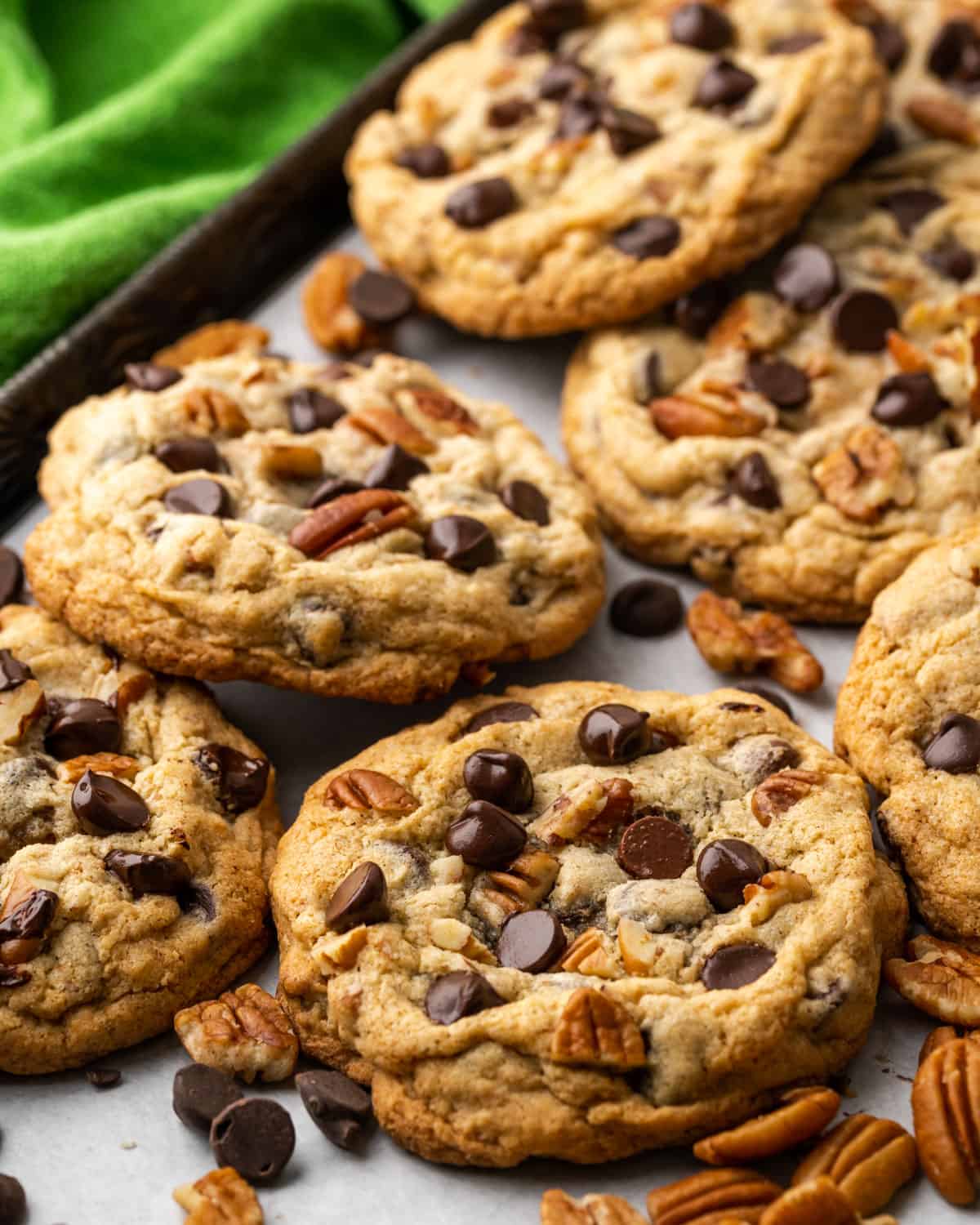 For a time when I was a kid, we moved to live on my grandfather's farm in the deepest south of south Georgia. Our house was situated in the midst of a soybean field and we had a row of pecan (pronounced pee-can if you're from the south) trees in our front yard. When it was pecan season, my mom and I would go out everyday after work & school to pick up pecans to take to the shelling place in town – because when you're dealing in 5 gallons buckets of pecans, you don't crack them by hand.
There was actually no chore I dreaded more than collecting pecans. Sure, I like eating them, but picking them up one by one by one thousand is back breaking work. I guess you could say loving pecans is in my blood. After all, it's been a family food for generations. But I'm happy to let someone else do the work these days.
This post was sponsored by York Pecan Company, all opinions expressed are my own.
Jump to:
Why You'll Love This Recipe
It's chock full of pecan flavor with both pecan flour and chopped pecans.
It makes big, bakery sized chocolate chip cookies.
The cookies are crispy at the edges with soft, chewy centers.
It's gluten free & dairy free.
Ingredients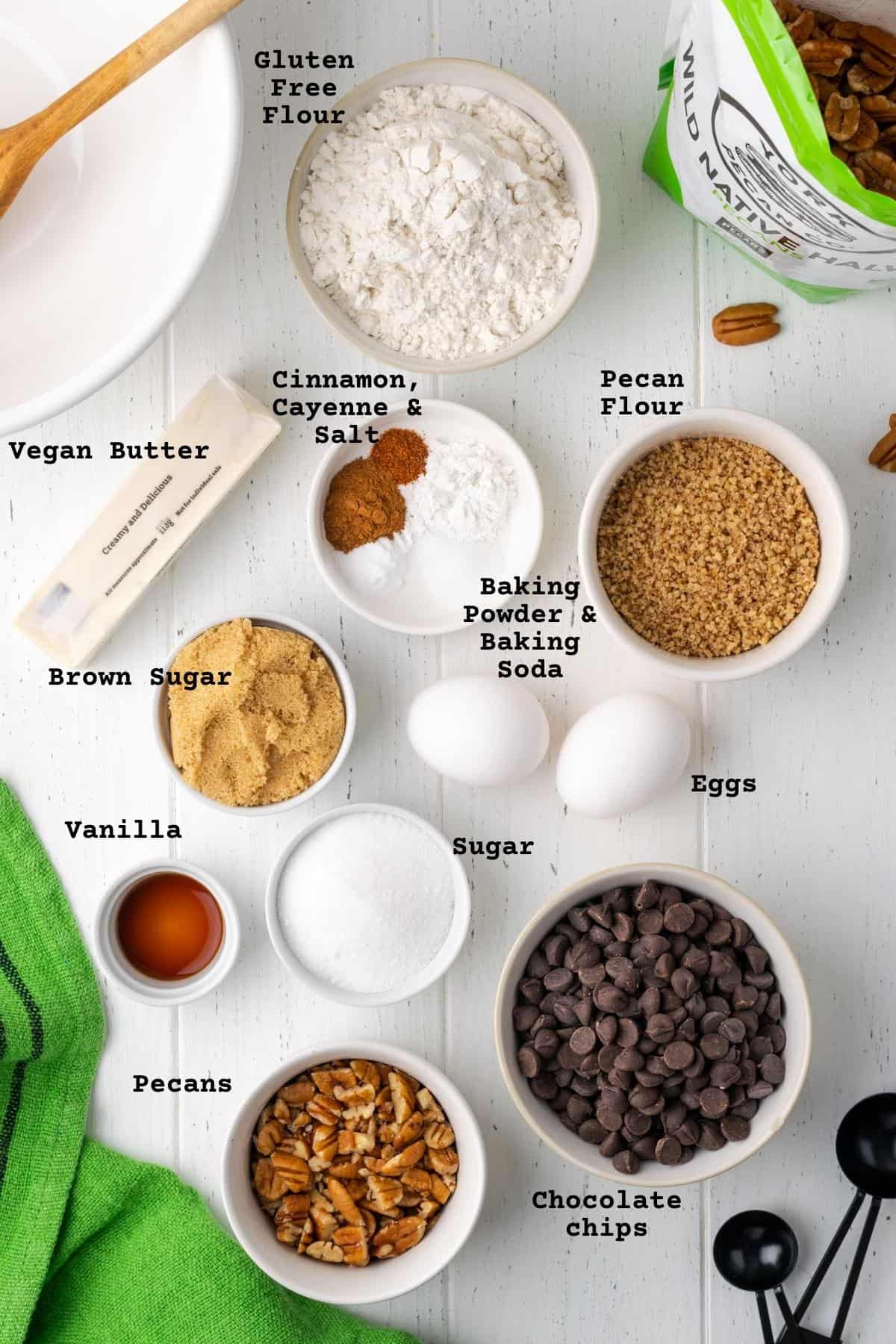 Gluten Free Flour Blend – I use Bob's Red Mill for almost all of my recipes. You can use your own flour blend, but know it may not turn out the same. If you substitute with another blend, ensure it contains xanthan gum (or a similar binder).
Baking Soda & Baking Powder – Baking soda lets the cookies spread and turn golden brown while baking powder makes them stay soft and thick.
Cinnamon & Cayenne – These may be unusual additions to chocolate chip cookies, but they compliment the pecans beautifully.
Salt
Brown Sugar & White Sugar
Egg & Egg Yolk - I haven't tried this recipe with an egg replacement, but I suspect a flax egg would work great here. If you try it, let me know in the comments.
Butter – I use Country Crock Plant Butter or Miyoko's Vegan Butter for my baking. If you're not dairy free, you can use regular butter in the same measure.
Chocolate Chips - I tested these cookies with both Enjoy Life Dark Chocolate Chips and Nestle Allergen Free Semi-Sweet Chocolate Chips. Both were great! You can substitute with your favorite brand.
Pecans - I used pecans from York Pecan company for both the chopped nuts and the pecan flour.
Instructions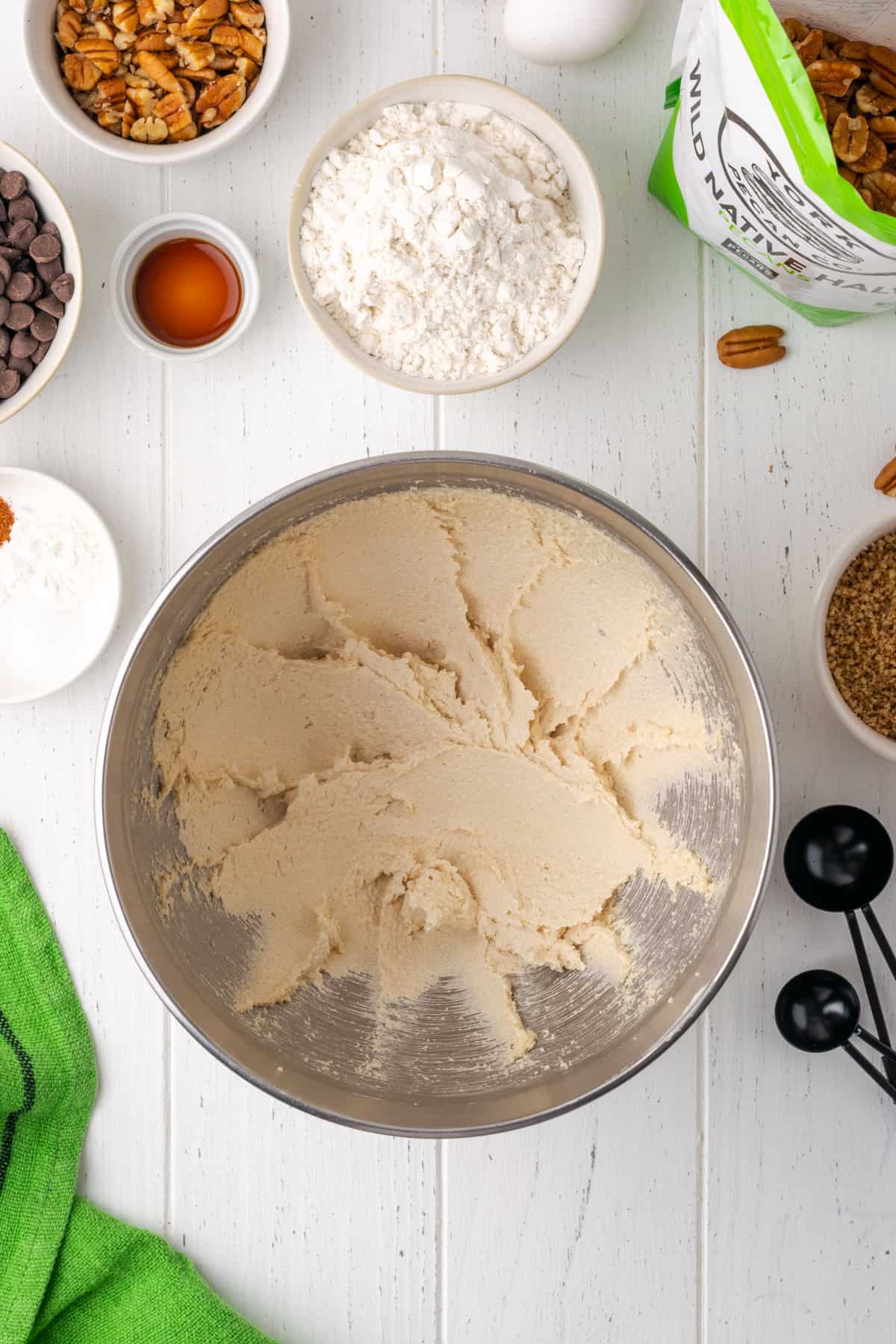 STEP 1: Beat the butter and sugars together on medium speed until light and fluffy.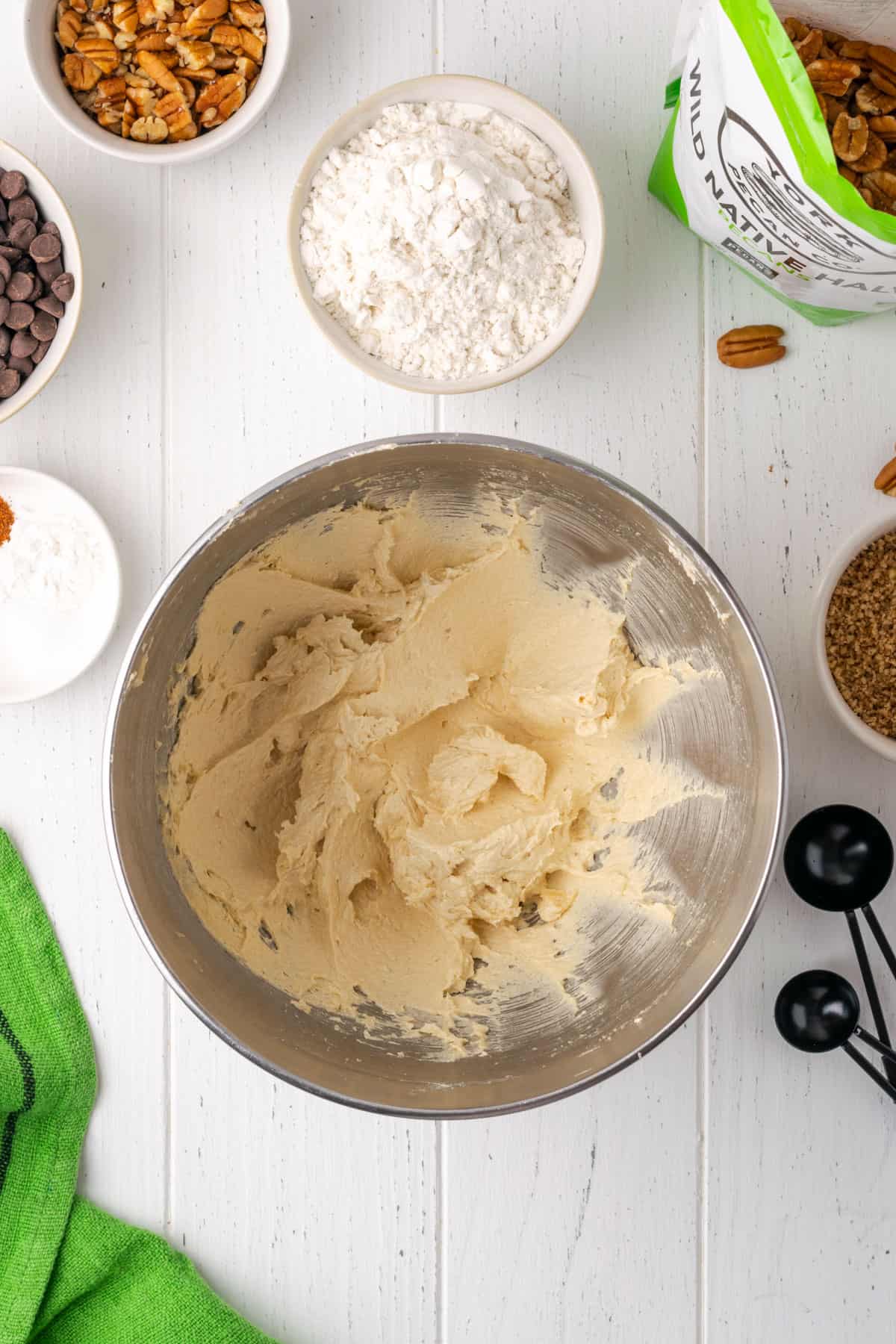 STEP 2: Add the eggs and vanilla and beat another 3 minutes.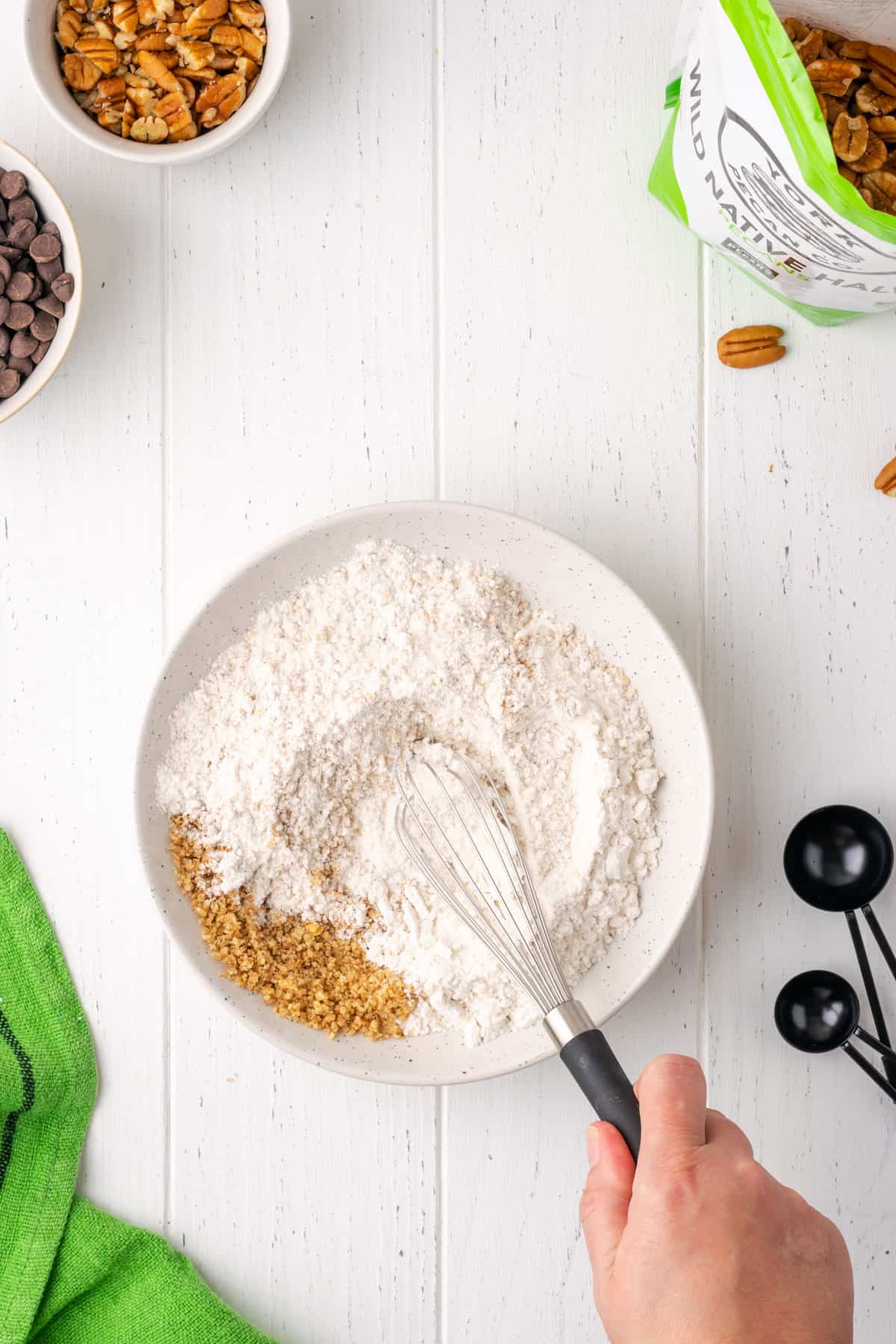 STEP 3: Combine all of the dry ingredients together and whisk well.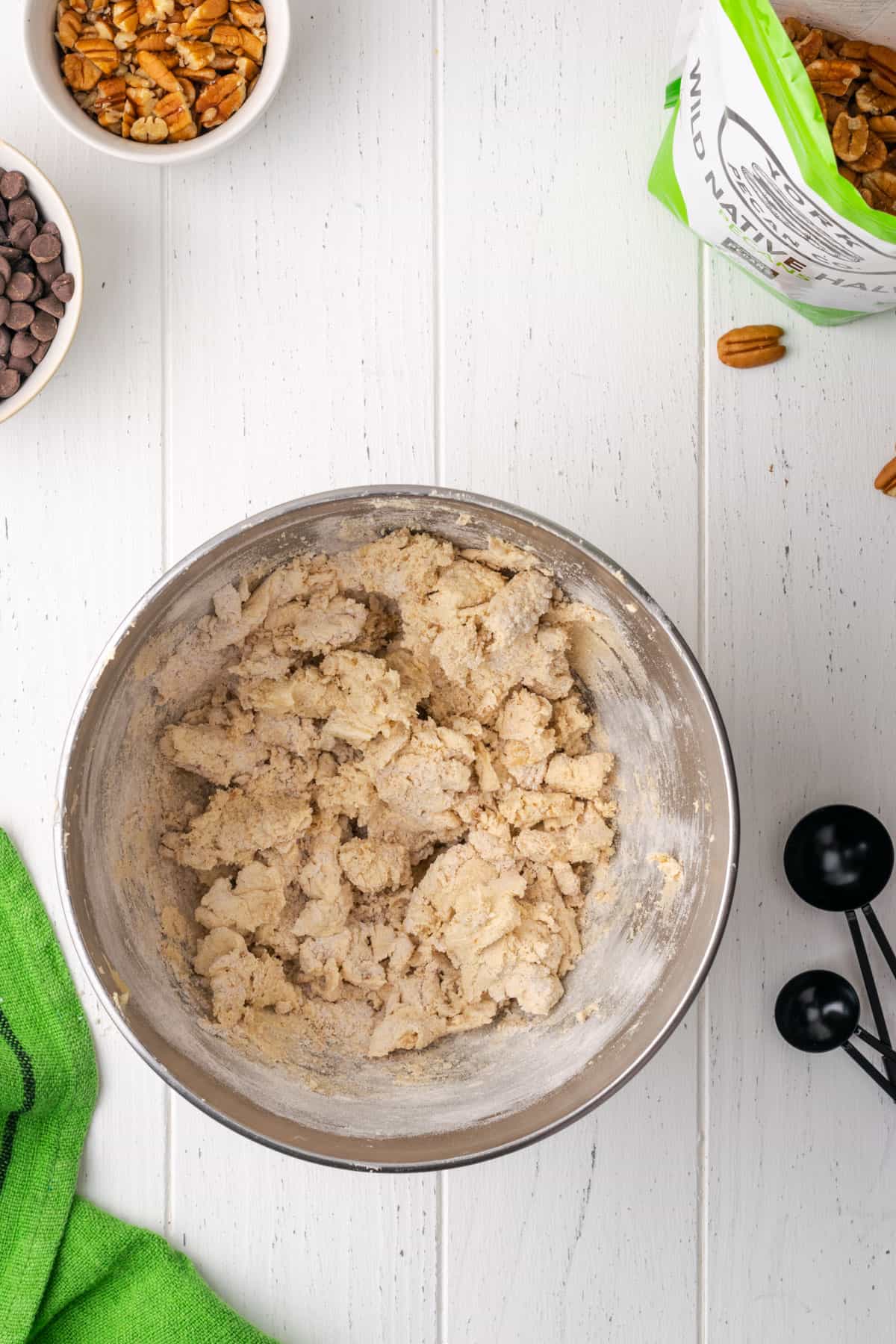 STEP 4: With the mixer on low speed, add the flour to the butter mixture and mix until just combined. It's okay if there are some bits of flour showing.
STEP 5: Add the pecans and chocolate chips to the cookie dough and stir until evenly mixed.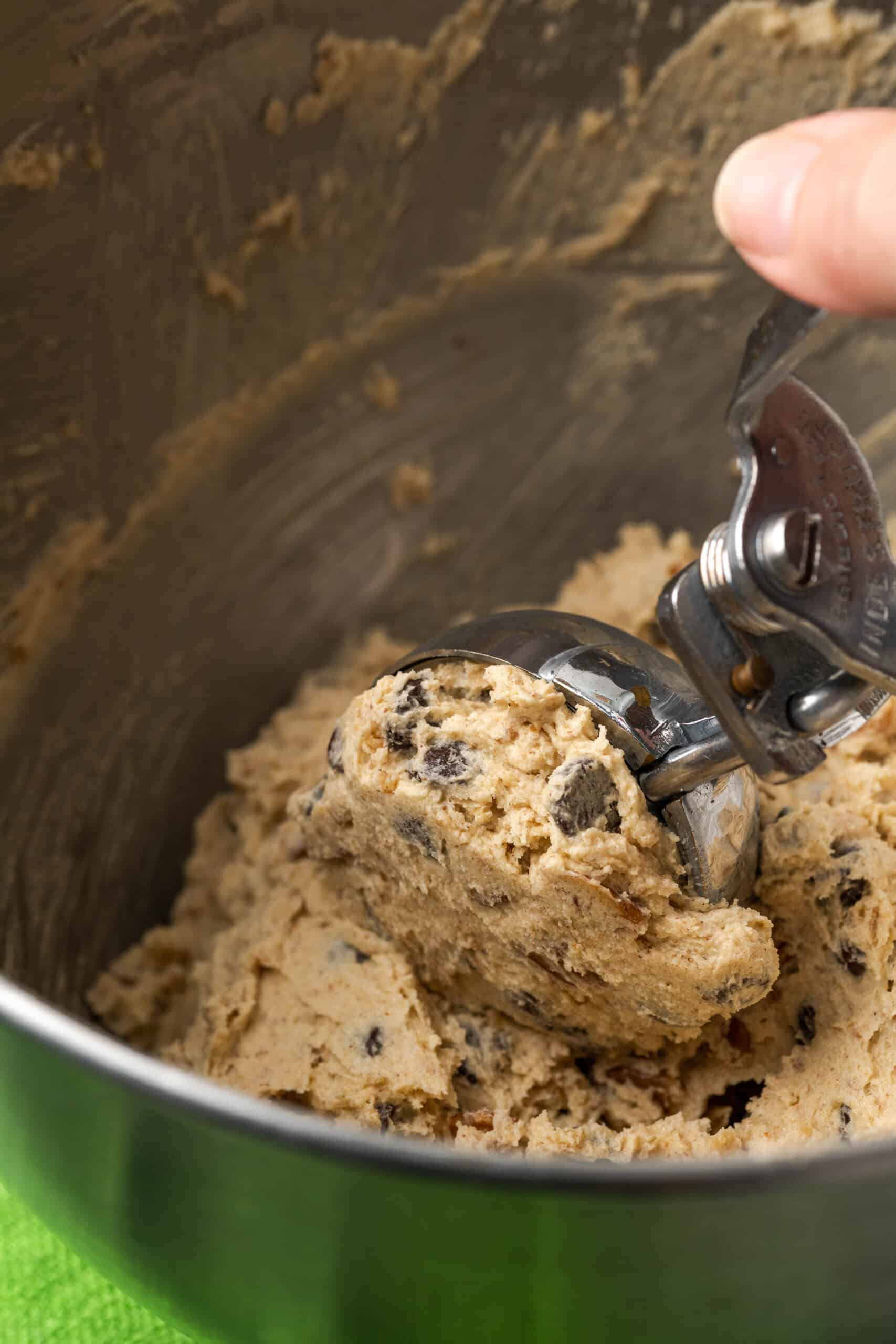 STEP 6: Scoop the cookie dough into large balls and place on a baking sheet. Then refrigerate the dough balls.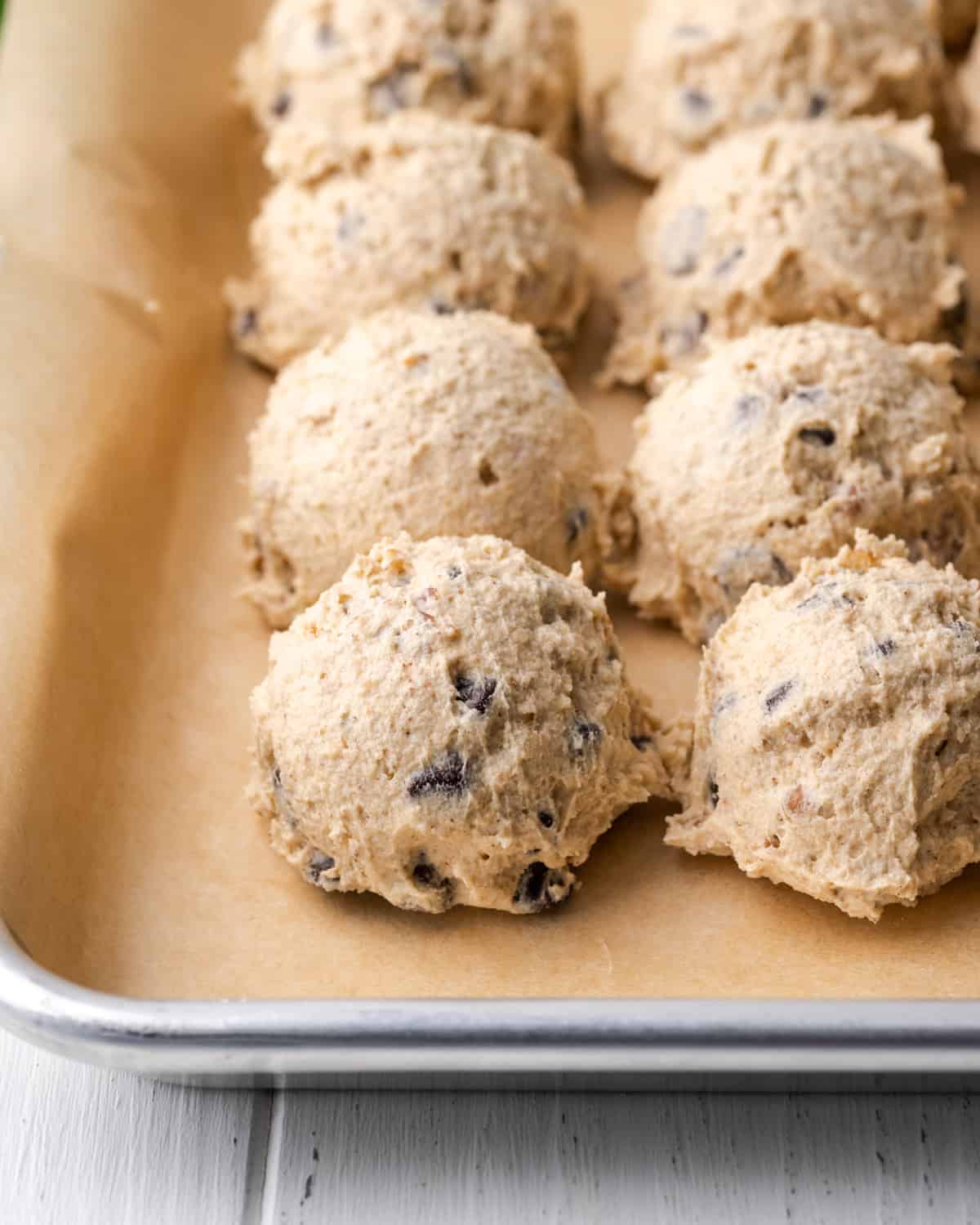 How to bake the perfect cookie
Following a few tips will help your cookies turn out perfectly every time.
Use the best quality ingredients you can afford and make sure they are fresh. Baking soda and baking powder both expire after a few months, flour and nuts can go rancid and chocolate can get chalky. If it's been in your cabinet for more than a couple of months, it's probably time to replace it.
Measure accurately. Using a scale is the best way to get consistent measurements and results, but if you don't want to use a scale then at least use measuring cups correctly. Stir your flour to loosen it up, then spoon it into your measuring cup. Level off the top with the back of a knife. Make sure to measure liquid ingredients with a liquid measuring cup and don't under fill or overfill measuring cups on any ingredients.
Line your baking sheet with parchment paper. It's the best for baking - don't spray with non-stick spray or put the cookies directly on the baking sheet and definitely don't bake them on aluminum foil or wax paper.
Use a cookie scoop (ice cream scoop) to get perfectly round dough balls.
Chill the dough balls for the required time.
Leave space between your cookies when you place them on the sheet so they don't all run together during baking.
Don't wait for your cookies to look brown all over to remove them from the oven, they will be crunchy or hard. Check the edges of the cookies with your finger, once it feels stiff the cookie is ready to remove. They will continue to cook a bit more while cooling on the baking sheet.
Cool your baking sheet between batches.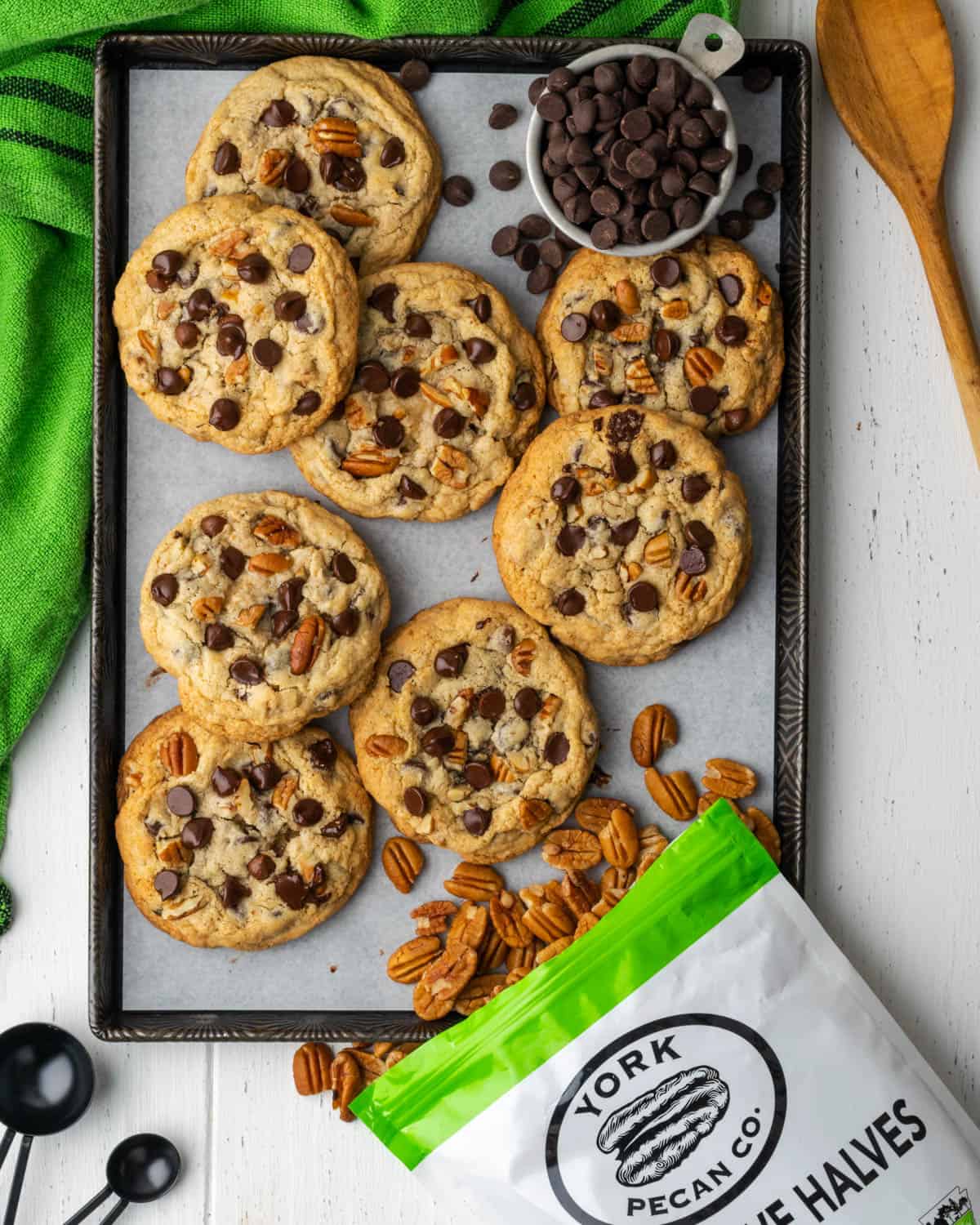 Can you make cookie dough ahead of time?
Yes, you can refrigerate the dough up to 2 days before baking or go ahead and scoop it into balls and freeze them. Then you can bake a few whenever you want something sweet. They will be good in the freezer for 2-3 months.
Storage
Keep these cookies in an airtight container stored at room temperature for 3-4 days. They should retain their soft centers if stored properly.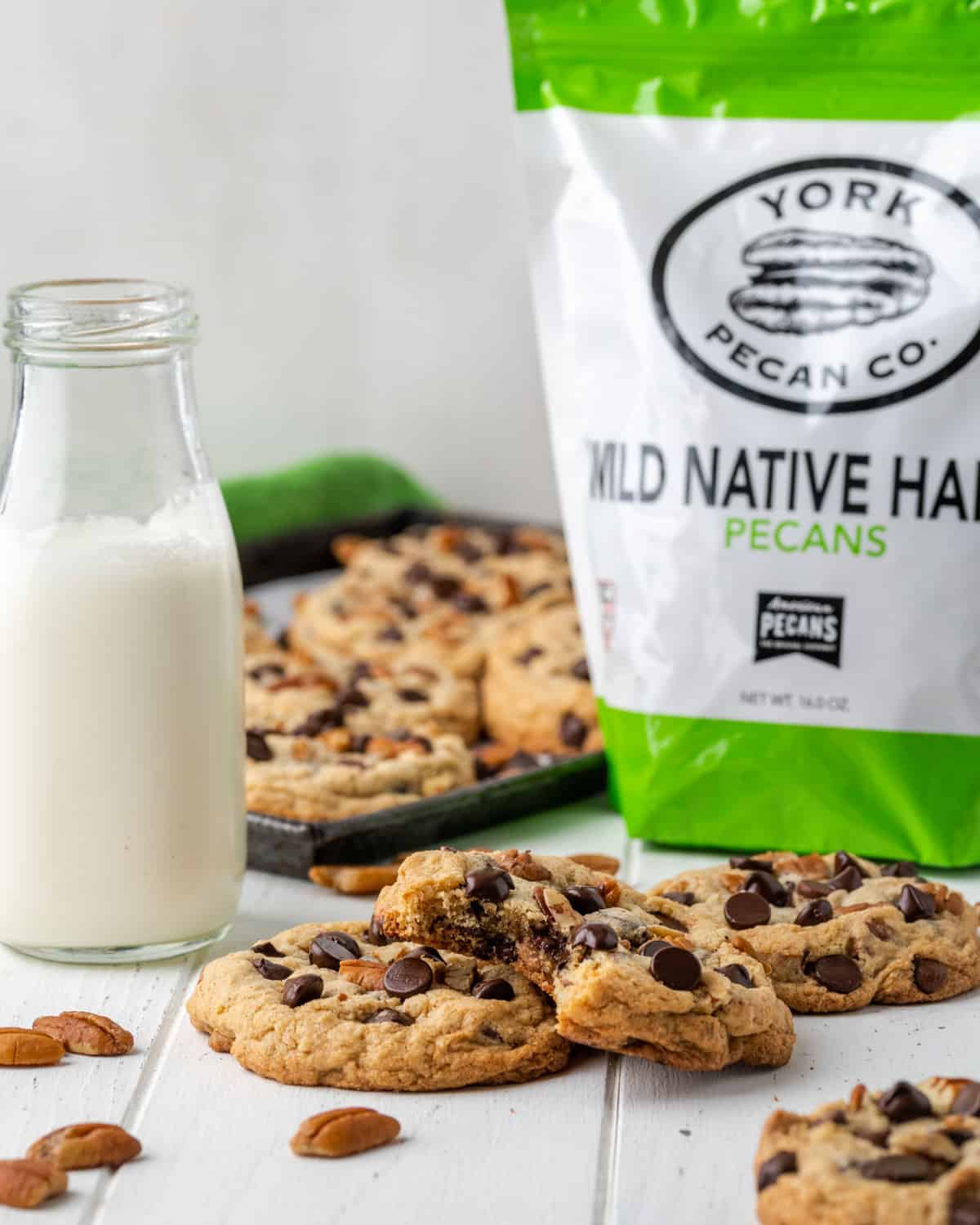 Why choose York Pecan Co?
York Pecan company is based on a farm in Arkansas that was founded almost 140 years ago. Their story of a family owned farming business really resonates with me because of my own family history with farming. I love supporting farmer owned companies. Plus, their pecans are delicious. They are some of the mildest, yummiest pecans I've ever tasted and believe me, I have eaten a lot of pecans.

Give them a try. If you use this link to purchase you will receive 10% off of your first purchase of pecans and candies. The discount doesn't apply to bundles or bulk packages. If the link doesn't work for you, the discount code is TIFFANY.

More pecan recipes to try:
If you try this recipe, please leave a 🌟🌟🌟🌟🌟 star rating and let me know how you liked it in the comments below.
Recipe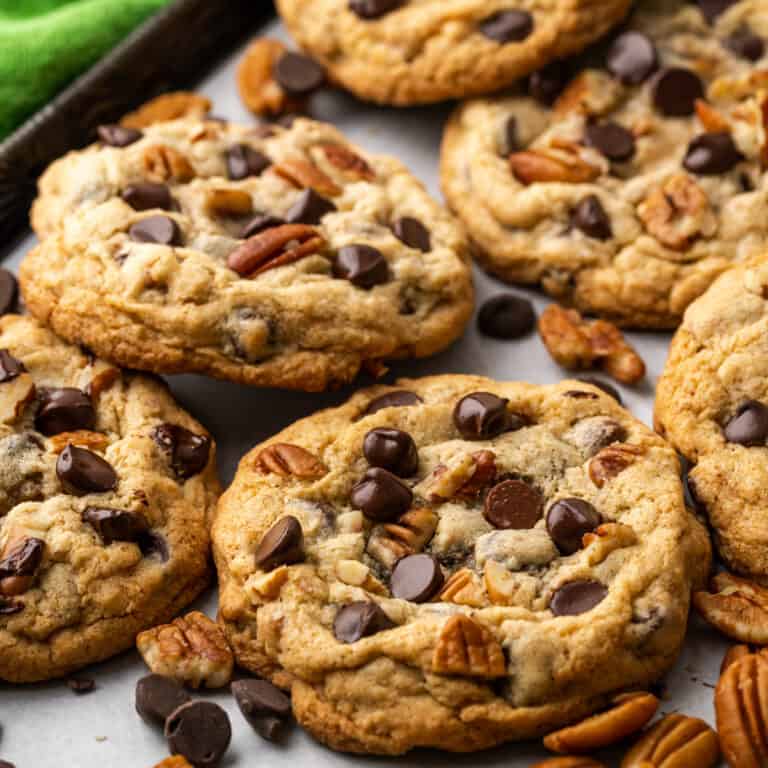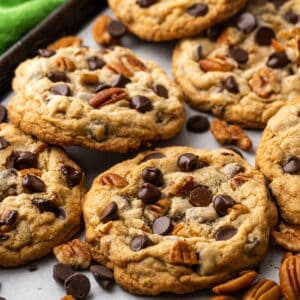 Gluten Free Chocolate Chip Cookies with Pecans
Any pecan lover is going to go crazy for these cookies. They are filled with pecan flavor thanks to the addition of pecan flour and chopped nuts.
Print
Pin
Rate
Instructions
In a large bowl, combine flours, salt, baking powder, baking soda, and spices. Stir together until well mixed. Set aside.

½ Cup Pecan Flour,

1 ¼ Cup Gluten Free 1-to-1 Flour Blend,

¾ teaspoon Salt,

1 teaspoon Baking Powder,

¼ teaspoon Baking Soda,

½ teaspoon Cinnamon,

⅛ teaspoon Cayenne Pepper

In the bowl of an electric mixer, combine butter and sugars. Beat on medium speed 3 minutes until fluffy.

½ Cup Vegan Butter,

½ Cup Sugar,

⅔ Cup Light Brown Sugar

Add in eggs and vanilla and beat another 3 minutes.

1 Large Egg + 1 Egg Yolk,

1 ½ teaspoon Vanilla

Turn mixer to lowest speed and slowly add in the flour mixture. Once it is just combined, dump in the chocolate and chopped nuts and fold together with a spatula.

1 Cup Pecans,

1 ¼ Cup Allergen Free Chocolate Chips

Scoop into ¼ cupfuls and place onto a lined baking sheet. Cover with plastic wrap and refrigerate for 2 hours.

Preheat oven to 350 degrees. Line two baking sheets with parchment paper.

Bake in preheated oven for 13 minutes until edges are just set. Remove from oven and cool on sheet for 5 minutes, then move to a wire rack to cool.
Calories:
310
kcal
|
Carbohydrates:
37
g
|
Protein:
4
g
|
Fat:
19
g
|
Saturated Fat:
5
g
|
Polyunsaturated Fat:
4
g
|
Monounsaturated Fat:
7
g
|
Trans Fat:
0.04
g
|
Cholesterol:
12
mg
|
Sodium:
234
mg
|
Potassium:
66
mg
|
Fiber:
3
g
|
Sugar:
26
g
|
Vitamin A:
339
IU
|
Vitamin C:
0.1
mg
|
Calcium:
64
mg
|
Iron:
2
mg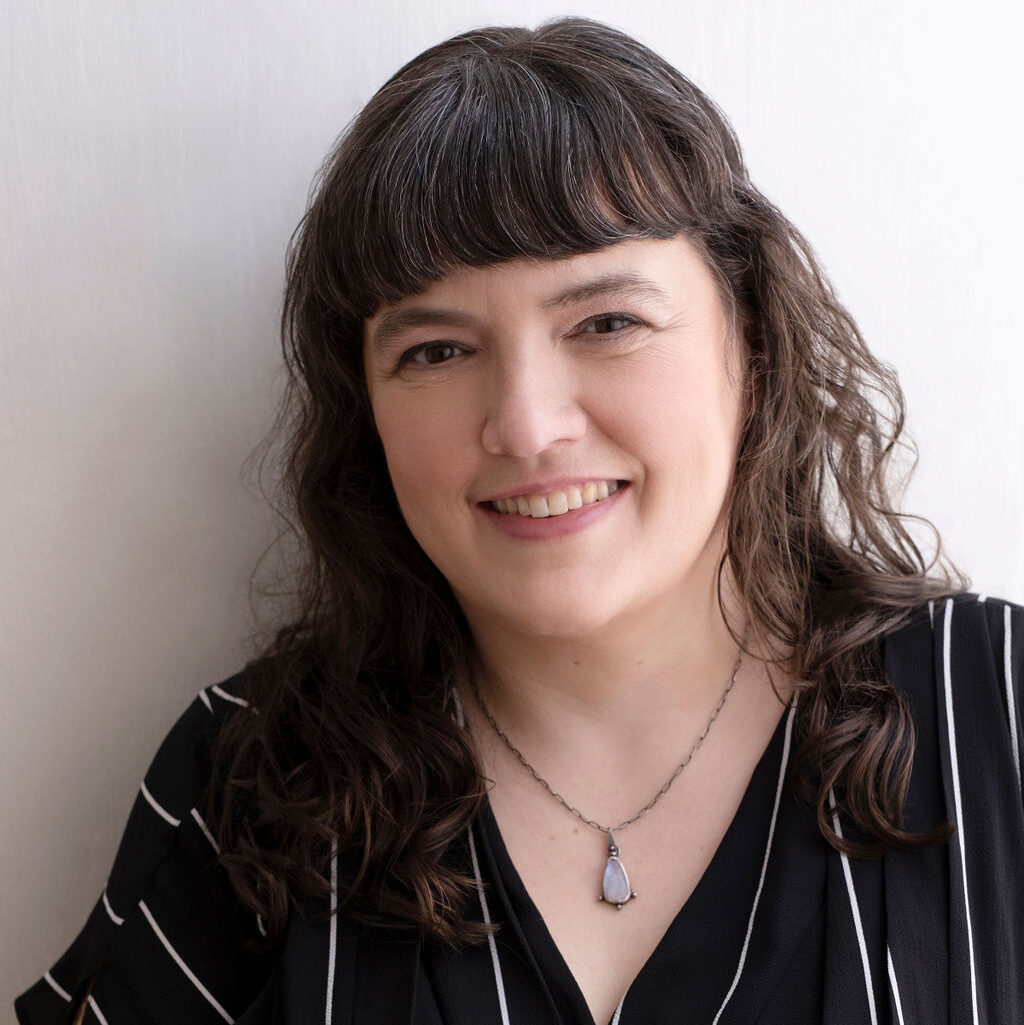 Tiffany is the recipe developer, stylist and food photographer behind Well Fed Baker. As a lifelong baker who had to go gluten free and dairy free in 2016, Tiffany strives to share allergen friendly recipes that never feel like they are free from anything.