As an Amazon Associate, I earn from qualifying purchases.
I think I could eat a slice of this gluten free strawberry galette every day of strawberry season. It is so simple and yet so full of flavor. The crispy flakiness of the crust pairs perfectly with the jammy strawberry center. It kind of reminds me of those Toaster Streudel things I used to eat as a kid. It is perfect topped with dairy free whipped cream or ice cream. Take some time to make this, I promise you will love it as much as we do!
Why You'll Love This Recipe
Galettes are meant to be rustic, so they are easier to make than pie.
It's the perfect showcase for fresh berries.
It's gluten free and dairy free!
How to Make Galette Crust
If you've never made a gluten free pie crust, it's actually a pretty simple process. The main goal is to keep your ingredients very cold. Cold butter, coated in flour, will melt when it hits the hot oven releasing steam which makes the little air pockets that create super flaky crust. If your butter is too warm or not completely coated in flour, the fat will leak out during baking and the crust will become more crunchy than flaky. It's happened to the best of us (and luckily is still edible). Here's a video showing you how to mix up gluten free pie dough. A galette is a great way to practice your gluten free pie crust skills since it is supposed to look rustic and doesn't involve any fancy crimping or lattice work.
How to Make a Strawberry Galette
The filling for this recipe is a cinch to prepare.
De-stem and slice a pound of fresh strawberries and place them in a bowl.
Add the sugar, salt, lemon juice, vanilla and arrowroot powder.  Stir it all together and then let it sit in the refrigerator while you prepare your dough.  The sugar will weep the liquid from the berries, which will help you end up with a crispy crust and a jammy center.
Once your crust has been chilled, roll it out between two sheets of plastic wrap.  Remove the plastic from one side and flip it onto a parchment lined baking tray, I use a pizza pan.  Then remove the top plastic.  Trim so it is circular.
Add your berries by hand to the center of the dough.  Do not include the liquid from the bowl.  Leave an edge about 1 ½ inches wide.
Carefully fold the edge over the strawberries.
Brush with an egg wash and bake.  Easy!
What size galette will this recipe make?
The galette pictured is about 10 inches in diameter. Because it bakes down to a rather thin pie, I'd suggest cutting into 6 servings.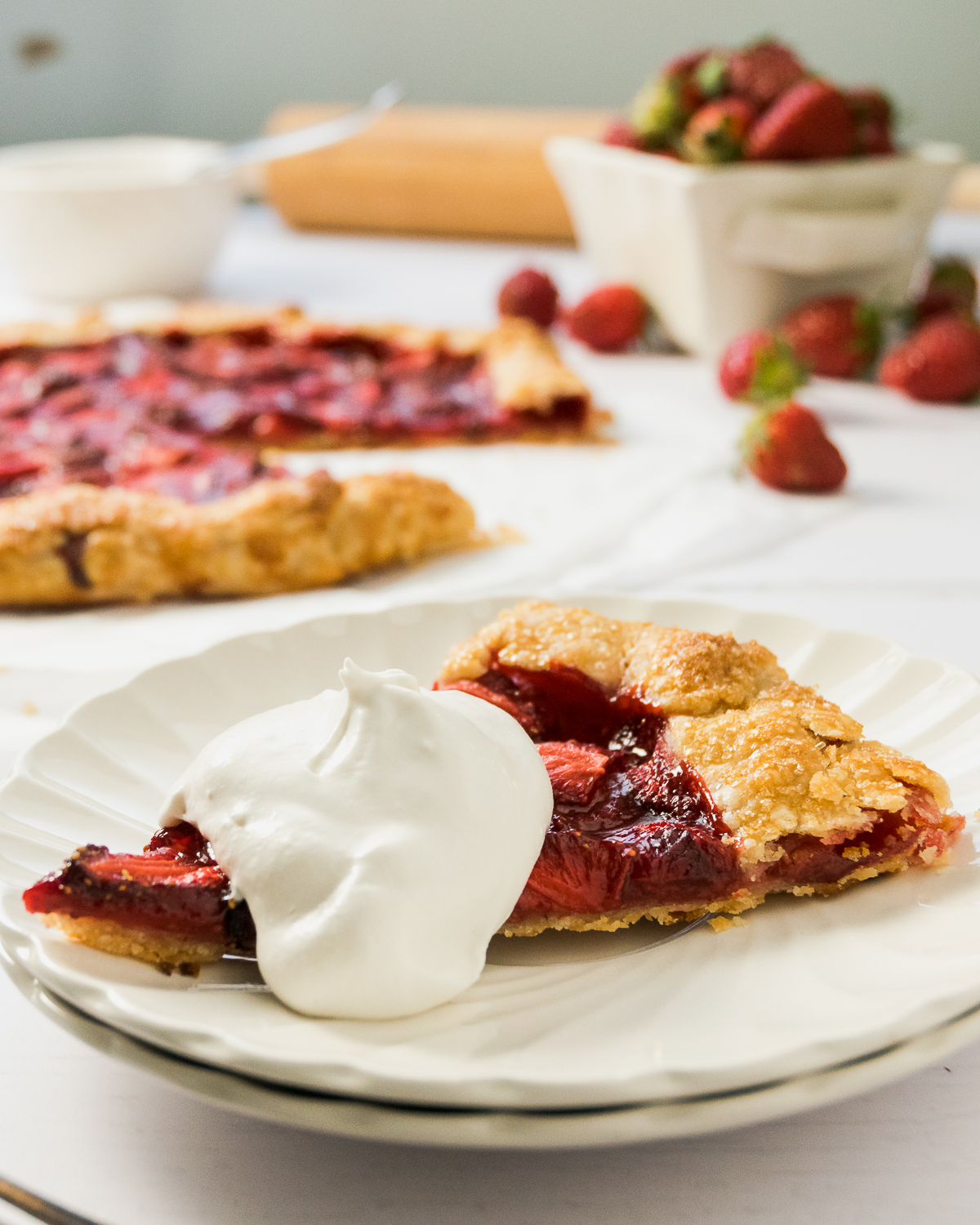 Can I make this recipe ahead of time?
You can definitely prepare your gluten free pie crust ahead of time. You can the dough in the refrigerator for longer than the 2 hours called for, easily going up to 24 hours. You can also freeze unbaked gluten free pie crust and it will keep for up to 6 months. Just make sure you thaw in the refrigerator overnight before rolling out.
I would not recommend cutting your fruit until you're almost ready to bake.
You can assemble the pie and place it back into the freezer unbaked for 30 minutes to an hour and then bake as directed. I don't recommend working any further ahead than that.
Frequently Asked Questions
What is the difference between a galette and a pie?
The crust for both is the same. However, a galette is baked on a flat pan instead of in a pie dish. It's a little more rustic with the edges folded in to create a crust, rather than fancy crimped designs. Because it is flatter, a galette will hold less filling than a pie.
How to keep a galette from getting soggy?
I like to bake my galette on the bottom rack of the oven on a metal pan. I use a round pizza pan, but a baking sheet will work as well. If you bake until the bottom is done it should not be soggy at all.
How do you store leftover galette?
If you have leftovers, just wrap them in aluminum foil and store in the refrigerator. They will stay good for 2-3 days. I like to reheat mine in a toaster oven at 350 degrees for 10 minutes before serving.
If you're looking for more great ways to enjoy fresh strawberries, check out these recipes:
Gluten Free Strawberry Cake with Dairy Free Cream Cheese Frosting
Gluten Free Strawberry Lemon Scones
Gluten Free Strawberry Coffee Cake (Dairy Free Option)
To pin this recipe for later, click the save button on any image in this post or the recipe card. Please tag me @wellfedbaker on Instagram if you make this recipe!
Ingredients
For the crust
1 ¼

Cup

Gluten Free 1-to-1 Flour Blend

I use Bob's Red Mill

½

teaspoon

Salt

1

Tablespoon

Sugar

½

Cup

Vegan Butter

very cold (regular or non-dairy butter)

4

Tablespoon

Water

cold
For the filling
16

ounces

Strawberries

de-stemmed and sliced

⅓

Cup

Sugar

¼

teaspoon

Salt

2

Tablespoon

Arrowroot Powder

1

teaspoon

Lemon Juice

1 ½

teaspoon

Vanilla

1

Egg

beaten (for egg wash)
Instructions
Cut your butter into cubes and place it into the freezer about 15 minutes before starting.

Measure out your water and place it into the freezer as well.

Combine gluten free flour, salt and sugar in a large bowl.

Add the cold butter to the flour mixture. Toss is with your hand to coat the butter with flour.

Then working quickly, press the butter cubes between your fingers and thumb to flatten them into quarter sized discs. Work through all the butter chunks.

The flour mixture should have tiny pebble looking bits of butter, about the size of peas.

Add half of your cold water and toss together to mix the water in. Add half again and repeat until the dough is just a shaggy mess that will hold together if you squeeze it in your hand.

Turn the dough onto a sheet of plastic wrap and form it into a disc about 1 ½" thick. Wrap completely in plastic wrap and refrigerate for a minimum of 2 hours.
For the filling
Combine all of the filling ingredients in a large bowl.

Cover with plastic wrap and refrigerate while you are waiting for the dough. This will allow the sugar time to draw some of the moisture out of the berries.
To assemble and bake
Preheat your oven to 425 degrees F. Line a baking sheet with parchment paper.

Remove the chilled dough from the refrigerator and unwrap. Top with a second sheet of plastic wrap (like a sandwich - plastic, dough, plastic)

Use a rolling pin to roll the dough out between the two sheets of plastic wrap. It should be about 12-13 inches across.

Remove the top sheet of plastic wrap and flip your dough onto your lined baking sheet.

Stick the rolled dough and the baking sheet into the freezer about 15 minutes.

Remove from freezer and take off the top piece of plastic wrap. Top the dough with the berries. Do not include the liquid. Leave an edge all the way around about 1 ½" wide.

Carefully fold the edge over the berries creating a crust.

Brush the crust with the egg wash.

Bake in preheated oven on the lowest rack for 45 minutes.
Notes
For non-dairy, I use either Miyokos or Country Crock Plant Butter. If you prefer another brand, make sure to use stick butter and not margarine.
To make vegan, omit the egg wash.
Nutrition Facts
Gluten Free Dairy Free Strawberry Galette
Amount per Serving
% Daily Value*
* Percent Daily Values are based on a 2000 calorie diet.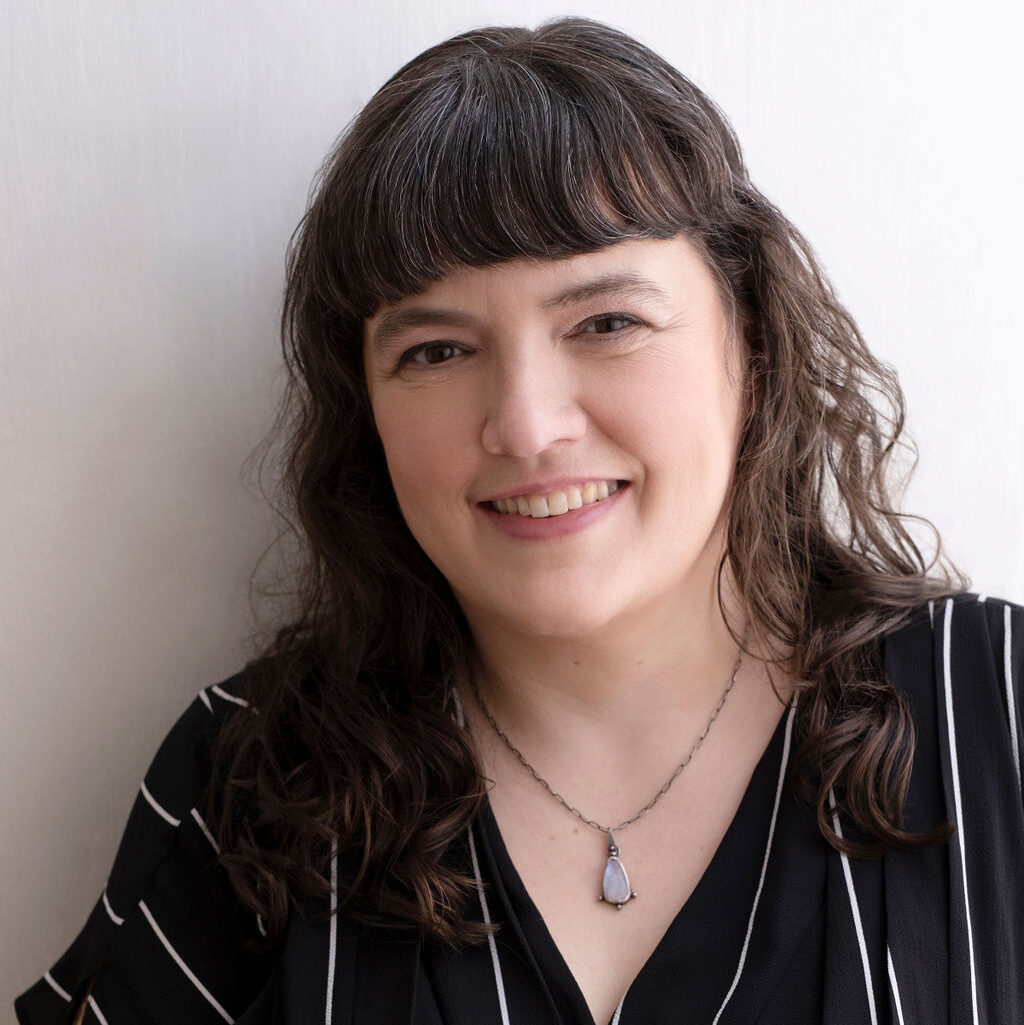 Tiffany is the recipe developer, stylist and food photographer behind Well Fed Baker. As a lifelong baker who had to go gluten free and dairy free in 2016, Tiffany strives to share allergen friendly recipes that never feel like they are free from anything.