By now, you've most certainly heard of Levain cookies. Made popular by the Levain Bakery in NYC, many people believe these are the ultimate chocolate chip cookie. Unfortunately the Levain bakery does not cater to us gluten free folks. I don't want you (or me) to be left out of the cookie craze, so here's my copycat gluten free Levain cookies. Crispy on the outside, gooey on the inside and filled with chocolate and walnuts, just like the original.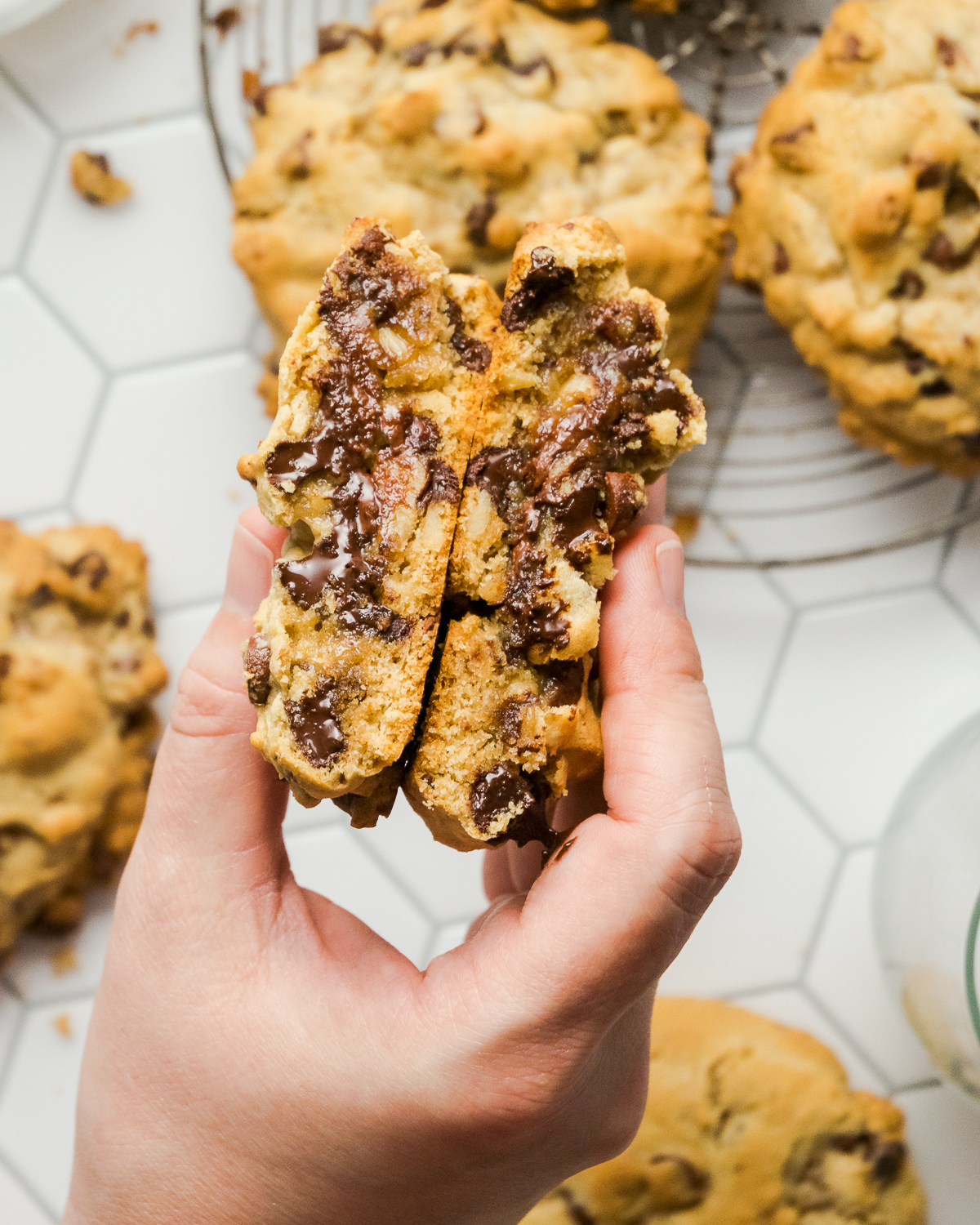 If you're looking for more copycat recipes, check out my Starbucks lemon loaf or fan favorite Chick-Fil-A chocolate chunk cookies.
Jump to: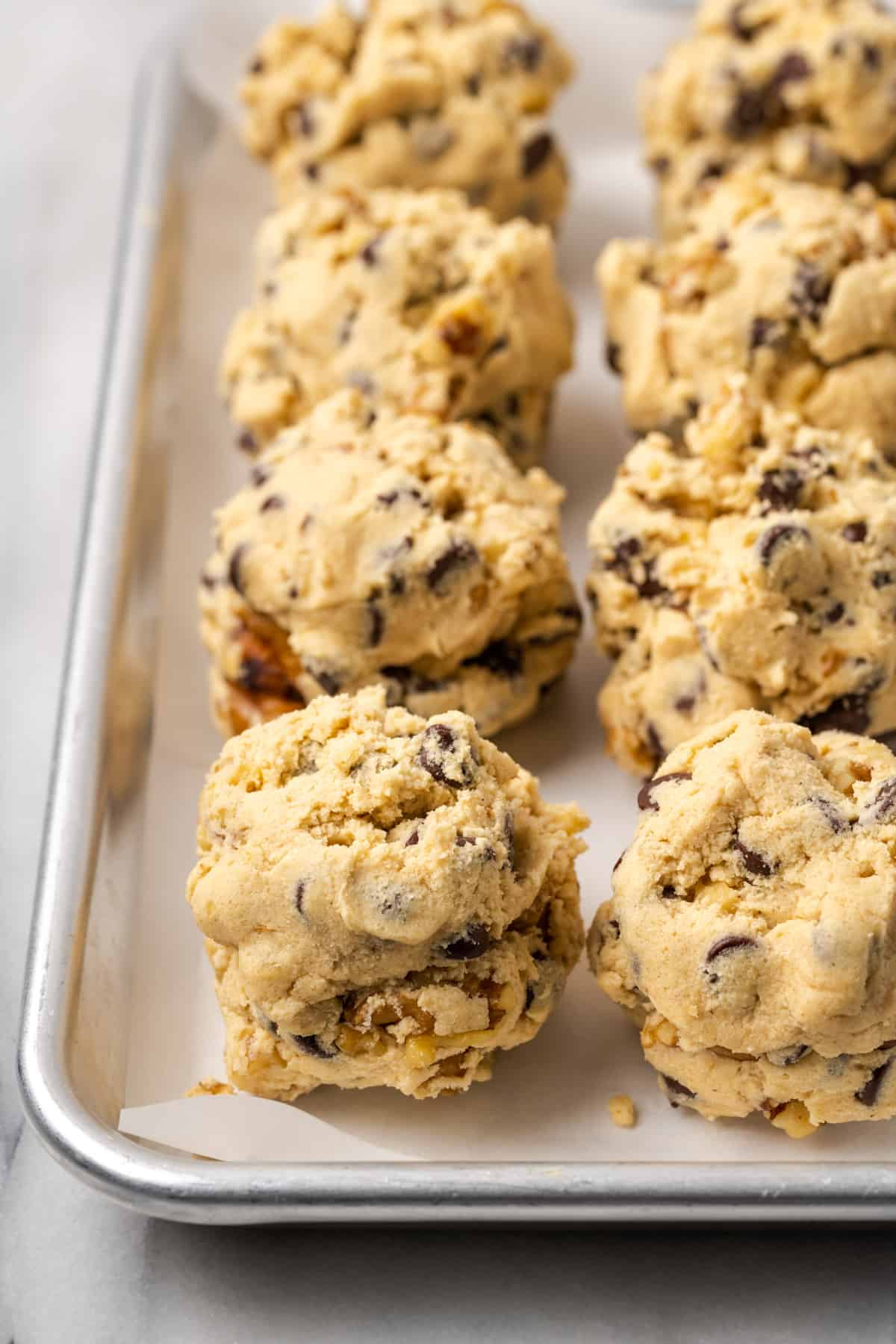 Why does this copycat Levain cookie recipe work?
Levain cookies are characterized by being oversized, crispy on the outside while almost undercooked in the middle. They are thick and filled with melted chocolate and walnuts.
This recipe works because we start with a dough that is a little heavier on flour than a normal chocolate chip cookie, while having a little less sugar and butter.  This assists with the cookie keeping its thick shape during baking. 
Add to that the higher heat oven, which browns and sets the outside of the cookie before the shape can spread, leaving the centers a little undercooked. 
Finally, we allow the cookies to cool on the baking sheet for 15 minutes, which allows the cookie to continue cooking slowly as they cool down leaving you with a barely cooked center that stays soft and gooey even the next day.
Ingredients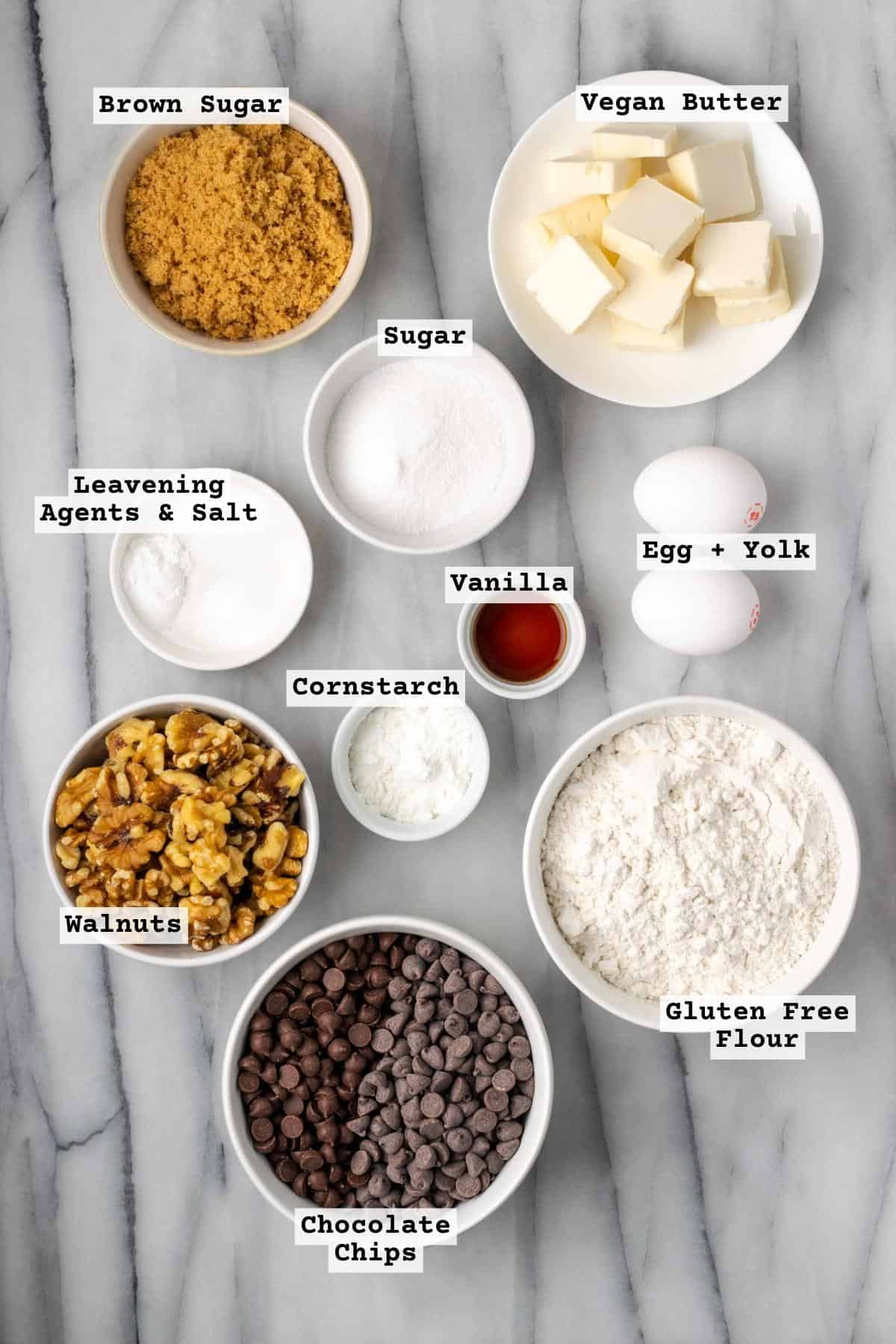 Gluten Free 1-to-1 Flour Blend - for almost all of my recipes, I use Bob's Red Mill Gluten Free Flour. I have found it to be the most versatile gluten free flour. You can use your own favorite flour blend but keep in mind this recipe was developed with BRM, so your final product may be slightly different.
Cornstarch - The original Levain recipe calls for cake flour. We are adding cornstarch here to make the gluten free flour closer to cake flour in texture. If you avoid corn, substitute with arrowroot powder or tapioca starch.
Baking Powder & Baking Soda - We are using a little of both kinds of leavening agents for these cookies.  The signature Levain cookie stays thick when baked, so we are opting for baking powder for that extra lift.  The original cookie also has a nicely golden browned outside, so we've added a little baking soda for color. 
Salt
Vegan Butter - I used Country Crock plant butter for these cookies. You can use the vegan butter of your choice, but don't substitute with margarine. If you're not dairy free, then use regular butter in the same measure.
Brown Sugar & White Sugar - Brown sugar gives this cookie the typical caramel tones of a chocolate chip cookie, while white sugar provides the crispiness to the outside.
Eggs - Eggs are the piece that hold the dough together. I have not tried this recipe with an egg substitute. If you do, please leave a comment below and let me know how it turns out.
Vanilla - The original Levain cookies don't use vanilla, but I like the flavor it adds to the cookie.
Walnuts - Totally optional. I used walnuts, but pecans would also be delicious. If you're nut free, you can eliminate them, but add an additional ¼ of flour to keep the thickness of the cookie.
Chocolate Chips - I used a mixture of half semi-sweet and half dark chocolate. I think going all one way or the other would work fine as well. If you're dairy intolerant, make sure to use an allergen friendly chocolate chip like Nestle or Enjoy Life brands.
See recipe card for full list with quantities.

Pro Tip for Measuring Gluten Free Flour
Using a kitchen scale is the most accurate way to measure. If you don't have a scale, spoon your flour into the measuring cup and level off the top with the back of a knife. Do not scoop the cup into the flour or overfill the measuring cup.
Instructions
These cookies are easy to make, but make sure to follow the instructions closely. I suggest using an electric mixer or stand mixer to get the best result.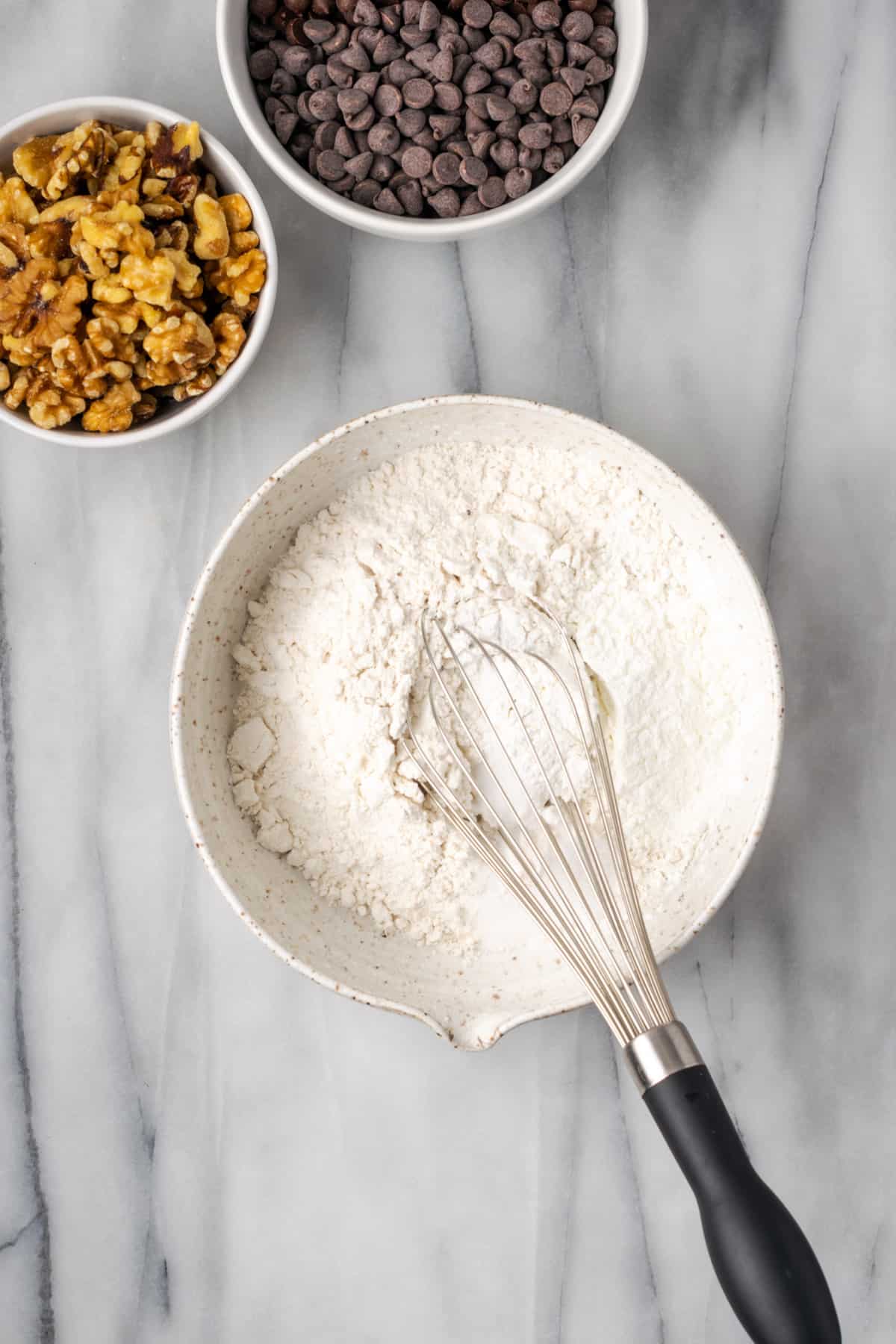 STEP 1: Combine the gluten free flour, cornstarch, baking powder, baking soda and salt in a medium size bowl. Whisk together until well mixed.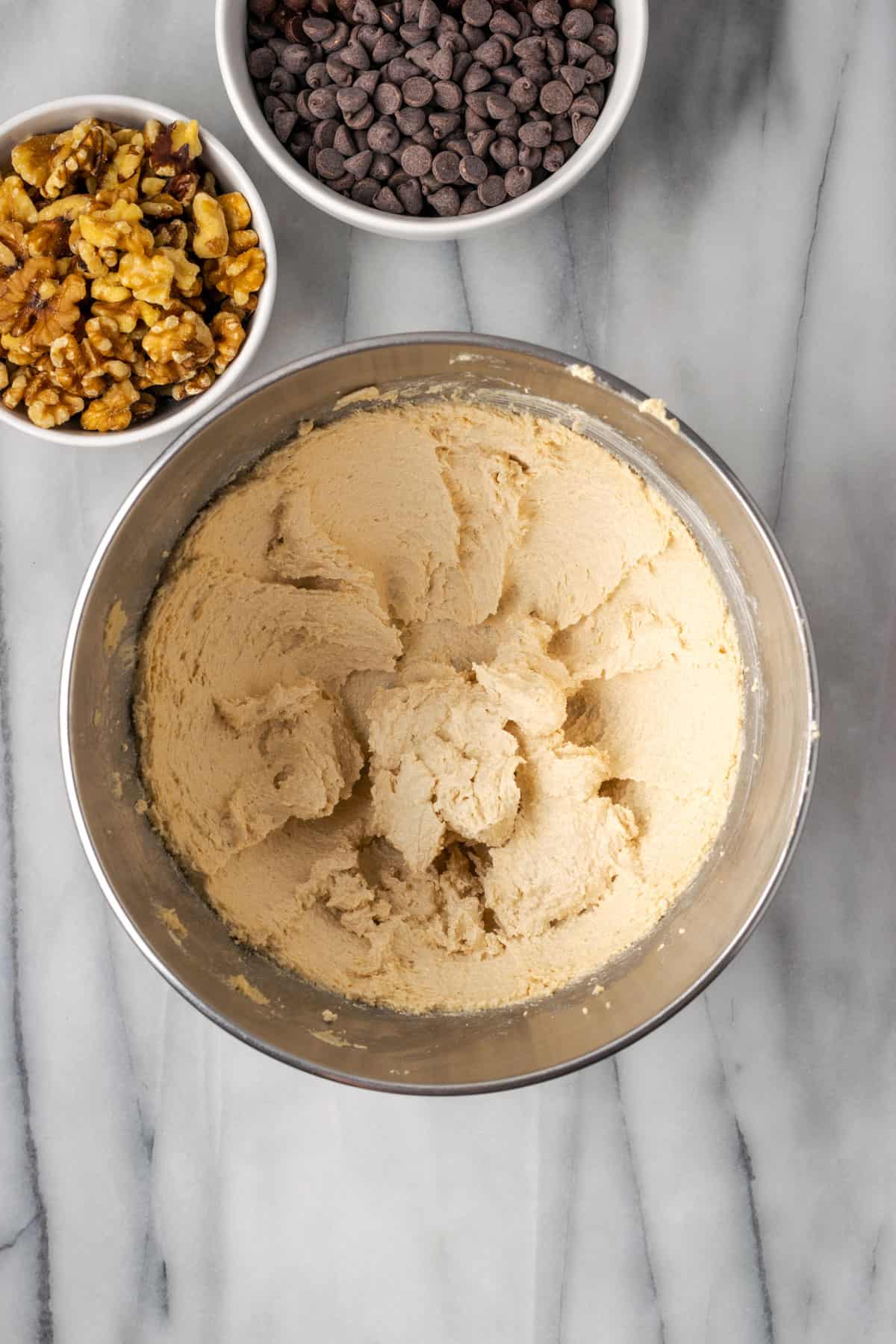 STEP 2: Add the vegan butter, brown sugar and white sugar to the bowl of an electric mixer. Beat on medium speed for 5 minutes, until light and fluffy.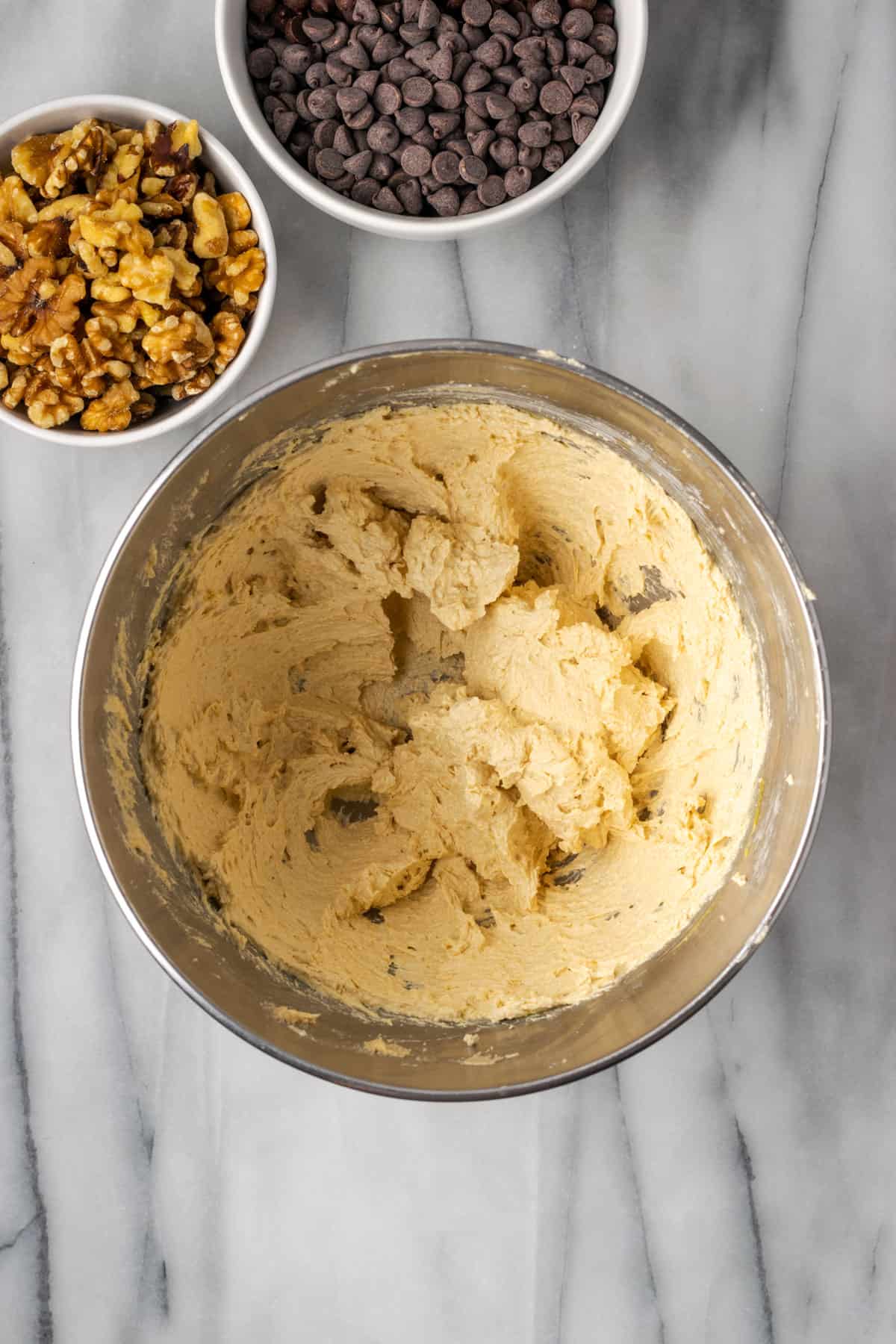 STEP 3: Add the vanilla, egg and egg yolk to the butter mixture. Beat for another 90 seconds.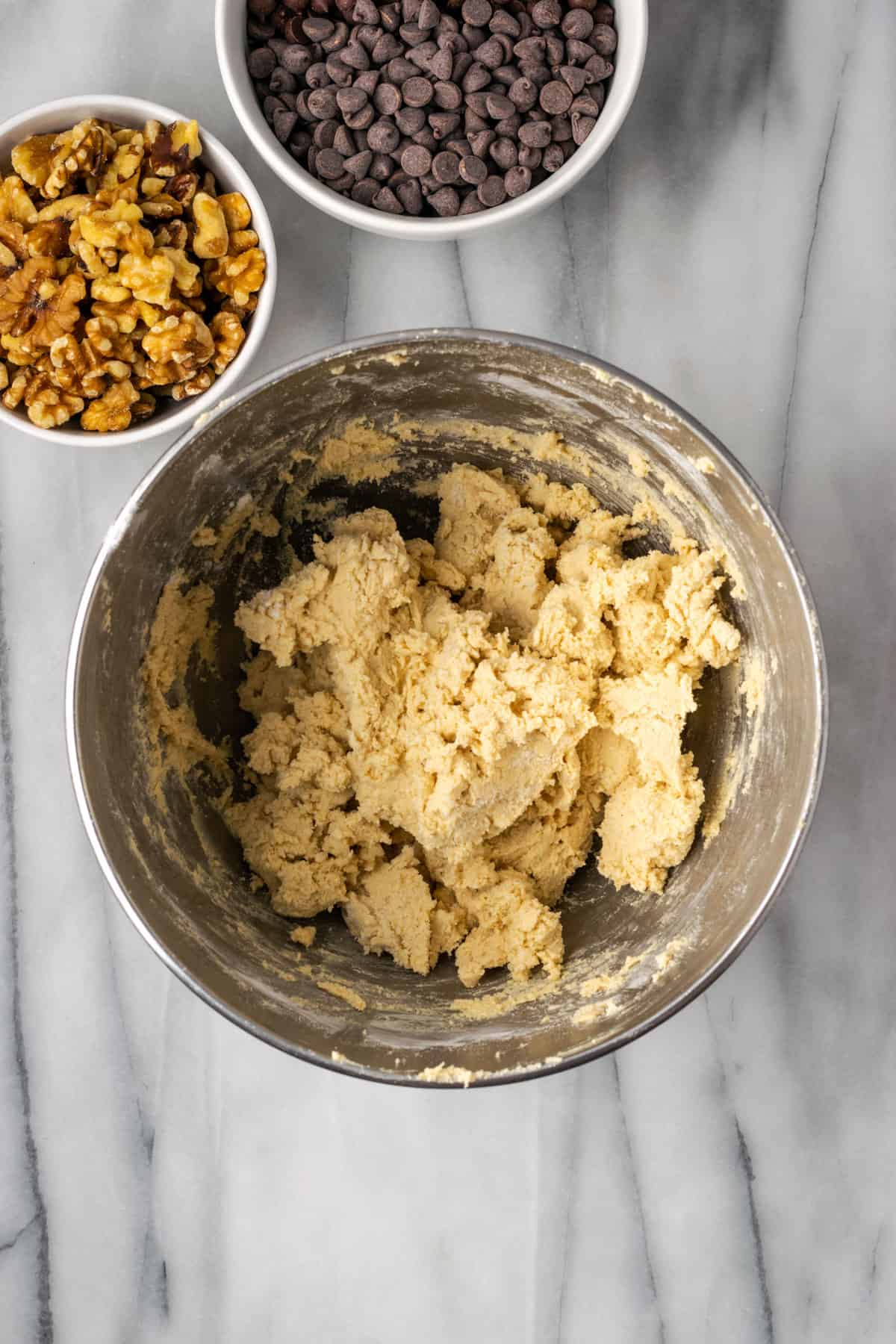 STEP 4: With the mixer on low speed, slowly add the flour mixture. Stir until just combined.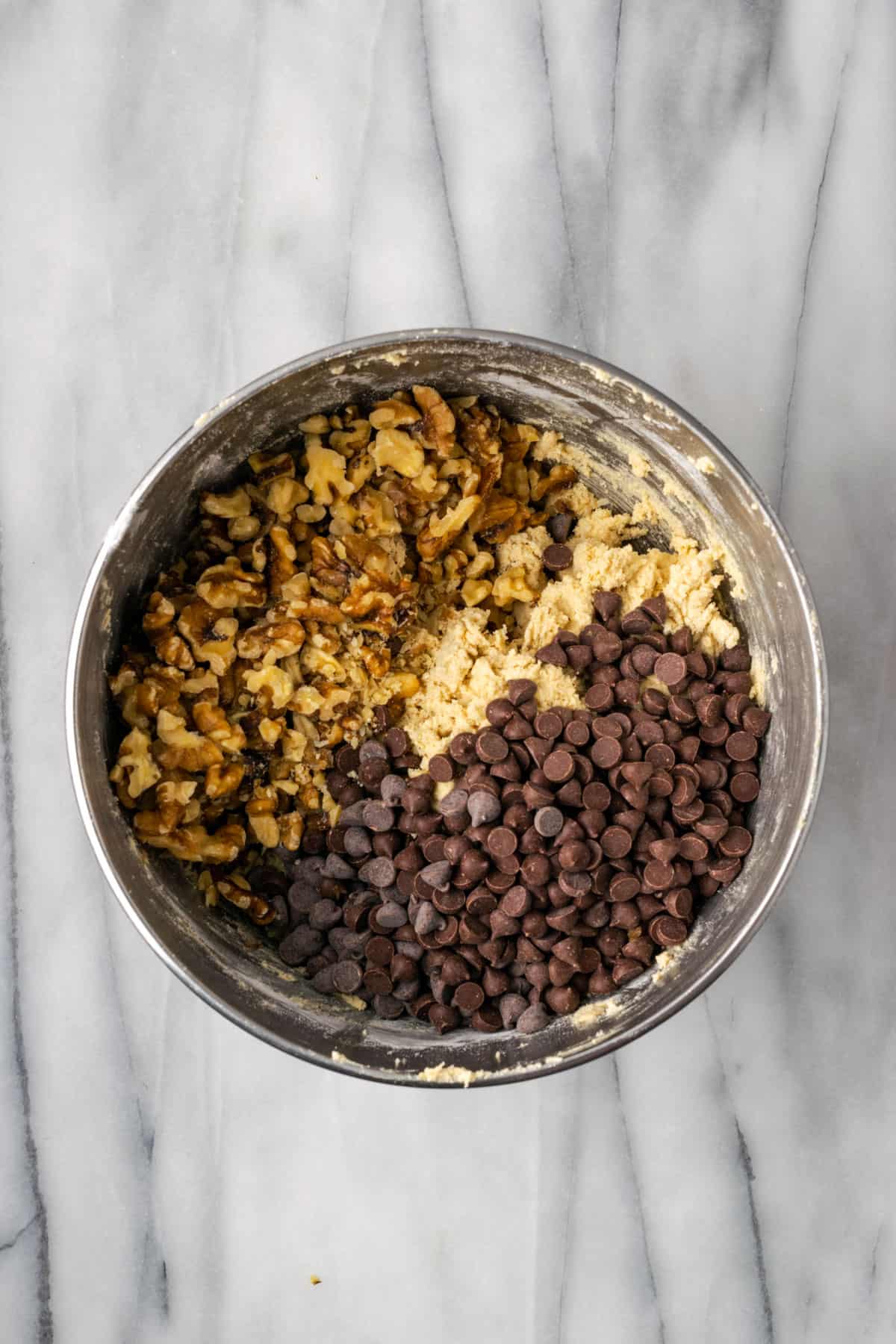 STEP 5: Add the chocolate chips and walnuts to the cookie dough. Stir by hand or mix briefly until they are evenly incorporated.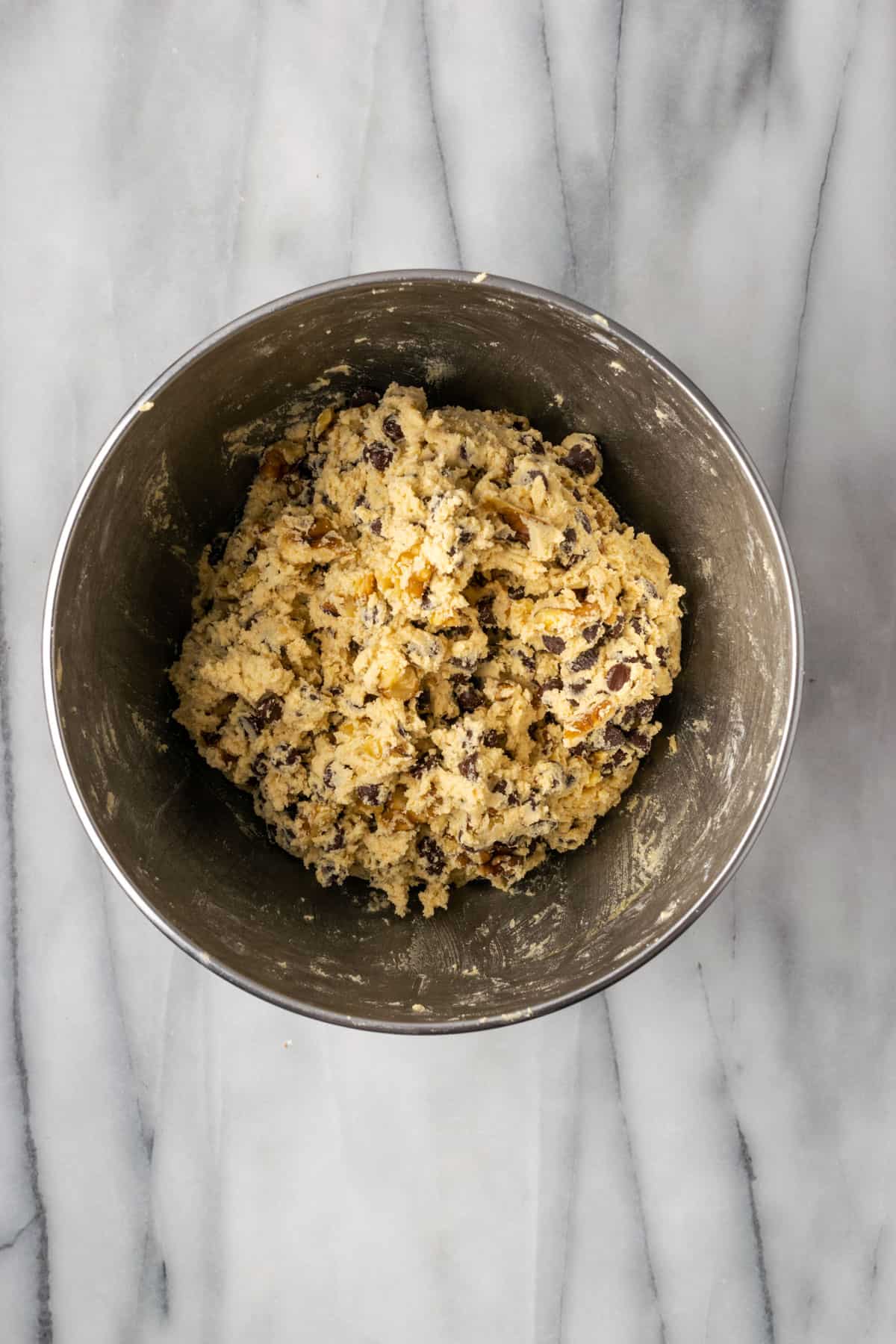 STEP 6: Once the dough is mixed, cover with plastic wrap and refrigerate the dough for one hour.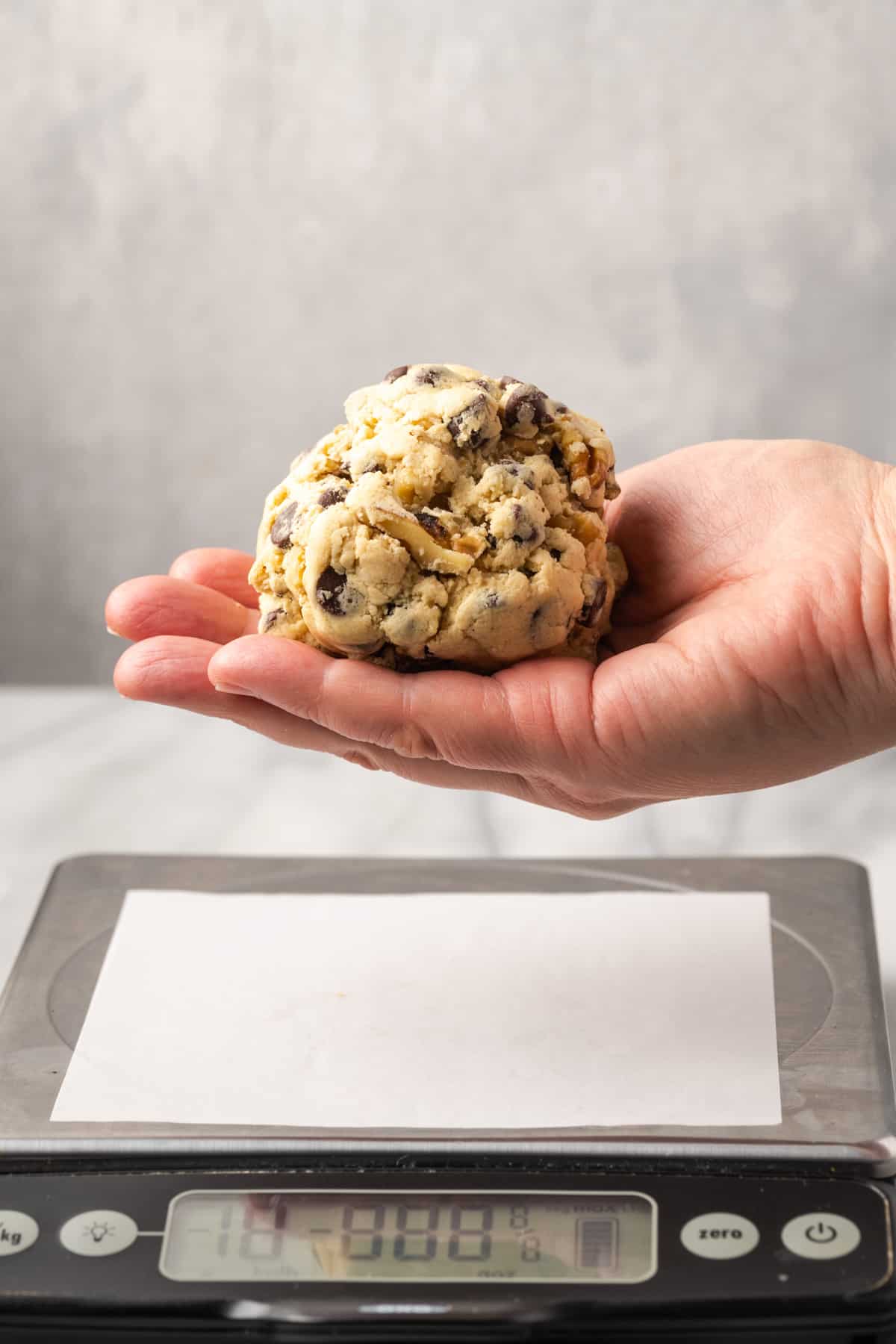 How many cookies does this recipe make?
The original Levain bakery cookies weigh in at 6 ounces per cookie. That is a monster sized treat. I tried baking them at both 4 and 6 ounces and honestly preferred the 4 ounce size. They are still giant cookies, big enough to share. At 4 ounces, this recipe will make 11 cookies. At 6 ounces, it will make about 7 cookies.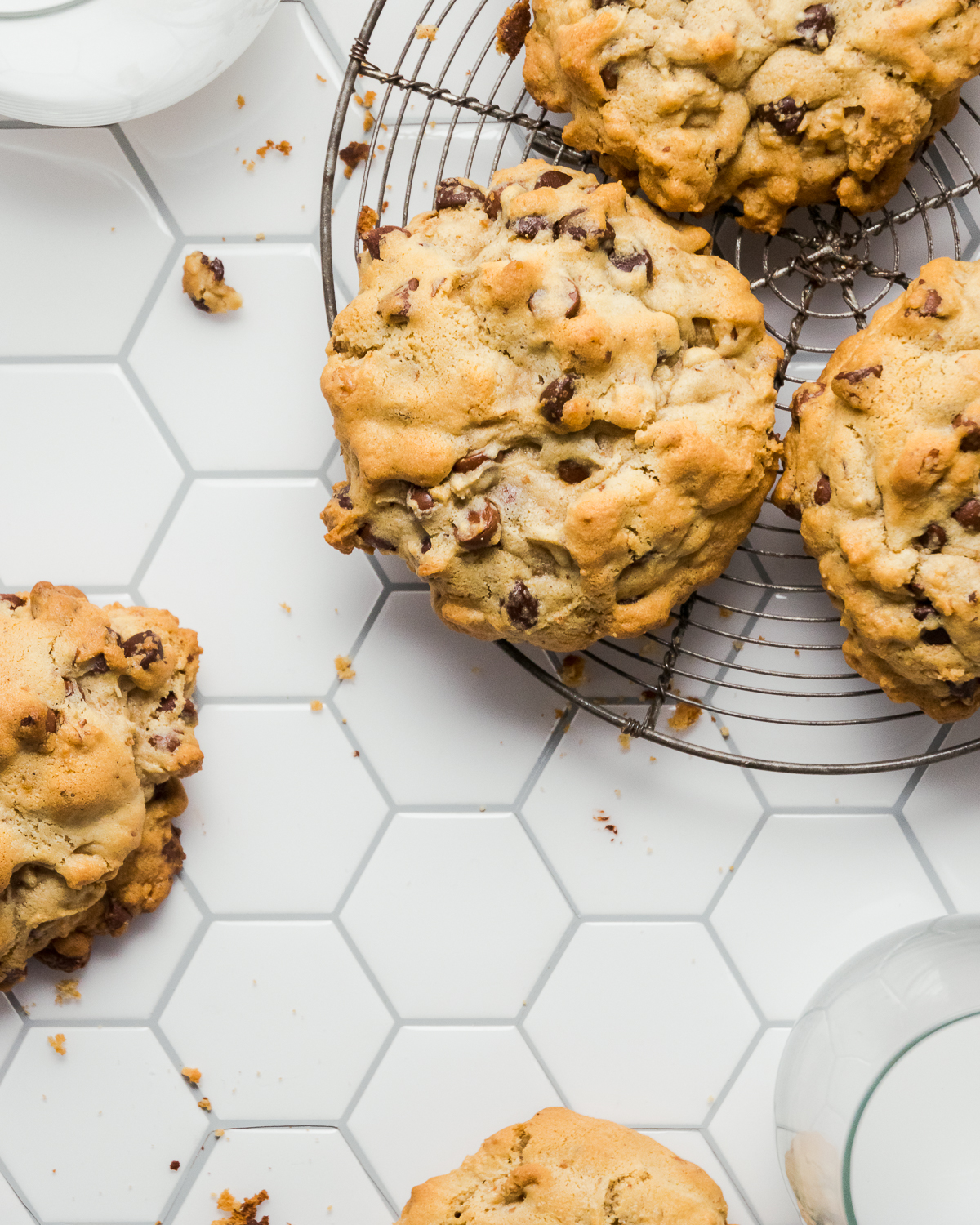 Tips for making perfect Levain cookies
Make sure to mix the cookie dough as long as is called for in the recipe.
Refrigeration is crucial for the outcome.
When you portion the dough, it's okay for it to just be a pile. You don't need smooth balls. If you make smooth balls, you won't get the bumpy tops that are typical for Levain cookies.
Can I make this recipe ahead of time?
These copycat Levain cookies are best when they are served warm from the oven. You can bake them and reheat at 350 degrees for about 5-7 minutes.
If you want to work ahead, you have a few options. You can make your dough and refrigerate it up to 24 hours before baking. You can also portion out your cookie dough and freeze it to bake later. You may need to add extra baking time due to the thickness of the cookies.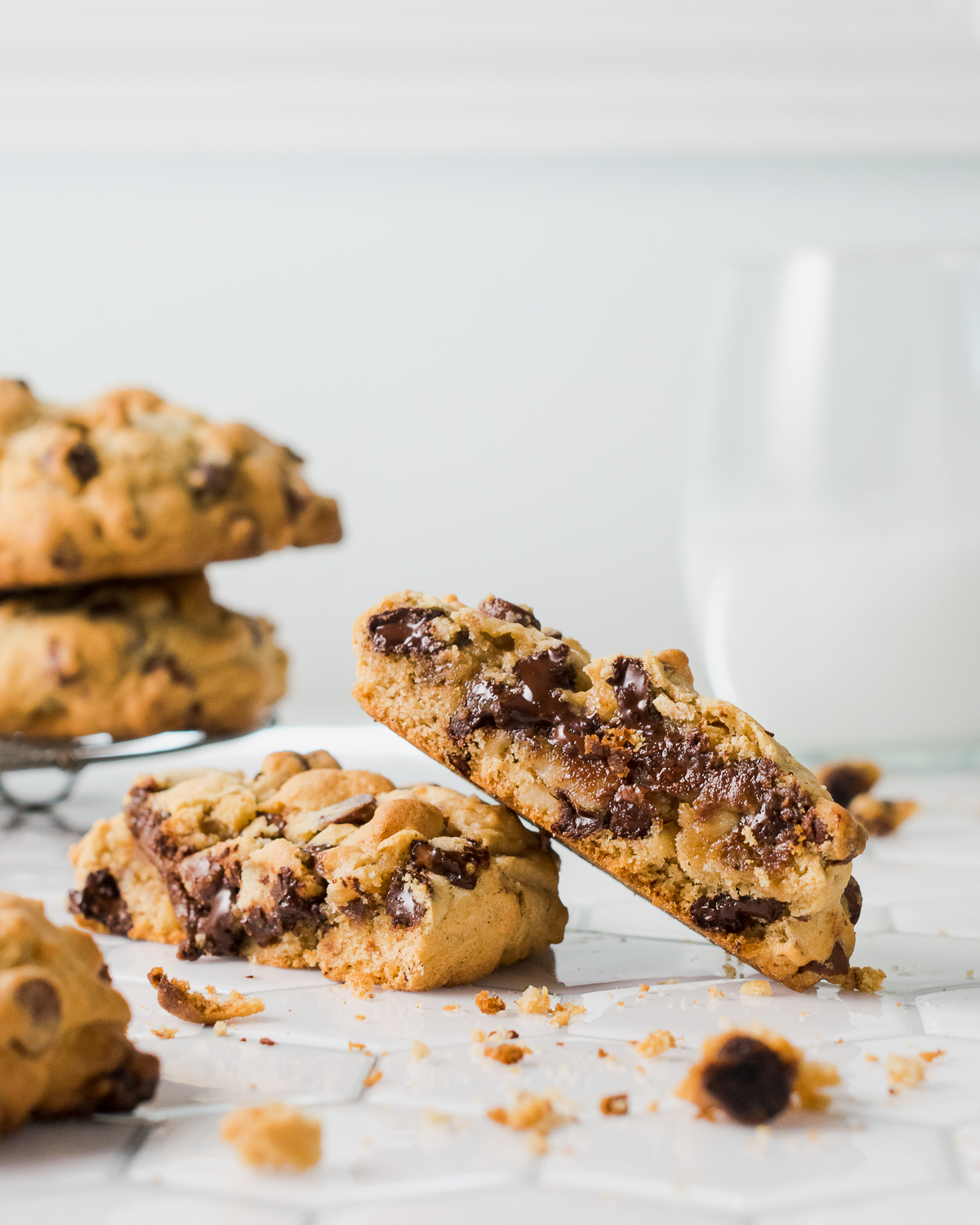 FAQ
What is so special about Levain cookies?
First, they are huge! Unlike most cookie recipes they stay super thick with a crispy outer shell and a barely under-cooked center that tastes almost like warm cookie dough. They stay soft inside day after day.
Why are Levain cookies so thick?
This cookie dough has a little higher flour content compared to butter & sugar. This reduces the spread of the cookies. Add to that, the dough is chilled before baking and baked at a high temperature to reduce spread. You end up with a really thick barely done cookie.
Other chocolate chip cookies to consider:
If you try this recipe, please leave a 🌟🌟🌟🌟🌟 star rating and let me know how you liked it in the comments below.
Recipe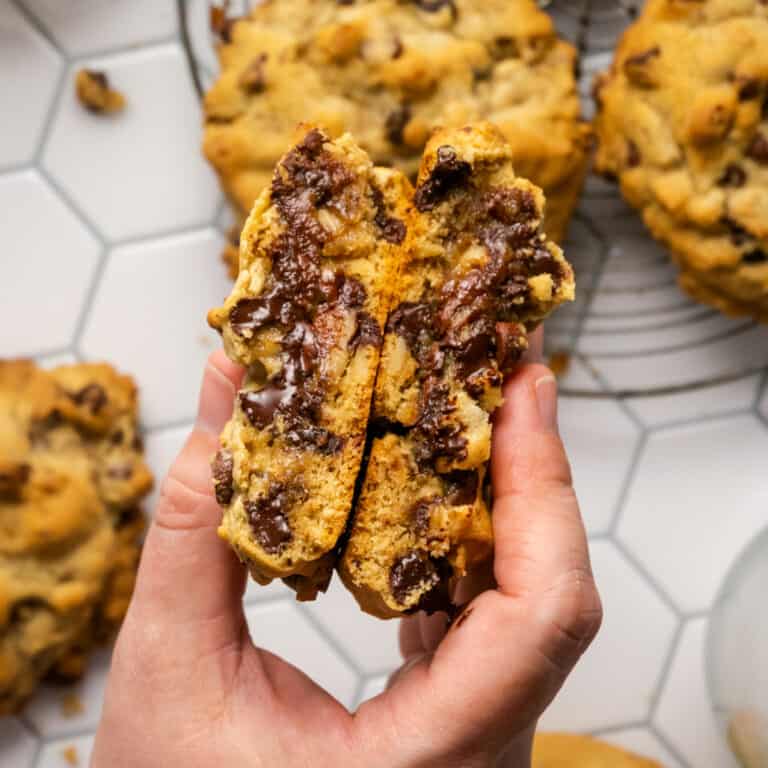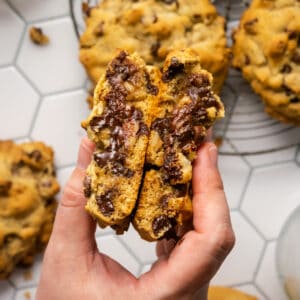 Gluten Free Levain Chocolate Chip Cookies (Copycat)
These amazing Levain style chocolate chips cookies are the perfect gluten free copycat of the original.
Print
Pin
Rate
Instructions
Combine the flour, cornstarch, baking powder, baking soda and salt in a medium sized bowl. Stir until well mixed. Set aside.

2 Cups Gluten Free 1-to-1 Flour Blend,

3 Tablespoons Cornstarch,

1 teaspoon Baking Powder,

½ teaspoon Baking Soda,

1 teaspoon Salt

Add butter, brown sugar and white sugar to the bowl of an electric mixer. Beat on medium speed for 5 minutes until light and fluffy in texture. Scrape the bowl as needed.

10 Tablespoons Vegan Butter,

⅔ Cup Light Brown Sugar,

⅓ Cup Sugar

Add the vanilla, egg and egg yolk. Beat for another 90 seconds.

1 Egg,

1 Egg Yolk,

2 teaspoons Vanilla

Turn your mixer to the lowest speed. Slowly add the flour mixture.

Once the flour is just barely mixed in, add the walnuts and chocolate chips. Continue to stir until the ingredients are evenly incorporated. You may need to do the final stirring by hand.

1 ½ Cup Walnuts,

1 Cup Dairy Free Dark Chocolate Chips,

1 Cup Dairy Free Semi-Sweet Chocolate Chips

Remove your bowl from the mixer and cover with plastic wrap. Refrigerate for 1 hour.

Remove the refrigerated dough and portion into dough balls 4-6 ounces in size (4 ounces is approximately ⅔ cup, 6 ounces is approximately 1 cup). Do not pack the balls together, just pile the dough onto the cookie sheet. The tops of the baked cookie are not supposed to be smooth. Place on a baking sheet and cover with plastic wrap. Return the refrigerator while you preheat the oven.

Preheat oven to 400 degrees F. Line 2 baking sheets with parchment paper.

Only place 4-6 dough balls per sheet so there is enough space.

Bake in preheated over for 14 minutes. Remove from oven and cool on the baking sheet for 15 minutes before eating.
Calories:
530
kcal
|
Carbohydrates:
57
g
|
Protein:
8
g
|
Fat:
32
g
|
Saturated Fat:
12
g
|
Polyunsaturated Fat:
10
g
|
Monounsaturated Fat:
7
g
|
Trans Fat:
0.1
g
|
Cholesterol:
34
mg
|
Sodium:
412
mg
|
Potassium:
297
mg
|
Fiber:
5
g
|
Sugar:
32
g
|
Vitamin A:
544
IU
|
Vitamin C:
0.3
mg
|
Calcium:
127
mg
|
Iron:
3
mg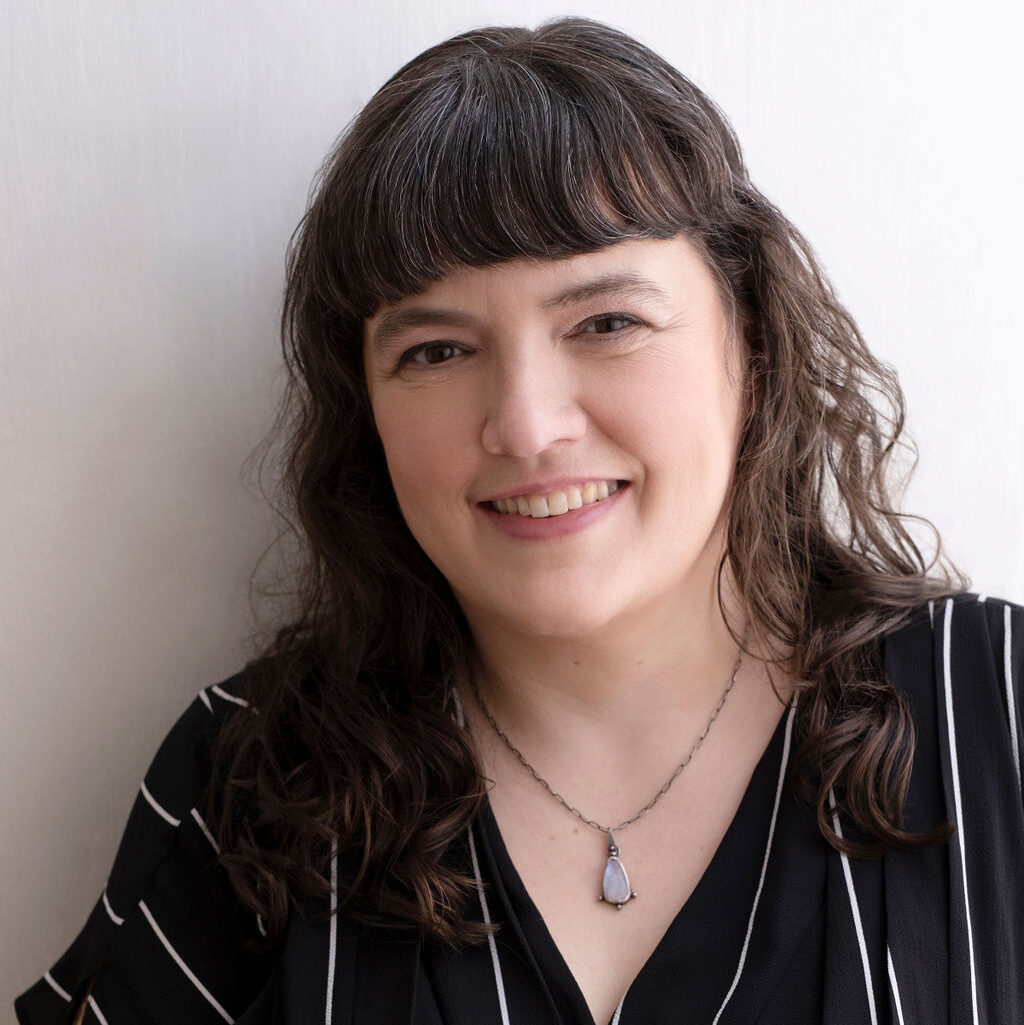 Tiffany is the recipe developer, stylist and food photographer behind Well Fed Baker. As a lifelong baker who had to go gluten free and dairy free in 2016, Tiffany strives to share allergen friendly recipes that never feel like they are free from anything.