Being gluten free and dairy free is no reason to miss out on a delicious apple pie for dessert. This apple crumble pie is also easily made vegan with the omission of the egg wash on the crust. This recipe is so good, it will have even your gluten eating friends asking for the recipe.
Why you will love this apple pie recipe
The filling is simple to make.
It's loaded with fresh apples.
You can use homemade pie crust or frozen.
It's gluten free and dairy free, plus easily made vegan without the egg wash on the crust.
How to make a a perfect gluten free pie crust
Pie making is not a quick process but it's definitely worth all the work.
First, you will need to prepare your pie crust. Check out this in-depth post on making a gluten free and vegan pie crust from scratch. If you don't want to make your pie crust from scratch, you will need on store bought gluten free crust. I like the Wholly Gluten Free brand.
Once your dough is ready to go, place it in the pan and crimp the edges. If you're going to crimp the crust, you will need to leave about a half-inch of dough hanging over. Fold over the extra dough to make a lip at the edge of the pie pan.
There are a variety of ways to crimp crust - you can use a fork or spoon to make patterns, pinch, roll, etc. For this recipe I am using the first two fingers of each hand to make a ruffle style crimp, as shown below.
Once your crust is crimped, place the pie shell into the freezer. The dough needs to remain as cold as possible right up until it goes into a hot oven to create the flaky crust you want. The flakes come from the butter melting and creating steam. If the dough is too warm when it goes in the oven, the butter will melt out leaving a greasy puddle and a dry cracker like crust. Again, you can stop at this point if you're working ahead. If you plan to leave the dough in the freezer for longer than 30 minutes, then make sure to cover it with plastic wrap so it doesn't dry out. I frequently make several pie shells at one time and store them in the freezer (like store bought dough) so I don't have to do all the work every time I want to make a pie.
While the dough is in the freezer, we will prepare the filling. First, start with the crumble topping.
How to Make the Crumble Topping
Combine the gluten free oats, light brown sugar, gluten free 1-to-1 flour blend, salt and cinnamon in a medium sized bowl.
Then add the butter. Work the butter in with your hands or a fork.
Once the dry ingredients are well combined with the butter, add in the roughly chopped pecans (you can use another nut if you prefer).
Mix it all together and place it into the refrigerator to chill while you prepare the apples.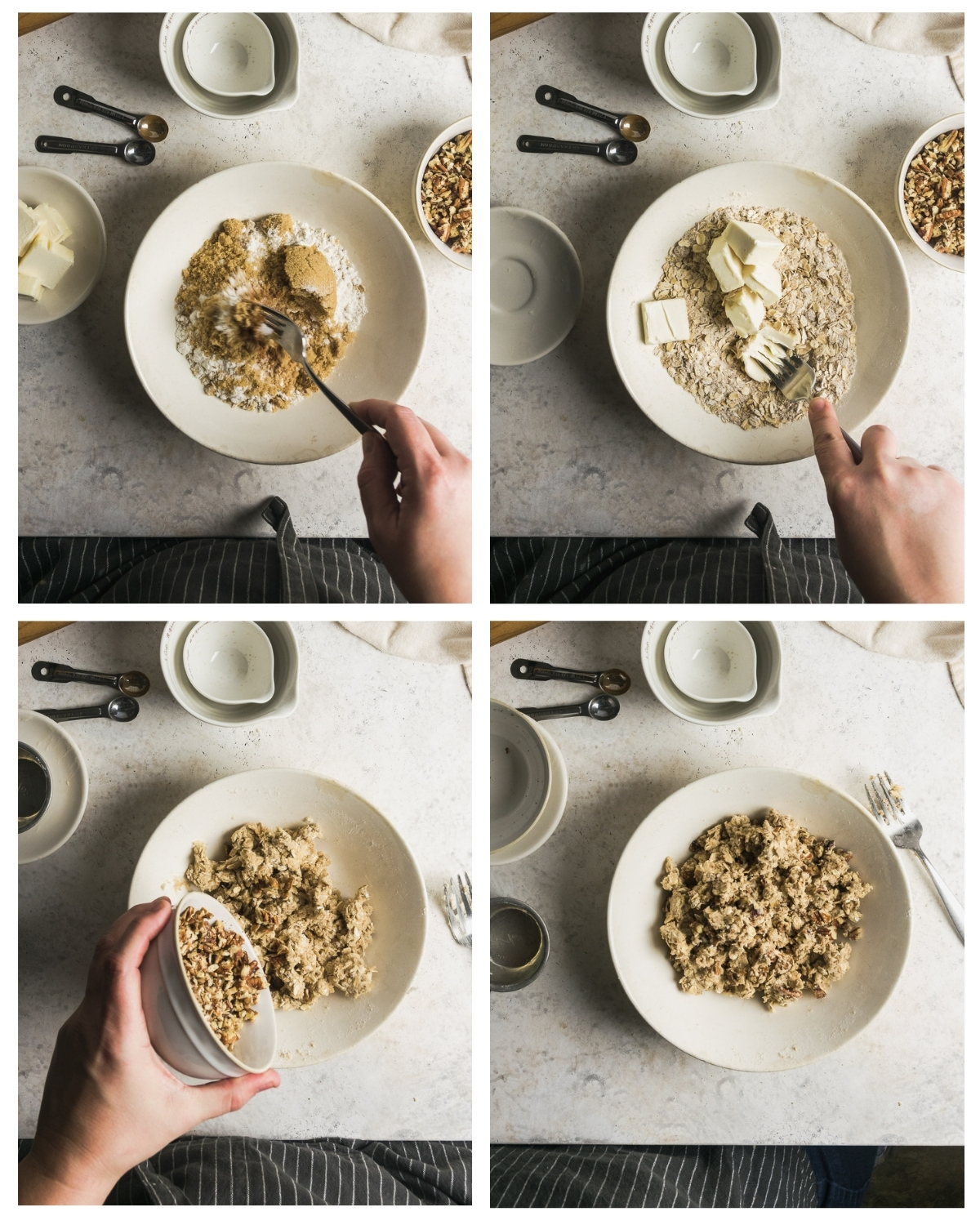 How to Make Apple Pie Filling from Scratch
The key to a great apple pie is a lot more apple filling than you expect. Because apples cook down a good bit when baked, you will really want to have a heaping apple pie (several inches higher than the pie plate) before cooking. For a standard sized pie plate, I use 4-5 grocery store apples. For a deep dish 6-7 apples. If you're using farm apples, which tend to be smaller add at least one more apple to each of those quantities. The second apple tip I have is to mix your apple varieties in your pie. It will give you a much nicer flavor than using all one type of apple. As you can see from the photo below I used granny smith, golden delicious and gala apples in my pie.
No matter whether you're making a standard or deep dish pie, you do not need to adjust any of the ingredient quantities from this recipe other than the apples.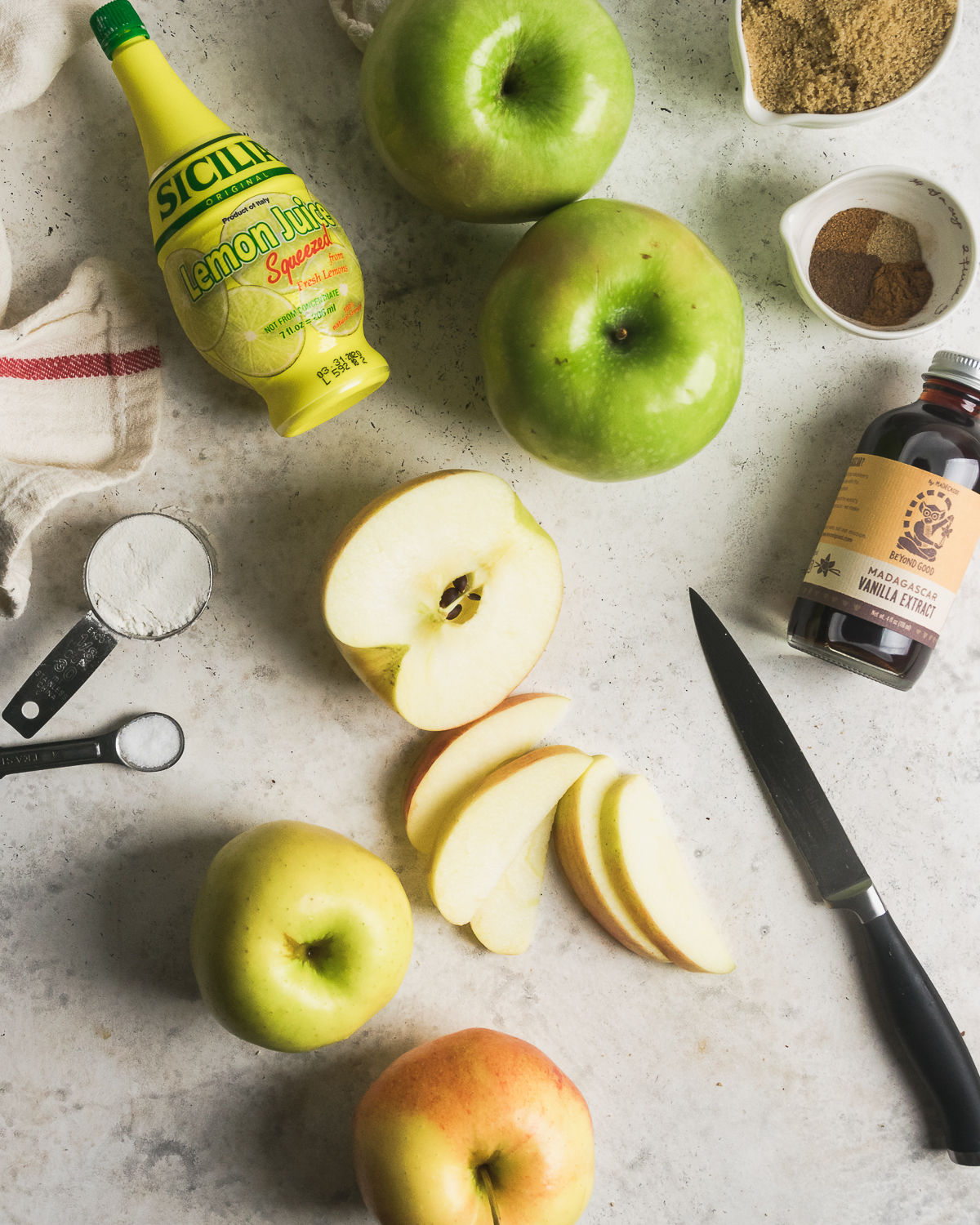 Start by cutting and coring your apples. I leave the skin on mine, but if you prefer it without then you can peel them first.
Slice the apples fairly thin, about ¼" thickness. Throw all the apple slices into a large bowl.
Add the lemon juice and stir it around to coat the apples. The lemon juice will help to prevent the apples from turning brown.
Then add the light brown sugar, gluten free 1:1 flour blend, salt, spices and vanilla.
Stir all the ingredients well until the apples are coated.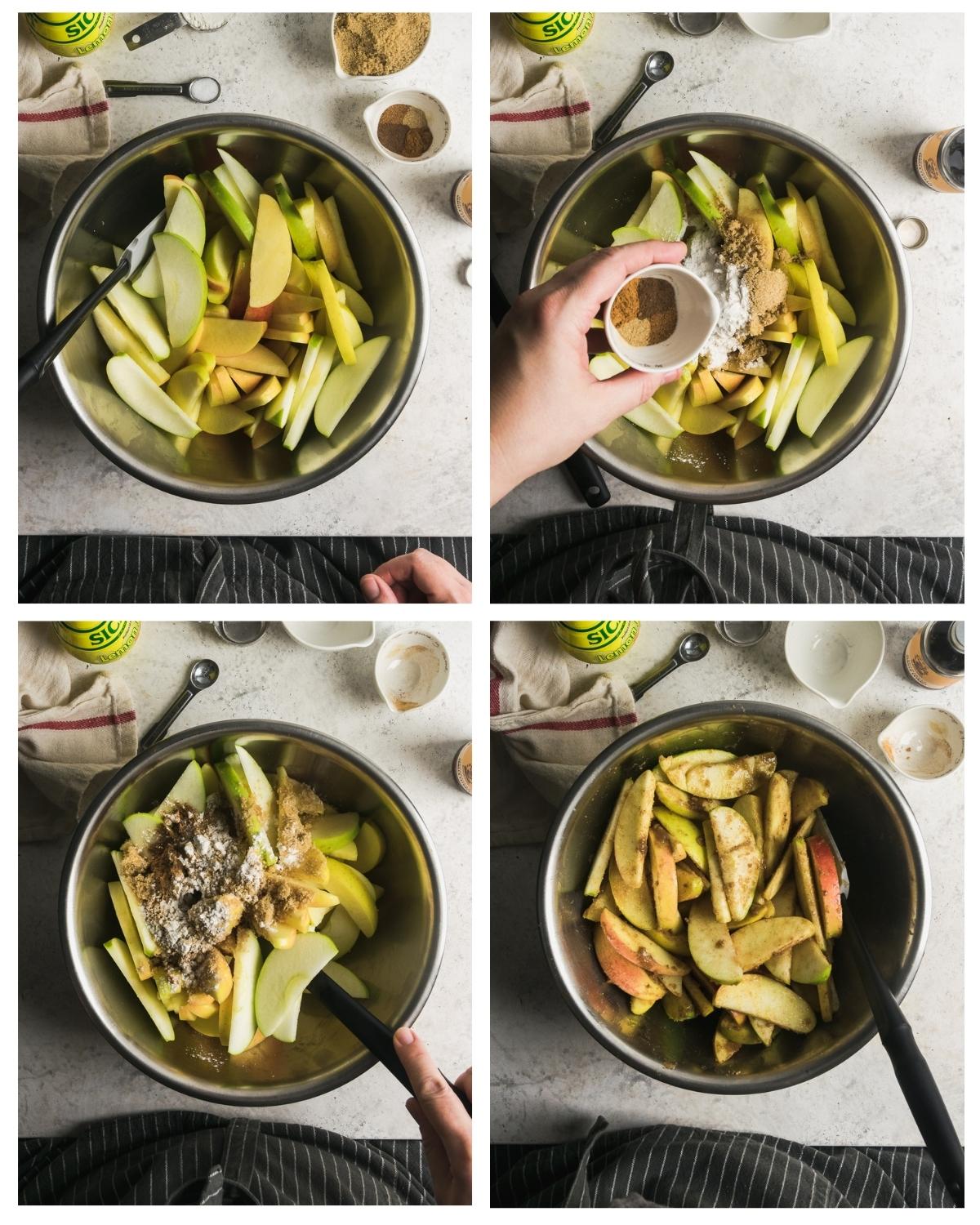 How to assemble your GF Dutch apple pie
Now that you have your apples ready to go, you want to remove your pie crust from the freezer. To get all of these apples into the pie you will need to place them one by one, making sure to fill in every crevice with apples. Just keep squeezing them in until you use all the apples.
Once all your apples are in, brush the edge of the crust with egg wash. The egg wash will make a nice shiny golden color on the final bake. This is optional and can be omitted if you are making a vegan apple crumble pie. Finally, remove the topping from the refrigerator and crumble it over the pie. It's okay to leave chunks here, it will bake nicely.
Put your pie on a baking sheet and place on the bottom rack of an oven preheated to 400 degrees. Bake for 60 minutes. I suggest checking halfway through to make sure the top hasn't gotten too brown. If so, simply place a piece of foil on top (you can just lay it on top, you don't need to fold around the sides) to prevent further browning.
Cool before slicing and store leftovers covered in foil in the refrigerator.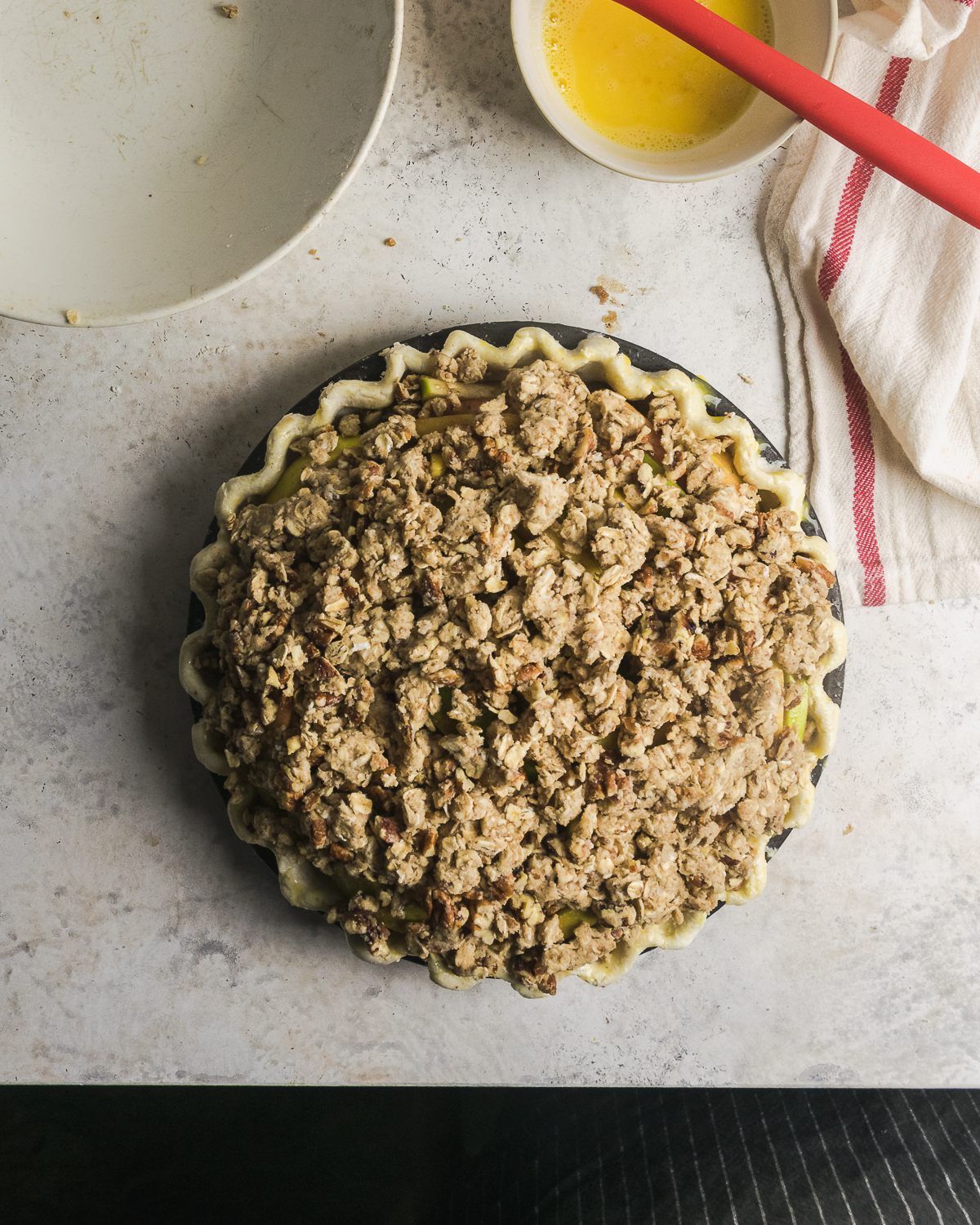 Frequently Asked Questions
Can I freeze apple pie?
If you are making the pie ahead of time, once completely cooled to room temperature wrap the pie with plastic wrap. Make sure the entire pie and pie plate is covered with at least 2-3 layers of plastic wrap and place the whole pie into the freezer. You can freeze it up to 3 months.
When you're ready to serve, thaw the pie overnight in the refrigerator. Then cover with aluminum foil and reheat in a 350 degree oven for 30 minutes. No one will know it was made ahead of time!
Is there gluten free canned apple pie filling?
Yes, there are several brands of gluten free pie filling available in cans. I have personally tried the Lucky Leaf brand of apple pie filling and found it to be very good.
Is there a ready made gluten free pie crust?
The answer is yes! If you don't have the time or don't feel confident making your own dough after reading the instructions above, you can definitely buy a gluten free pie crust. I have tried the Wholly Gluten Free brand in the past and enjoyed it. It's made in a dedicated facility, so it's celiac safe and doesn't contain dairy, nuts, eggs or soy. I have found it at Whole Foods in the freezer section.
Another option is using the filling and topping recipe listed here but in a crustless dessert. Simply prepare the pie filling as instructed above, but bake it in a small casserole dish or deep dish pie pan. Scoop with a spoon and serve with ice cream or whipped cream. Yum!
Why don't you need to parbake this pie crust?
I personally only par-bake for custard or non baked pies. If you are baking your pie on the lowest oven rack and cooking it for long enough, the pie crust should be done and not soggy.
What is the best pie pan to use? Glass, metal or ceramic?
All three have pros and cons.
If you're inexperienced at baking pies, then I highly recommend a glass pie plate. Having the clear bottom will allow you to see that your pie crust is definitely cooked on the bottom.
Metal pie pans heat up quickly and provide a nice crisp crust.
Ceramic heats up slower but holds the heat longer.
No matter what kind of pan you have, you can make a delicious pie. If I'm working ahead, I use the disposable tins from the store so my pie pans are not all tied up in the freezer.
How to reheat dutch apple pie?
Place individual slices of pie on a microwave plate and heat until warm inside.
To reheat a partial or complete pie, place in an oven preheated to 350 degrees and heat until center is warm, about 20-30 minutes depending on the size of the remaining pie.
If you love pies, check out these other recipes:
Gluten Free Strawberry Apple Pie
Gluten Free Maple Bourbon Pecan Pie (Dairy Free Option)
Gluten Free Apple Cranberry Pie
If you try this recipe, please leaving a rating or comment below. 🙂
Gluten Free Dutch Apple Pie
Perfectly sweetened and flavored with warm fall spices, this apple pie will have everyone swooning!
Print
Pin
Rate
Ingredients
For the crust
1

Cup

Gluten Free 1-to-1 Flour Blend

1

Tablespoon

Arrowroot Powder

substitute with cornstarch

½

teaspoon

Salt

1

Tablespoon

Sugar

9

Tablespoon

Vegan Butter

frozen (regular or dairy free)

⅓

Cup

Water

cold, may need up to ½ cup

1

Egg

for egg wash (optional)
For the topping
¾

Cup

Gluten Free Oats

⅓

Cup

Gluten Free 1-to-1 Flour Blend

⅓

Cup

Light Brown Sugar

¼

teaspoon

Cinnamon

¼

teaspoon

Salt

6

Tablespoon

Vegan Butter

regular or dairy free

1

Cup

Pecans

roughly chopped
For the filling
7

Apples

mixed varieties

2

teaspoon

Lemon Juice

½

Cup

Light Brown Sugar

2

Tablespoon

Gluten Free 1-to-1 Flour Blend

½

teaspoon

Cinnamon

¼

teaspoon

Cardamom

¼

teaspoon

Allspice

¼

teaspoon

Nutmeg

¼

teaspoon

Salt

2

teaspoon

Vanilla
Instructions
For the crust
Place the butter and the water in the freezer to keep cold while mixing the remaining ingredients.

In a large bowl, combine the gluten free flour, arrowroot powder (or cornstarch), salt and sugar. Stir together until well mixed.

1 Cup Gluten Free 1-to-1 Flour Blend,

1 Tablespoon Arrowroot Powder,

½ teaspoon Salt,

1 Tablespoon Sugar

Cut the cold butter into ½" cubes. Add to the dry ingredients. Working quickly to keep things cold, press the butter between your fingers to flatten the pieces into discs about the size of a quarter. Work the butter into the flour. The pieces will vary in size, but it should begin to look very crumbly.

9 Tablespoon Vegan Butter

Add the cold water. Work the dough together into a ball. Don't knead the dough as it will become tough. Just press it together until it just sticks, and all the liquid is absorbed.

Turn out onto a piece of plastic wrap. Form into a disc. Wrap tightly in plastic wrap and refrigerate at least 2 hours or overnight.

Place your chilled pie dough between two sheets of plastic wrap. Roll out into a rough circle about one inch larger than your pie pan. Place rolled dough onto a baking sheet and back into refrigerator for 1 hour.

After chilling your dough sheet, remove one piece of plastic wrap and turn dough into pie pan. Gently work the dough into shape being careful not to tear wholes at the bottom. Trim dough around edges leaving about 1⁄2" overhang, fold under and crimp in design of your choice. Place prepared pie shell into the freezer while you prepare the filling.

Preheat the oven to 400F degrees.
For the topping
In a small bowl, combine all the streusel ingredients and work together with a fork. Place in the refrigerator to chill while you prepare the rest of the pie.

¾ Cup Gluten Free Oats,

⅓ Cup Gluten Free 1-to-1 Flour Blend,

⅓ Cup Light Brown Sugar,

¼ teaspoon Cinnamon,

¼ teaspoon Salt,

6 Tablespoon Vegan Butter,

1 Cup Pecans
For the filling
Core and slice your apples, making very thin slices (about ¼").

In a large bowl, combine apples, lemon juice, sugar, flour, spices, salt and vanilla. Stir well until apples are completely coated.

2 teaspoon Lemon Juice,

½ Cup Light Brown Sugar,

2 Tablespoon Gluten Free 1-to-1 Flour Blend,

½ teaspoon Cinnamon,

¼ teaspoon Cardamom,

¼ teaspoon Allspice,

¼ teaspoon Nutmeg,

¼ teaspoon Salt,

2 teaspoon Vanilla

Remove pie shell from freezer. Working with one slice at a time, place apples into the shell. You want to wedge apples into every crevice and keep mounding them up. Your apples will end up being 2-3 inches taller than your pie shell, but it's okay because they will cook down in the oven.

Sprinkle the top with streusel topping.

Brush the crust edges with the egg wash. Omit this step for vegan pie.

Place pie on a baking sheet. Bake ion the lowest rack of preheated oven for 60 minutes. The filling should be bubbling, and the crust should be a nice golden-brown color. If the top begins to brown too much during baking, lay a piece of aluminum foil over the top. You do not need to fold it around the sides of the pie dish.

Remove and cool completely before slicing.
Calories:
375
kcal
|
Carbohydrates:
48
g
|
Protein:
4
g
|
Fat:
21
g
|
Saturated Fat:
9
g
|
Polyunsaturated Fat:
3
g
|
Monounsaturated Fat:
7
g
|
Trans Fat:
1
g
|
Cholesterol:
49
mg
|
Sodium:
322
mg
|
Potassium:
199
mg
|
Fiber:
6
g
|
Sugar:
28
g
|
Vitamin A:
491
IU
|
Vitamin C:
5
mg
|
Calcium:
47
mg
|
Iron:
1
mg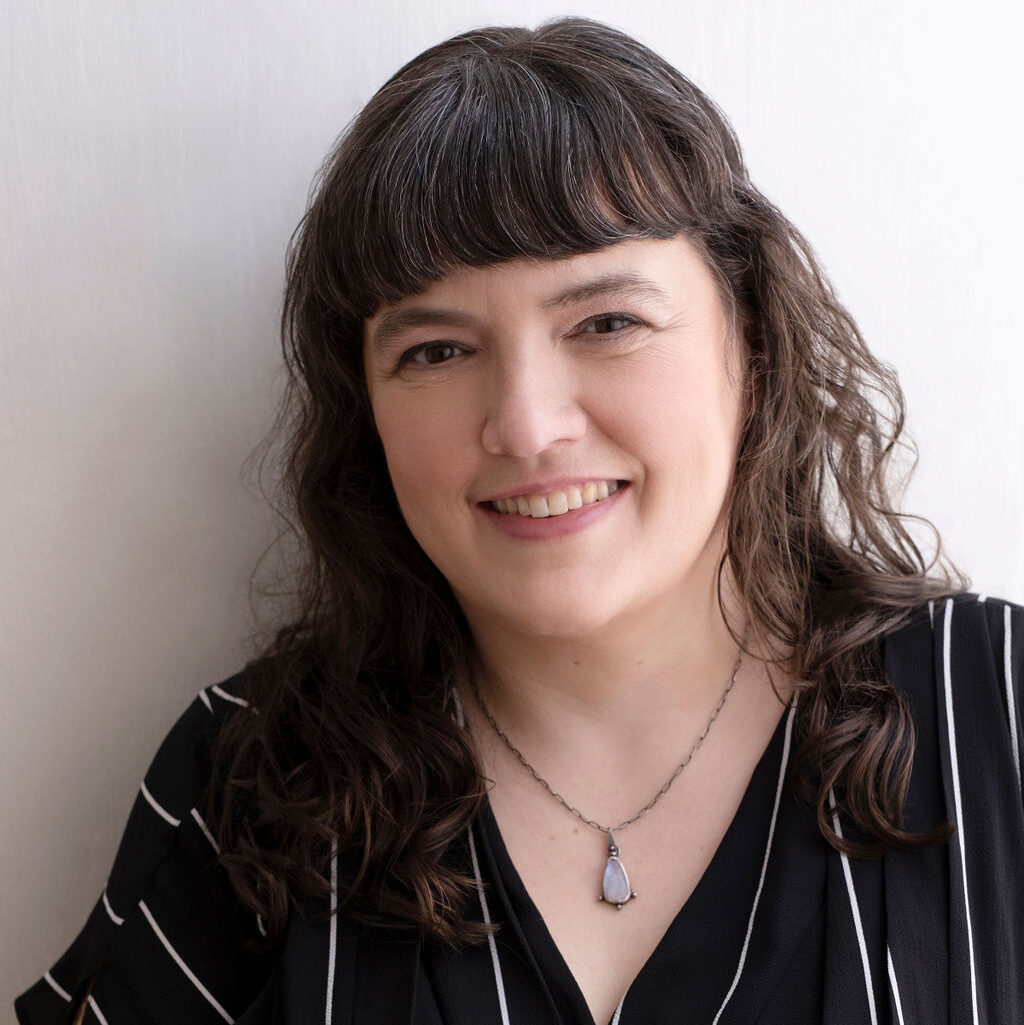 Tiffany is the recipe developer, stylist and food photographer behind Well Fed Baker. As a lifelong baker who had to go gluten free and dairy free in 2016, Tiffany strives to share allergen friendly recipes that never feel like they are free from anything.