These strawberry shortbread cookies are the loveliest shade of light pink, making them an absolute visual treat. And don't even get me started on the taste! They're everything you'd want in a shortbread cookie – buttery, crumbly, and melt-in-your-mouth goodness. But here's the twist: they're not just gluten-free; they're also dairy-free and vegan, so everyone can enjoy them.
Now, let's dive into what makes these cookies so special. First, they are so easy to make using the Hamilton Beach Stack and Snap Food Processor. The cookie dough comes together in less than 5 minutes thanks to this indispensable kitchen tool. Then, there is that dreamy pink strawberry-flavored icing on top. It's sweet, fruity, and adds a burst of vibrant flavor to every bite. I'll spill the beans on how to make these beauties and share tips for perfecting the recipe. So, grab your apron and let's get baking these delightful strawberry shortbread cookies.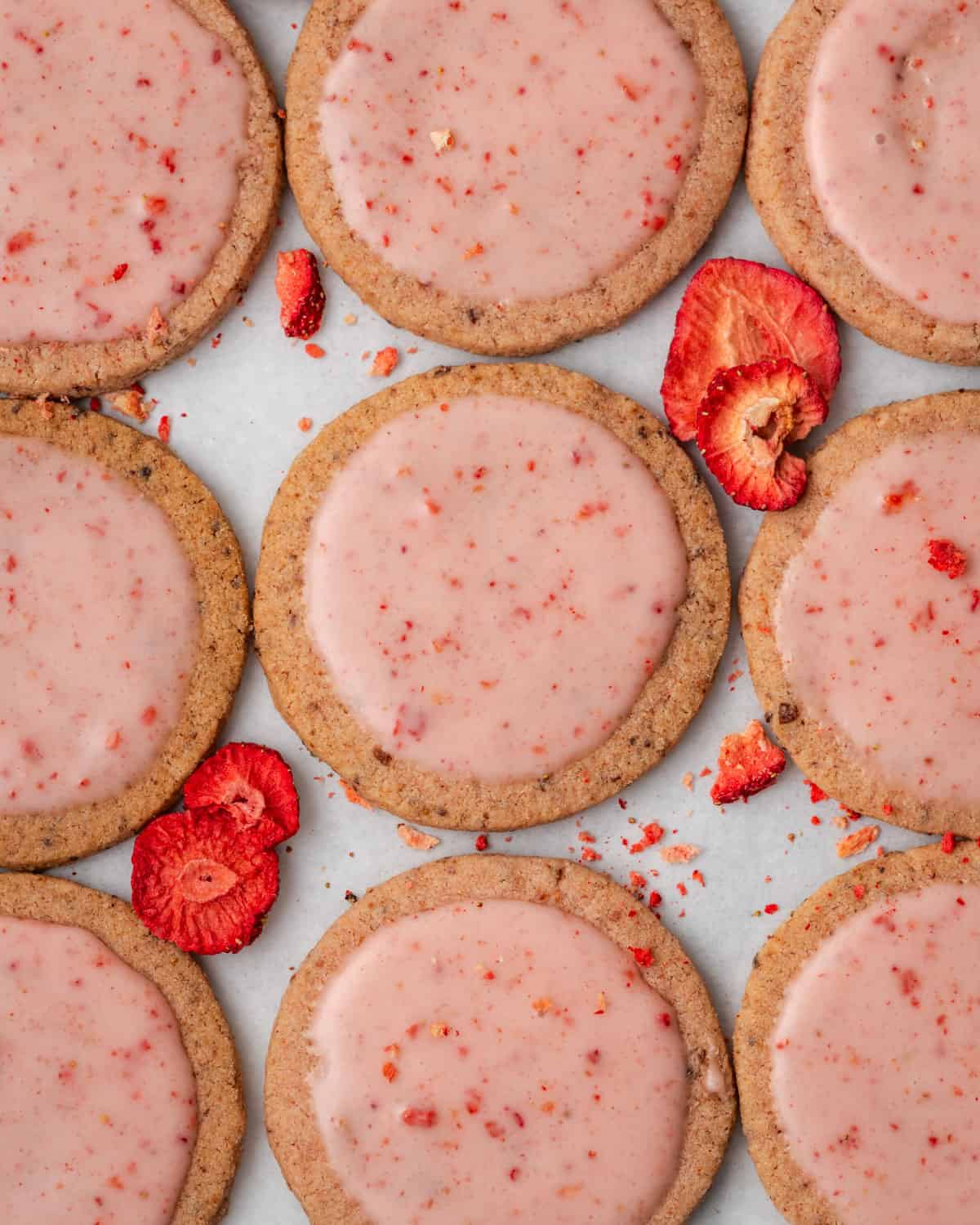 If you're looking for more shortbread style cookies, check out my strawberry cheesecake cookies of these fan favorite pecan sandies, that might even be better than the original.
This post was sponsored by Hamilton Beach but all opinions expressed are my own.
Jump to:
Want to save this recipe? Enter your email below and we will send it straight to your inbox!
You will also be added to our weekly email list.
Why You'll Love These Shortbread Cookies
Easy - Using the Hamilton Beach Stack and Snap Food Processor makes this recipe a breeze. The chopping and mixing all happens right in the food processor and the handy built-in scraper makes it so easy to make sure all of the dough is scraped out of the bowl.
Sweet & Crunchy - These crunchy cookies have everything you love about crispy, crunchy shortbread with the addition of the sweetness of strawberries.
Gluten Free & Vegan - Since these cookies are made with just a few simple ingredients, using gluten free flour and vegan butter makes them allergen friendly.
Customizable - If you don't like strawberries, you can easily change the flavor (and color) of these cookies using a different freeze dried fruit. I think blueberries would be so fun!
Equipment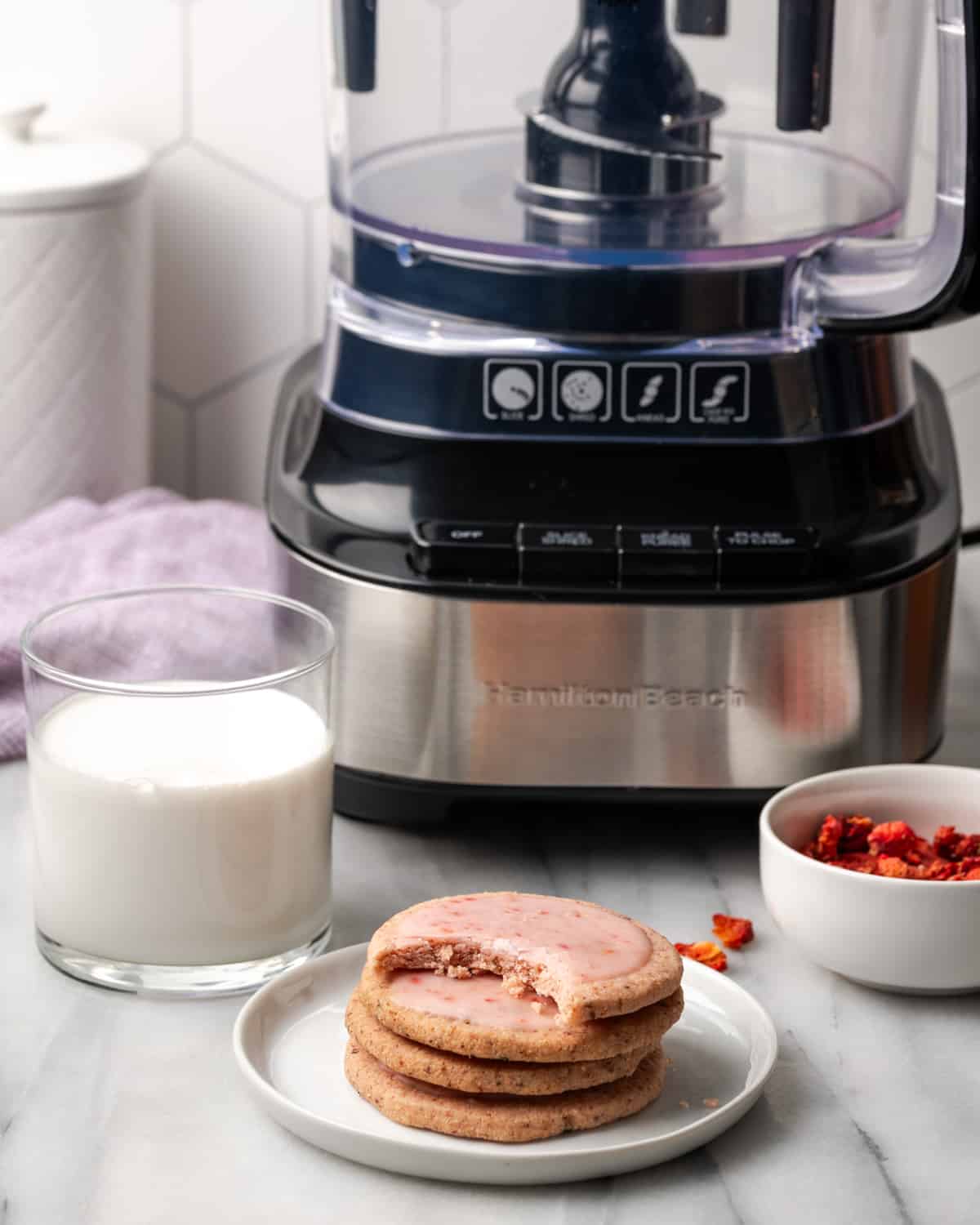 Let me share a little kitchen secret with you! When it comes to making these gluten-free strawberry shortbread cookies, having the right kitchen tool can make all the difference. That's where the Hamilton Beach Stack and Snap food processor steps in like a kitchen superhero.
Now, picture this: You've got all your gluten-free shortbread ingredients ready to go – the flour, dairy-free butter, a hint of vanilla, and of course, strawberries. Instead of spending extra time and effort chopping and blending by hand, the Hamilton Beach food processor takes care of it all with ease. It effortlessly combines the ingredients into a perfect cookie dough consistency, saving you precious minutes in the kitchen.
Plus, the precision and power of this food processor ensure that your shortbread dough turns out just right – not too crumbly, not too sticky, but absolutely spot-on. It's like having your own baking assistant right there with you, making the process smoother and more enjoyable.
If you're in the market for a new food processor, you can order this beauty directly from Walmart.
Ingredient Notes
These shortbread cookies require just a handful of simple ingredients to achieve their perfect texture and flavor!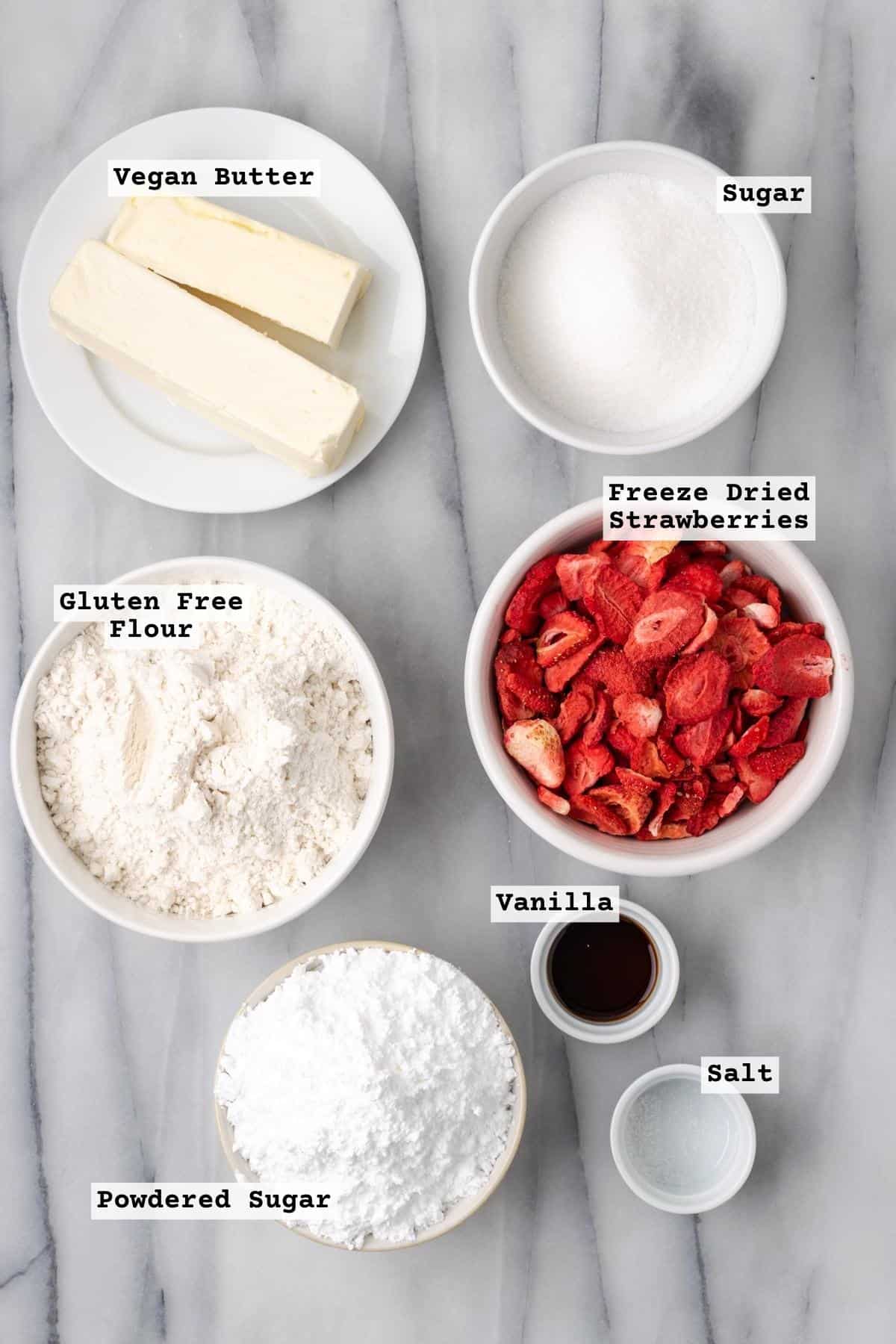 Freeze Dried Strawberries - Freeze dried strawberries provide loads of strawberry flavor without adding moisture that would ruin the crispy shortbread texture. They can be found at most grocery stores in the snack aisle.
Gluten-Free Flour Blend - I used Bob's Red Mill 1-to-1 flour in this recipe. You can substitute with your favorite brand, but the outcome may change. Ensure your flour blend contains xanthan gum or a similar binder.
Sugar - Granulated sugar provides just enough sweetness and crumbly texture to make this shortbread turn out perfect.
Salt - Just a tiny amount of salt is used to balance the sweetness.
Vegan Butter - I used Country Crock plant butter for this recipe. However, any vegan stick butter will work. If you're not dairy free, you can use dairy butter in the same measure.
Powdered Sugar - Powdered sugar is used to make the sweet, drying icing that tops these cookies.
See recipe card for full ingredient list and quantities.
Substitutions & Variations
Not Dairy Free / Vegan - Replace the vegan butter with dairy butter in the same measure.
Berry Mix-Up - While strawberries are fantastic, don't hesitate to experiment with other berries like raspberries, blueberries, or blackberries. You can use the same fruit-flavored icing, creating a medley of berry shortbread cookies for a colorful and flavorful assortment.
Chocolate-Dipped Delight - If you're a chocolate lover, dip the edges of your strawberry shortbread cookies in dairy-free chocolate. The combination of fruity strawberry and rich chocolate is pure indulgence.
How to Make Strawberry Shortbread Cookies
You won't believe how easy it is to make these cookies with a food processor.
STEP 1: Add the freeze dried strawberries and ¼ cup of sugar to the bowl of your food processor. Process until the strawberries are powdered. It's okay if there are some small pieces remaining.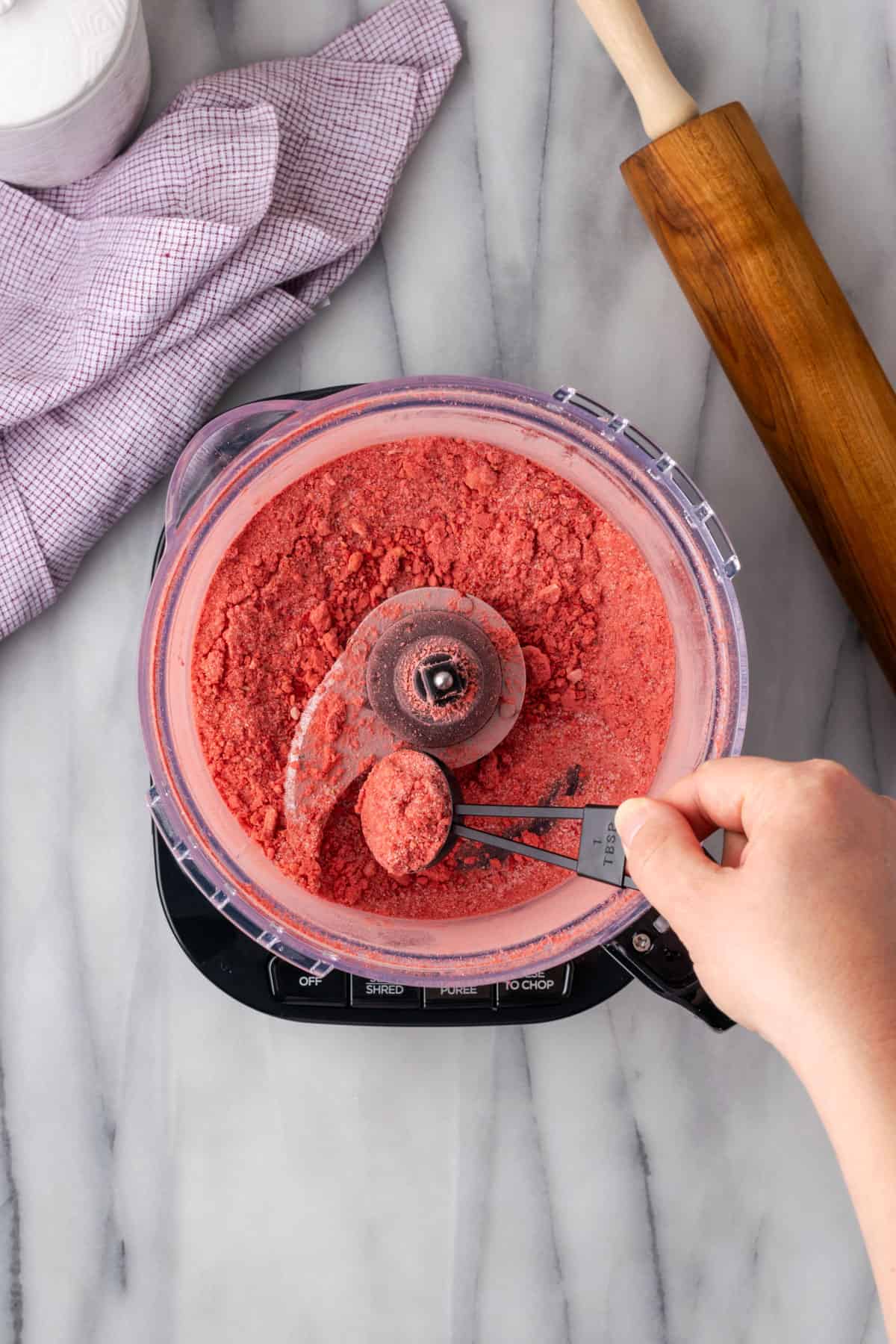 STEP 2: Scoop out a heaping tablespoon of ground strawberries and set aside for the icing.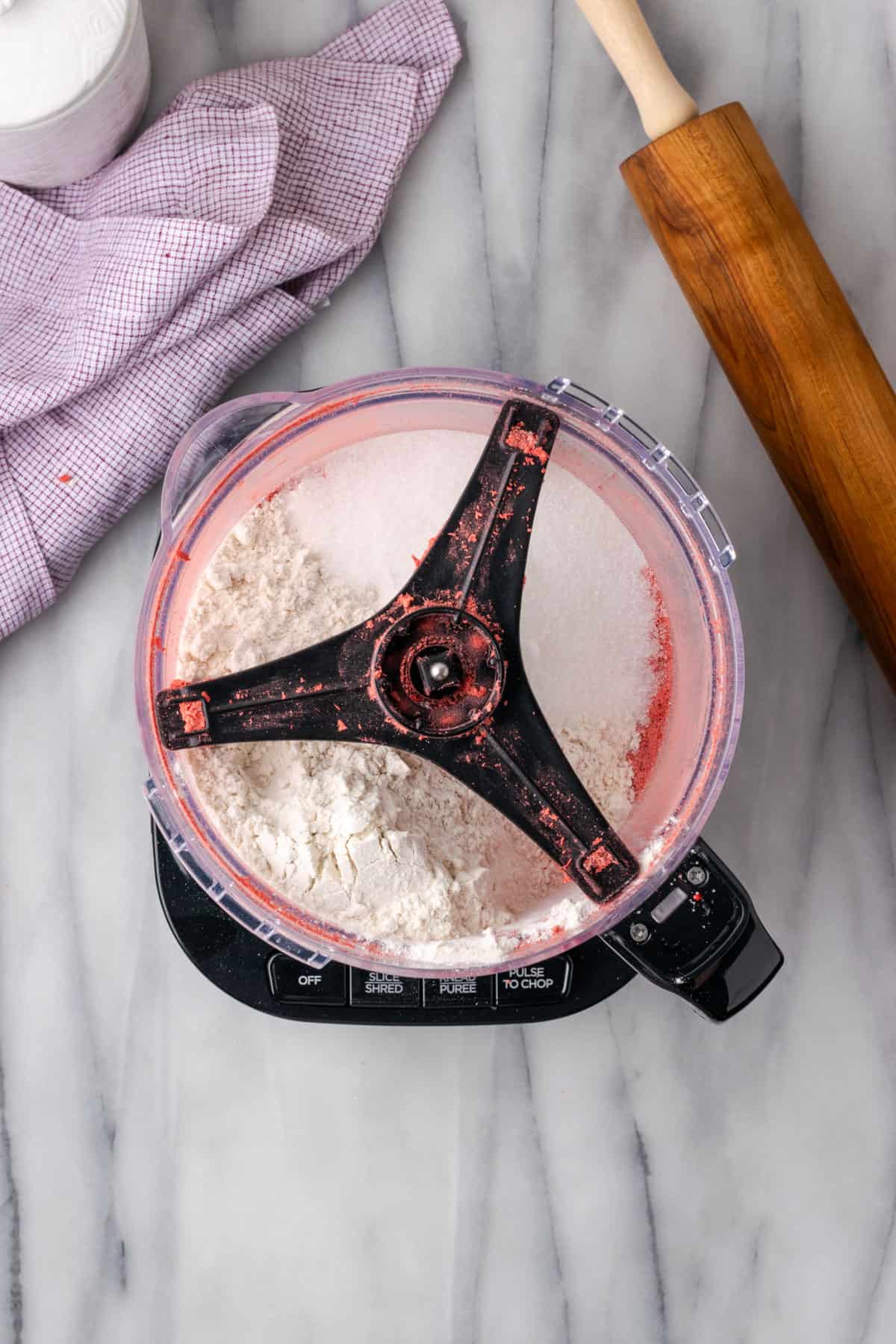 STEP 3: Add the remaining sugar, gluten free flour and salt to the food processor bowl. Pulse a few times to mix.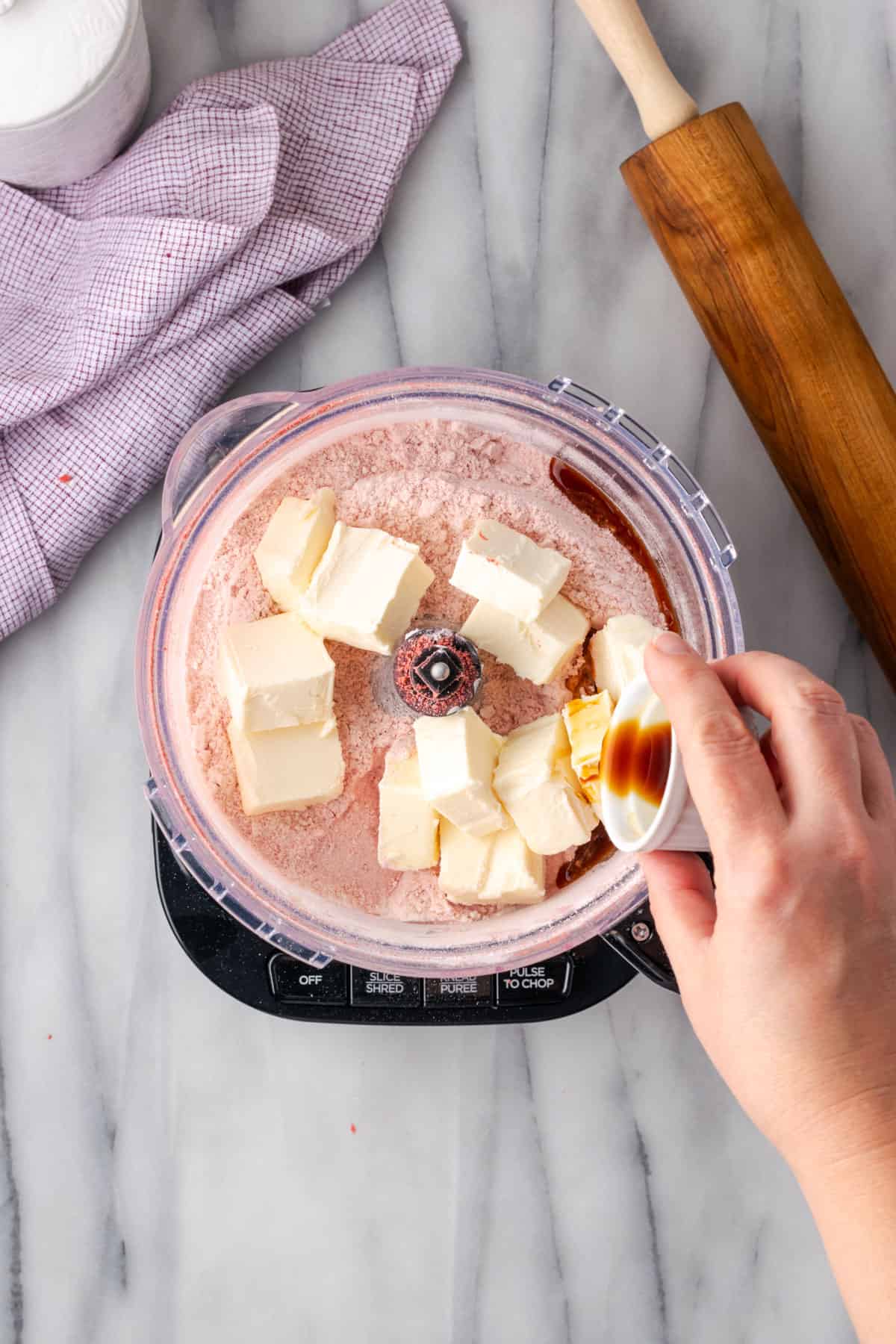 STEP 4: Add in the vegan butter and vanilla. Process until it turns into a dough ball.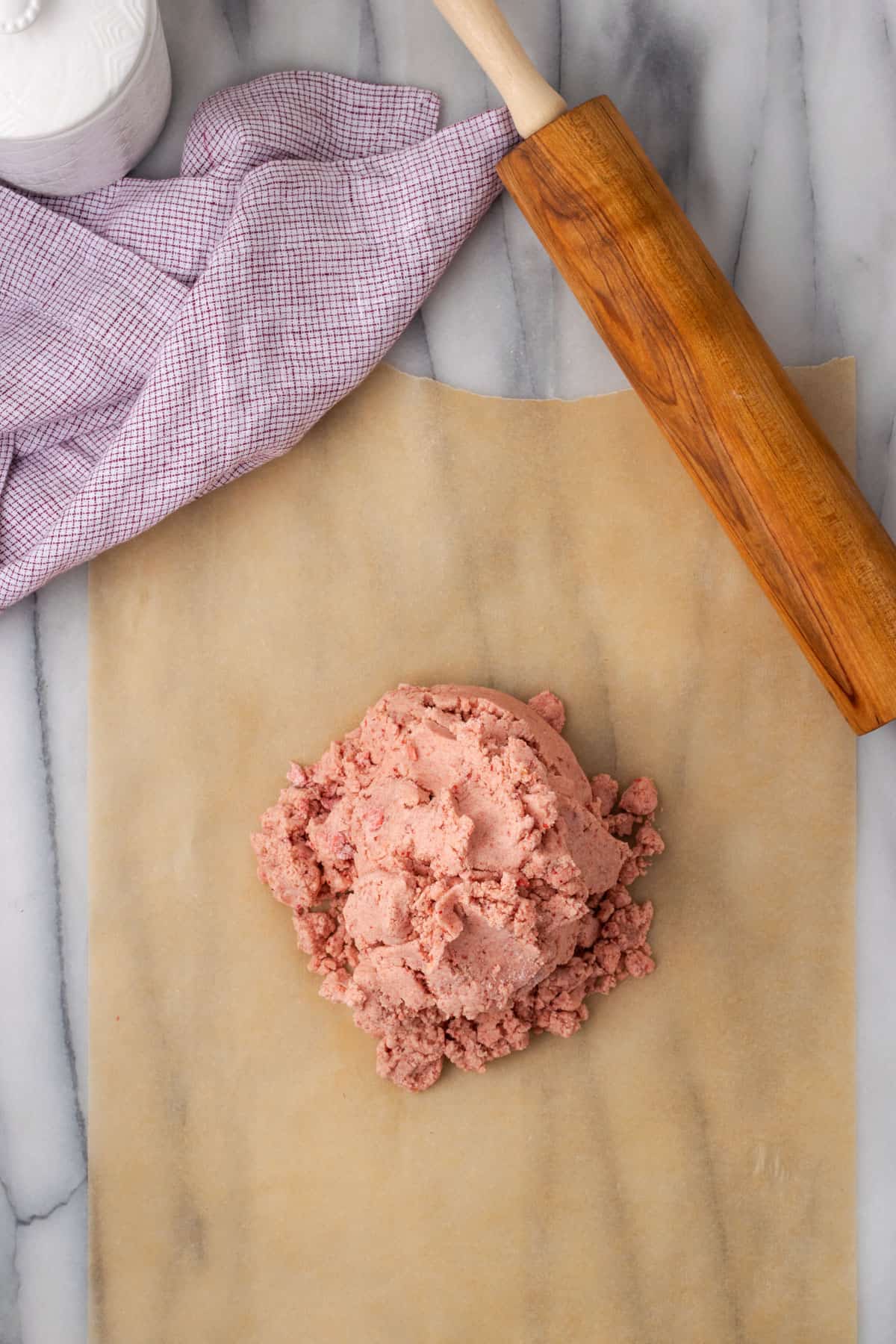 STEP 5: Dump the shortbread dough onto a clean work surface. Use your hands to smoosh it together into a disc.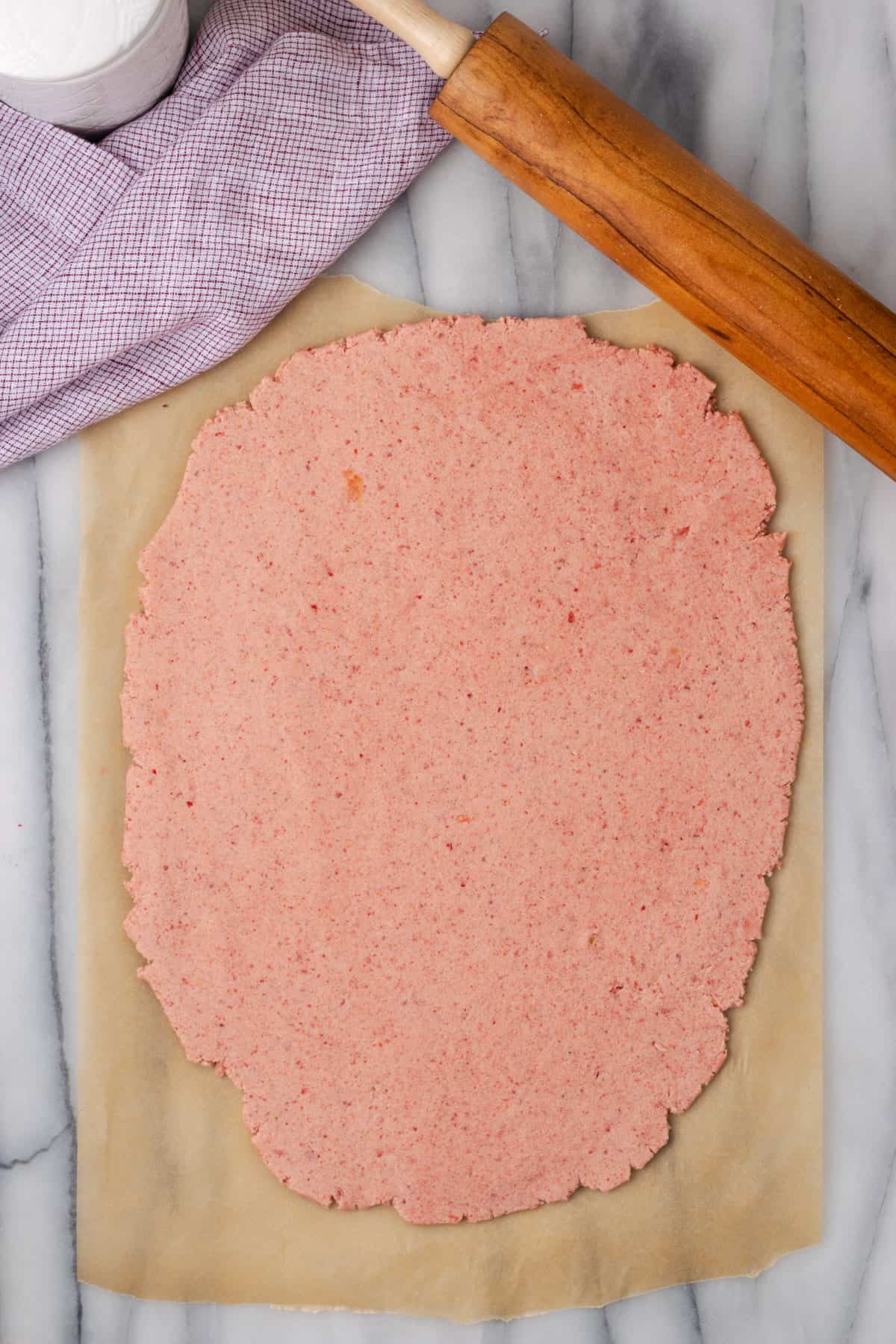 STEP 6: Roll the dough out into a sheet about ¼" thick. Place the dough sheet into the freezer for about 15 minutes.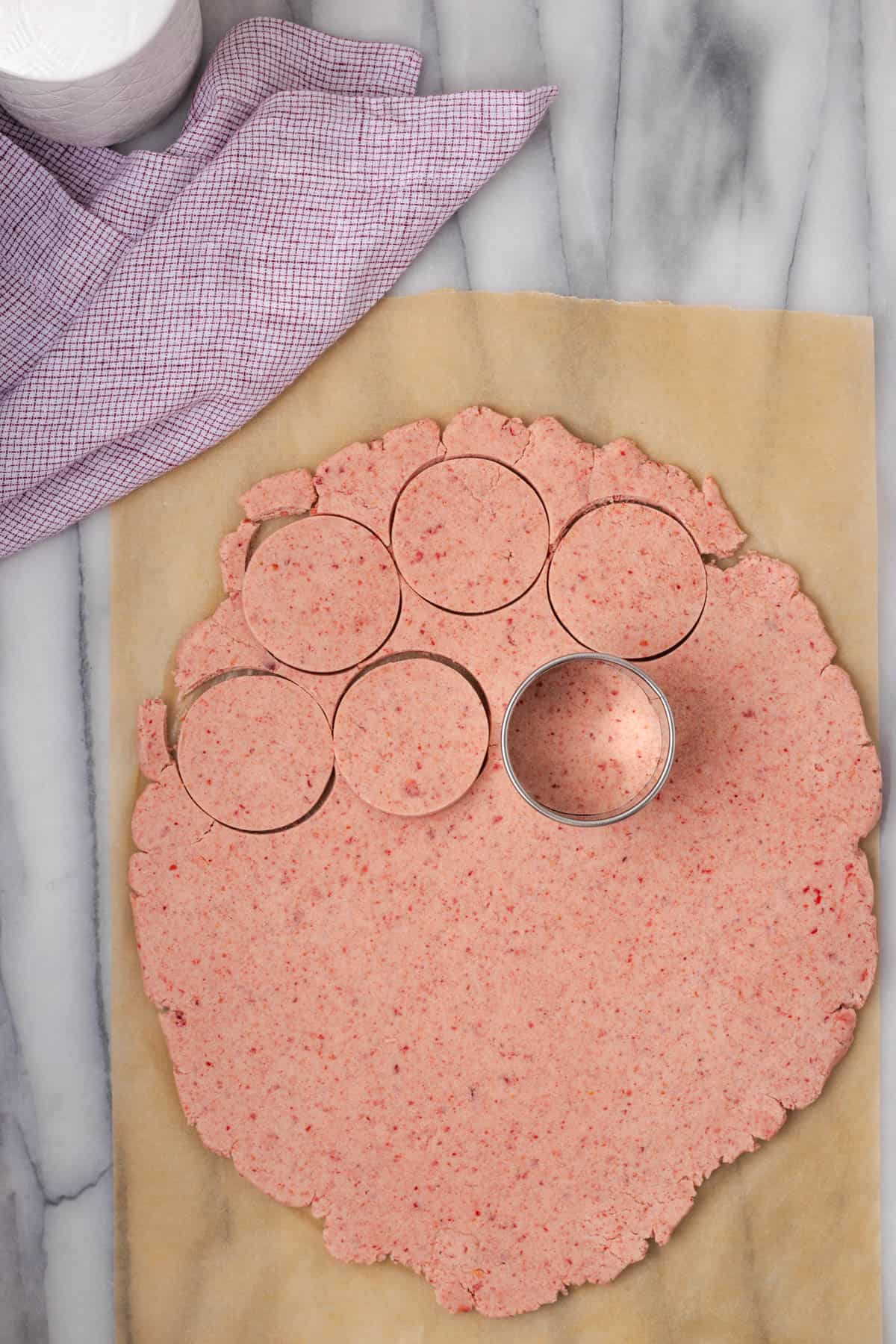 STEP 7: Once the dough has chilled, use a circle cutter (or your preferred shape) to cut out the cookies.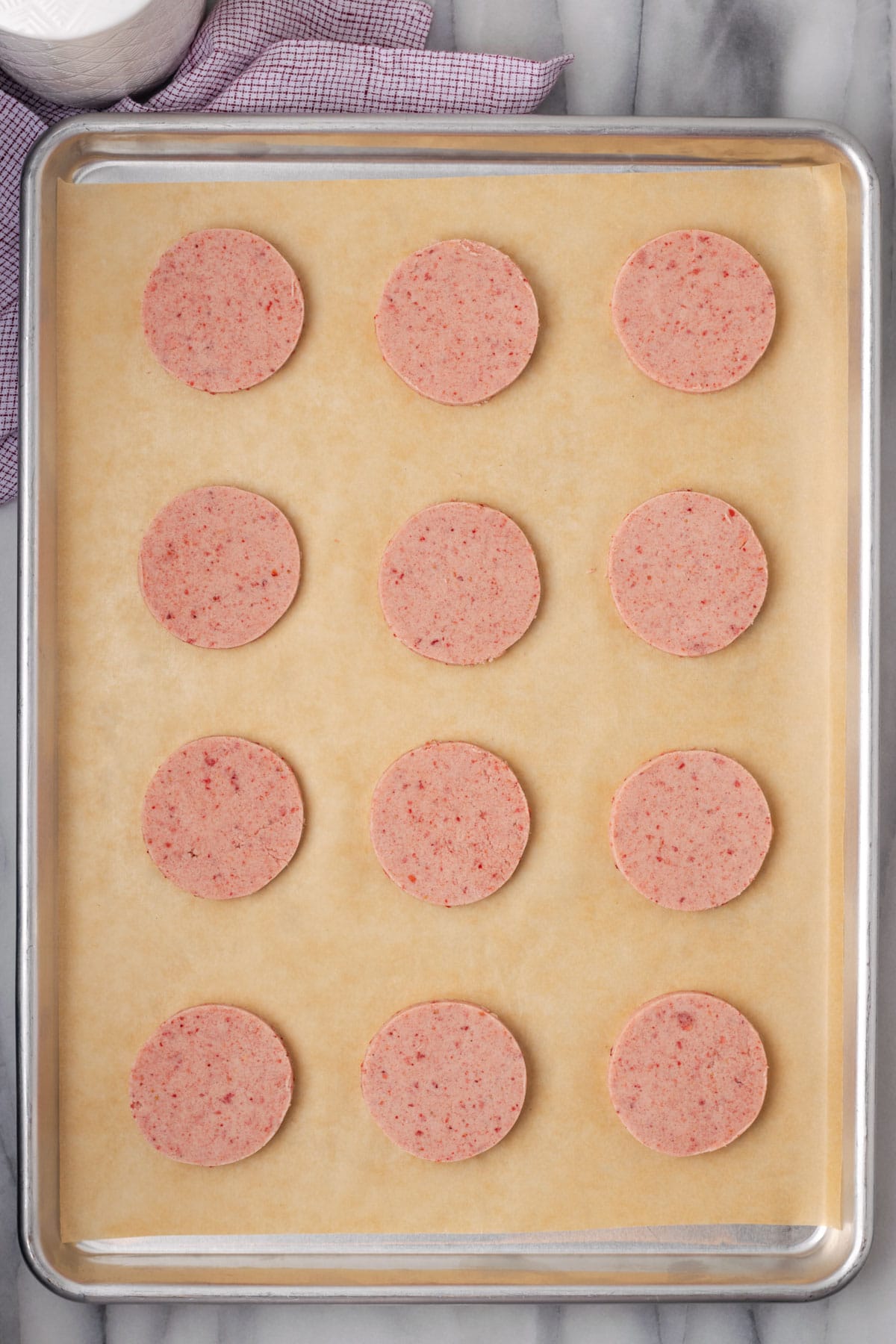 STEP 8: Place the cookie shapes on your prepared baking sheet. You can bake them right away or for really crisp shapes, stick them in the freezer for another 10-15 minutes then go directly into the oven while cold.

Baking Tip
These cookies do spread a little bit during baking, so really intricate cookie cutter shapes will not turn out very well. It's best to stick to simple shapes like circles, squares, hearts, diamonds, etc.
How to Make the Strawberry Glaze Icing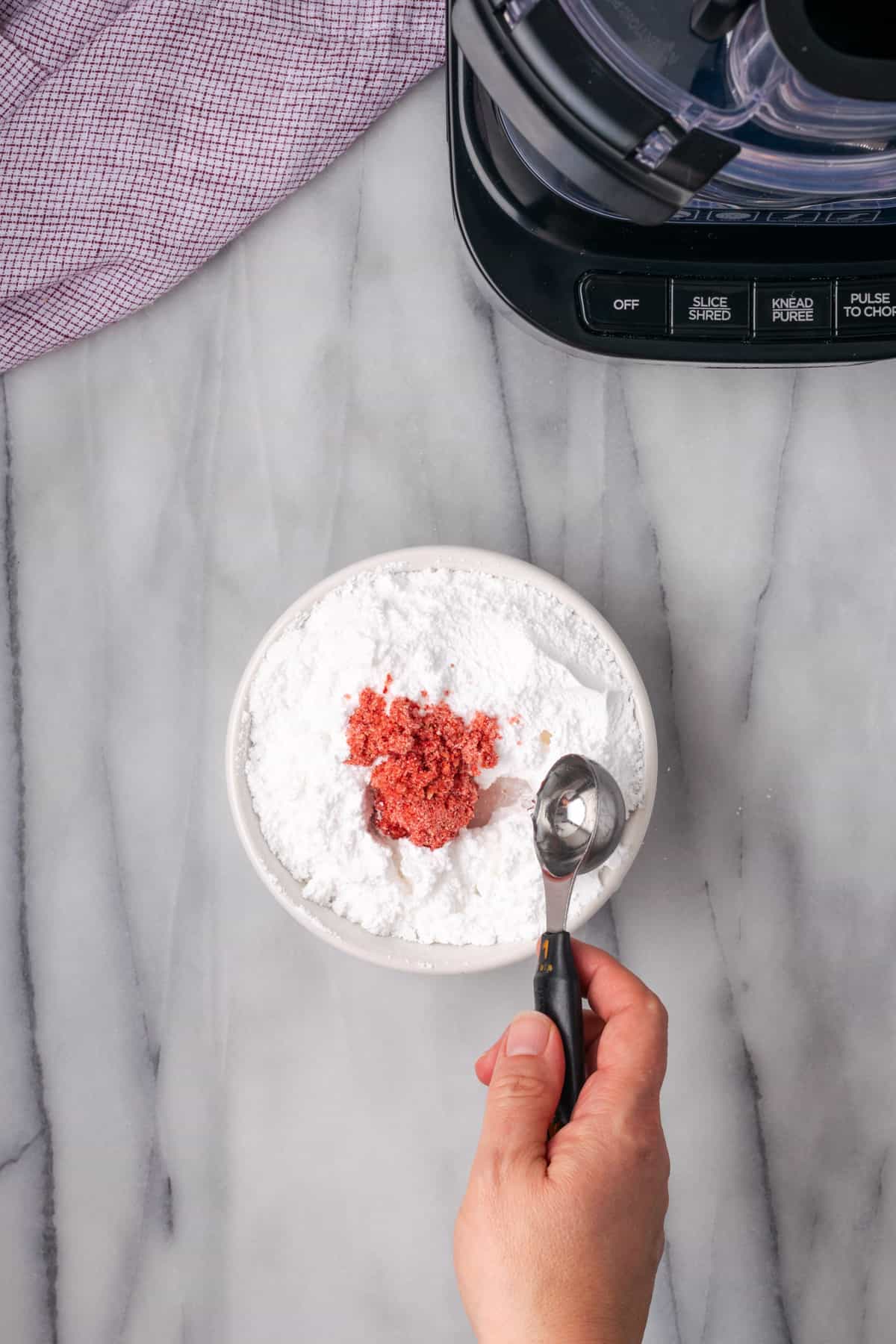 STEP 1: Combine the powdered sugar, the reserved strawberry powder and 2-3 tablespoons of water in a small bowl.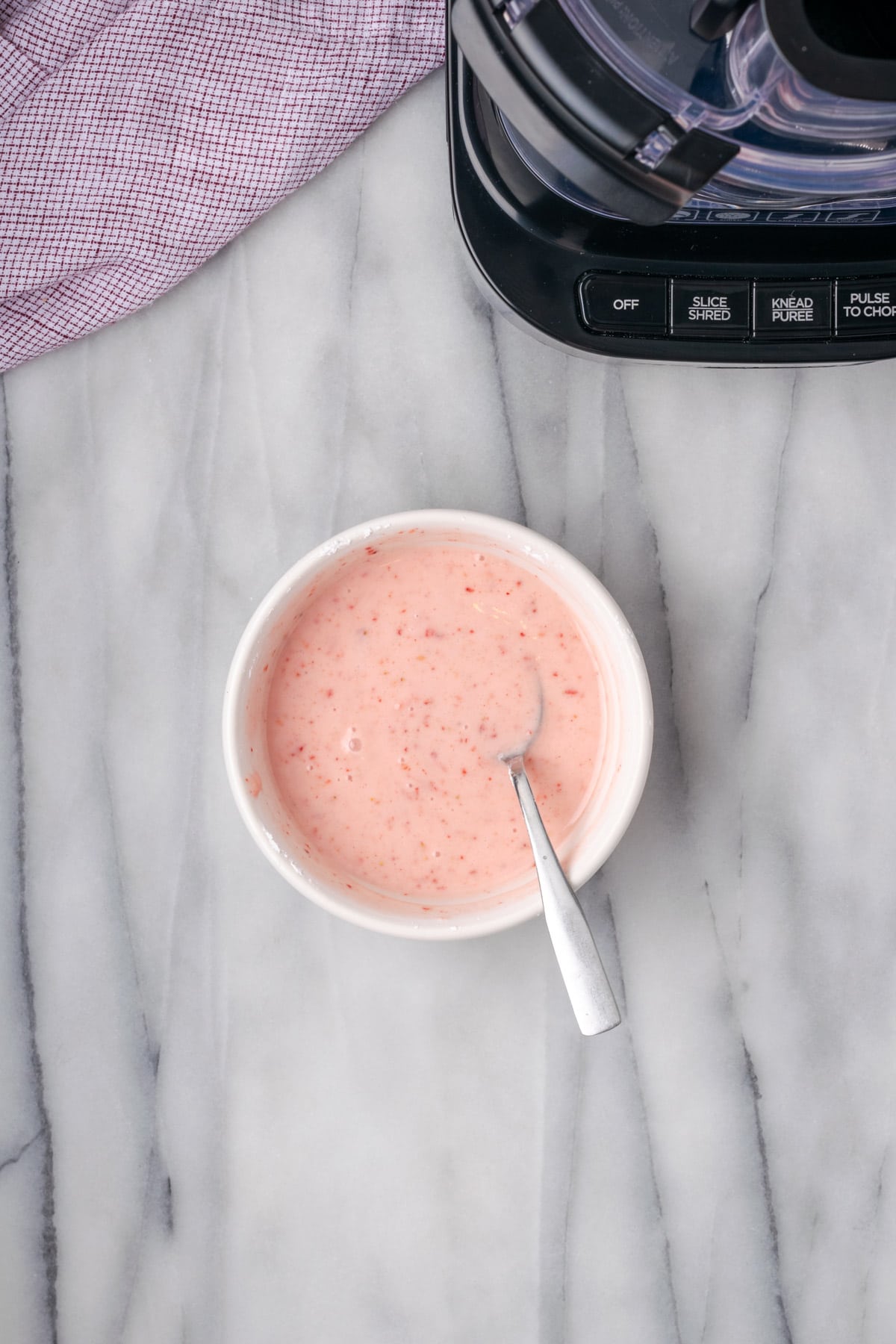 STEP 2: Stir well until it reaches a consistency that drizzles from the spoon in an even stream. Pour one spoonful on top of each cookie and spread it around with the bottom side of the spoon.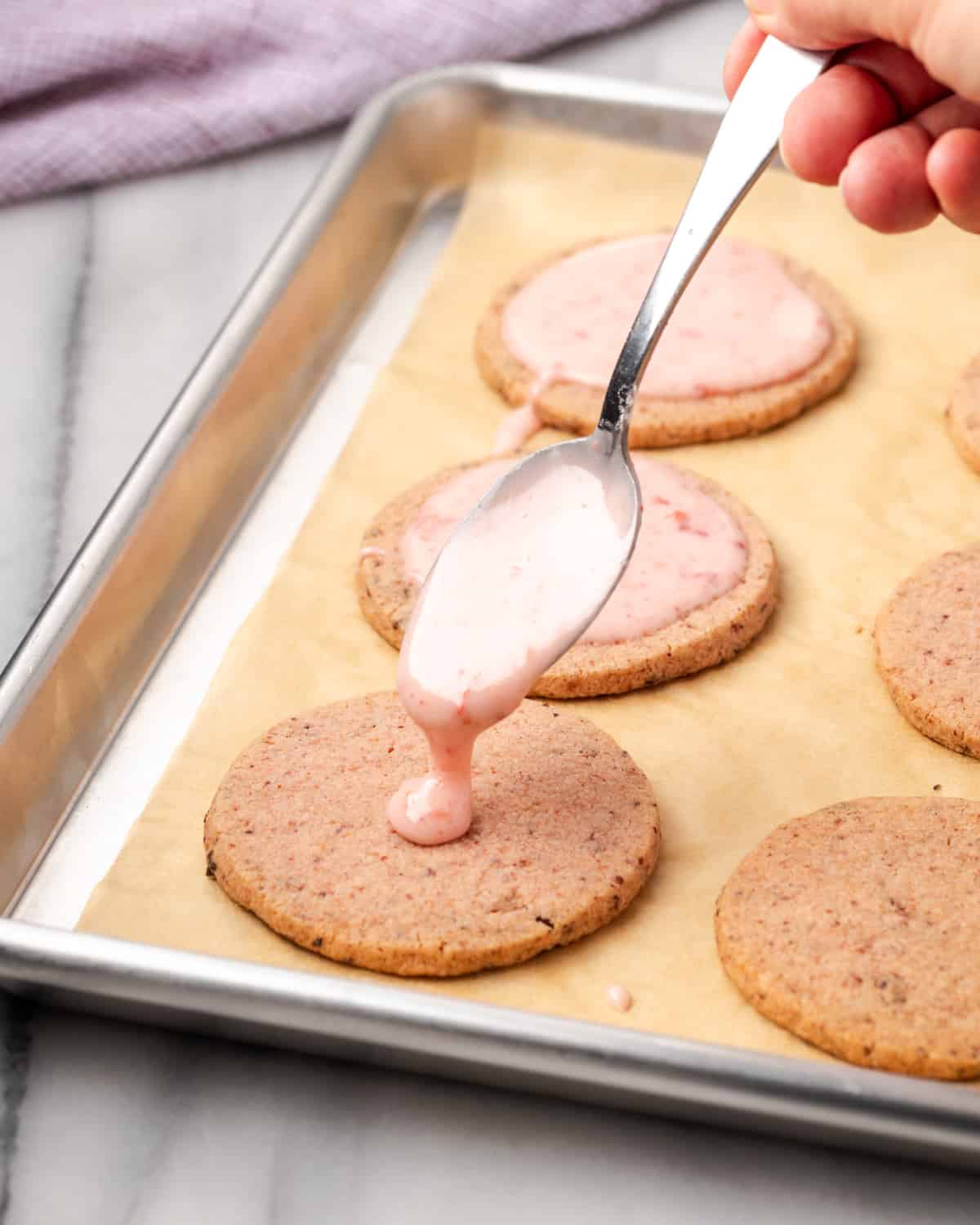 Storage
Store leftover cookies in an airtight container for up to 5 days. Because of the icing and the freeze dried fruit, these cookies do tend to absorb moisture from the air while sitting, so they may become softer over time. If you are looking for long storage or to ship these cookies, I would recommend skipping the icing and sprinkling them with a bit of sanding sugar instead.
Recipe FAQs
What is the difference between shortbread and sugar cookies? 
While they share a lot of the same ingredients, shortbread cookies are more butter-forward in flavor and they tend to have a crisp, crumbly texture.  Sugar cookies can run the gamut from soft to crispy, but their main flavor is sugar not butter.
Do I glaze the cookies before or after I bake them?
You will apply the glaze/icing after cookies are baked and cooled completely.
What is the secret to great shortbread cookies?
Use good quality ingredients - Because there are so few ingredients in shortbread you will be able to taste each one.  

Work the dough as little as possible - Overworking the shortbread dough will result in hard cookies.

Chill the dough before baking - Putting cold dough into the oven will help the cookies keep their shape.
Other cookie recipes to consider:
If you try this recipe, please leave a 🌟🌟🌟🌟🌟 star rating and let me know how you liked it in the comments below.
Recipe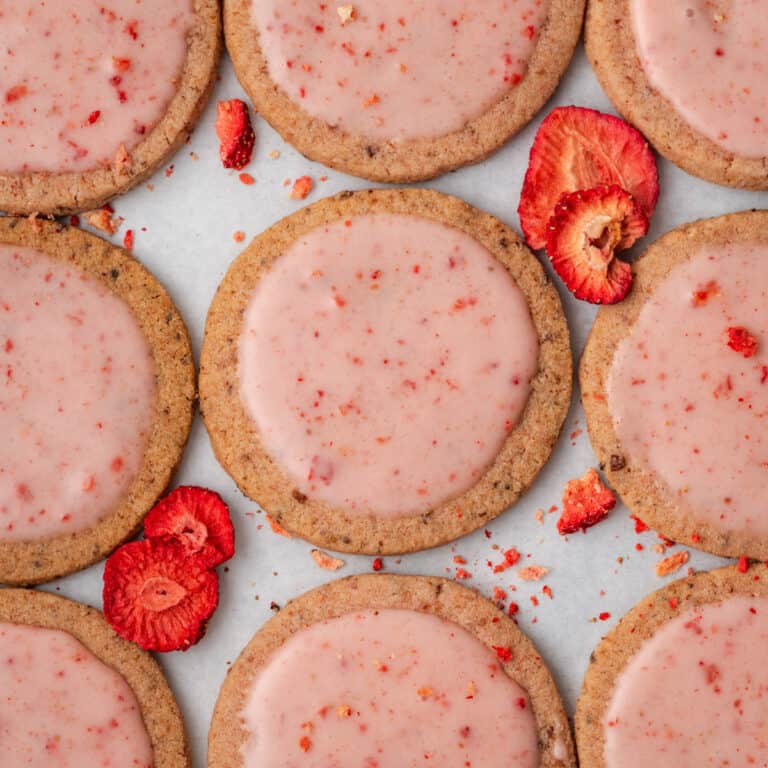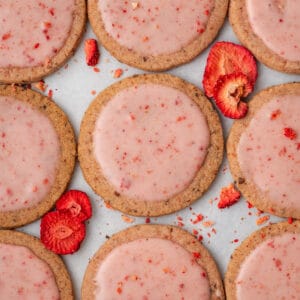 Strawberry Shortbread Cookies
Discover the joy of gluten-free and vegan Strawberry Shortbread Cookies. These delightful pink treats feature a rich, crumbly texture, and the star is the luscious strawberry icing on top.
Print
Pin
Rate
Ingredients
For the icing
1 ½

Cup

Powdered Sugar

2

Tablespoons

Water
Instructions
For the cookies
Preheat the oven to 325 degrees. Line two baking sheets with parchment paper.

Add the freeze dried strawberries and ¼ cup of sugar to your food processor. Process until the strawberries are reduced to powder. It's okay if some small pieces remain.

1 ½ Cup Freeze Dried Strawberries,

¾ Cup Sugar

Remove 1 tablespoon of the strawberry powder and set it aside for the icing.

Add the remaining sugar, gluten free flour and salt to the food processor. Pulse a few times to mix well.

2 Cups Gluten Free 1-to-1 Flour Blend,

¼ teaspoon Salt

Add the butter and vanilla to the food processor. Process until a dough forms.

14 Tablespoons Vegan Butter,

1 teaspoon Vanilla

Turn the dough out onto a clean work surface. Form it into a large circle with your hands. Then use a rolling pin to roll the dough to ¼ inch thickness. Transfer the dough to the freezer for 15 minutes.

Remove the chilled dough and cut it into circles using a 2 ½" round cookie cutter. Place the dough circles on your prepared baking sheet.

Bake the cookies in the preheated oven for 20 minutes.

Remove from the oven and cool for 15 minutes on the baking sheet. Then remove to a wire rack to cool completely before icing.
For the icing
Combine the 1 tablespoon of reserved strawberry powder with powdered sugar and water. Mix well.

1 ½ Cup Powdered Sugar,

2 Tablespoons Water

Drop a teaspoonful of icing on top of each cookie and use the back of the spoon to spread it around to cover the top of the cookie.
Notes
STORAGE: Store cookies in an airtight container at room temperature for up to 5 days.  Because of the icing, the cookies may soften during storage. 
Calories:
177
kcal
|
Carbohydrates:
32
g
|
Protein:
1
g
|
Fat:
5
g
|
Saturated Fat:
1
g
|
Polyunsaturated Fat:
1
g
|
Monounsaturated Fat:
2
g
|
Trans Fat:
0.03
g
|
Sodium:
71
mg
|
Potassium:
185
mg
|
Fiber:
2
g
|
Sugar:
22
g
|
Vitamin A:
288
IU
|
Vitamin C:
167
mg
|
Calcium:
9
mg
|
Iron:
3
mg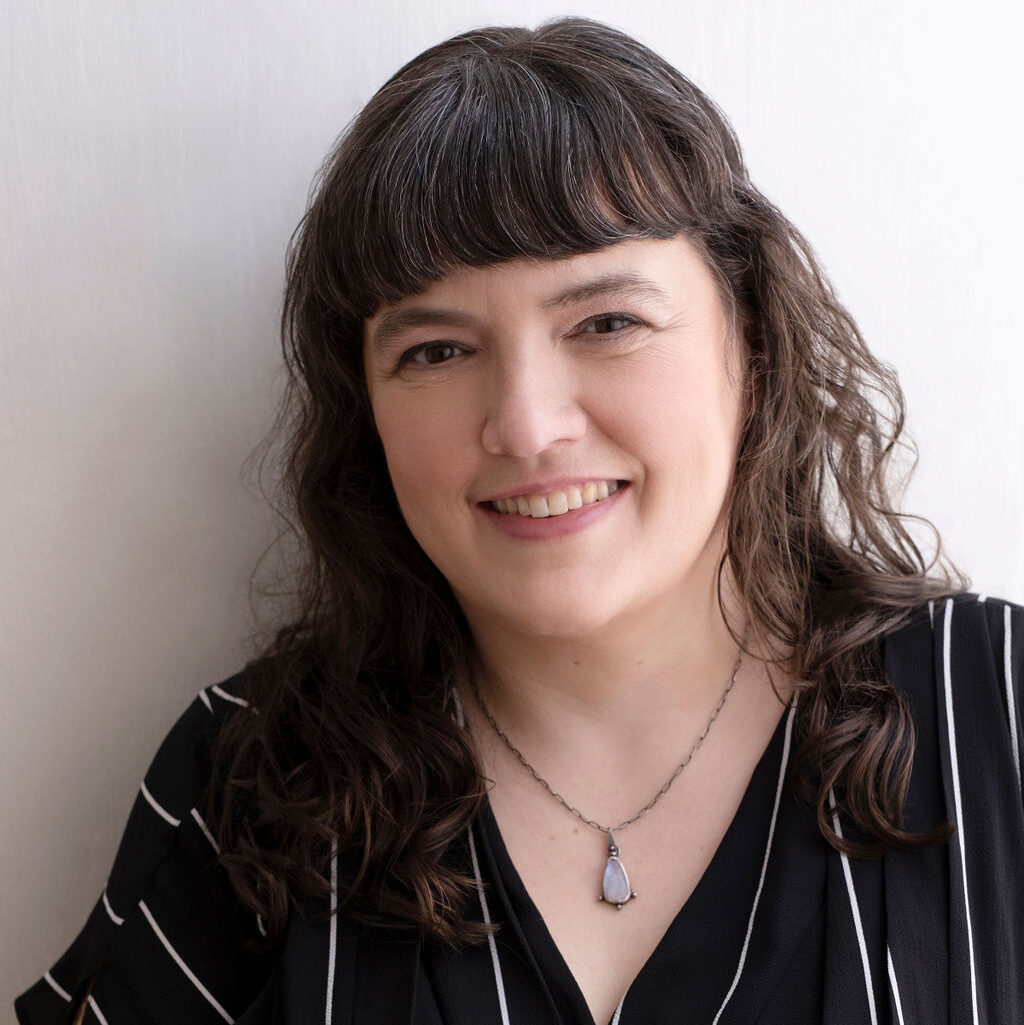 Tiffany is the recipe developer, stylist and food photographer behind Well Fed Baker. As a lifelong baker who had to go gluten free and dairy free in 2016, Tiffany strives to share allergen friendly recipes that never feel like they are free from anything.