One of the things I most missed after going gluten free were the amazing apple cider donuts we always got when we went apple picking every fall.  I think these gluten free apple cider donuts are a pretty close replica of that apple orchard treat.  These perfect donuts are flavored with fresh apple cider and apple pie spice plus covered with a cinnamon sugar coating just like you remember.
I know lots of people are intimidated by frying donuts at home. It is a bit of work, but its worth it in the end for hot, freshly fried donuts.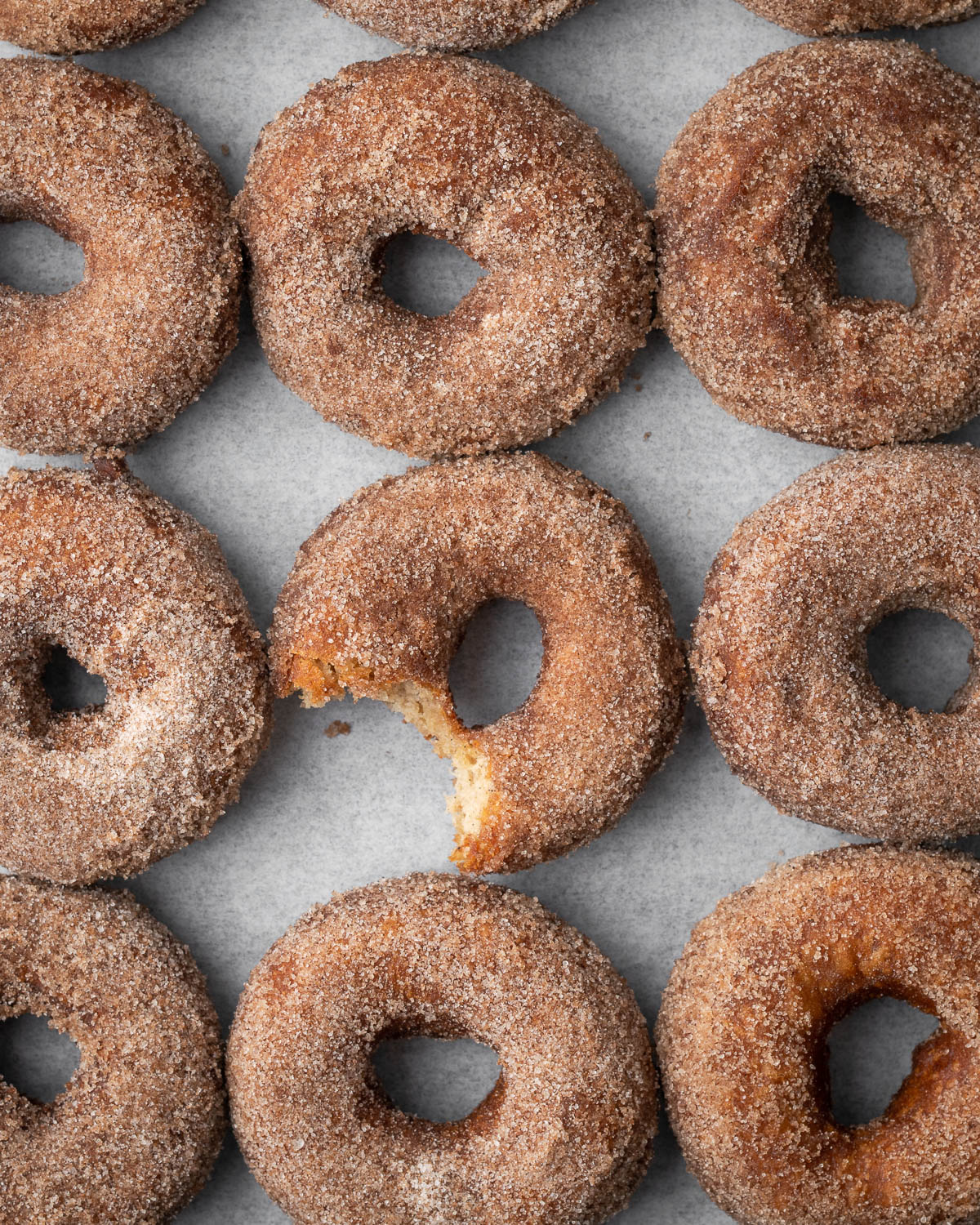 If you're looking for more apple ideas to celebrate the season, you'll definitely want to try my easy apple crisp bars that are flavored with apple butter and slices of fresh apples.
Jump to:
Why you'll love this recipe
It's both gluten free and dairy free.
These donuts taste just like the ones you buy at the apple orchard. Even your gluten eating friends will love them!
I have lots of tips about frying at home, so you don't have to be intimidated by making homemade donuts.
Want to save this recipe? Enter your email below and we will send it straight to your inbox!
You will also be added to our weekly email list.
Ingredient Notes
Gluten Free Flour - for almost all of my recipes, I use Bob's Red Mill 1:1 Gluten Free Flour Blend.  You can use your own favorite flour blend but keep in mind this recipe was developed with BRM, so your final product may be slightly different. 
Baking Powder & Baking Soda - We are using a little of both kinds of leavening agents because this dough is very heavy and we want light fluffy cake donuts.
Spices - Arguably the most important ingredient aside from cider. You can use apple pie spice or make your own mix of cinnamon, cardamom, nutmeg and allspice.
Vegan Butter- I use vegan butter here, either Miyokos brand or Country Crock Plant Butter.  I think it gives the donuts a little bit of a buttery flavor which is perfect with the cinnamon. If you're not dairy free, you can use regular butter in the same measure.
Brown Sugar - The molasses flavor imparted by brown sugar is an essential element of fall desserts. You can substitute dark brown sugar if you'd like.
Eggs - Just one egg here to hold the dough together. I haven't tried this with an egg substitute, so let me know in the comments if you do.
Apple Cider - The key to apple cider donuts is of course the cider! To impart the flavor without adding too much moisture you must reduce the cider before incorporating it. To reduce apple cider, simple cook it on the stove over medium heat for about 30 minutes and half of the moisture will bubble away leaving a really concentrated apple juice.
Vanilla - Just a hint of vanilla to sweeten the flavor.
See the recipe card for the full ingredient list with quantities.
How to make gluten free apple cider donuts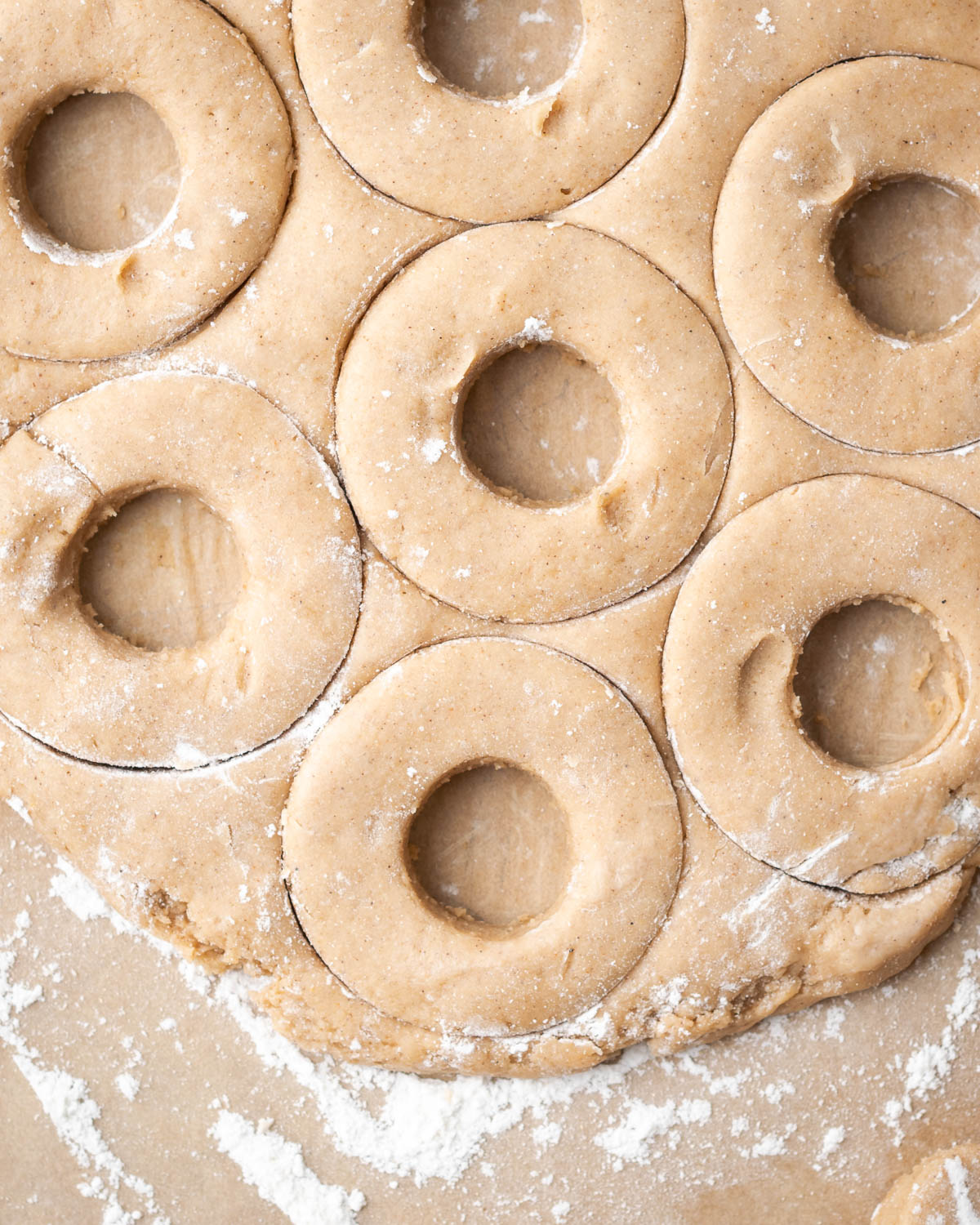 STEP 1: Add the cider to a small saucepan and simmer over medium heat until it is reduced to about ¾ cup.
STEP 2: Combine the gluten free flour, baking powder, baking soda, spices, salt and brown sugar in a large mixing bowl. Whisk well to mix.
STEP 3: In a second smaller bowl, whisk the egg until frothy like soap bubbles.
STEP 4: Add the melted butter, reduced apple cider and vanilla to the beaten egg. Whisk again until smooth.
STEP 5: Pour the wet ingredients into the dry and fold them together with a spatula. It will seem very dry, but it will eventually come together.
STEP 6: Cover the dough and refrigerate it for at least 2 hours.
STEP 7: Remove the chilled dough from the refrigerator and pat it into a large circle about ½" thick. Use a donut cutter to cut out the donuts.
STEP 8: Fry the donuts. Then dip the warm donuts in the cinnamon sugar coating.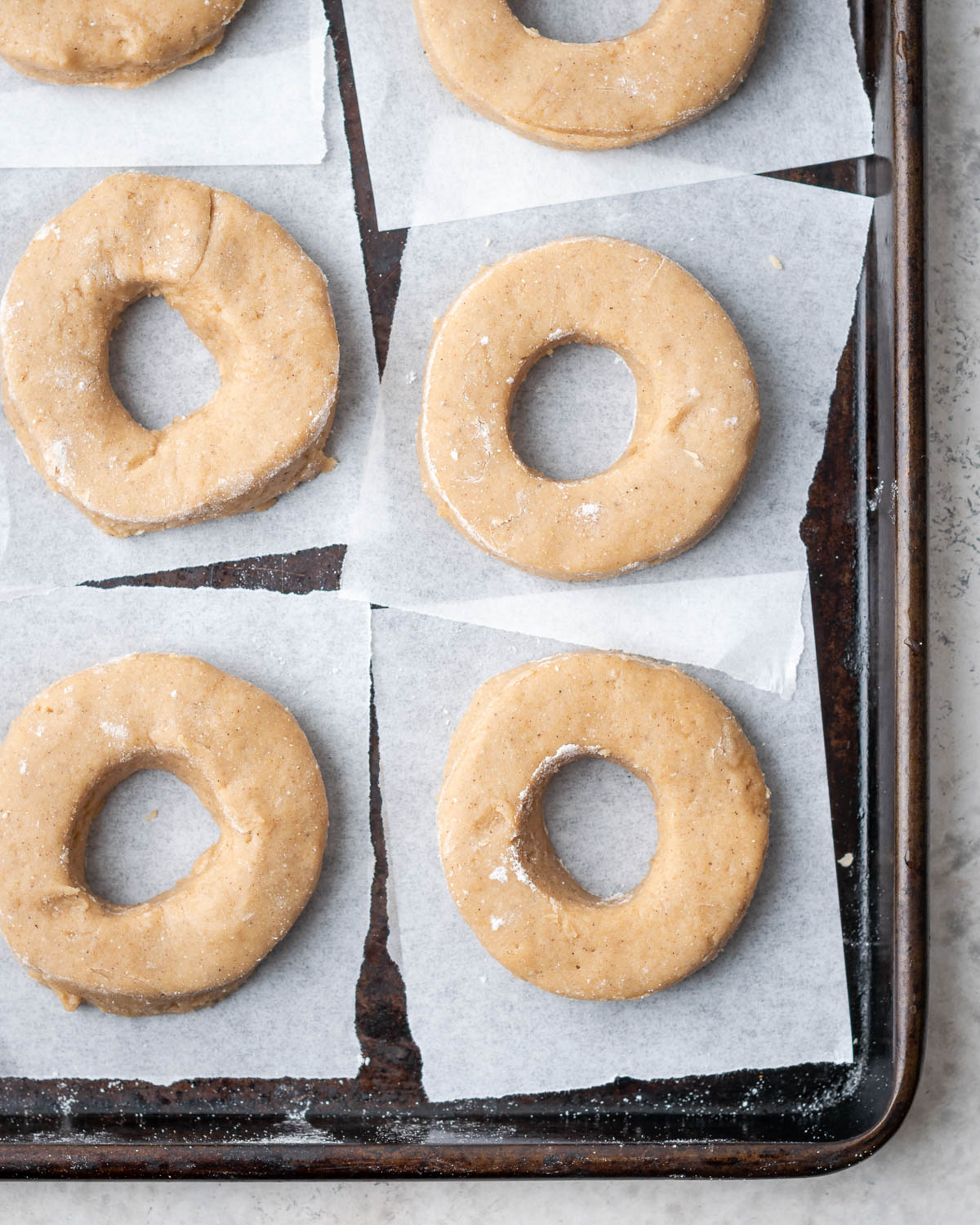 Equipment for frying donuts at home
Sure you can enjoy a baked doughnut (although I refer to those as circle muffins), but for the occasional treat why not go for the real thing?  With a few tools you can definitely handle frying donuts at home: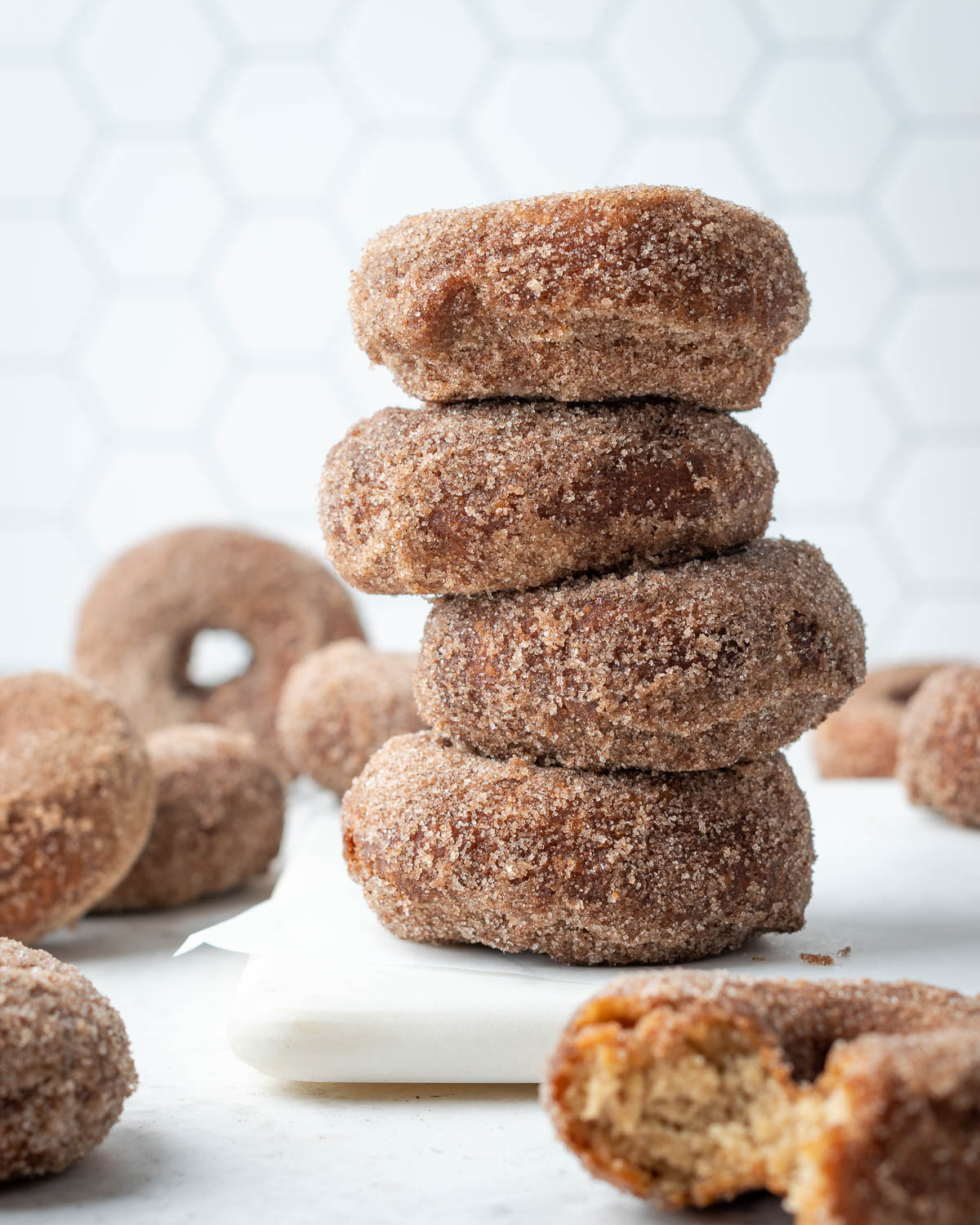 Tips for success
Here are a few tips to help you have better donut frying success:
Place your cut out donuts on individual squares of parchment paper. You can slip the whole thing into the oil, which cuts down on your risk of getting burnt as well as reducing the chance of the oil splashing. Just use your spider strainer to fish out the paper, it will separate from the donut immediately after entering the oil.
Set up your drying area before you start. Once things are frying, you don't want to leave the stove. I use a baking sheet double lined with paper towels.
When heating your oil, it will take a while for the temperature to build. But once it is over 300 degrees it will start climbing fast. At this point, reduce your stove temperature a little. You don't want to miss your frying window or overheat your oil.
Keep a close eye on the oil temperature at all times. It will fluctuate. Anywhere between 350-375 degrees will give you a good outcome. Under 350 will come out greasy and over 375 will be burnt and possibly undercooked inside.
Keep a little bit of room temperature oil set aside. If your oil temp climbs too high, not only can you reduce the stove temperature but you can pour a little of the cold oil in to help drop the temperature. If that doesn't do the trick, move your pan off the burner until the oil cools down to the cooking range.
Make sure your pan is big enough that 3 donuts won't be crowded in there. You want them to float around and for you to have room to get in there with your spider to flip them. I use a 10 inch cast iron that is 3 inches deep.
Your oil temperature will drop every time you add cold dough. So, don't add more than 3 donuts at a time.
If you're frying on an open flame, like a gas stove, please keep a fire extinguisher handy. A grease fire can easily break out if you accidentally slosh oil out of the pan, etc. Just try to be extra careful!
Recipe FAQs
Is there gluten in apple cider?
No, apple cider is naturally gluten free. It is made of fresh apples that have been pressed and strained.
What is the best way to reheat doughnuts?
I would reheat them in the air fryer at 300 degrees for 2-3 minutes. If you don't have an air fryer, just microwave them for about 15-20 seconds.
More apple recipes to consider:
If you try this recipe, please leave a 🌟🌟🌟🌟🌟 star rating and let me know how you liked it in the comments below.
Recipe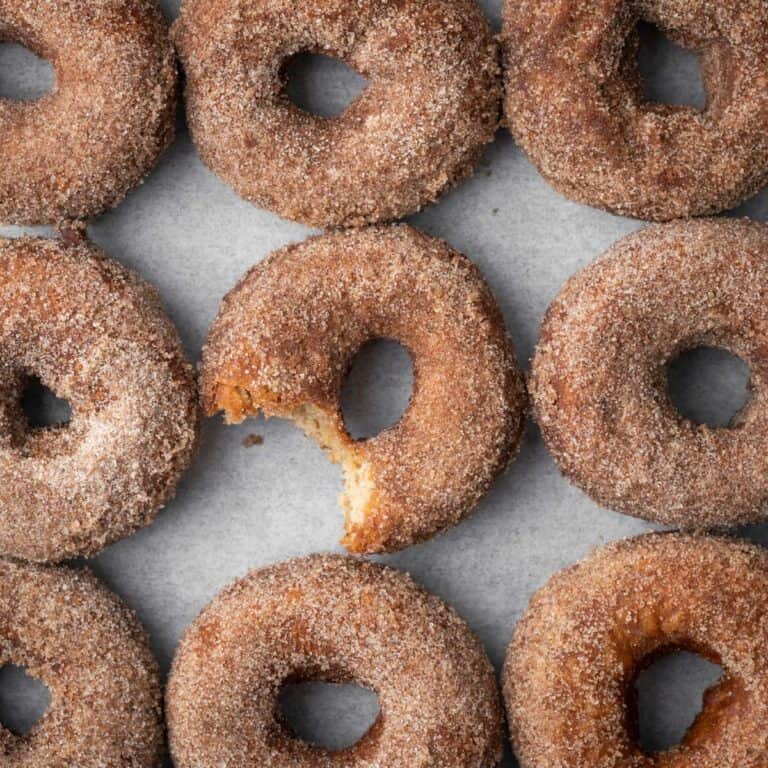 Gluten Free Apple Cider Donuts
A delicious, spiced donut just like they make at the apple orchard.
Print
Pin
Rate
Ingredients
¾

Cup

Reduced Apple Cider

see instructions

2

Cup

Gluten Free 1-to-1 Flour Blend

I use Bob's Red Mill

2

teaspoon

Baking Powder

¼

teaspoon

Baking Soda

½

teaspoon

Salt

2

teaspoon

Apple Pie Spice

1 ½ teaspoon cinnamon, ¼ teaspoon cardamom, ¼ teaspoon nutmeg, ⅛ teaspoon allspice

⅓

Cup

Light Brown Sugar

1

Egg

3

Tablespoon

Vegan Butter

melted & cooled

¼

teaspoon

Vanilla

6

Cup

Canola Oil
Topping
½

Cup

Sugar

2

teaspoon

Cinnamon
Instructions
Begin by reducing the cider. Add 2 cups of apple cider to a small pot. Heat over medium heat until it is simmering. Stir occasionally. At 30 minutes start checking with a measuring cup to see how much has reduced. Stop when the remaining cider measures ¾ cup. Set aside to cool before making the dough.

¾ Cup Reduced Apple Cider

In a large bowl, combine all of the dry ingredients: flour, baking powder, baking soda, salt, spices and brown sugar. Stir well until combined.

2 Cup Gluten Free 1-to-1 Flour Blend,

2 teaspoon Baking Powder,

¼ teaspoon Baking Soda,

½ teaspoon Salt,

2 teaspoon Apple Pie Spice,

⅓ Cup Light Brown Sugar

In a second smaller bowl, whisk the egg until frothy like soap bubbles.

Add the melted butter, apple cider and vanilla to the beaten egg. Whisk together well.

3 Tablespoon Vegan Butter,

¼ teaspoon Vanilla

Pour the wet ingredients into the dry. Work together until all the dry is incorporated. At first it will seem like there isn't enough liquid, but just keep folding it together until it's even. The dough will feel a little sticky. Cover with plastic wrap and refrigerate 2 hours.

Remove from refrigerator and turn out onto lightly floured surface. Form into a patty about ½ inch thick. Using a donut cutter or two sizes of biscuit/cookie cutters, cut into donut shapes. Gently work your leftover scraps into another patty ½ inch thick and cut more donuts until all the dough is used. You should have about twelve 2 ½ inch wide donuts.

In a large heavy bottomed pot (like a dutch oven), heat oil to 360 degrees. You want to make sure your oil stays between 350-375 to keep the donuts from getting greasy. Put 2-3 of the donuts into the oil. Watch the temperature because it will dip when the dough is added. Cook for about 2 minutes until donuts are floating and browned on bottom, flip over. Cook an additional 1-2 minutes on other side. Remove from oil using a spider strainer, let it drain for about 10 seconds over the pot of oil. Then place onto a plate lined with paper towels. Continue until all donuts are cooked.

Combine topping ingredients in a large ziploc bag or pie dish. Dip each warm donut into the topping to coat.

½ Cup Sugar,

2 teaspoon Cinnamon

Serve immediately or store in an airtight container at room temperature.
Notes
Nutrition Note: The calculations above assume 1 cup of oil is absorbed during frying.  This is just an estimate. STORAGE: Store leftover donuts in an airtight container at room temperature.  Although they are best the same day as they are fried, the can be eaten up to 2 days afterwards.
Calories:
322
kcal
|
Carbohydrates:
31
g
|
Protein:
3
g
|
Fat:
22
g
|
Saturated Fat:
2
g
|
Polyunsaturated Fat:
6
g
|
Monounsaturated Fat:
13
g
|
Trans Fat:
0.1
g
|
Cholesterol:
14
mg
|
Sodium:
221
mg
|
Potassium:
33
mg
|
Fiber:
2
g
|
Sugar:
16
g
|
Vitamin A:
155
IU
|
Vitamin C:
0.2
mg
|
Calcium:
67
mg
|
Iron:
1
mg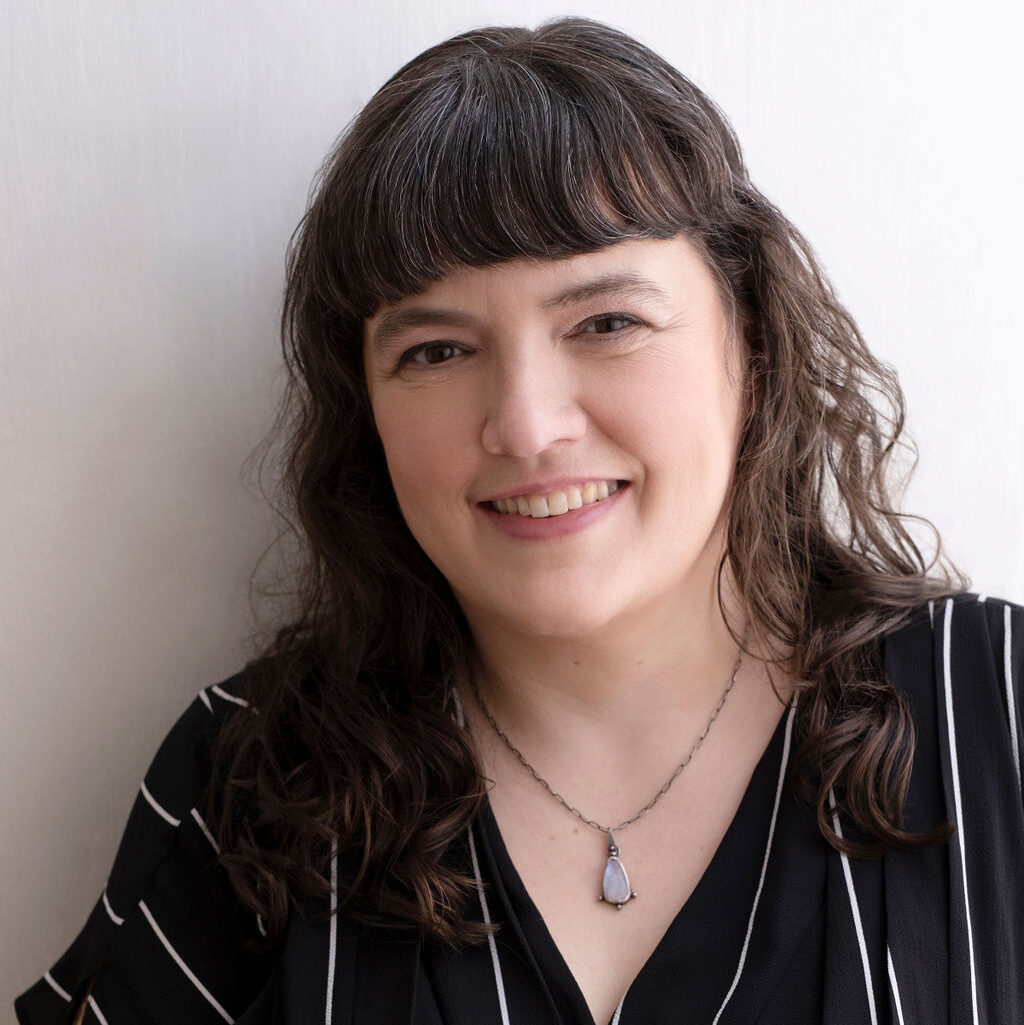 Tiffany is the recipe developer, stylist and food photographer behind Well Fed Baker. As a lifelong baker who had to go gluten free and dairy free in 2016, Tiffany strives to share allergen friendly recipes that never feel like they are free from anything.