As an Amazon Associate, I earn from qualifying purchases.
This post may contain affiliate links, which means I will earn a small commission on purchases at no extra cost to you. Thanks for your support!
I don't know about you, but fall is my favorite season. I love the weather, the sweaters and boots, the leaves, the holidays and all the flavors. Every fall, my son and I go with a couple of friends to the local apple orchards to pick apples and enjoy all the fall festivities. My son is a pro at apple picking. Lift and twist!
Since we live in the South, the beginning of fall can be hit or miss. It might be 90 degrees outside or it could be in the mid-60s like today. Thankfully this year has all the fall weather feels going on because I am already in full fall apple and pumpkin flavortown.
These gluten free apple harvest bars are the perfect way to capture that fall apple flavor. With a layer of apple butter, filled with all the fall spices and a thick layer of freshly picked apples, these bars are simply fall in a bite. I hope you love them as much we do!
How to make apple bars
These apple bars are really easy to make and they don't even require a mixer. The only equipment you will need is a food processor and a 9x13" pan.
The crust and the topping are made all at once. First you will add the gluten free flour, gluten free oats, sugar, brown sugar, baking powder, cinnamon and salt to your food processor. You will only pulse it a few times to get the ingredients mixed together.
Once it's all mixed, you pour in your melted butter and process it until their are pea sized crumbs.
After that, you will add the egg and vanilla. Process it until it turns into a dough ball. That's it - super easy to make!
Move your dough ball to a bowl and place it in the refrigerator while you prepare your filling. This refrigeration step is important because it cools the butter down, making it easier to work with. It also gives time for the gluten free flour to absorb some of the liquid.
The filling consists of apple slices and apple butter. But if you prefer another flavor you can substitute any flavor you like here. I have used strawberry jam with fresh berries, blueberry butter with fresh blueberries, etc. It's a very versatile dessert and easy to put together.
How to assemble the apple bars
Once you have your dough and filling ready to go, it's time to assemble the bars.
Divide the dough, placing about ⅔ into a 9x13 baking pan. It doesn't need to be exact, you just want to make sure there is enough to cover the bottom of the pan in an even layer. This will be the bottom crust, so you want it to be sturdy. Press it down with your hand or the bottom of a cup.
Now you want to pour the apple butter over the crust layer. Use a spatula or a spoon to spread it around over the bottom crust. Leave a dry edge all the way around, measuring about ½ inch, so the apple butter doesn't bake to side of your pan.
Next, place the apple slices on top. I like to make 3-4 rows, depending on how large my apples are. I place them down with a small overlap and just keep squeezing them into every crevice until I've used them all and the whole bottom layer is covered with apples.
Gently press down on top of the apples to squish them into the apple butter a little bit. It will help everything hold together.
Sprinkle the top with chopped pecans. Then use the remaining dough to create a crumble topping by just break it up in your hands and sprinkling it over the bars.
Now the apple bars are ready to bake for 40 minutes. Even though your house will smell amazing, you must let them cool before cutting or they will fall apart. "
Tag me @wellfedbaker on Instagram and comment below if you make these Gluten Free Apple Harvest Bars. To pin this recipe and save it for later, you can use the button on any of the photos.
Gluten Free Apple Harvest Bars
With fresh apples and apple butter, these easy to make bars are a great way to enjoy apples year round.
Print
Pin
Rate
Ingredients
2

Cup

Gluten Free 1-to-1 Flour Blend

1

Cup

Gluten-Free Oats

½

Cup

Sugar

½

Cup

Light Brown Sugar

1

teaspoon

Baking Powder

½

teaspoon

Cinnamon

¼

teaspoon

Salt

¾

Cup

Vegan Butter

regular or dairy free or Coconut Oil, melted

1

Egg

2

teaspoon

Vanilla

1

Cup

Apple Butter

4

Golden Delicious Apple

thinly sliced

¾

Cup

Pecans

roughly chopped
Instructions
Preheat oven to 375F degrees. Line a 9×13 baking pan with parchment paper.

In a large food processor, combine the flour, oats, sugar, brown sugar, baking powder, cinnamon and salt. Pulse a few times to mix. Add the melted butter and process until is pea-size crumbs. Add the egg and vanilla and process until the dough sticks together. Dump into a bowl and place in the refrigerator while you're working.

Thinly slice 4 baseball sized apples. I usually slice mine about ¼" thick or less. You should get about 24 slices from each apple. Set the sliced apples aside.

Put ⅔ of the dough into the prepared baking pan. Keep the remaining dough in the refrigerator until ready. It will be easier to crumble if it's cold. Press the dough firmly and evenly into the bottom of the pan, covering the entire bottom. Don't leave any holes.

Pour the apple butter on top of the bottom crust and spread into an even layer. Now line the apples up on top. I start at the top and making a row three apple slices across. Then I add apples on top moving my way down the pan until all the apples are used. You will overlap the apple slices a bit. Make sure to use all the slices, just fit them in anywhere. Once you've put in all the apples, gently press down on top of the apples so they press into the apple butter a little bit. Sprinkle the chopped pecans on top.

Remove the dough from the refrigerator and crumble it on top of the apples.

Place into preheated oven and cook for 40 minutes. Remove to a wire rack to cool complete before cutting.

Keep leftover bars in an airtight container in the refrigerator. Makes 24 2×2″ bars.
Nutrition Facts
Gluten Free Apple Harvest Bars
Amount per Serving
% Daily Value*
* Percent Daily Values are based on a 2000 calorie diet.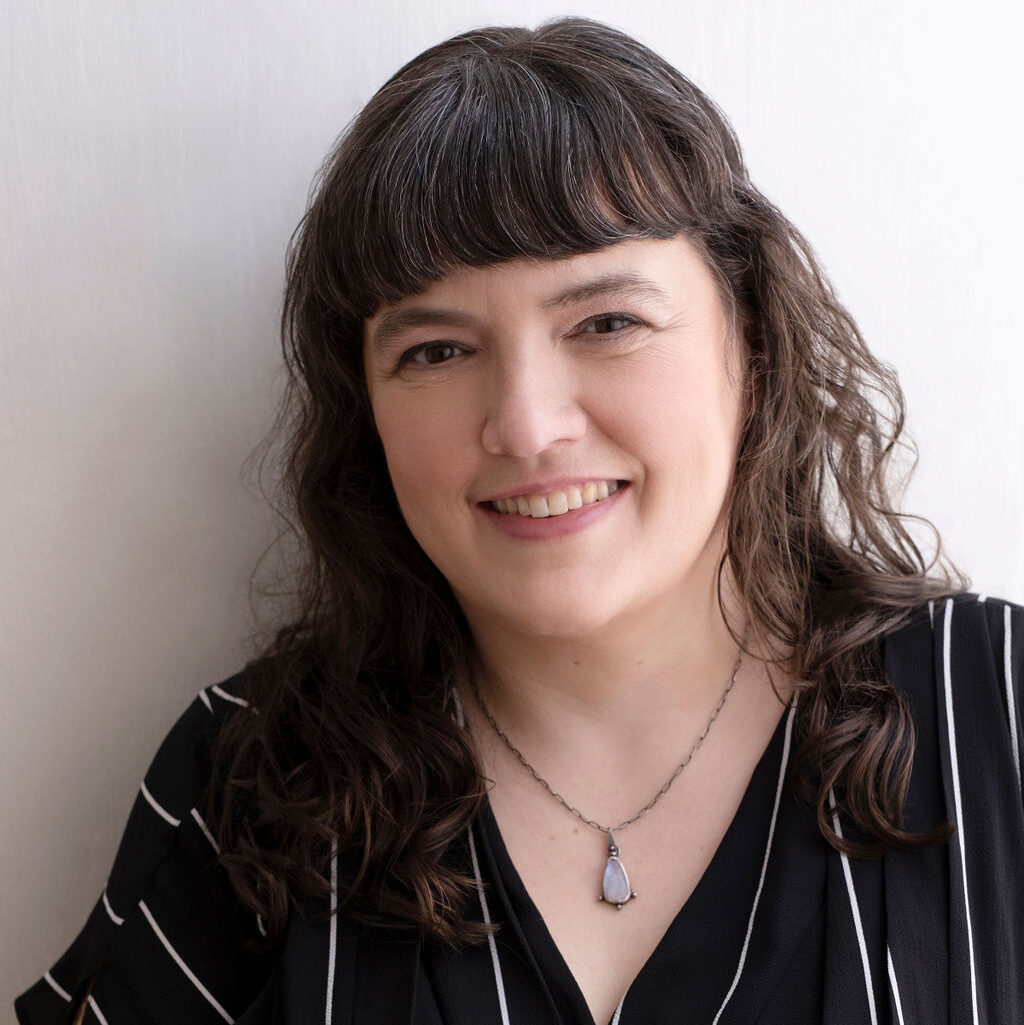 Tiffany is the recipe developer, stylist and food photographer behind Well Fed Baker. As a lifelong baker who had to go gluten free and dairy free in 2016, Tiffany strives to share allergen friendly recipes that never feel like they are free from anything.