Lately I've been taking a cake decorating class at the local community college. It was mostly for fun, although I hope to be able to incorporate some of my new skills here as well. For the final night of class, we had to design a fancy cake and decorate it during class. Since my class coincided with pumpkin spice everything season (LOL), I decided to make a gluten free pumpkin cake. Then I decorated it with a fall theme of vibrant colored leaves and pumpkins made from vegan buttercream.
This is a delicious cake for autumn - whether it be for a Halloween party or Thanksgiving dessert. Or as you know, I'm fully in favor of just eating cake because it's Tuesday and you can! 😉 Thanks to the pumpkin puree, this cake is so moist with the perfect soft texture you want from a cake. I topped mine with cinnamon buttercream, which was an amazing compliment to the pumpkin flavor. The decoration shown here is a mixture of colored cinnamon buttercream and chocolate buttercream.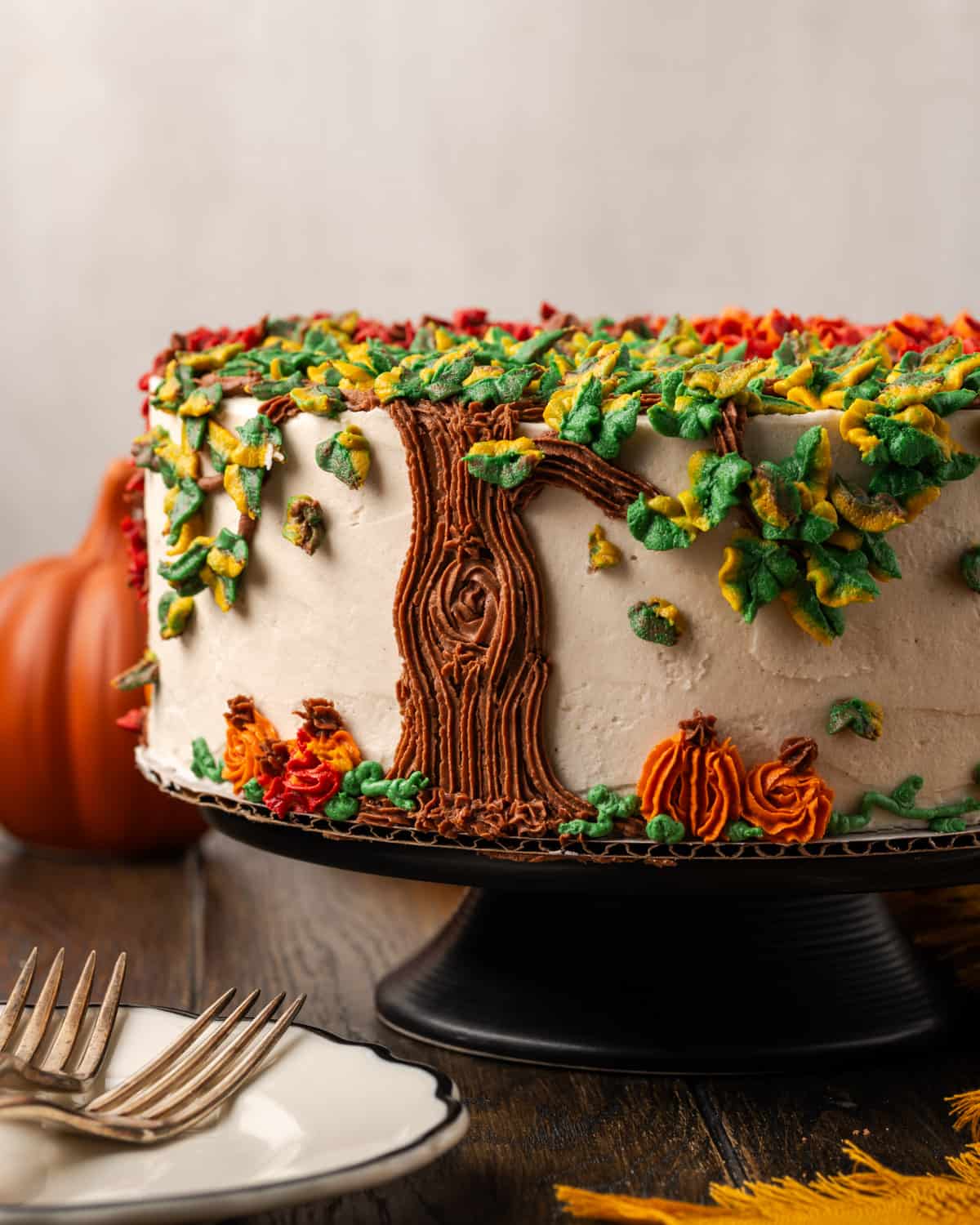 This cake doesn't quite use a whole can of pumpkin puree, so if you're looking for ideas to use up the rest, check out these 30+ recipes for using leftover pumpkin puree.
Jump to:
Want to save this recipe? Enter your email below and we will send it straight to your inbox!
You will also be added to our weekly email list.
Why You 'll Love This Recipe
The cake is moist with the perfect soft cake texture.
It can be decorated as simply or as fancy as you like.
It's both gluten free and dairy free as written.
Ingredient Notes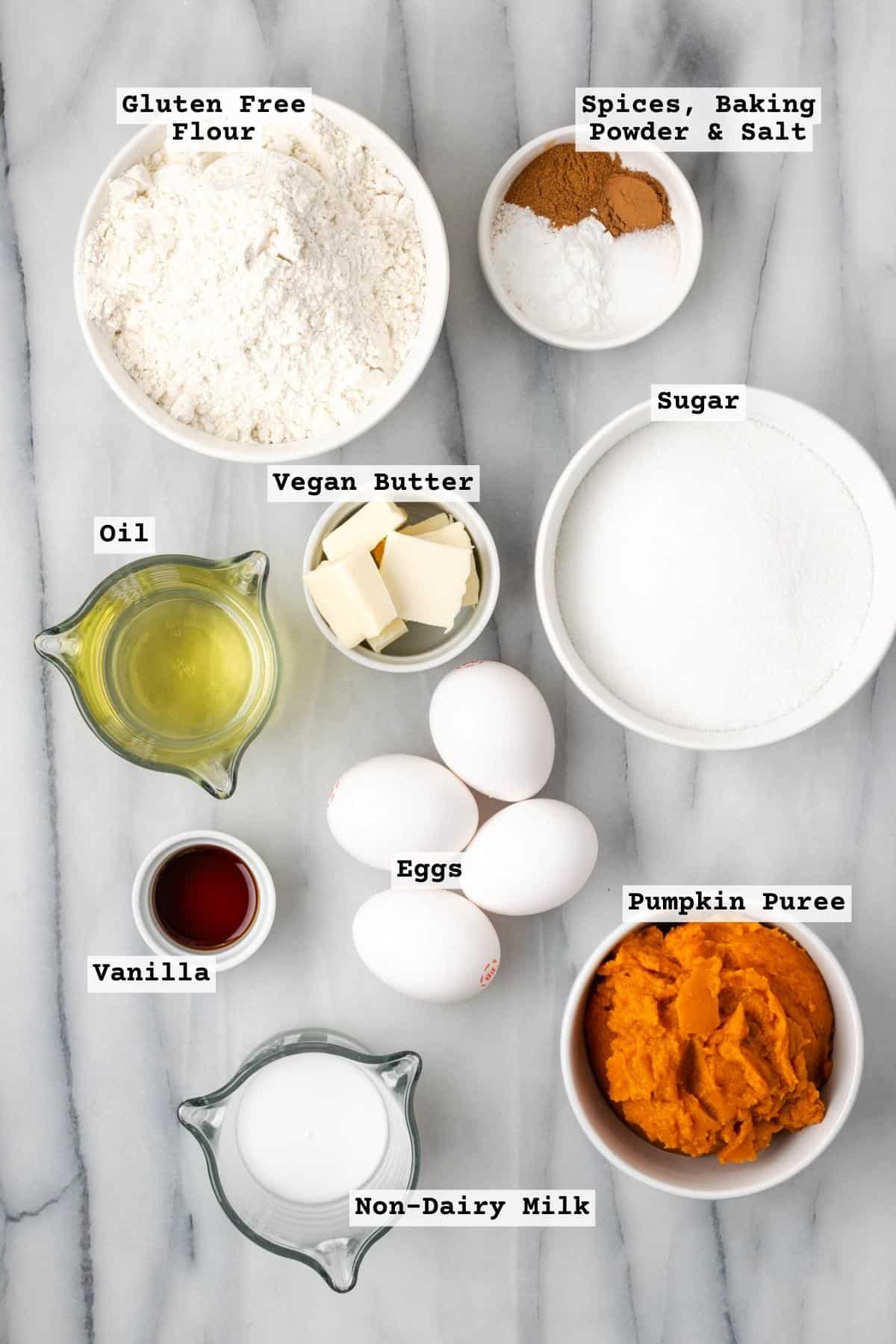 Gluten Free Flour Blend - I used Bob's Red Mill 1-to1 flour for this recipe. You can use the gluten free flour blend you prefer, but ensure it contains xanthan gum or a similar binder. Using another brand of flour may result in a different outcome in your bake as all gluten free flour blends are a little different in their makeup.
Baking Powder - this leavening agent helps the cake rise and creates a light texture.
Pumpkin Pie Spice & Cinnamon - A combination of spices create that fall flavor profile that is so popular.
Salt - This crucial ingredient helps to balance the flavors of this dessert. Don't be tempted to skip it.
Sugar - To add some sweetness to the pumpkin flavor.
Vegan Butter - I used Country Crock plant butter for this recipe. Any stick type vegan butter will work. If you're not dairy free, use regular butter in the same measure.
Oil - I used extra light olive oil, but any light flavored cooking oil will do. Don't be tempted to switch out butter for the oil - the combination of the two fats helps the cake to be more moist.
Vanilla - Provides complexity and sweetness to the flavor of the cake.
Eggs - Since this cake requires 4 eggs, I would not try an egg substitute here.
Pumpkin Puree - It is important to use pumpkin puree and NOT pumpkin pie filling, which has sugar and spices added to it.
Non-Dairy Milk - Use your favorite unsweetened non-dairy milk. If you're not dairy free, use regular milk in the same measure.
See recipe card for full ingredient list and quantities.
Substitutions & Variations
Not Dairy Free - use dairy butter and milk in the same measure.
Chocolate Swirl - To infuse a chocolatey delight, swirl chocolate chips or cocoa powder into the cake batter before baking like in this chocolate pumpkin cake.
Nutty Crunch - Incorporate some chopped nuts like pecans or walnuts into the cake batter for a delightful crunch and added flavor. Consider sprinkling some on top of the frosting as well.
Cream Cheese Frosting - Replace the cinnamon buttercream frosting with a dairy free cream cheese frosting, like the one used on my gluten free strawberry cake.
Spiced Latte Twist - Enhance the cake's flavor by adding a teaspoon of instant coffee granules or espresso powder to the cake batter for a pumpkin spice latte-inspired cake.
Caramel Drizzle - Drizzle the finished cake with homemade or store-bought caramel sauce for a rich, sweet touch.
Pumpkin Seed Crunch - Decorate the sides of your cake with roasted and salted pumpkin seeds for a lovely contrast in texture.
How to Make a Gluten-Free Pumpkin Cake
A stand mixer or handheld mixer will make this recipe easy to put together. Before mixing the cake batter, make sure to grease your cake pan and line it with parchment paper.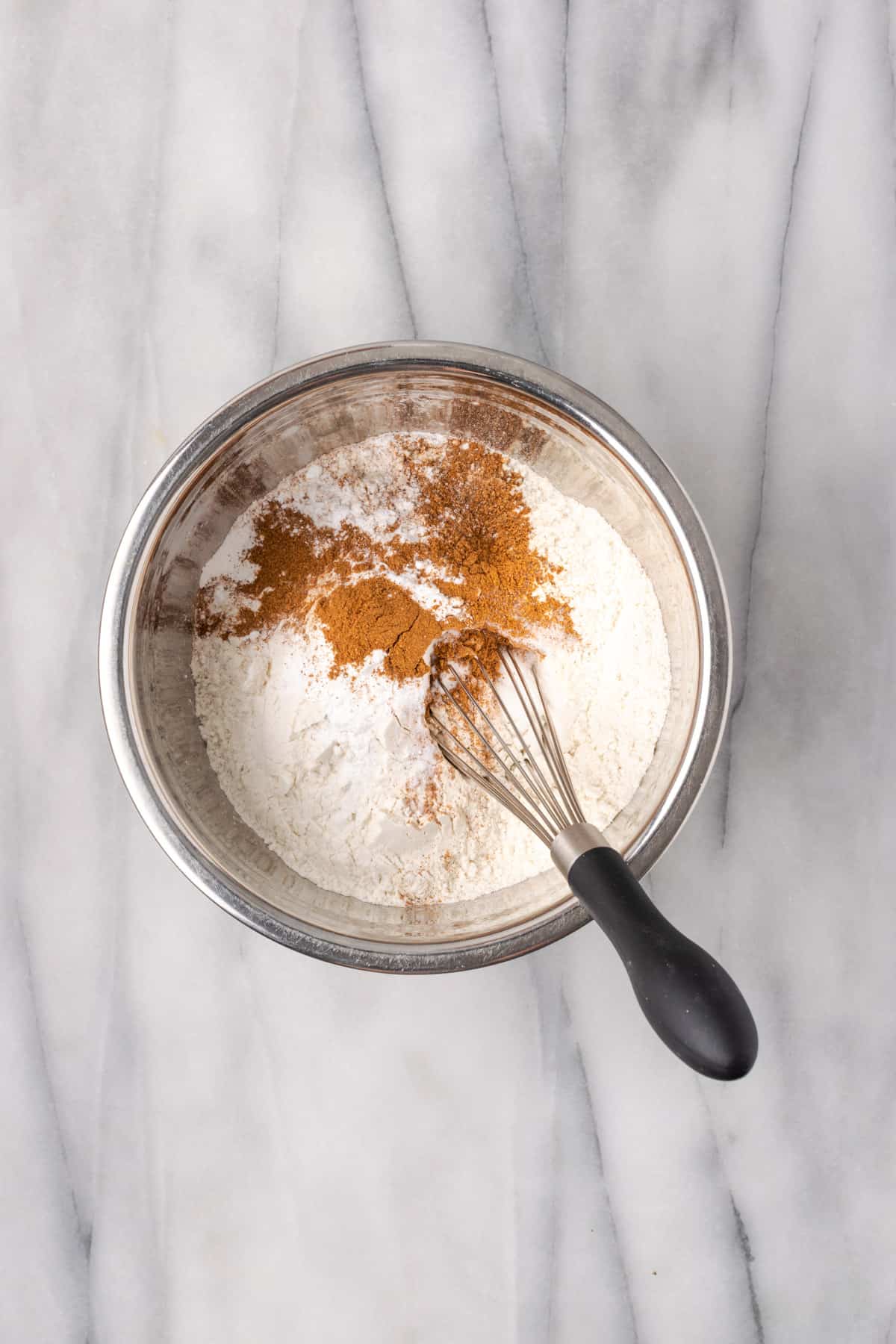 STEP 1: Combine the gluten free flour, baking powder, pumpkin pie spice, cinnamon and salt in a small bowl. Whisk together until well mixed and set aside.
STEP 2: In the bowl of an electric mixer, combine sugar and butter. Beat on medium speed for 3 minutes.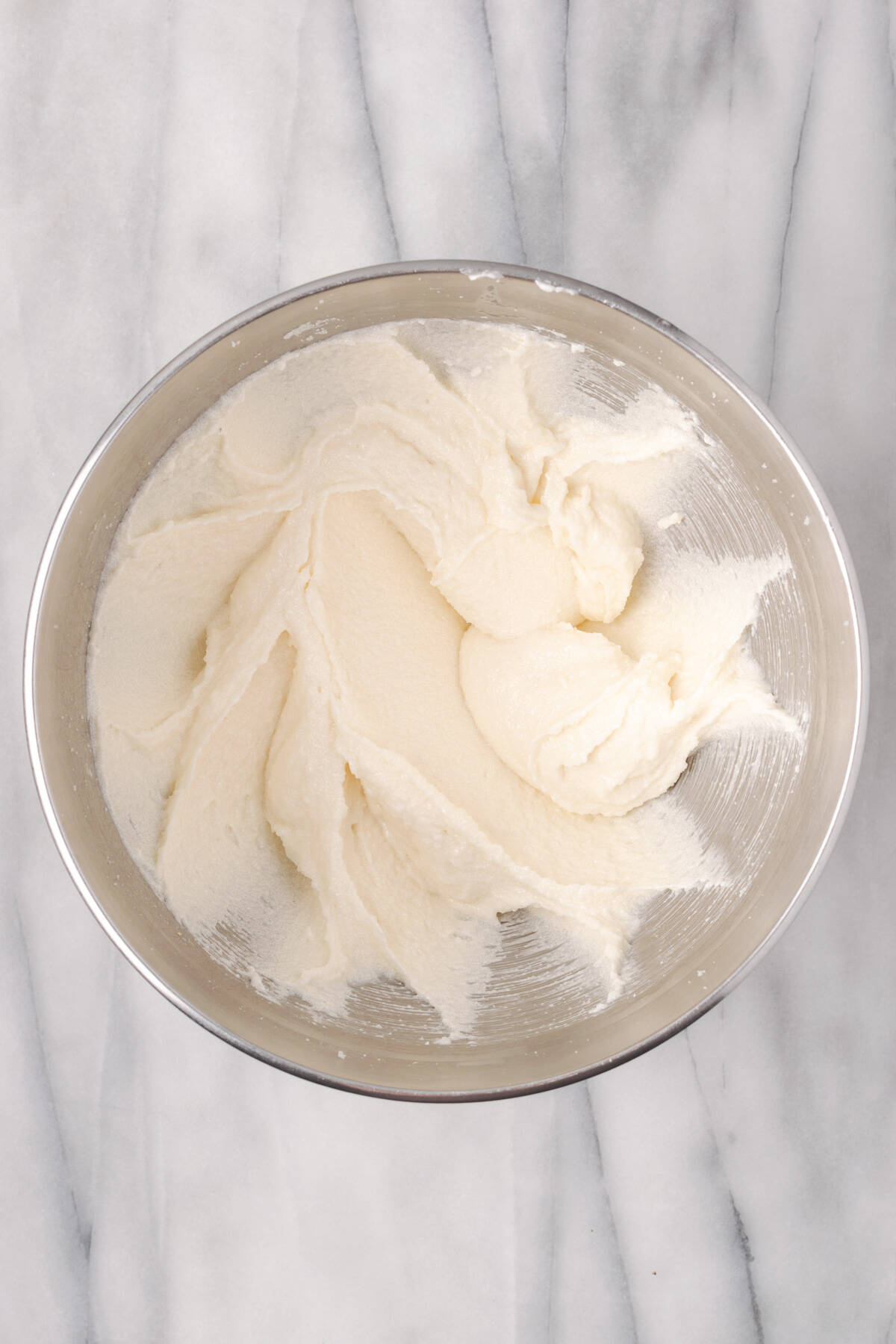 STEP 3: Add the oil to the creamed butter and sugar. Beat for 1-2 minutes more.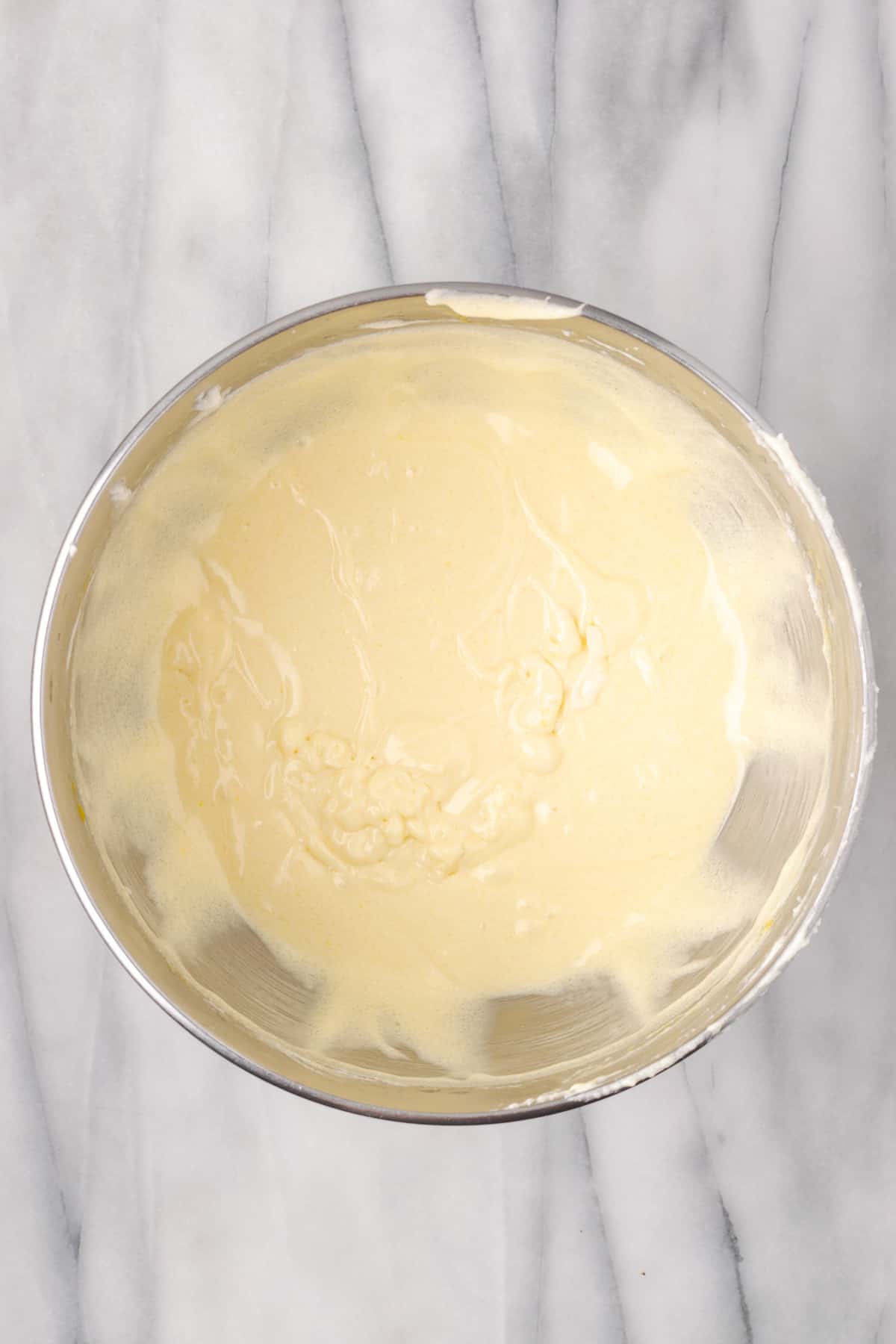 STEP 4: Add the vanilla. Then add the eggs one at a time, mixing for 60 seconds between each addition.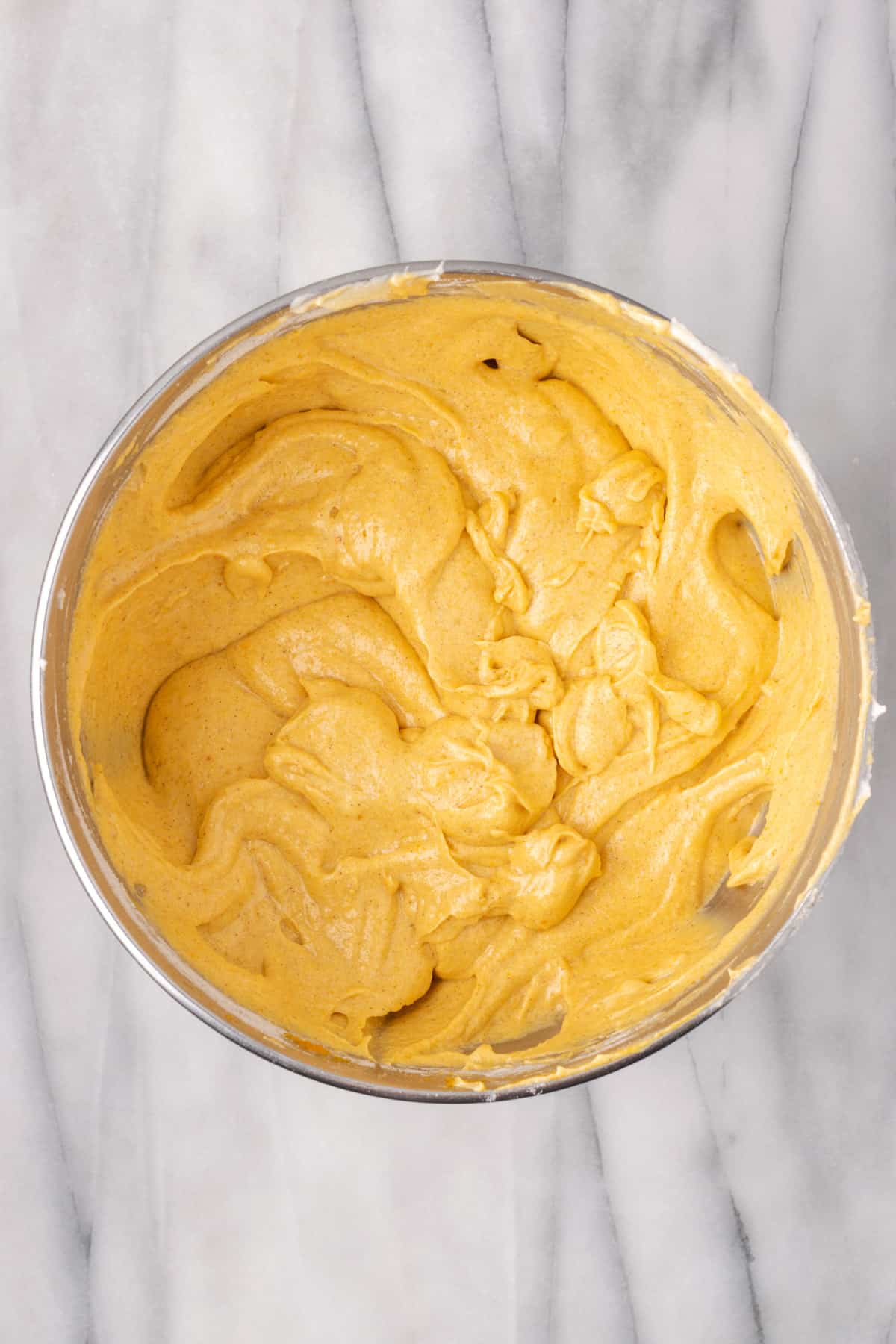 STEP 5: With the mixer on the lowest speed, add half of the dry ingredients followed by half of the milk and pumpkin puree. Then repeat with the remaining ingredients.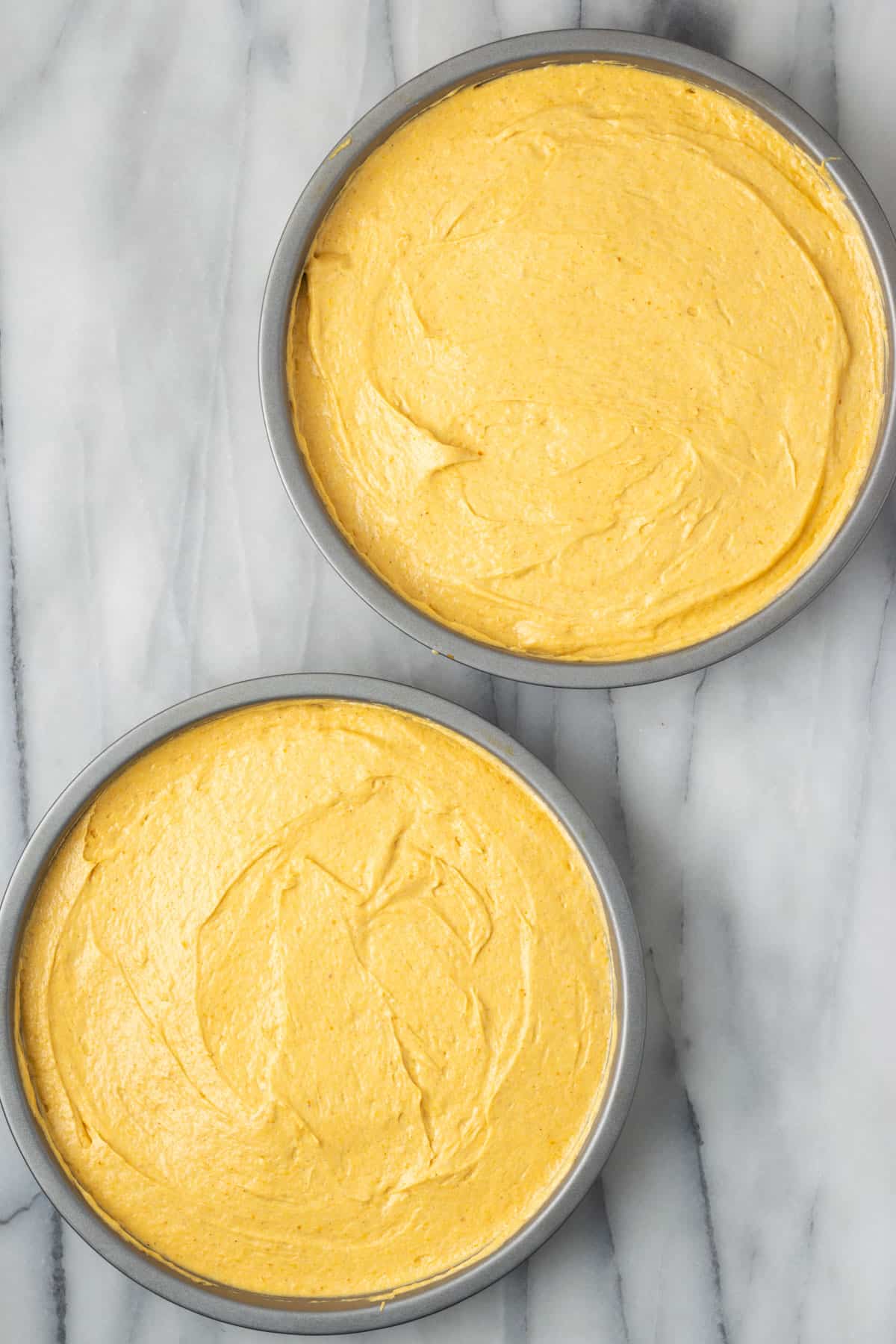 STEP 6: Divide the cake batter between two 9-inch cake rounds.
Cake Pan Sizes
I've used two 9-inch round cake pans for this recipe. If you don't have that size of pan, you can use one of the following equivalent cake pan sizes with adjusted baking times: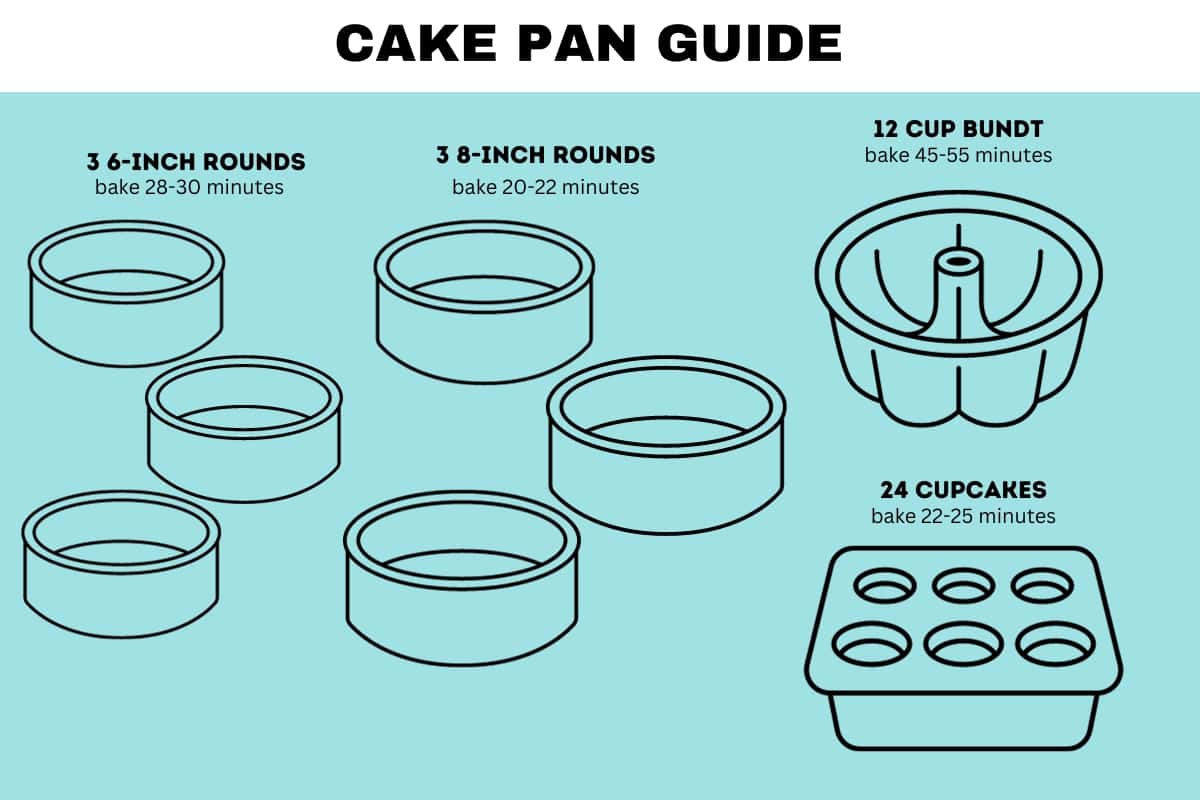 Make the Cinnamon Buttercream Frosting
This frosting is a surprising twist on classic American buttercream frosting. The cinnamon adds such a nice flavor and compliments the pumpkin cake perfectly.
Making diary free buttercream frosting is so easy to do. You'll want to start with vegan stick butter that is at room temperature. You can substitute vegetable shortening for butter, but don't use margarine. Beat it until it's smooth and creamy. Add the cinnamon and vanilla, then slowly add powdered sugar. Once all your sugar has been added in, you will add a little non-dairy milk and voila frosting!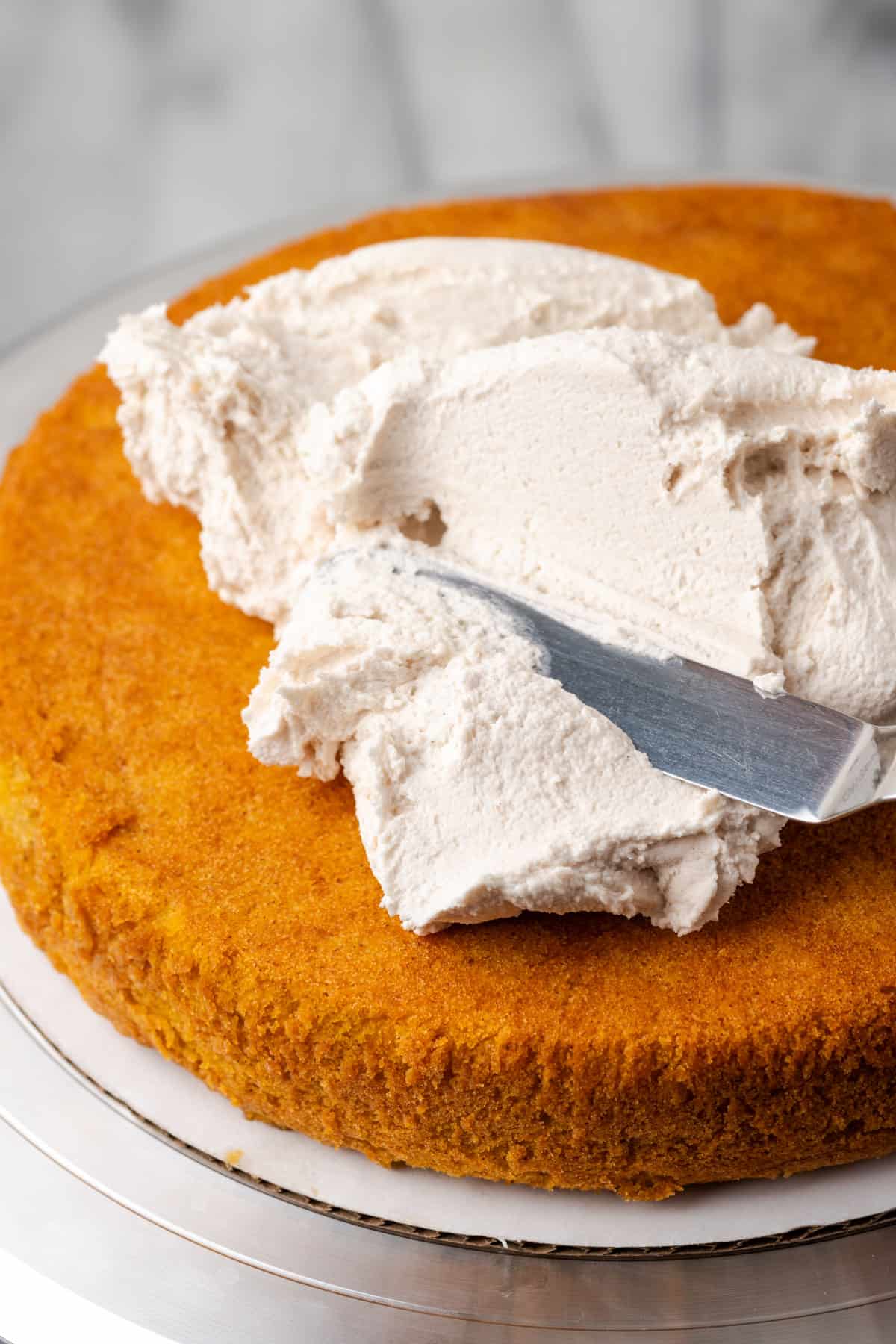 Once the frosting is ready, you will assemble your cake and decorate.
How to store leftover cake
This cake does not need to be refrigerated. You can keep this cake in an airtight container, like a cake keeper, for up to 4 days.
Or if you have a lot of leftover cake, you can freeze some for later. Slice individual servings and wrap them in plastic wrap. Place the wrapped slices inside a freezer bag or container and freeze for up to 3 months. Thaw in the refrigerator before serving.
Recipe FAQs
Why is my pumpkin cake too moist?
Your pumpkin puree is too moist. This can happen, especially if you're using homemade pumpkin puree. You can try to strain the pumpkin with a cheesecloth before adding it to the cake batter or cook some of the moisture out on the stove until it's thickened.
What is pumpkin puree?
Canned pumpkin puree is just cooked pumpkin that has been mashed or pureed. There should be no other ingredients.
Is pumpkin puree gluten free?
Pumpkin puree should just contain pumpkin with no other ingredients, so yes it would be naturally gluten free. However, you should double check the labeling on any packaged food to make sure no gluten additives or contamination issues are present with the brand you're using.
What is a substitute for pumpkin puree?
I tested this recipe with mashed sweet potato in the same measure and it worked great. It was a little sweeter than the pumpkin version and I think it would pair wonderfully with chocolate frosting.

You could also use mashed roasted butternut squash in the same measure. Just make sure to strain or cook it down if it appears too wet.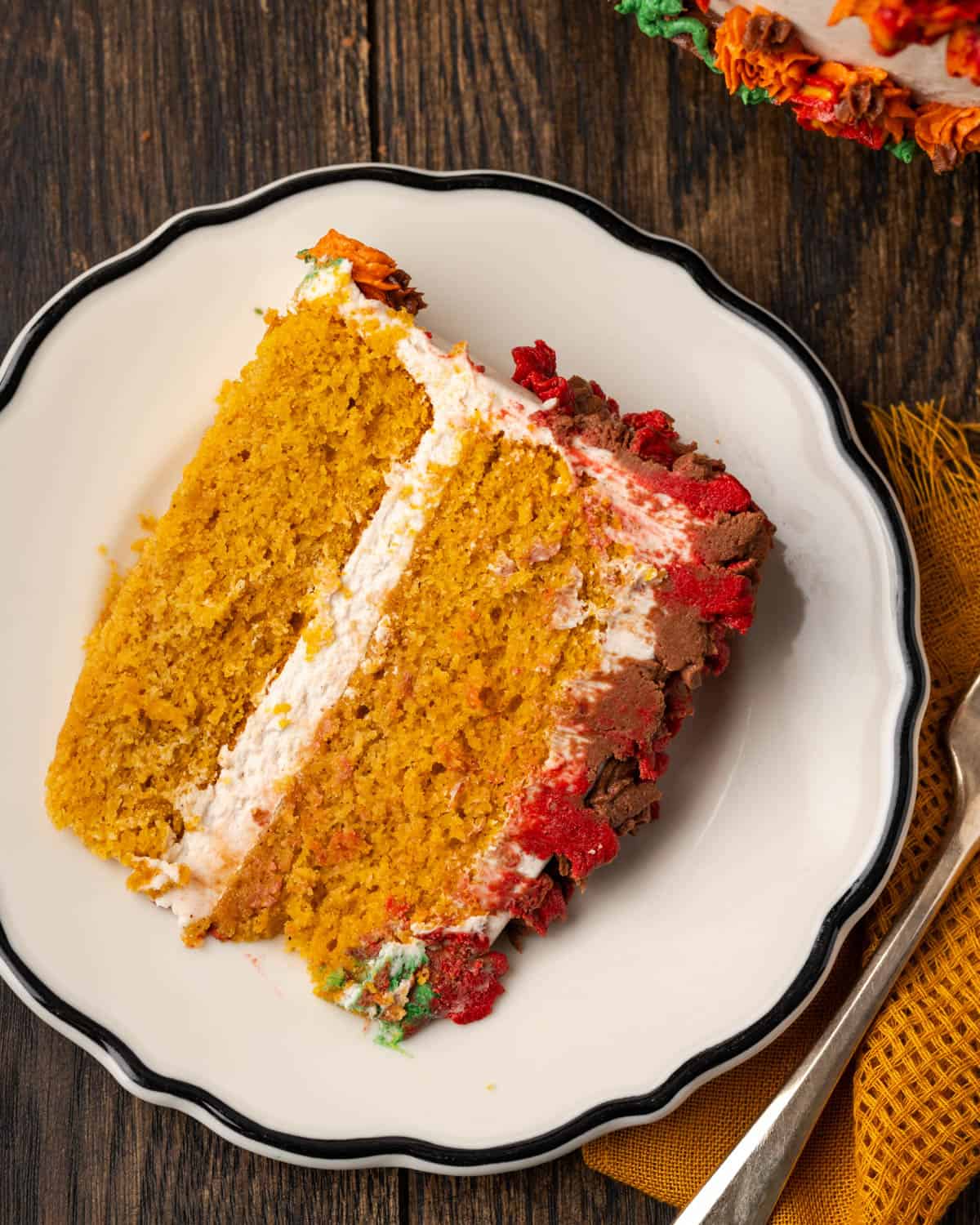 Other fall recipes to consider:
If you try this recipe, please leave a 🌟🌟🌟🌟🌟 star rating and let me know how you liked it in the comments below.
Recipe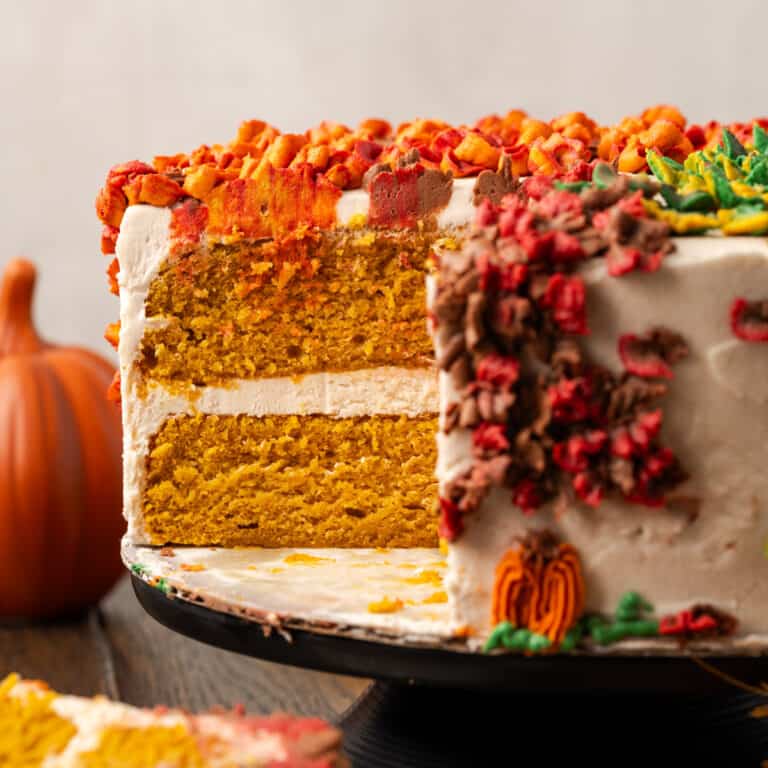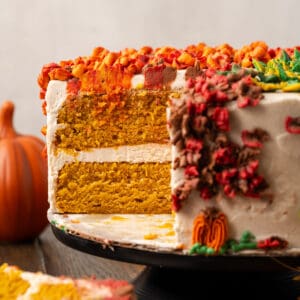 Gluten Free Pumpkin Cake
Savor the warm and comforting essence of fall with this delightful gluten free pumpkin cake. Moist, spiced, and topped with a fragrant cinnamon buttercream frosting, it's a delectable treat that captures the cozy flavors of the season.
Print
Pin
Rate
Ingredients
For the cinnamon buttercream frosting:
Instructions
Preheat oven to 350 degrees. Grease two 9 inch round pans and line them with parchment paper.

In a large bowl, combine gluten free flour, baking powder, spices and salt. Stir well.

2 ⅓ Cups Gluten Free 1-to-1 Flour Blend,

3 teaspoons Baking Powder,

1 teaspoon Pumpkin Pie Spice,

½ teaspoon Cinnamon,

½ teaspoon Salt

In the bowl of an electric mixer, combine sugar and butter. Beat on medium speed for 3 minutes.

1 ¾ Cup Sugar,

⅓ Cup Vegan Butter

Add the oil and beat for another 1-2 minutes until it is smooth and fluffy. Scrape down the bowl.

Add the vanilla.

Add the eggs one at a time, mixing about 60 seconds between each addition. Scrape down the bowl

Turn mixer to lowest speed. Add half of the flour mixture, followed by half of the pumpkin puree and half of the milk. Repeat with the remaining flour, pumpkin and milk.

1 ¼ Cup Pumpkin Puree,

⅓ Cup Non-Dairy Milk

Pour batter into the prepared pans and rest for 10 minutes before baking.

Bake in a preheated oven for 28-30 minutes or until a toothpick comes out clean and the top springs back when gently poked.

Remove from the oven and cool for 10-15 minutes in the pan. Then turn out onto a wire rack to cool completely before frosting.
For the cinnamon buttercream frosting:
Place the room temperature butter in your stand mixer. Beat on medium speed for about 3 minutes until smooth and creamy. Scrape down the bowl.

Add the vanilla and cinnamon to the butter.

2 teaspoons Vanilla,

1 teaspoon Cinnamon

Turn the mixer on the lowest speed, add the powdered sugar 1 cup at a time. It will be a very thick mixture.

Add the milk. As the frosting begins to loosen, increase the mixer speed. Scrape down the bowl as needed. Beat the frosting for about 5 minutes on medium-high speed until it's light and fluffy. If it's not loose enough, add more milk 1 tablespoon at a time.

3 Tablespoons Non-Dairy Milk

Frost the cake with whatever design you desire.
Notes
STORAGE: Store leftover cake in an air tight container at room temperature for up to 4 days. PAN SIZE: If you don't have two 9-inch rounds, you can prepare this cake in three 6-inch rounds, three 8-inch rounds, a 12-cup bundt pan or 24 cupcakes.  See notes above for alteration to cooking time.
Calories:
560
kcal
|
Carbohydrates:
82
g
|
Protein:
4
g
|
Fat:
26
g
|
Saturated Fat:
5
g
|
Polyunsaturated Fat:
7
g
|
Monounsaturated Fat:
12
g
|
Trans Fat:
0.1
g
|
Cholesterol:
41
mg
|
Sodium:
341
mg
|
Potassium:
77
mg
|
Fiber:
2
g
|
Sugar:
67
g
|
Vitamin A:
4058
IU
|
Vitamin C:
1
mg
|
Calcium:
81
mg
|
Iron:
1
mg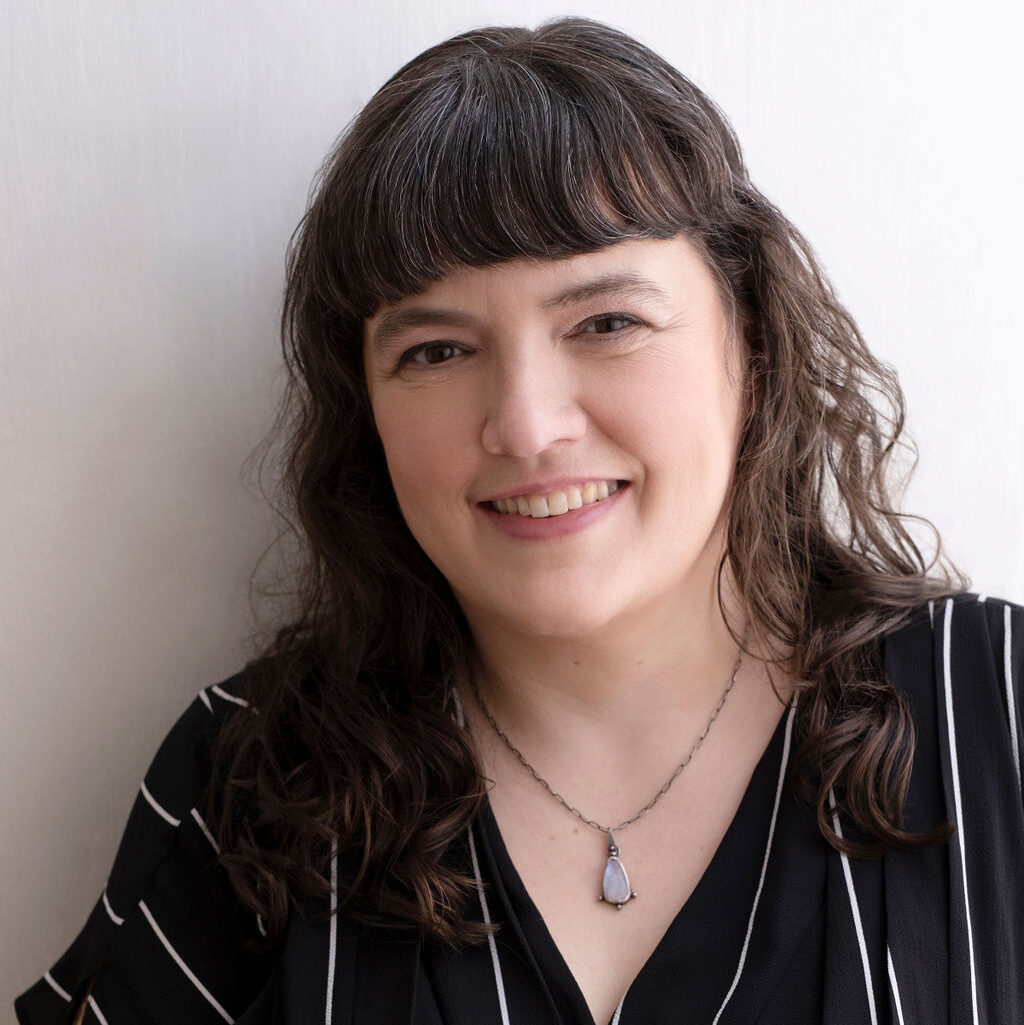 Tiffany is the recipe developer, stylist and food photographer behind Well Fed Baker. As a lifelong baker who had to go gluten free and dairy free in 2016, Tiffany strives to share allergen friendly recipes that never feel like they are free from anything.